In this article, I'm going to share with you how to fix Google Adsense ad.txt. This issue would affect your webpage advertising revenue earning from Google AdSense. You'll learn how to solve this issue.
Why this issue happens

This message is self-explanatory. It updates that we haven't added an ad.txt file to our website. Google requests us to upload to our website because it can help advertisers identify fake, robot, and counterfeit inventory they might be buying. Thus, it helps us prove we're authentic publishers, and receive more advertiser spend that might have. Otherwise, we might go toward fake inventory.
IAB initiates ads.txt to improve transparency in the programmatic ads industry. In AdSense, publishers can download their own ad.txt file and upload it to their websites, in order to identify the authorization to sell ads inventory. The files are publicly available to be crawled by advertisers, third-party vendors, and ads exchange. Below is more information about ad.txt for your reference.
Steps to fix this issue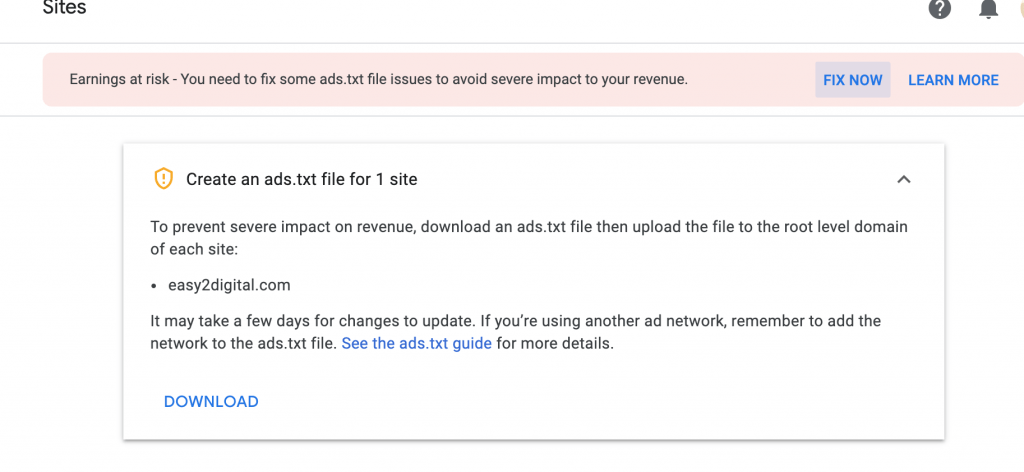 The step is very straightforward and simple. We just need to upload the file we download from our Google AdSense account to the root level of our domain. For instance, www.easy2digital.com/ads.txt
Step 1
Create a text (.txt) by using text editor, or download the ads.txt file from your Google Adsense account directly.
Step 2
Double-check the information line in the ads.txt file you have. Here I just kindly remind you to replace pub-0000000000000000 with your own publisher ID. 
google.com, pub-0000000000000000, DIRECT, f08c47fec0942fa0

Step 3
Upload your ads.txt file to the root directory of your website and save. In this process, you can do this by accessing your server via FTP (FileZilla), or you can install file manager plugin to do this if you are using WordPress CMS.
Step 4
Finally, you can visit your website and verify your ads.txt is on-air now, For example, www.easy2digital.com/ads.txt
Conclusion
After you make it done, it doesn't take effect instantly. Google AdSense would take a few days and check if the ads.txt file is added correctly.
If you have any comments, please feel free to leave your messages below. And if you like my channel and content, please support sharing this content with your social media, subscribe to my Youtube channel, and like my Facebook fan page as listed below. See you next time.