A smart doorbell camera keeps a watchful eye on the outside of your front door, and it allows you to see who's on the other side of your door through a smart display, even when you aren't home through a mobile device. With useful features like a live video feed that streams to your smartphone, two-way audio, and timely motion detection alerts, a smart video doorbell is a viable device to add to your home security system.
However there are so many branded options available, from having general features with cheaper prices to having advanced features at a very expensive purchase price, it indeed increases the difficulties for you to select the right one and not to pay for those features you don't really need. To find out if you should save dollars to find a full-function video doorbell, or invest more for advanced features, today in this article, we'll compare Ring video doorbell 3 with Eufy video doorbell 2K (wireless) on installation, design, video/audio, battery life, integration capability, and pricing. You can find and make a better decision of your purchase needs.
Installation
Ring Video Doorbell 3 (Wireless): Like with most wireless video doorbells, the installation of the Ring Video Doorbell is a snap. All you need to do is screw the mounting bracket to your door frame, pop in the battery, and attach the doorbell to the mounting bracket. The guide on the app shows you step-by-step directions on how to set everything up, including connecting the new doorbell to your home's Wi-Fi network (2.4GHz or 5GHz).
Eufy Video Doorbell 2K (Wireless): Eufy also provides you with a mounting bracket that holds the doorbell camera, plus a mounting wedge in case you need to angle the camera. Screws and anchors are provided if you need to drill into the concrete siding.
Winner: Tie
Design
Ring Video Doorbell 3 (Wireless): When it comes to design, you'll immediately notice that the third-generation device is a bit of a chunk when it comes to video doorbells. The Ring Video Doorbell 3 measures in at 5.1-inches tall by 2.4-inches wide and really protrudes from your door frame (or wherever you install it), sticking out like a sore thumb. The faceplate comes in two colors, silver and black, so you have a little choice over how it impacts your front door's atheistic.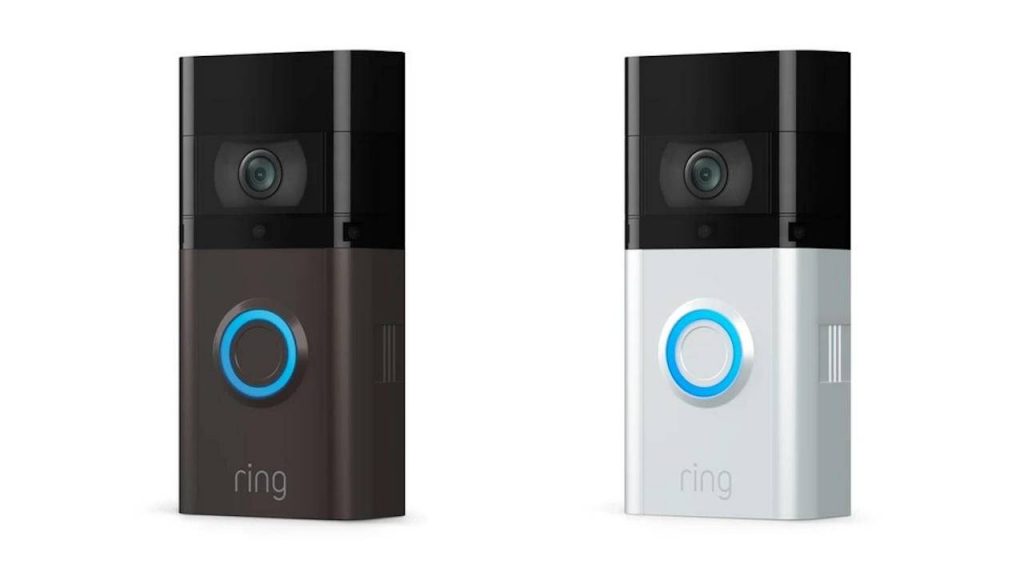 Eufy Video Doorbell 2K (Wireless): The Eufy Security Doorbell has two major components, the actual doorbell camera itself and the HomeBase that comes inside the box.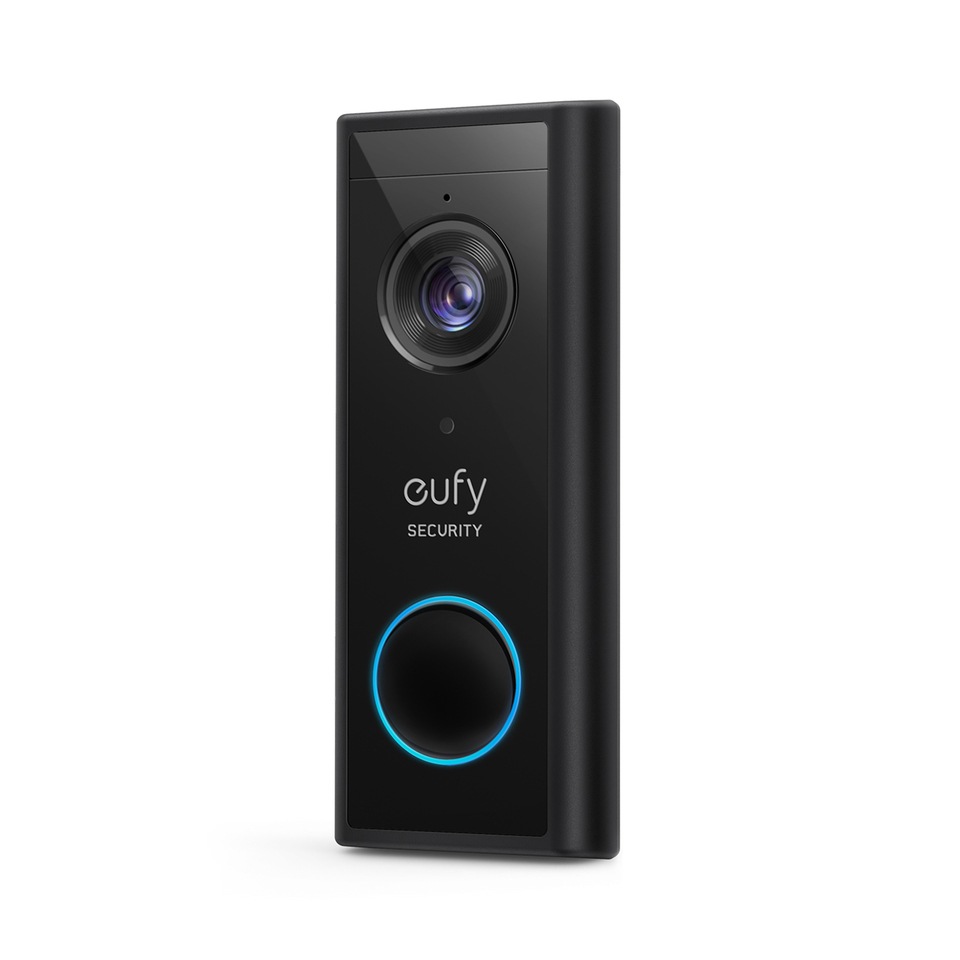 The Security Doorbell has a fairly slim, basic-looking all-black design with a front-facing camera and a built-in microphone while the Eufy HomeBase looks like an all-white wireless router – it's fairly plain but still a bit bulky
The Ring looks more trendy and fashionable, and feasible to change the faceplate by using either black or white.
Winner: Ring Doorbell 3
Video and Audio Quality
Ring Video Doorbell 3 (Wireless): When it comes to video quality, there haven't been any improvements since the second generation. This third-gen model still has a 160-degree field of view at 1080p HD, which is what you'd expect with video doorbells, so no complaints there. The video is really clear when objects are just a few feet from the camera; further away, things get a bit blurry. The colors are a bit muted, but it handles recording images well. There is some pixelation if the object the camera is focusing on moves quickly, but it tends to clear up quickly.
Its night vision is in black and white, which isn't unusual for a wireless video doorbell. If you hardwire the Ring Video Doorbell 3, though, the video is in color, so that's something to consider.
The two-way audio on the Ring Video Doorbell 3 is really nice and clear. This is probably due to its noise-cancellation technology. It's intended to make voices stand out above outdoor noise and does a good job of it. Clear audio is always a good thing, especially when there are strangers at the door.
Eufy Video Doorbell 2K (Wireless): Coming from an original Ring Doorbell, the Eufy Security Wireless Doorbell Camera is a huge step up in both resolution and performance – the camera feed loads faster and feels more stable on the Eufy than it does on the Ring.
Part of that, again, has to do with the HomeBase that sets the stage for a faster connection, but you also have to take into consideration the 2K camera resolution that's twice as clear as 1080p security cameras
The other difference is that it records in a 4:3 aspect ratio, which means you can see people's faces when they're close to the door and can be crucial when you need to spot little details for a police report should you ever need to give one. Eufy has a pretty darn good night mode and is great for keeping tabs on the especially dark areas of your property.
Two-way audio, while clear, was significantly delayed (4-5 seconds, an issue with all the doorbells we've tested), but the audio seemed to create some type of interference in the video feed.
You also can't hear your audio on recordings, so if you record a visitor you just hear their side. The default recording lengths are set to very short following someone ringing the bell, meaning unless you manually start a recording from the app the video cuts off right around when you answer. You can tweak recording lengths in the app, but doing so will cause battery life to "decrease drastically" warns the app.
Winner: Eufy Video Doorbell 2K
Battery Life
Ring Video Doorbell 3 (Wireless): Ring doesn't specify exactly what the battery life is like. However, I've found that it's more likely that you'll be charging it every 3 months or so, depending on how often it's used. It seems to use a little over 1% of battery life per day. If you don't like that idea, you can get a solar charger that's installed right behind the doorbell for $50. The solar attachment connection is a new option that the second-generation Ring didn't have.
Eufy Video Doorbell 2K (Wireless): After your initial charge, Eufy says to expect about 180 days of battery life – depending on how many events are triggered in a day and how often you're pulling up a Livestream.
Over a two-week testing period, the camera was triggered close to three dozen times recording 10-second clips each time, and is currently holding strong at 90% battery life. Extrapolating that data, it has around 140 days of battery life, or around four-and-a-half months, which is a significant improvement on our battery-powered Ring that needs to be recharged every month.
Winner: Eufy Video Doorbell 2K
Integration Capability
When it comes to smart home integration capability, Eufy is absolutely ahead of Ring doorbell, because Eufy can be compatible with Google Assistant, or Amazon Alexa. On the other hand, the same with a Ring security camera, Ring video doorbell 3 can be only connected with Amazon's eco-system devices. If you are using other branded devices, rather than the Ring collection, Eufy is the best option for you.
Winner: Eufy Video Doorbell 2K
Pricing
From the branded official store price, Eufy black color costs US$199.99, which is the same as Ring video doorbell 3. Eufy white color costs US$219.99, which is US$20 dollars more than Ring. But both price includes the Eufy Homebase device.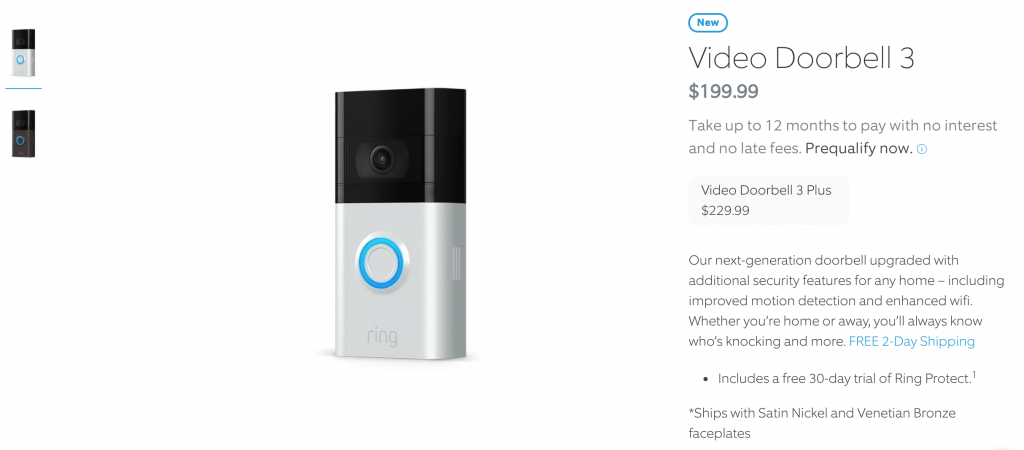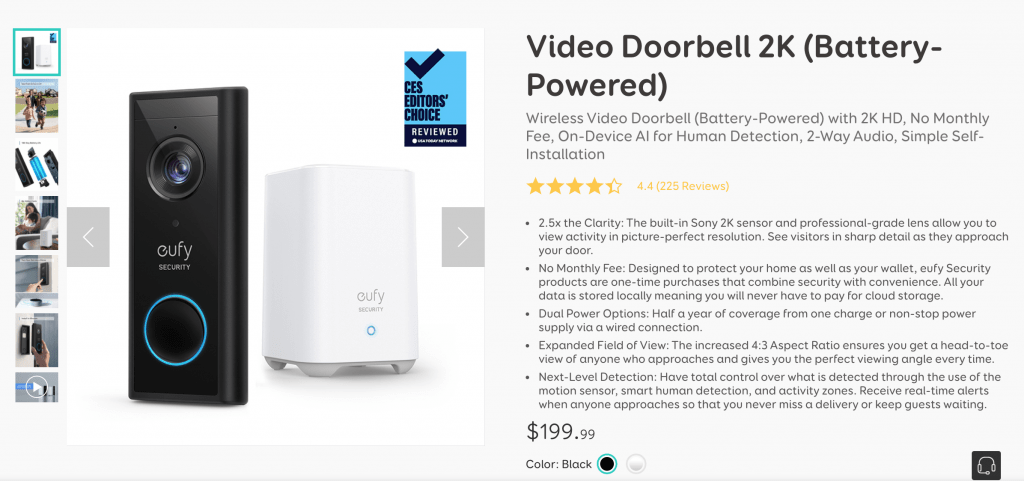 Ring usually discounts the price, like in Prime Day, or another seasonal festival promotion, but what you need to take into consideration is the post-purchase cost, because you need to pay for Ring subscription if you want to store the video records. On the other hand, you can store videos locally in Eufy video doorbell, and don't have to worry most of the time about subscriptions. In terms of the total cost, obviously, Eufy is the winner
Winner: Eufy Video Doorbell 2K
Conclusion
Ring video doorbell 3 indeed has better WIFI connectivity and more advanced motion detection with adjustable motion zones. If you're looking for a seamless user experience on this section, Ring is your best choice. But Ring in a way forces you to upgrade your smart home equipment into the Amazon ecosystem and requires you more investment if you like to keep video records. So if you want to pay less and obtain the same set of features and better video, audio quality, Eufy is your best choice.
I hope you enjoy reading Eufy Video Doorbell 2K vs Ring Video Doorbell 3 and find it helpful. if you did, please support us by doing one of the things listed below, because it always helps out our channel.