Does your place get too hot in the summer, or too cold in the winter, even as your utility bill continues to climb every year? You might want to consider a smart thermostat, which is an evolution in heating and air conditioning technology. These thermostats can keep homes climate-controlled while promoting energy efficiency. 
Ecobee and Nest are widely considered the best two smart thermostats available. And as you might hear, Amazon is backing Ecobee, a smart thermostat company, so basically these two devices are a shadow of Google vs Amazon in the smart thermostat area. So in this article, I'll walk you through our review on both devices and see the difference between them. By the end of this piece, you can learn their design, energy saving, thermostat adjustment, compatibility, voice assistant and price
1. Design – Nest Thermostat vs Ecobee
You would feel like that Ecobee is made of cheap plastic. It's not as sleek and stylish as the Nest Thermostat. Fortunately, it has a 3.5" touchscreen, so you can navigate through the menu and options as you would for a smartphone, making it easy to use. This smart thermostat is responsive to touch and motion. Furthermore, its screen brightness is completely customizable. Unlike the Nest Thermostat, it doesn't automatically wake up when it detects your presence.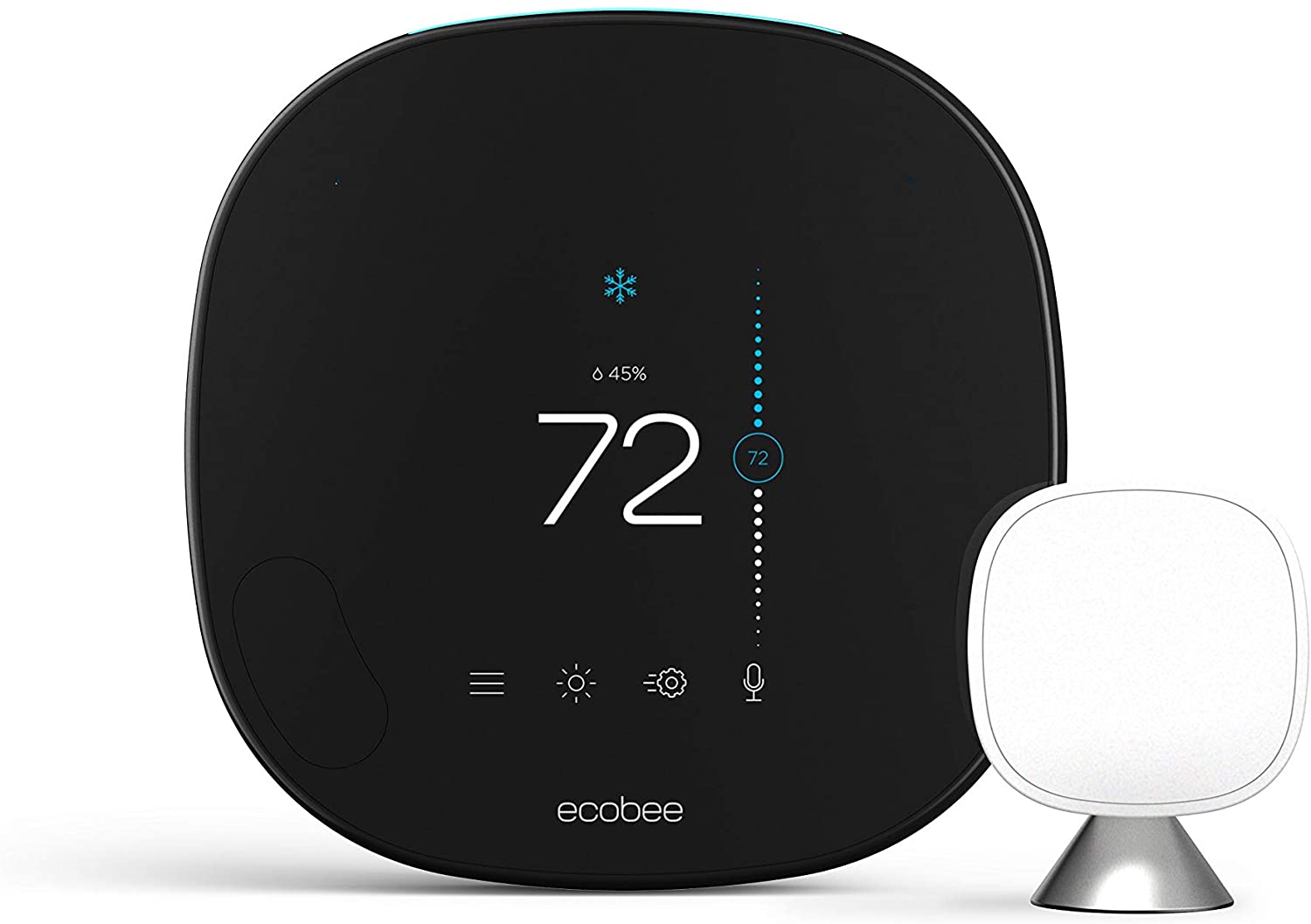 Nest Learning Thermostat has a stainless steel outer ring that reflects your wall color and allows it to blend in with any decoration. The face lights up with blue light when your system is cooling and orange light when it's heating. The solid construction is obvious when you handle the thermostat. It's heavy and feels sturdy.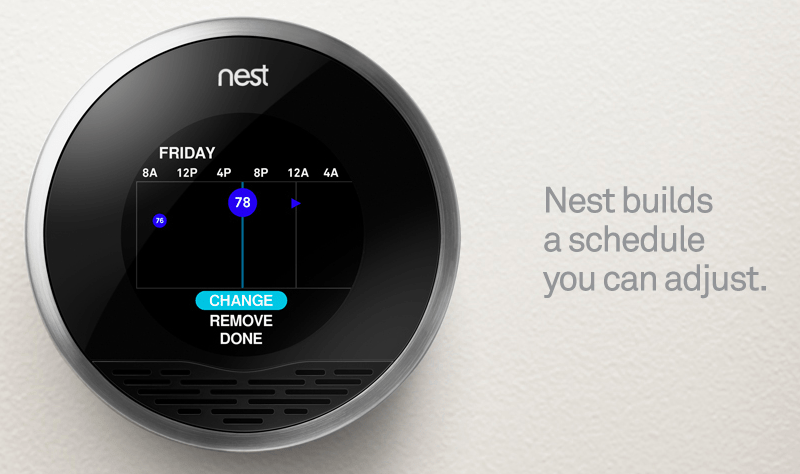 But Nest Smart Thermostat has a far superior design to the Ecobee Thermostat. It's stylish and smarter. The only issue is the navigation menu, but you hardly ever need to use that after the initial setup.
Both thermostats have rounded shapes. However, while the Nest Learning Thermostat is perfectly round, the SmartThermostat is a bit more squared. Both have high-quality screens that can display a variety of information.
Winner: Nest Thermostat
2. Energy-saving
Ecobee allows you to get access to all the common energy-saving tools. And you also get an energy report at the end of the month that compares your energy consumption to your neighbors. However, unlike the Nest Thermostat, it doesn't provide a playful game experience.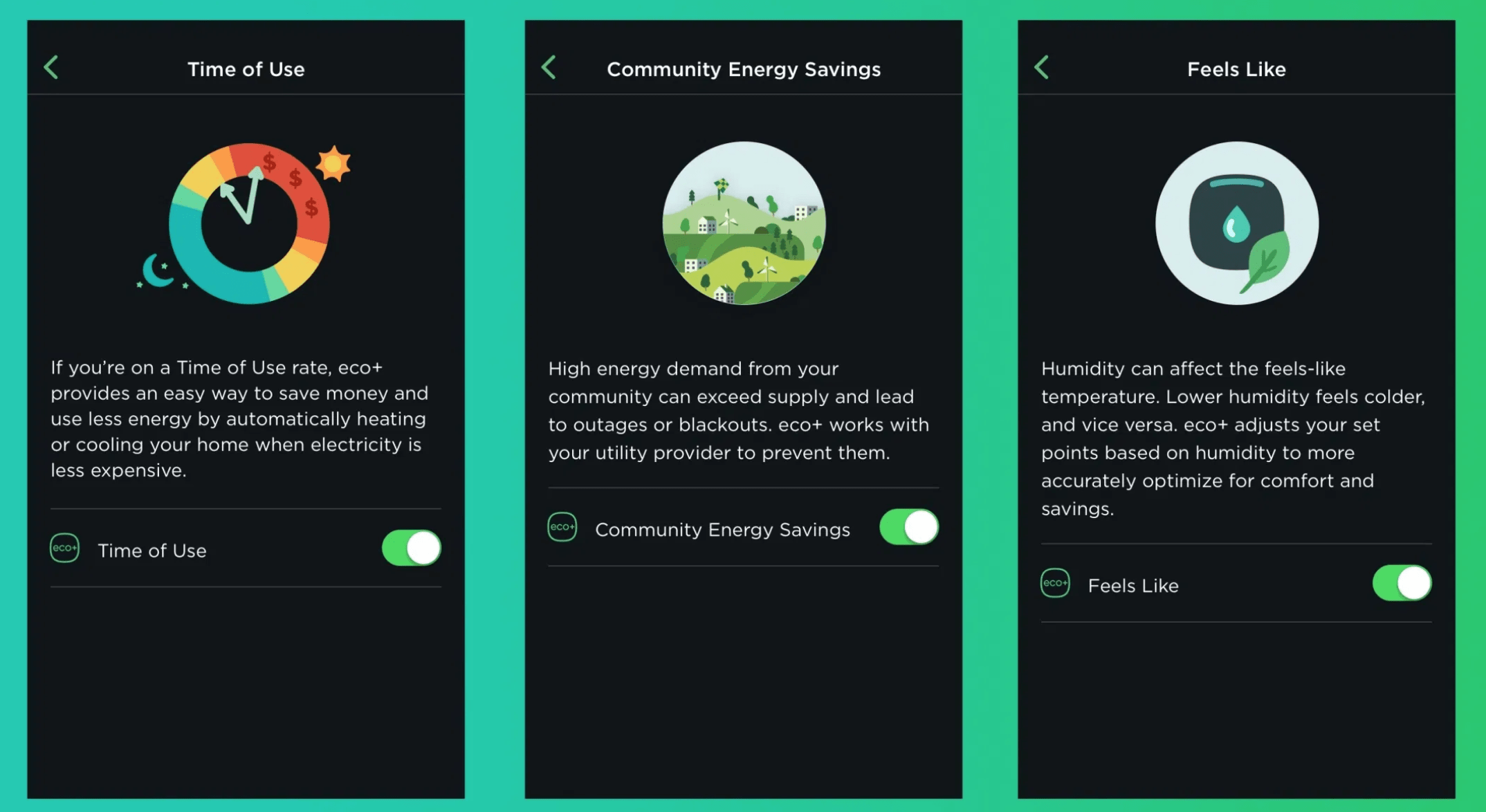 On the other hand, Nest allows you to adjust the temperature so as to save energy, you get presented with a green leaf. You always get a leaf whenever you set the temperature below 62 degrees or heat by setting it above 84. This turns energy saving into an innovative game that encourages people to save energy and collect green leaves.
At the end of the month, Nest provides an extensive energy report in which your collection of green leaves is compared to others in the area. This competitive streak encourages people to go green and conserve energy.

Both Nest Thermostats and Ecobee Thermostats have identical energy saving methods and tools and both of them provide extensive energy reports. However, Nest Thermostats can provide an innovative gamification form through the collection of green leaves. This can challenge people to save energy and go green. This simple feature makes Nest better in terms of energy saving.
Winner: Nest Thermostat
3. Compatibility with other home energy devices
Both devices connect with several energy devices for easier use. 
Let us talk about Ecobee. Ecobee thermostat recognizes when a home has a ventilator and uses cool outdoor temperatures when appropriate to reduce dependence on your home's air conditioner. In homes with dehumidifiers, Ecobee can regulate indoor humidity to prevent frost buildup in colder weather coupled with high-humidity indoor environments. It can also connect with humidifiers, HRVs, and other accessories to make sure they are used properly as well. The Alexa compatibility also allows for more complex smart home setups. However, as well as other Amazon eco-system smart home products, it doesn't allow you to connect Google smart home products, which make you hesitate if your place is equipped with Google products mostly.
On the other hand, Nest offers a feature that's beneficial in homes with heat pumps and auxiliary heat. Known as Heat Pump Balance, it allows you to choose how much auxiliary heat to use, which is handy since such heating options can be expensive. The Nest thermostat also figures the heat pump's efficiency, the current weather, and weather forecast into the mix with the Heat Pump Balance feature activated, relying on data to determine the best auxiliary heat usage.
The Nest thermostat also fits in very well with all the Nest family of smart products (including security cams, smoke detectors, and more), allowing you to control everything easily from Google Nest Hub Max, or Echo Show, which can create smart home scenes that include temperature changes.
Winner: Nest Thermostat
4. Voice Assistant
Voice control is the number one way we interact with our smart thermostats. We've found it's almost always easier to adjust the thermostat with a voice command rather than open the app or get off the couch and adjust it manually.
Ecobee seems like they're really dedicated to voice control. They support all three major voice assistants. Also, the ecobee has an Alexa speaker built into it. If you don't already have a smart speaker near your thermostat, it could be useful.
Nest supports both Google Home and Amazon Alexa. However, it doesn't directly support Apple HomeKit and it's unlikely that it ever will.
The integrated Alexa speaker on the ecobee is a minor advantage. But, if you already have a smart speaker nearby, the extra one might end up causing problems. If it does cause problems, you can disable it. Nest doesn't support HomeKit directly, so if you're a HomeKit user, the ecobee would be a better choice.
Winner: Ecobee
5. Price – Nest Thermostat vs Ecobee
Nest Learning Thermostat we discussed above retail price is US$249, which is the same as the Ecobee SmartThermostat. In terms of promotion, Ecobee has more offers through a year in different festival and shopping seasons.
Then, both brands also have been offering budget options for you to consider if you are a new user in this area and like to start with a lower price.
Google launched a new Nest thermostat that cost $129.99, and it is going to replace the Nest Thermostat E entirely. Both Nest thermostat and Nest learning  thermostat naming sounds the same, but it's important to note they are two different products: The cheaper version has fewer sensors and learning capabilities to help keep the cost down.
Meanwhile, Ecobee has reduced its available thermostat models into just two. The standard Ecobee SmartThermostat and the older Ecobee 3 Lite, which is available for $169.99. You can also currently get a certified refurbished Ecobee Lite 4. 
Winner: Nest Thermostat
I hope you enjoy reading Smarter Home Temperature Assistant? Nest Thermostat vs Ecobee Thermostat | Google vs Amazon Collection. If you did, please support us by doing one of the things listed below, because it always helps out our channel.
Support my channel through PayPal (paypal.me/Easy2digital)
Subscribe to my channel and turn on the notification bell Easy2Digital Youtube channel.
Follow and like my page Easy2Digital Facebook page

Share the article to your social network with the hashtag #easy2digital

Buy products with Easy2Digital 10% OFF Discount code (Easy2DigitalNewBuyers2020)
You sign up for our weekly newsletter to receive Easy2Digital latest articles, videos, and discount code on Buyfromlo products and digital software
Subscribe to our monthly membership through Patreon to enjoy exclusive benefits (www.patreon.com/louisludigital)
If you are interested in Nest Wifi, Nest Audio, Nest Hello Doorbell that compare with the key players in the battleground, please check out these articles.
Which One is Better if you Look for Video Quality? Nest Hello Doorbell vs Ring Doorbell | Google vs Amazon Collection
Which Sounds Supreme? Nest Audio vs Amazon Echo | Google vs Amazon Collection
Which one is better, Nest WiFi vs Eero WiFi | Google vs Amazon Collection