Google is the world's dominant search engine, but almost half of Americans start looking for things to buy on Amazon, while only 22% start on Google, according to a survey last year from research firm CivicScience.
Being said that, there are 300 millions Americans using the Internet to search information in the USA, so you can imagine how big the audience pool is globally if 22% of people start on Google. Also, we realize that many of the searches on Google had shopping intent, such as looking for product comparison, product review, youtube video introduction, etc. Particularly with Google lower cost for merchants, which facilitate merchants to do more discount offers, it has been a common realization that Google Shopping listings turn prospects into buyers faster than Amazon listings.
So we will have a collection regarding Google Shopping for eCommerce Business Success and in this article. Because SEO performance is playing an important role in bettering the overall ROI, I'll start with walking you through how to optimise your Google Shopping product feed to increase organic traffic and sales.
By the end of this Google Shopping product feed piece, you can master how to identify potential keywords, formulate the product information writing and policy you need to pay attention to on product listings.
Keyword Research
Some misunderstandings are existing from eCommerce SEO is that it might be not necessary to research potential keywords for product feeds, because brand and product name with materials, color, etc information have already exceeded the character limitation of product title, or even product description. However, it's totally incorrect, because keyword research can let you realise the product search trend, seasonality, and keyword variations used out of product titles and descriptions. Based on this purpose, basically you can use these 3 categories of keyword research tools to grab a list of SEO root and variation keywords.
1. Trend and Semantic – Google Shopping Insight, Google Trends, and Google.com
If you were selling Ring spotlight cameras, you can learn your SKUs search trend from Google Shopping insight and Google trends, such as by location, device, different time range, etc. The implication of this trend is sometimes volume drop is not dealing with your SEO groundwork, but seasonality matters, which you have to be aware of and deploy your SKUs based on the insight.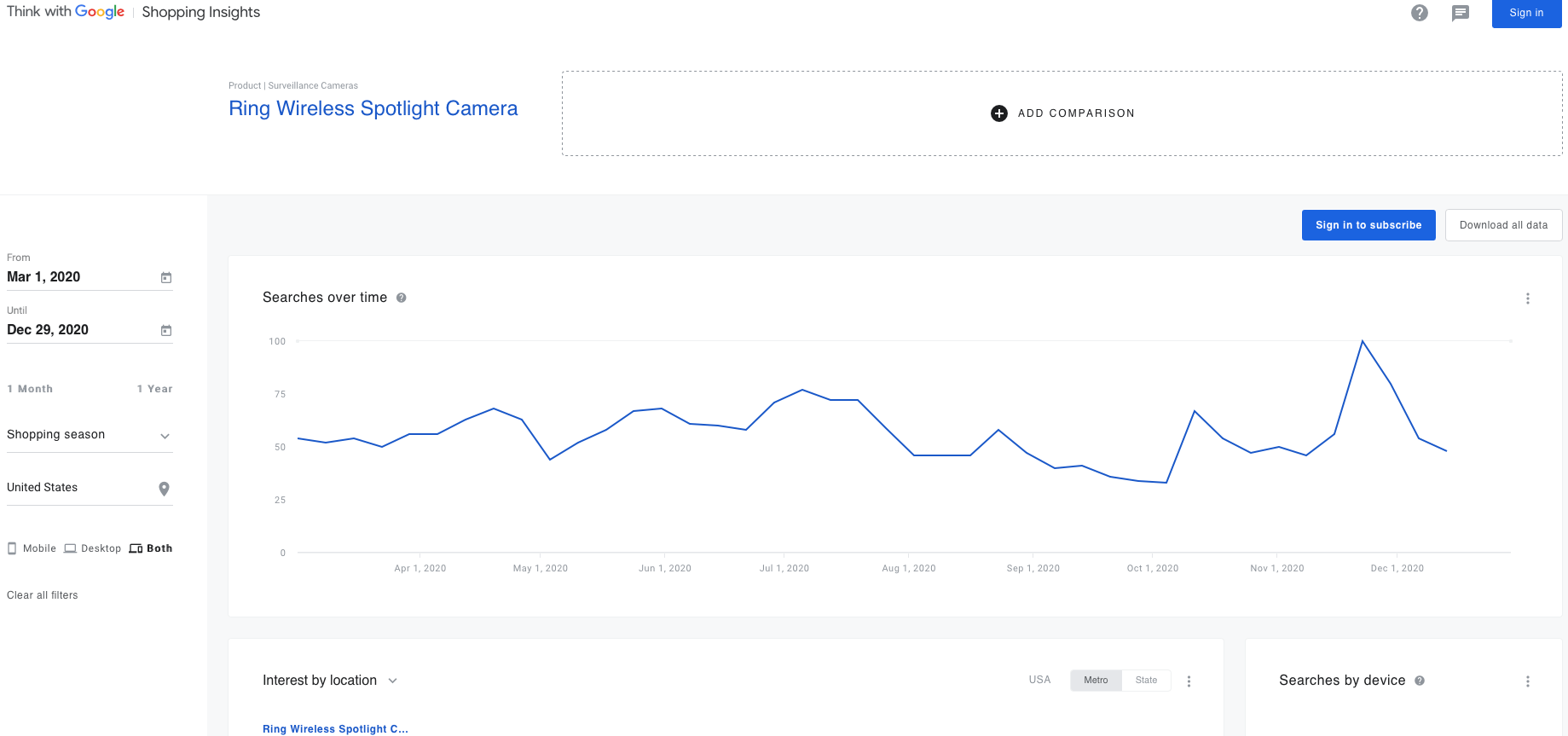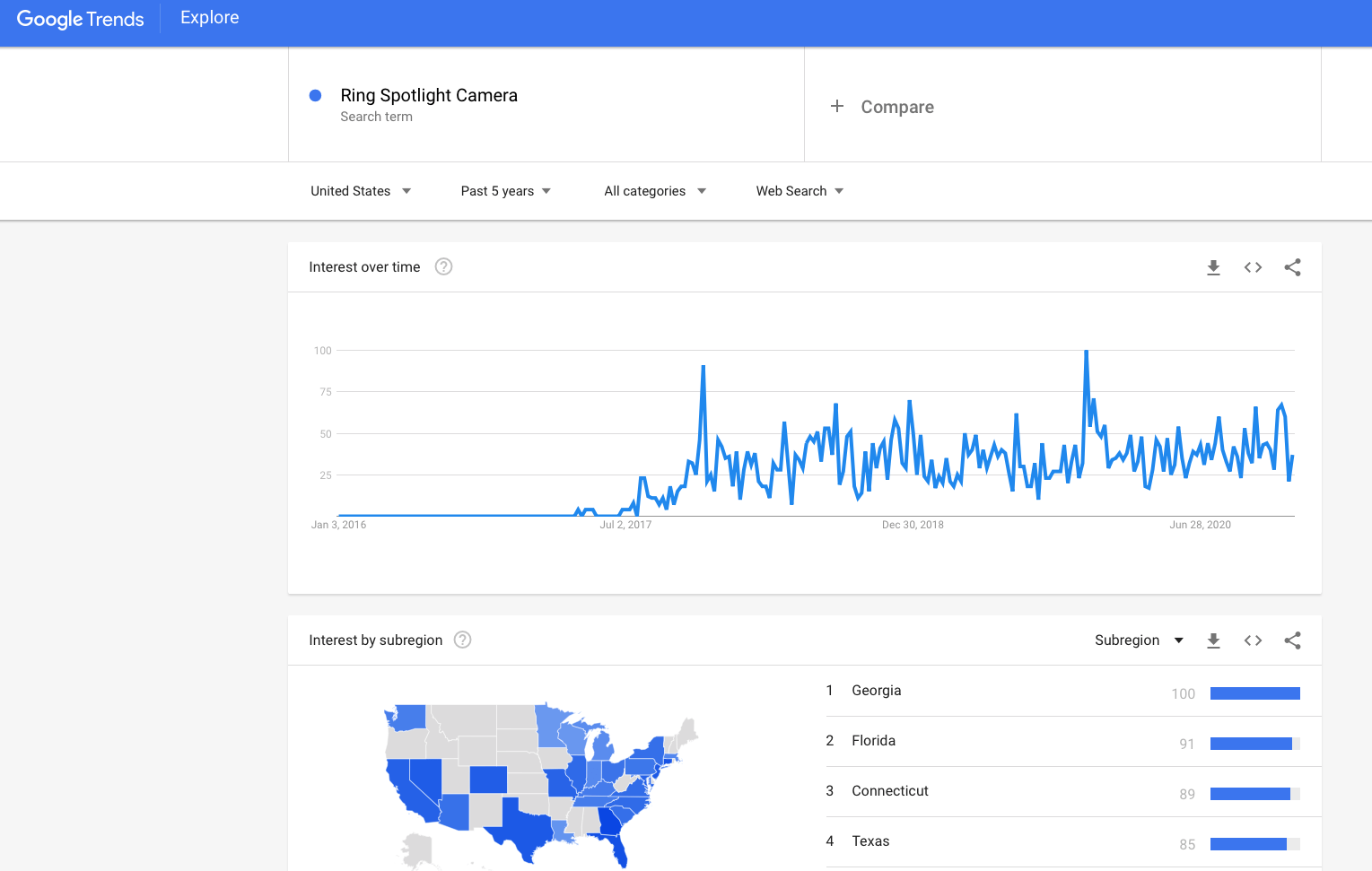 Also, you can search Ring spotlight camera from Google.com, and find out some root keywords and few high demand variation people are interested in, such as ring spotlight camera battery life, ring floodlight camera, camera installation, etc.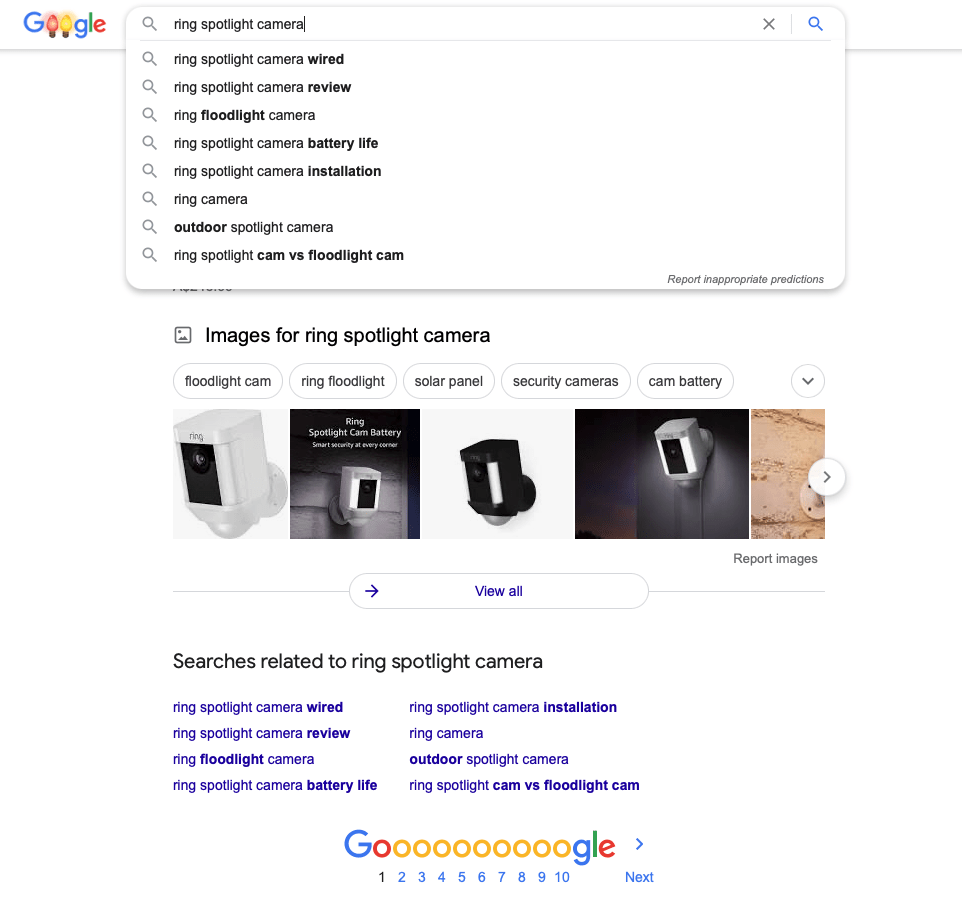 And if you have a glance at the first few pages and top ranking SERP, 80% information is from brand, youtube and marketplace, which implies the intention of people searching is for learning reviews and considering to buy.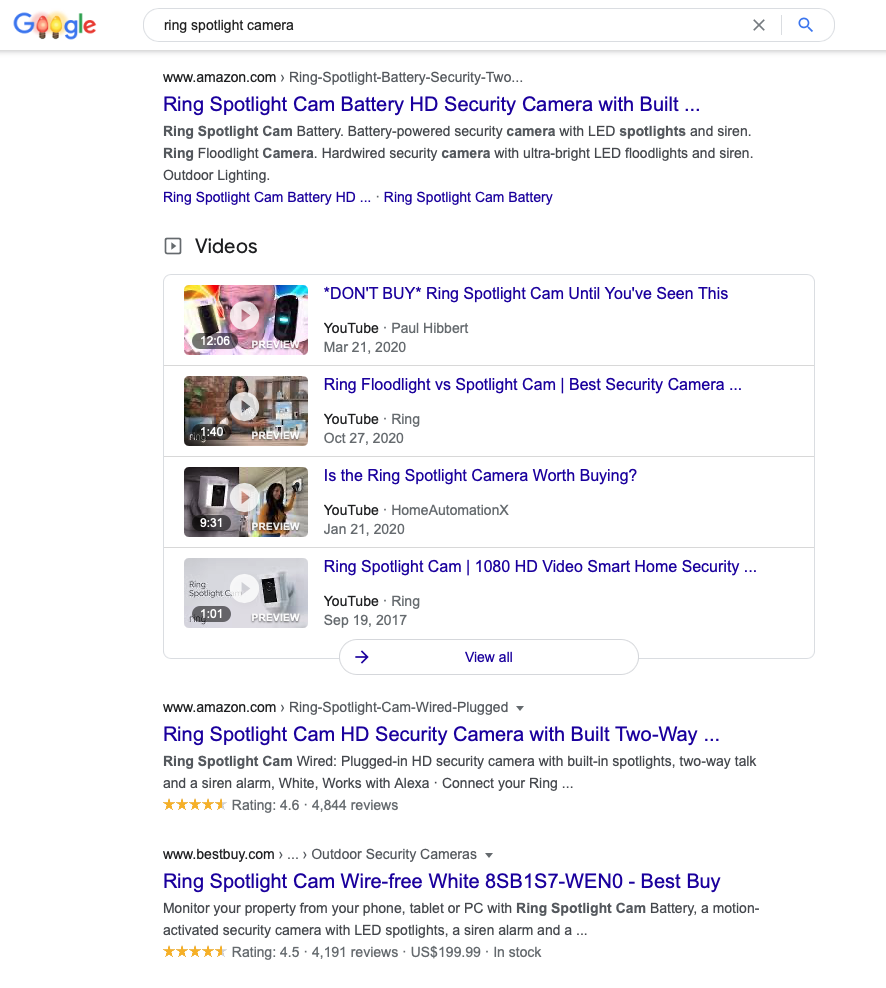 2. Volume Estimation & Competition – Google Keyword Planner, Google Search Console and Google Merchant
After you identify the root keywords, you can use Google keyword planner to find other variations and filter by competition, search volume, brand, etc, and download the full list from keyword planner, which would be used on Google Shopping SEO in a moment.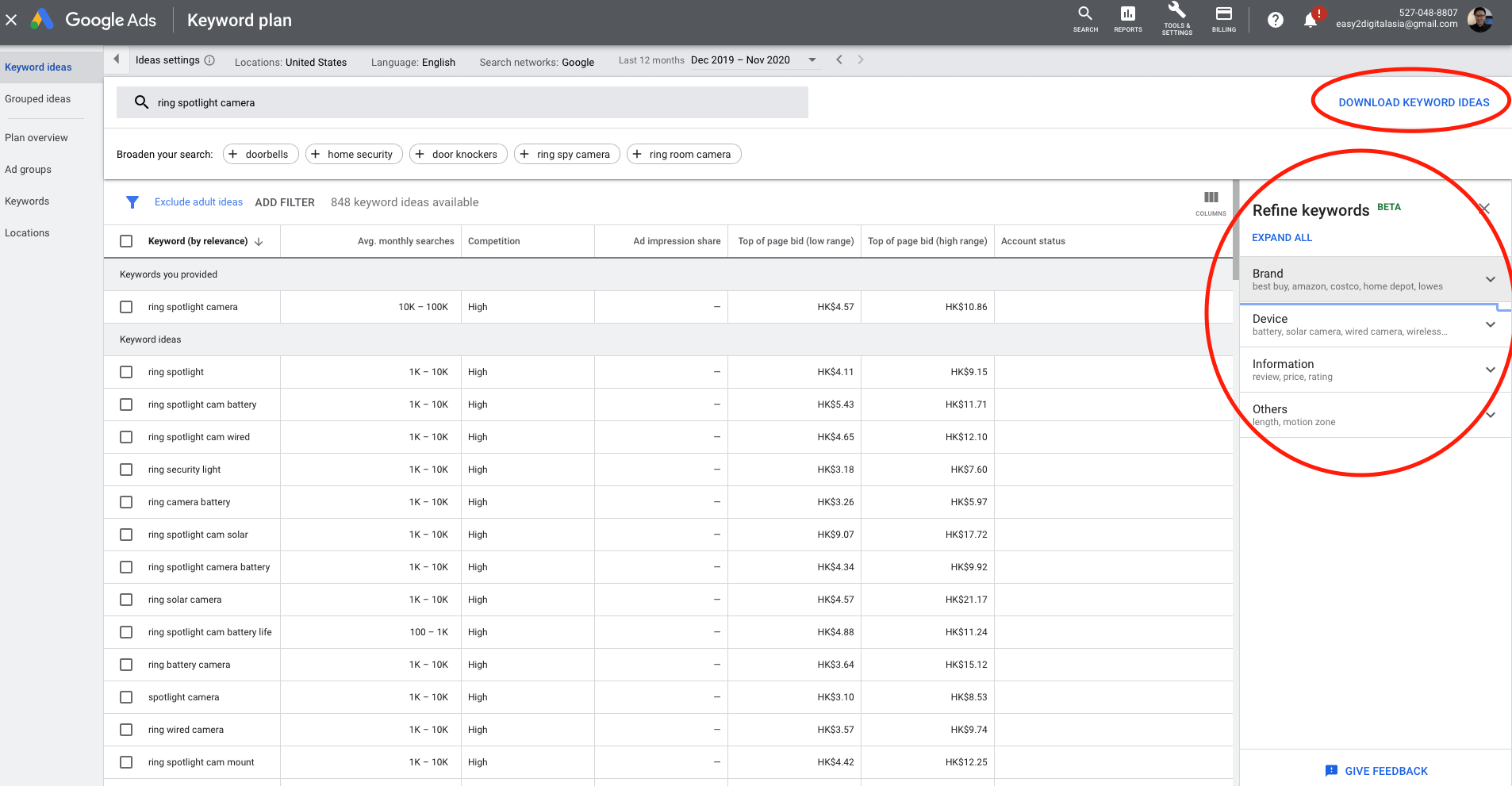 After a while, you can learn the real time and actual search term from Google search console, so you can further finetune your SEO keyword list for Google shopping performance.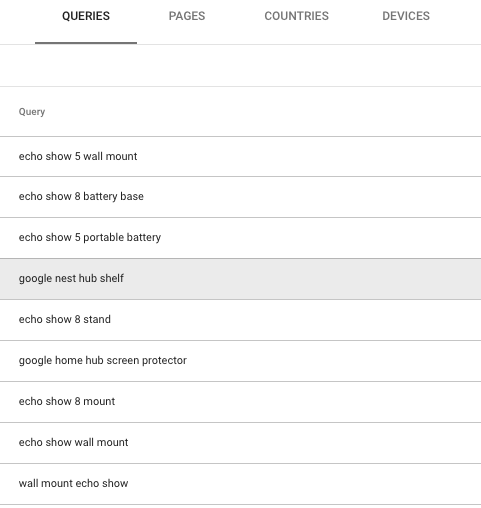 3. Competitor Monitoring and Analytic – MOZ, SEMRush
If you aim to learn more insight from your competitors, and hope to deploy a differentiated SEO strategy, you can leverage some 3rd party platform, such as MOZ, SEMRush. I don't go into details, but basically it can monitor your competitor SEO ranking, performance by typing in your target keywords.
Meta Tags
1. Add a Primary Keyword
Each product must have a primary keyword and tell Google the difference among the SKUs, in particular the product varies by model, collection ,seasonal with the same or similar product name.
Basically I would suggest you to use the product name plus a unique identity, such as model, color, seasonality, etc, which is used to differentiate with other products in the same collection.
You can add this keyword by using SEO manager, or Yoast SEO if you're not familiar with html coding.
2. Product Title Tag
Google Shopping requires product title characters to be equal to or less than 70, but I'll suggest to keep it under 60 characters which ensure all devices can show full title wordings.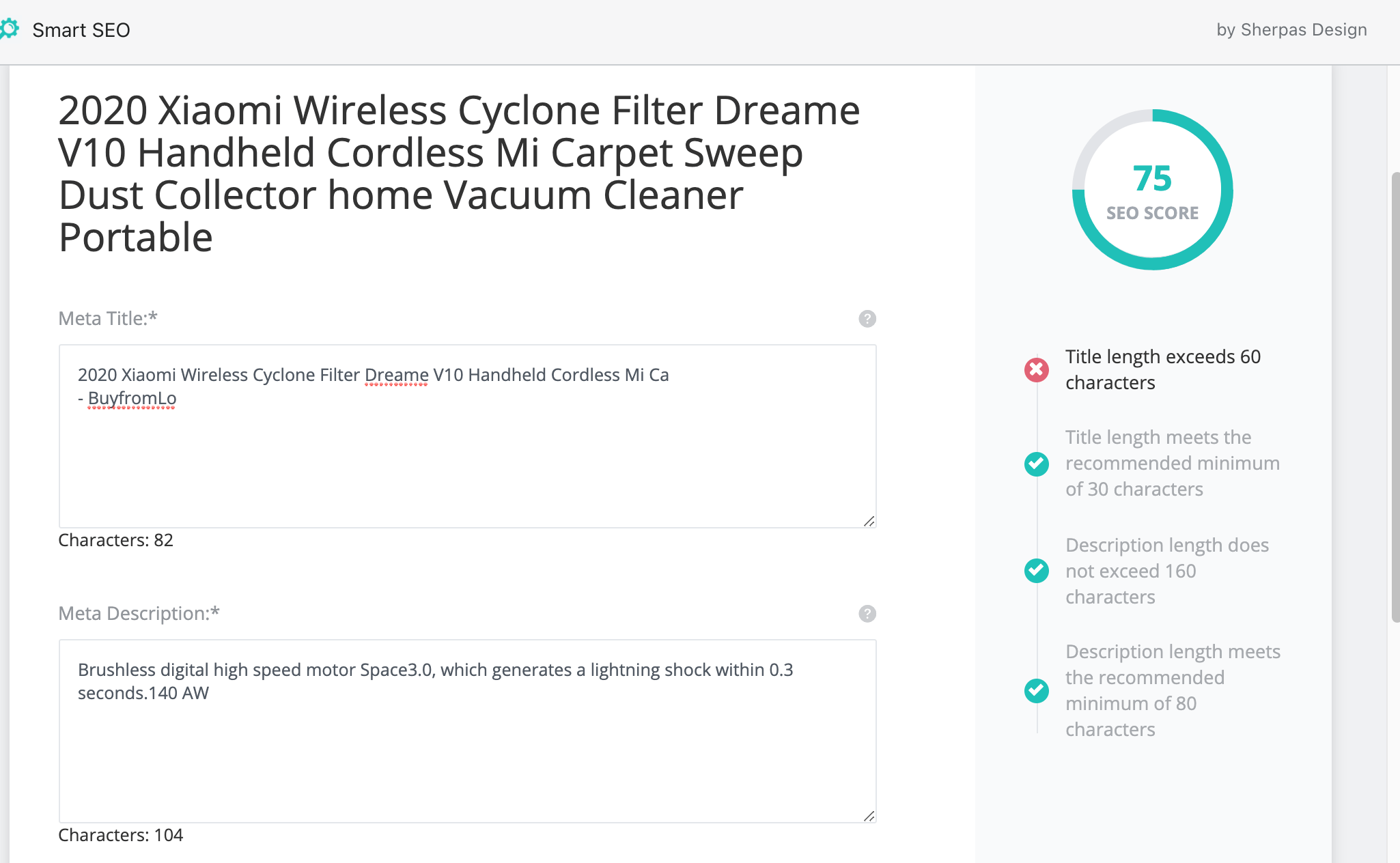 For product title writing, the basic formula is product name, plus color, materials, and pack information. If you are a reseller of the product, I'll suggest you adding | plus brand name at the end of the title.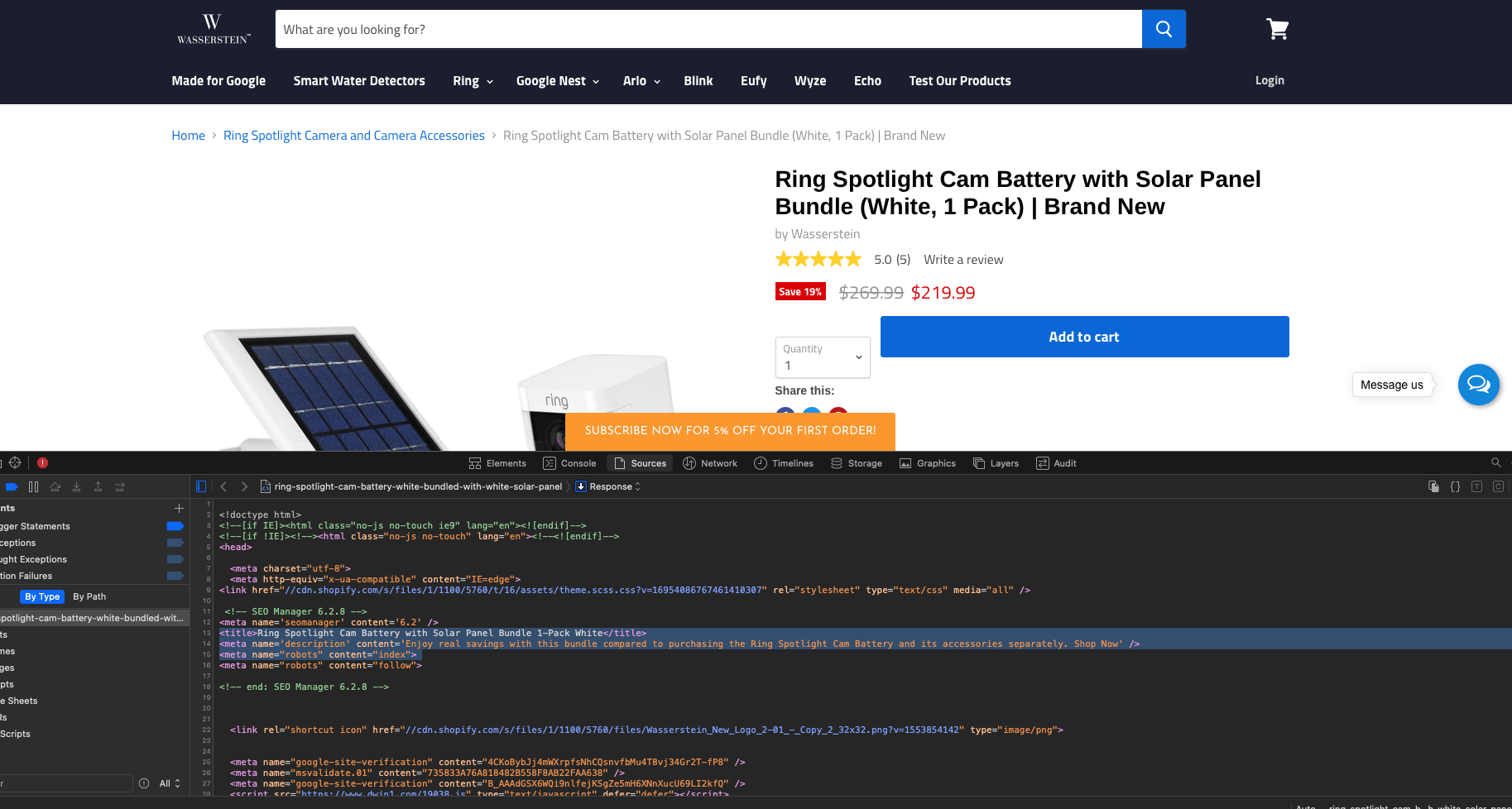 Just keep in mind that the product title (H1) on a page is different from the product meta title. And Google Shopping shows the product meta title in SERP. So in meta title, please show the key messages and keep it as accurate as possible. On the other hand, you can elaborate more in details on the product page title.
If the core keyword is for example "Ring spotlight camera", please ensure the meta title includes this keyword rather than any other variation.
3. Product Description Tag
Google Shopping requires product meta description to be equal to or less than 160, but I suggest maintaining it less than 120 characters, in order to show full messages wherever devices show the SERP.
Basically, the formula to write meta description for eCommerce success is the core keyword plus general product unique selling points with ending up a call to action, such as learn more, shop now.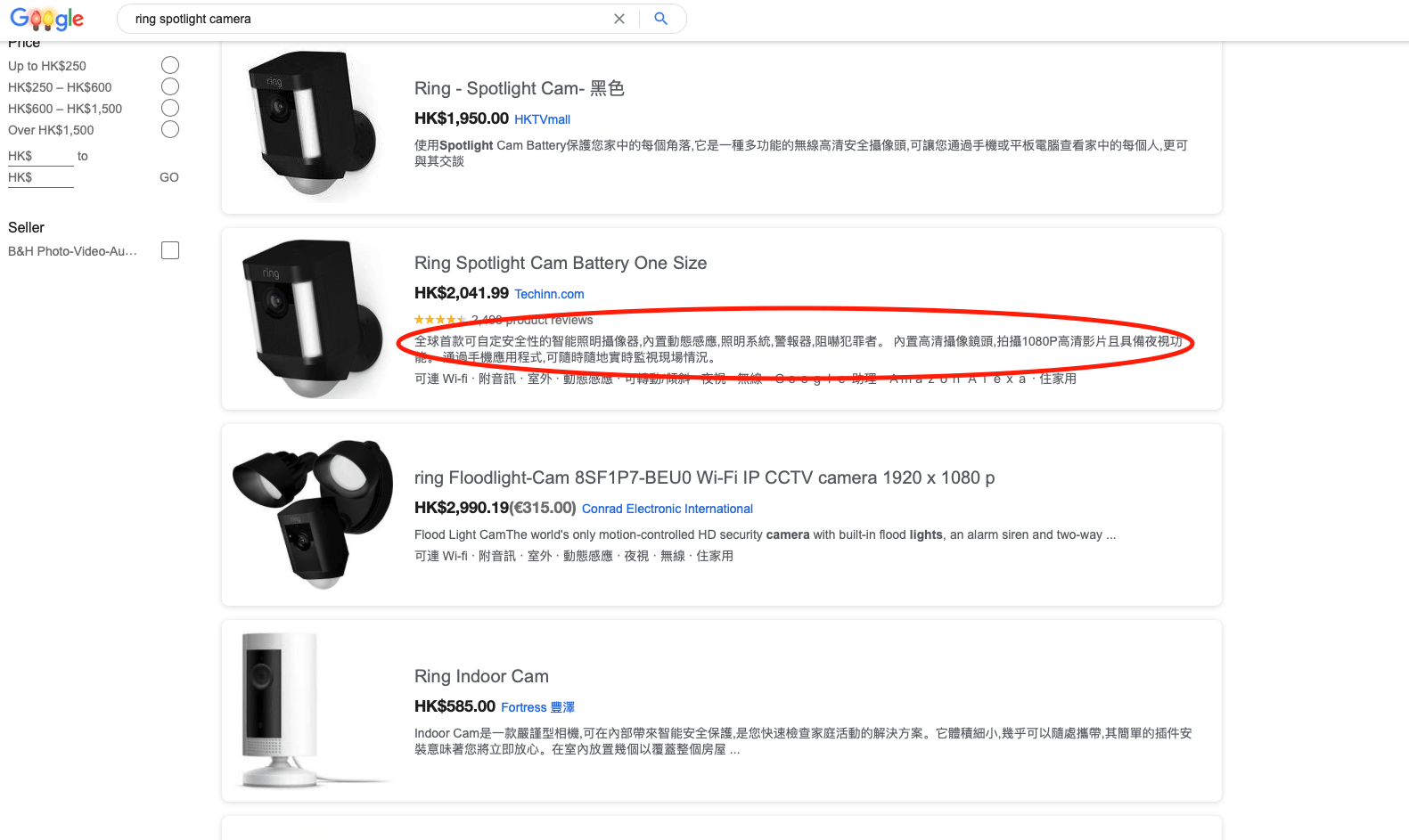 We don't need to highlight the SKU price, inventory, because Google Shopping SERP independently shows this information. But again, please add the core keyword
4. Image Alt Tag
Many product photo images are missing alt tags, which is one of the primary reasons when two sophisticated SEO players are fighting, but one wins. It won't take you much time, but just it might be so repeatable and boring to complete. The way is just to select the keyword variation from the full list SEO keywords and add to related photos. Duplicate is not good, but it's better than being empty.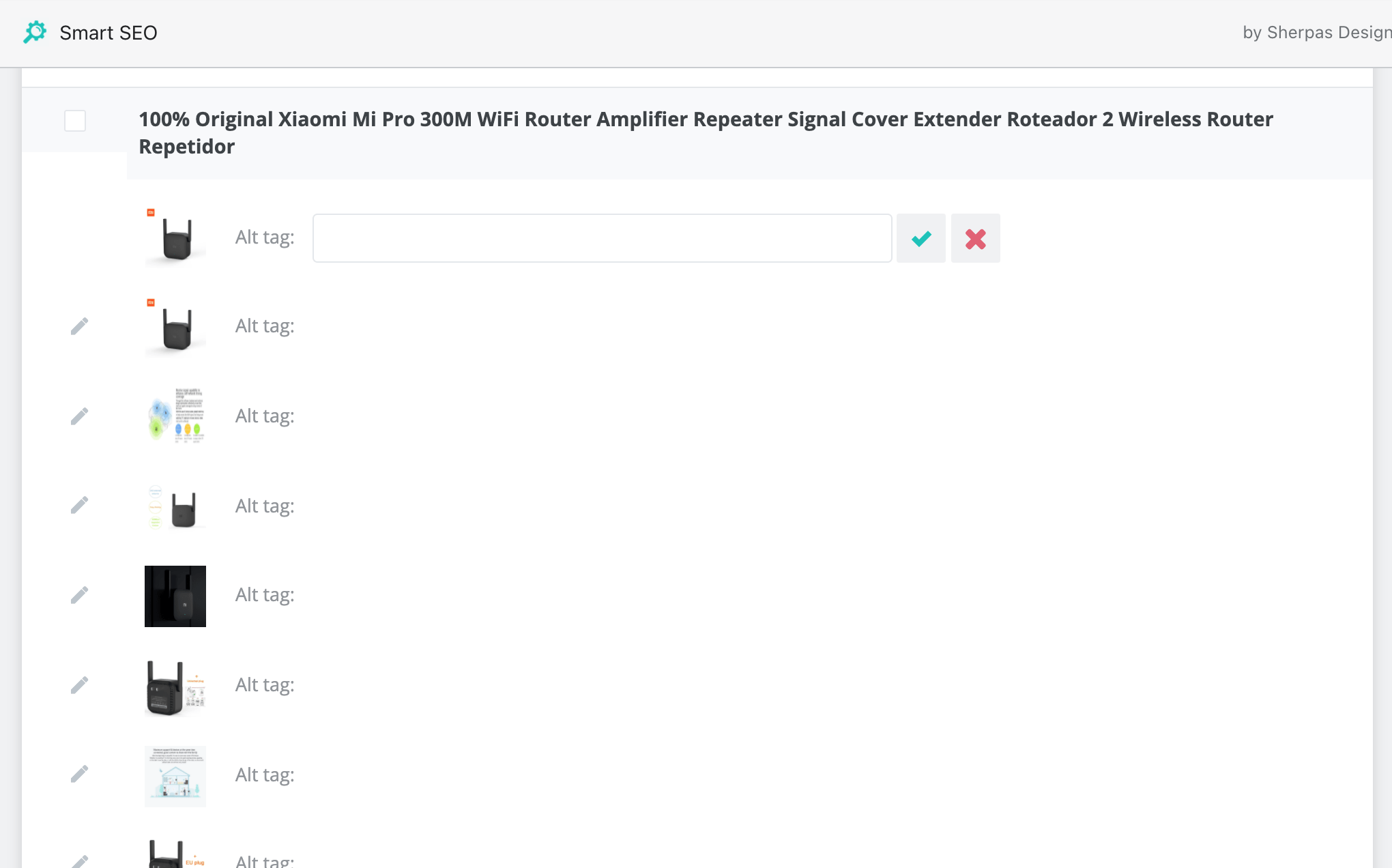 5. Product URL
Compared with generic google SERP, Google Shopping has less weight to affect the performance, that might be because eCommerce website product information related to SKU ID, variation, etc, but from my experience, if a product URL is too massive, it would affect the index and organic traffic at the end.
Sample: wasserstein-home.com/products/ring-spotlight-cam-battery-white-bundled-with-white-solar-panel
Just keep it as short as possible and include the core keyword in the URL, meanwhile avoiding URL duplicate between two products.
Photos
Product images are extremely important to your Google Shopping feed. They have to look professional. Nobody clicks a SERP information with an awful image. As you may intuit, product images are less about communicating relevance to Google and more about attracting consumers' eyes. Think of it like making a first impression.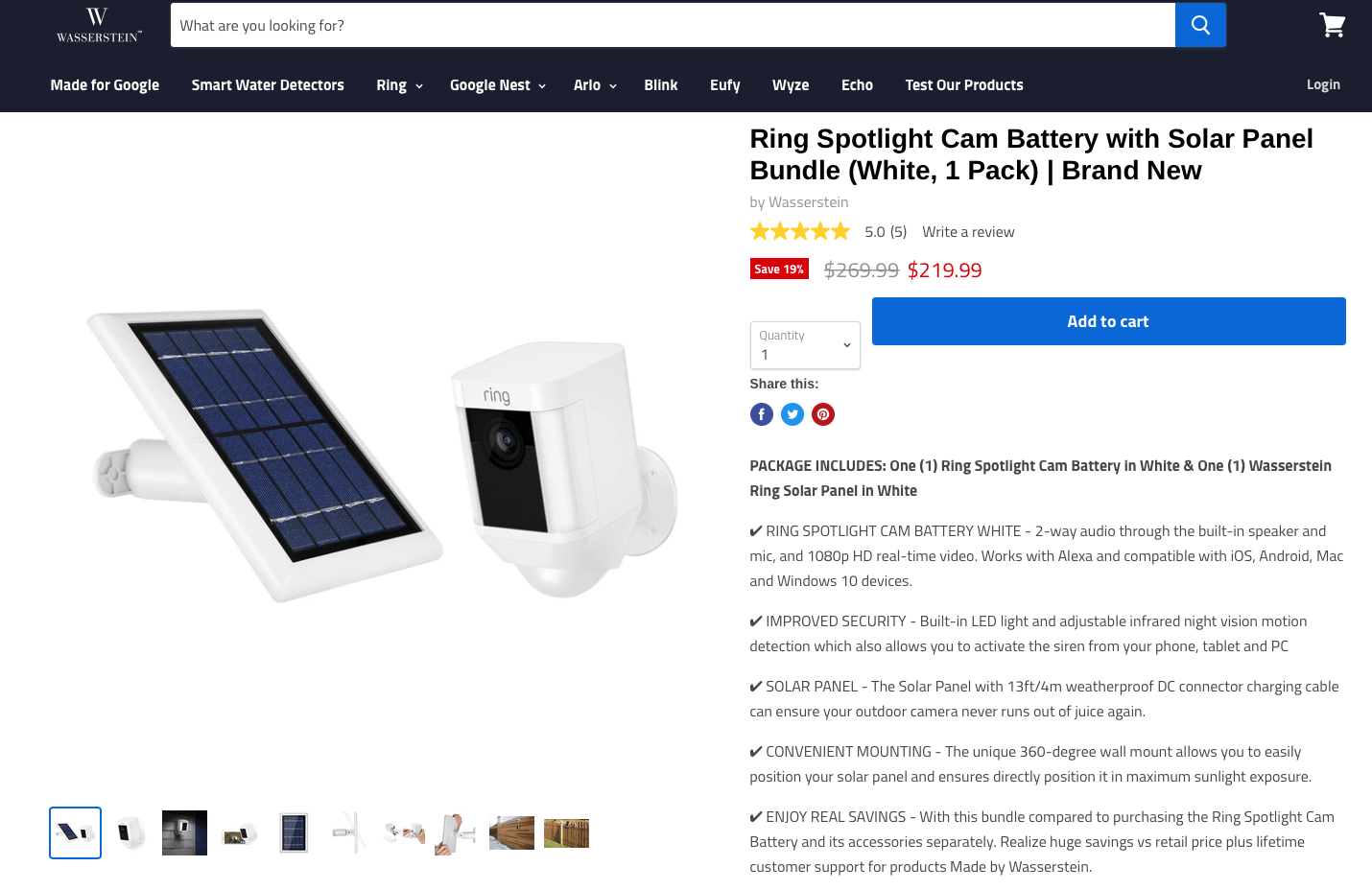 Just keep in mind that there are a few Google Shopping rules regarding product photos, such as no watermarks, no additional text, no brand name, no discount info, and no logos. For more details, please search and go to Google merchant center policy.
Product Type
Plain and simple, your product type is an opportunity to give Google another backend attribute that helps determine relevance. Unlike product categories, it's a key data feed to syndicate your website Google merchant center with Google ads. So this product type represents the group of products you're going to run ads, and you can select the product type in an ads group and create the ads set to run Google Shopping ads.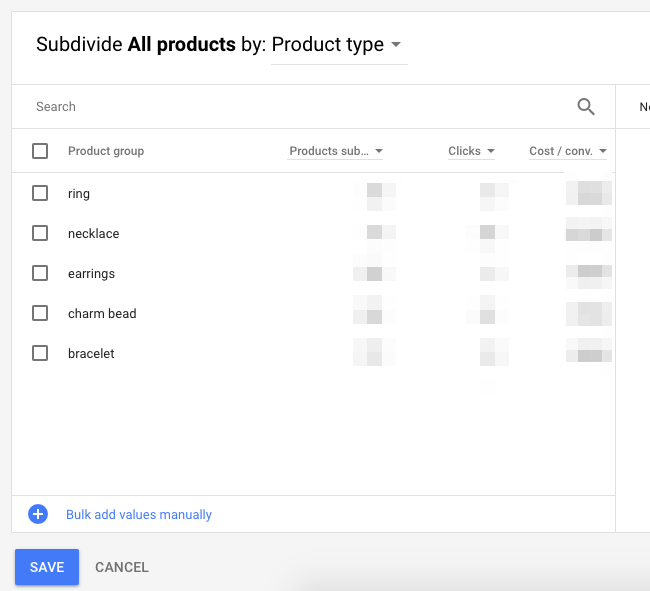 It's a kind of product categorisation. In Shopify, if you want to automatically update the products that display in a collection page, you can select the group of created product types as well.
Product Category and Custom Field
Your product category doesn't show up on the prospect-facing side—it's strictly a backend attribute that Google takes into consideration when populating the Shopping search results.
This is a required part of your Google Shopping feed. In order to make a product eligible for advertisement, you must select a category from Google's Product Taxonomy, or GPT. Available for download, the GPT is complete with over 6,000 categories and subcategories. When it comes to relevance, the product category is extremely important. The more targeted you are with your subcategories, the more relevant your product will be. For example, in Shopify, you can install Google channel App and you can add the category on the Google field for each SKU like this: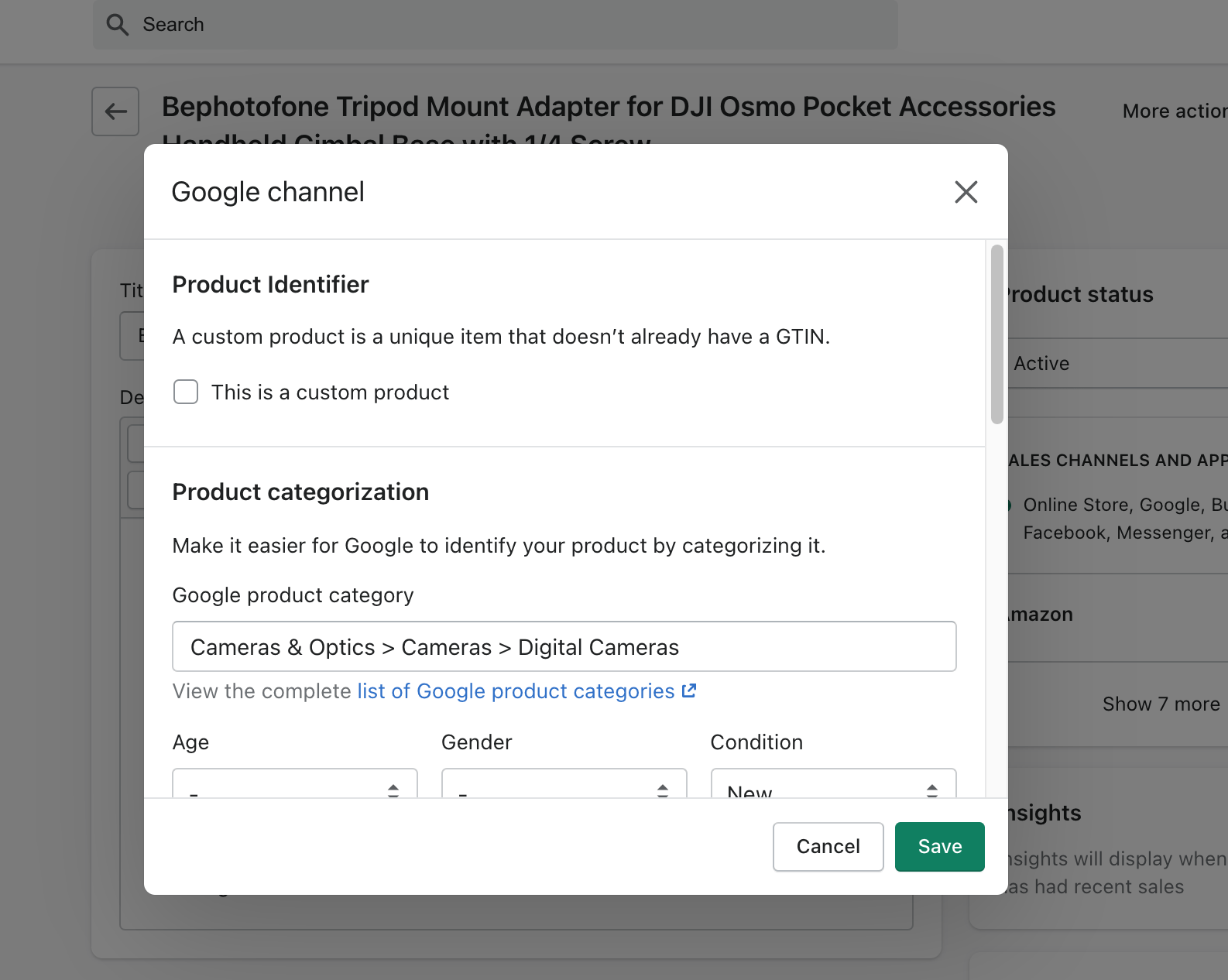 Except for this, Google also suggests you to add on the product itself information, such as for which age, color, material, size, condition (new, used, or refurbished), etc. This information would help your SEO performance by improving the product ranking.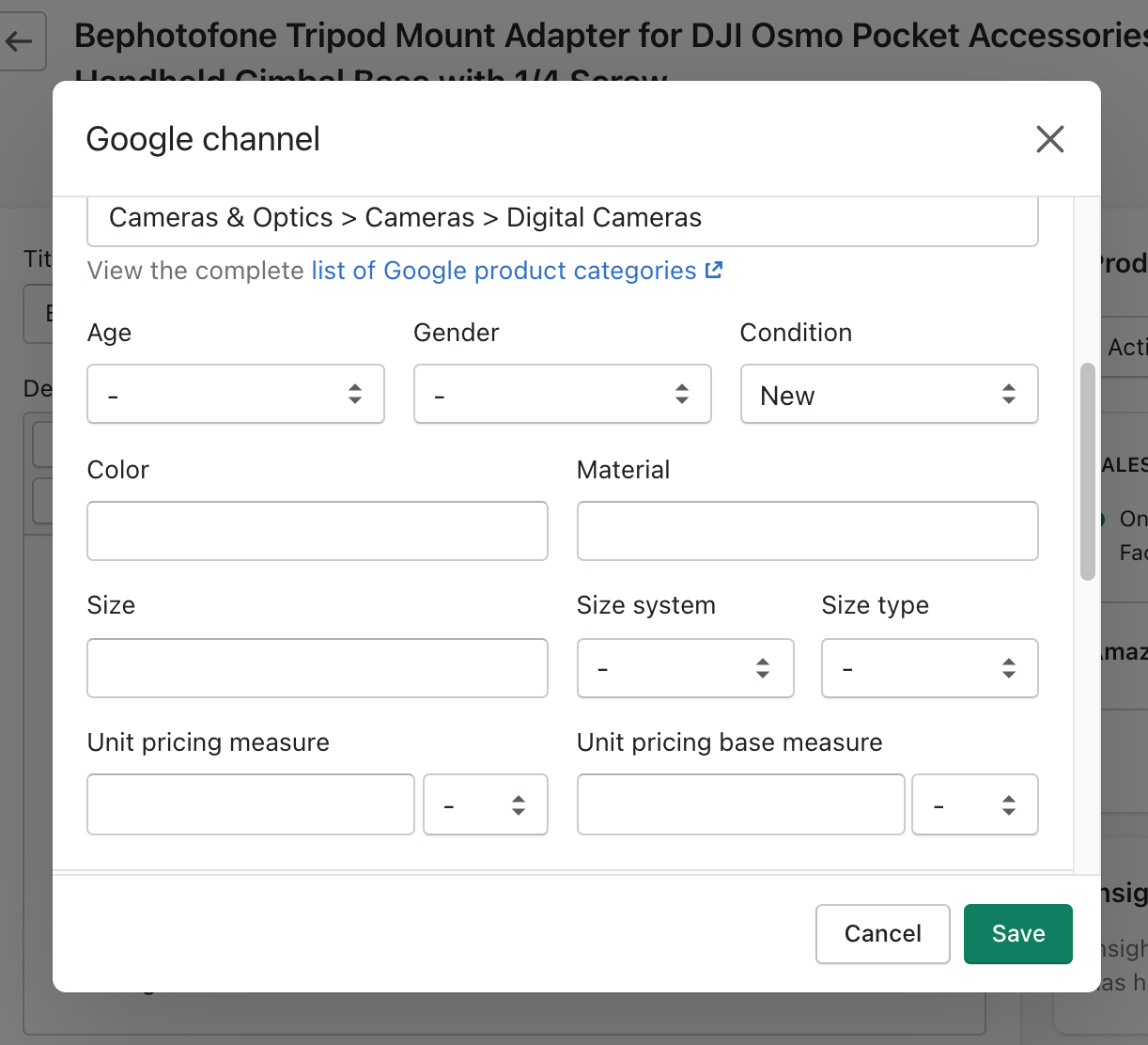 Some of the products might not have a unique GTIN code, because it might be a bundle deal, such as a ring camera plus a solar panel. As Google is restricting GTIN and barcode policy than before, so you need to not only claim this is a custom product like this, but also you need to add one of the product manufacturer part numbers. Otherwise your custom product might be easily disapproved by Google merchant center.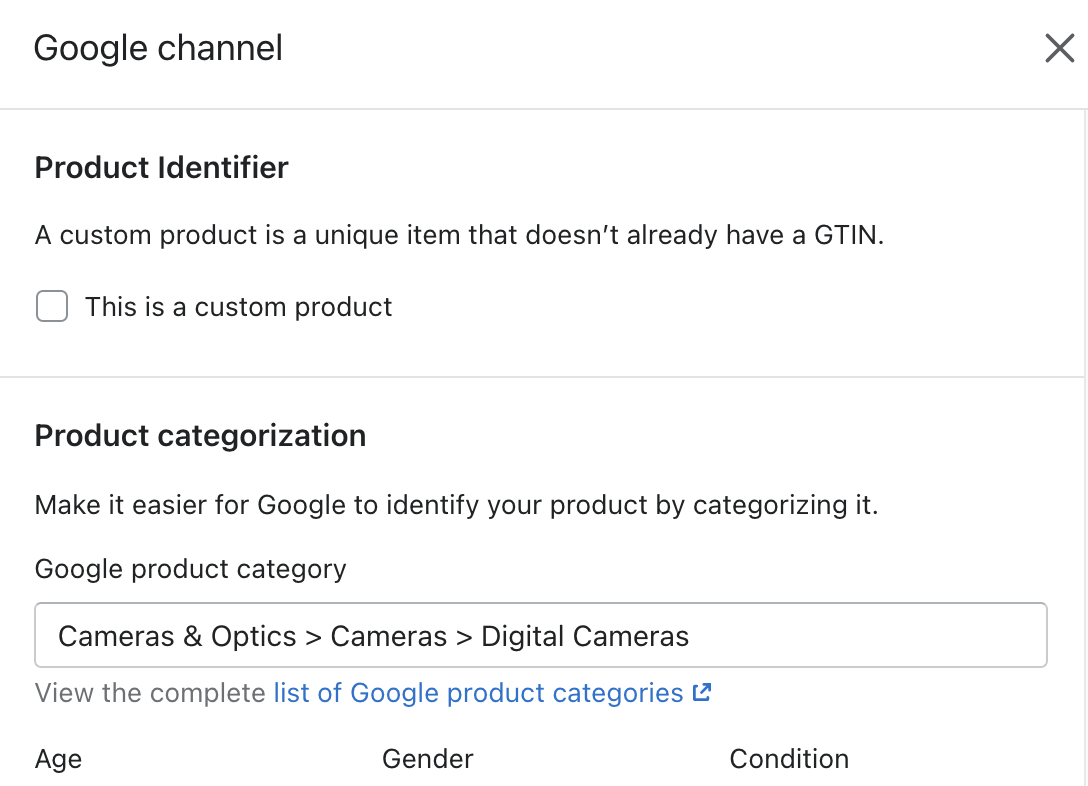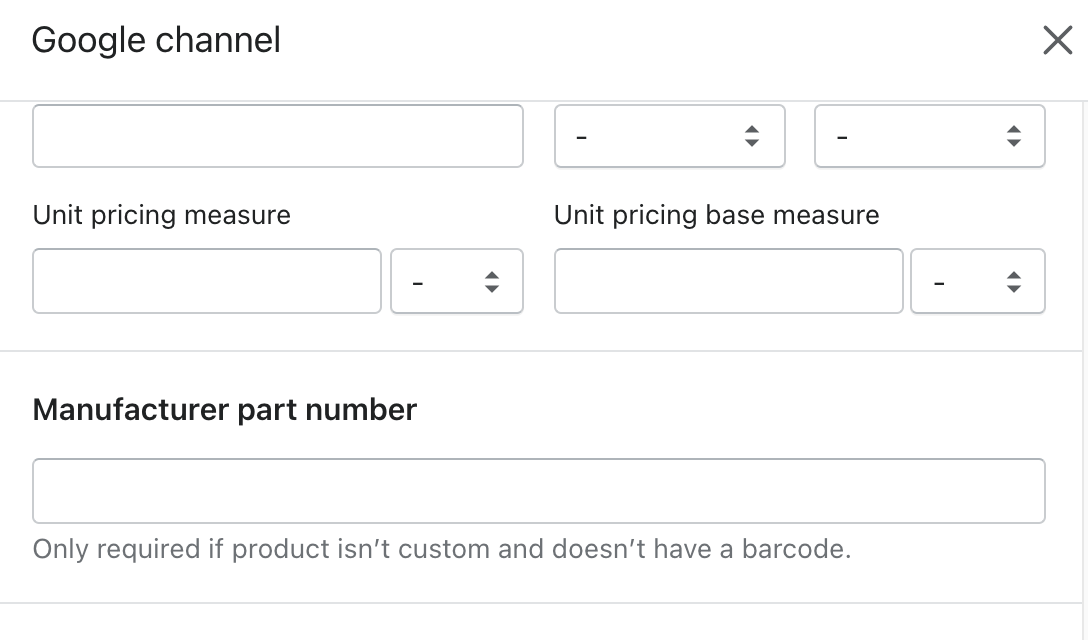 Lastly, it's the custom label. For SEO, it's optional, but for Google Shopping ads and retargeting ads, it's a must. So I would go into more details in the coming Chapter about Google Shopping Ads.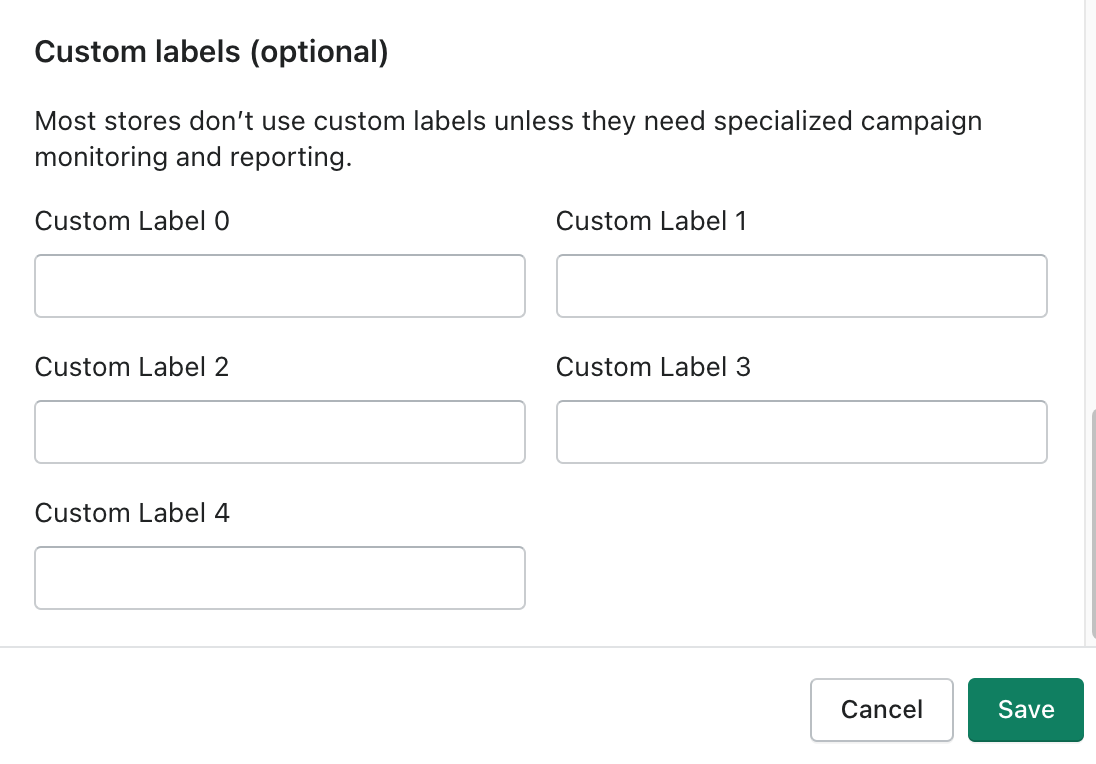 Item Selling Data (Structured Data, or Schema)
Setting up structured data is much easier than ever, and it is feasible you don't have any coding knowledge, such as XML, because most of CMS platforms such as Shopify and CMS plugins like woocommerce has already built up a framework, what you need to do is to update the product information on a simple and clean interface. Below are some information required by Google Merchant Center, and I'll take Shopify as an example to elaborate how to add.
1. Price
Each SKU must have a price, and you can add a promotional price which compare at the original one, and Google Shopping SERP can show as well.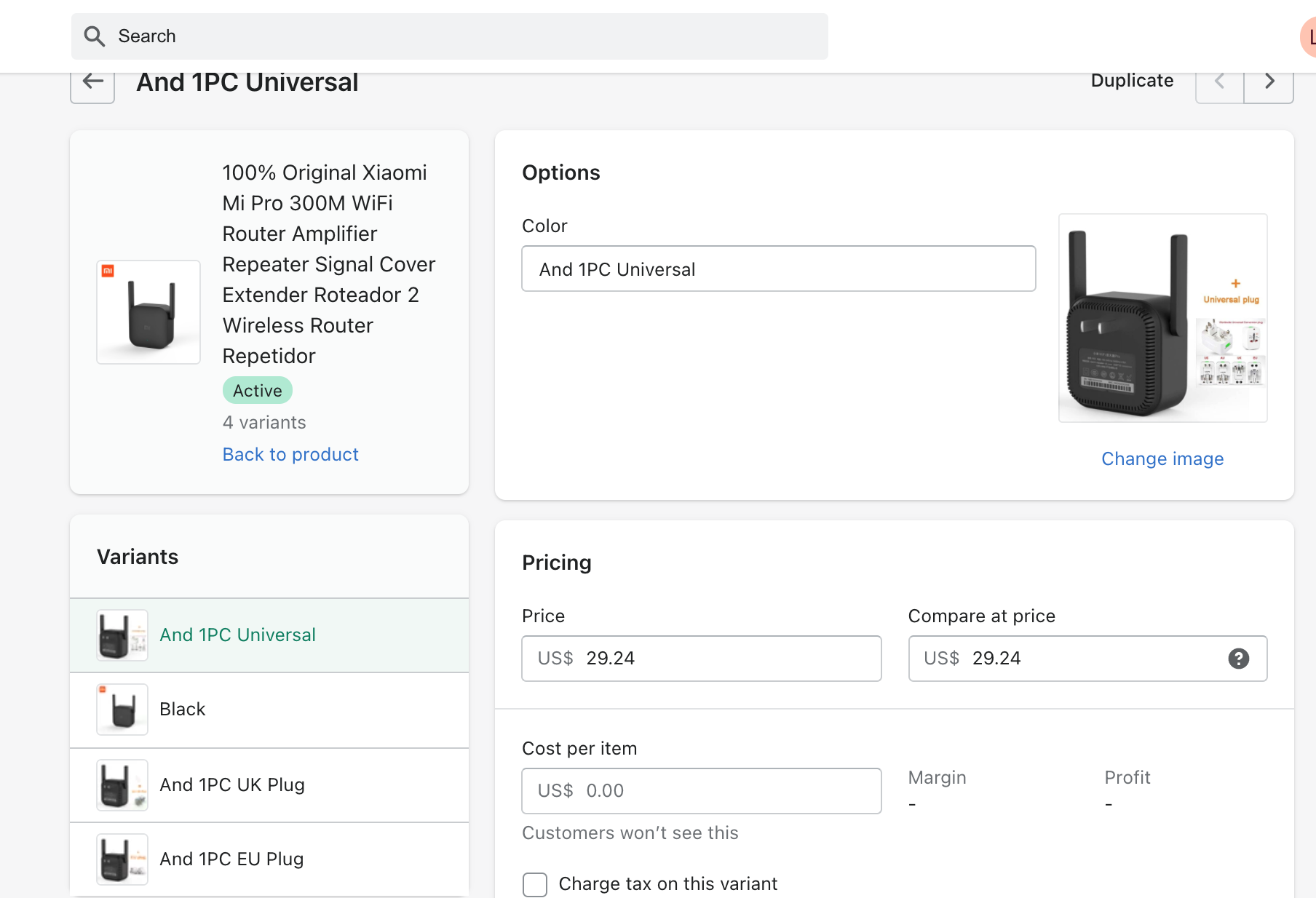 2. Product Barcode and SKU
Barcode is a line of machine readable digits, such as EAN, UPC, etc, which is used to identify your product information by a scanner in different occasions. It is a must have information on each product listing. Also, authentic barcode information is very important for your product listing to get approved by Google merchant center. So you have to purchase barcodes for your products from GS1, or eBay, or get all authentic barcode information from your supplier, otherwise your product listing would be disapproved.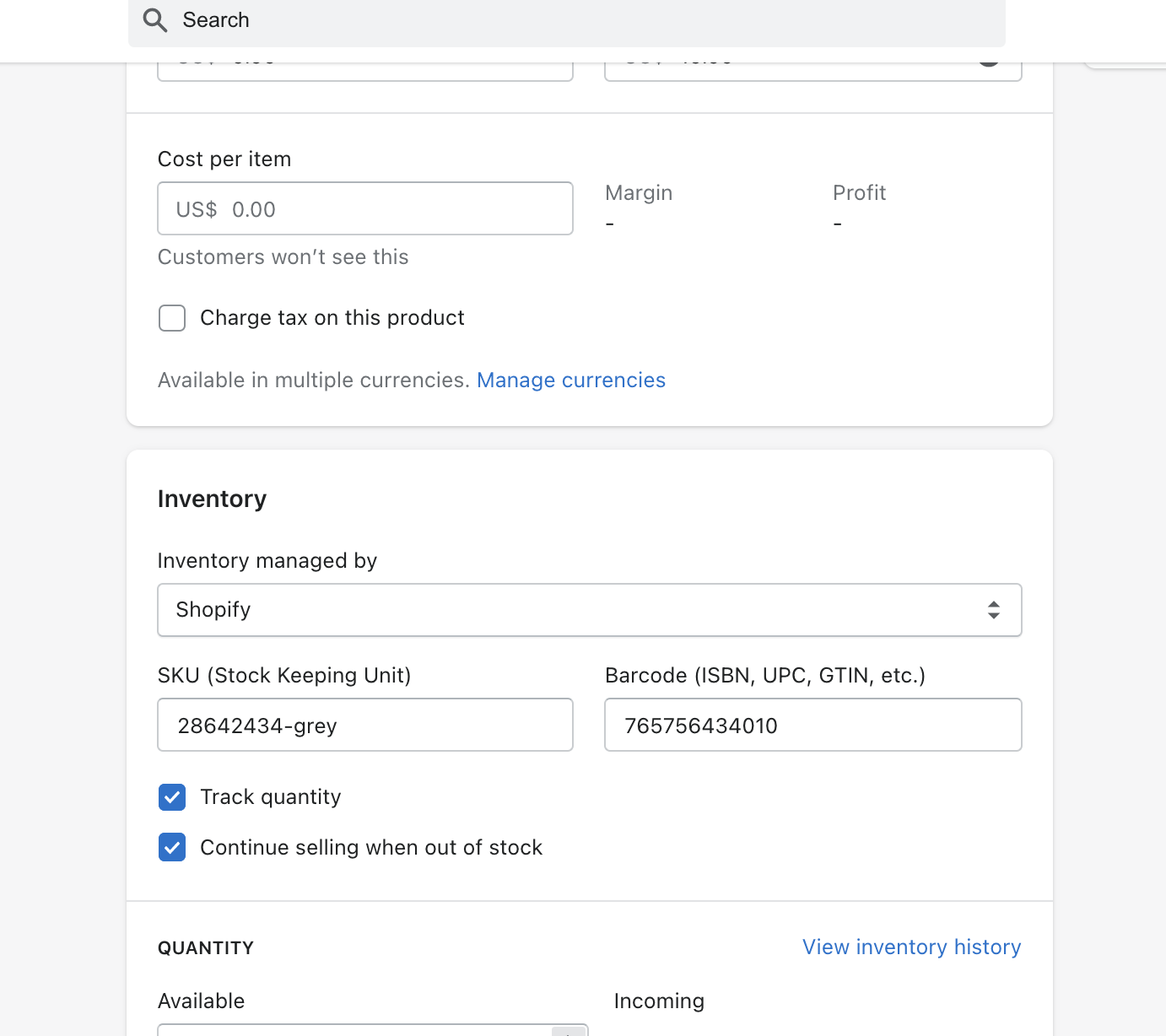 SKU is a unique ID for each product and variation which is required by Google merchant center. SKU ID is helpful on your Google Shopping performance report and you can break down to understand which SKU performs better and worse in advertising as well.
3. Inventory in Stock
Basically all eCommerce platforms allow you to either continue selling or discontinue selling when out of stock. From Google Shopping policy perspective, it just requires this feed data rather than the product listings would be forced to pull off when the inventory is out of stock that increases late shipment rate, or return dissatisfaction rate. So in a way, it's different with other marketplace policies like Amazon, eBay, etc. From my perspective, I'll suggest you to continue selling when out of stock, because it can sustain the website traffic in a way.
4. Tax and Shipping rate
Tax and shipping rate is another product feed data required by Google merchant center, in particular if you are running Google shopping action, which all checkout process is finished on Google Shopping side and you get payout from Google by PayPal. If this information is missing, your product listing would be disapproved as well.
5. Product Rating
Product rating data feed is not a must, however it's one of most important data to affect your product organic ranking position, because Google merchant center gives higher weight on this element and would boost those products in a higher position with more positive product rating and comments.
Apart from creating XML data feed by your team developer, you can install a plugin like judge.me product reviews, where you can manage your product review by SKUs and the plugin can automatically create and update XML product rating data, aggregate rating JSON-LD, aggregate rating micro data that are fed to Google merchant center.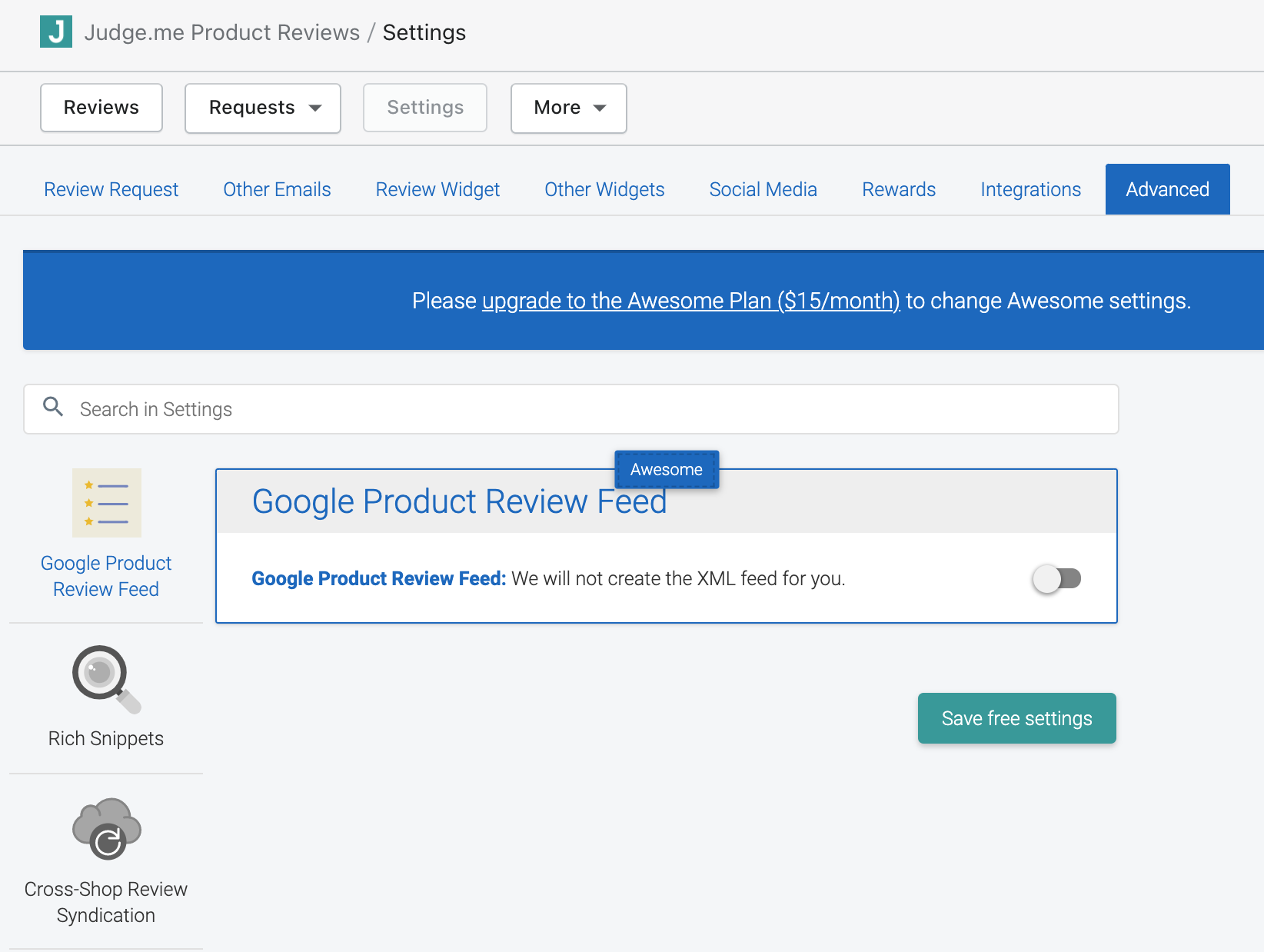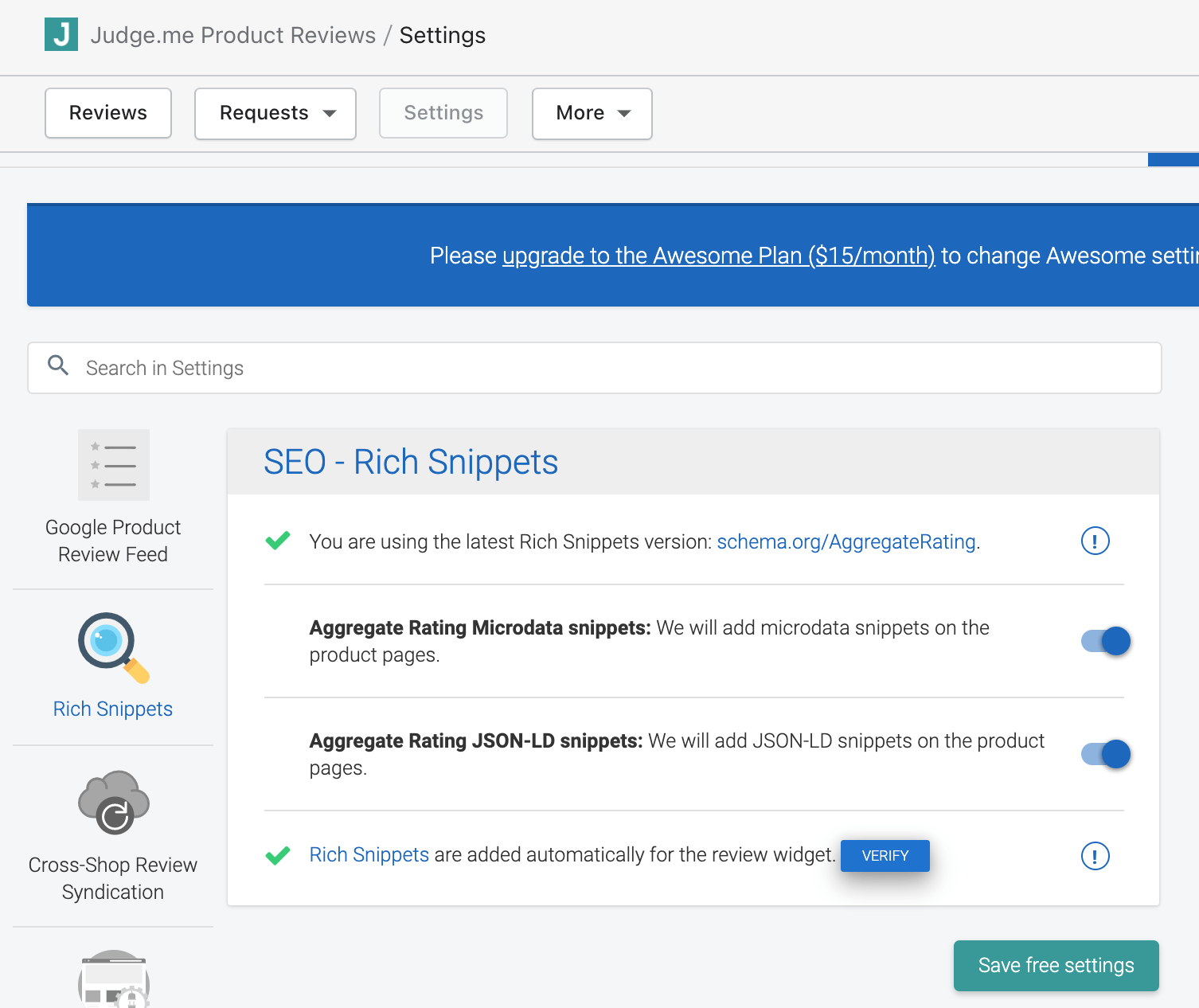 If you want to ask customers to leave a product review, you can create a follow up email for customers by setting timing, format, conditions, templates, etc. Also, as I talked previously in the article – Lunch for Free – 0% Commission Fee for Selling on Google Shopping, you can copy the Google customer review code that is generated in your Google merchant center account, and paste it on your website checkout confirmation page. So Google always pops up a window after the order confirmation, and asks if the customer can help leave the review on the product.
I hope you enjoy reading Optimise your Google Shopping Product Feed to Increase Google Organic Traffic and Sales. If you did, please support us by doing one of the things listed below, because it always helps out our channel.
Support my channel through PayPal (paypal.me/Easy2digital)
Subscribe to my channel and turn on the notification bell Easy2Digital Youtube channel.
Follow and like my page Easy2Digital Facebook page

Share the article to your social network with the hashtag #easy2digital

Buy products with Easy2Digital 10% OFF Discount code (Easy2DigitalNewBuyers2020)
You sign up for our weekly newsletter to receive Easy2Digital latest articles, videos, and discount code on Buyfromlo products and digital software
Subscribe to our monthly membership through Patreon to enjoy exclusive benefits (www.patreon.com/louisludigital)
Google Shopping Product Listing Service (With Adding SEO elements)
If you are looking for a freelancer to help you on the Google Shopping product listing and work on the SEO as well, I'm able to help you on this and below has 3 service and quotation ($US) plans you can select. For details, please visit here and contact me.