Japan's business-to-consumer e-commerce market is worth $150.1 billion having increased at a single-digit rate since 2015. The e-commerce market is expected to follow a similar growth trajectory to 2021, expanding at a compound annual growth rate of 6.2 percent. As the third-largest online retail and eCommerce market worldwide that is behind China and the US, particularly when RCEP has launched and Japan is one of the members there, many sellers expect more possibilities from Japan and look for business opportunities to grow the business.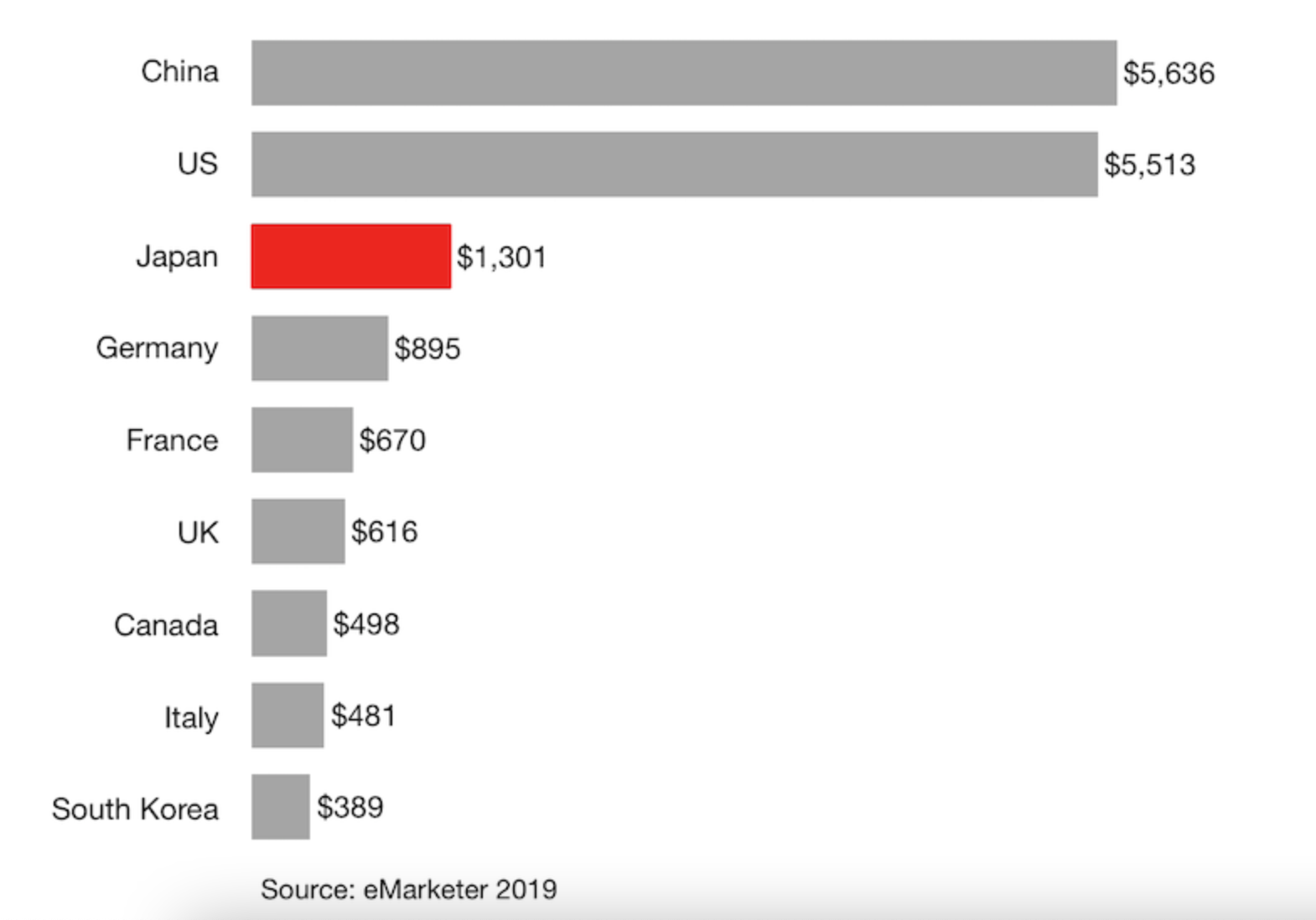 Amazon and Rakuten Japan must be two primary channels on the spotlight that sellers are discussing, in particular, which one is better to start. So in this article, I would talk about my review between Rakuten and Amazon Japan from several points of view, such as market share, fee structure, etc. By the end of this piece, you can learn the difference between two platforms and select one to start selling in Japan, which is better as a new seller there.
Marketshare & Consumer Profile
In Japan eCommerce, Rakuten, Amazon, and Yahoo Shopping must be the top 3 comprehensive marketplaces for sellers to select, 1 out of 3 at least when entering the Japan eCommerce market. 
In the latest 6 monthly traffic data from Similarweb, we can see Amazon has already exceeded Rakuten Ichiba Japan by monthly Japanese visitors, which had over avg.600 million, compared with Rakuten Japan avg. 580 million. The number implies that Amazon monthly transaction on avg is increasing.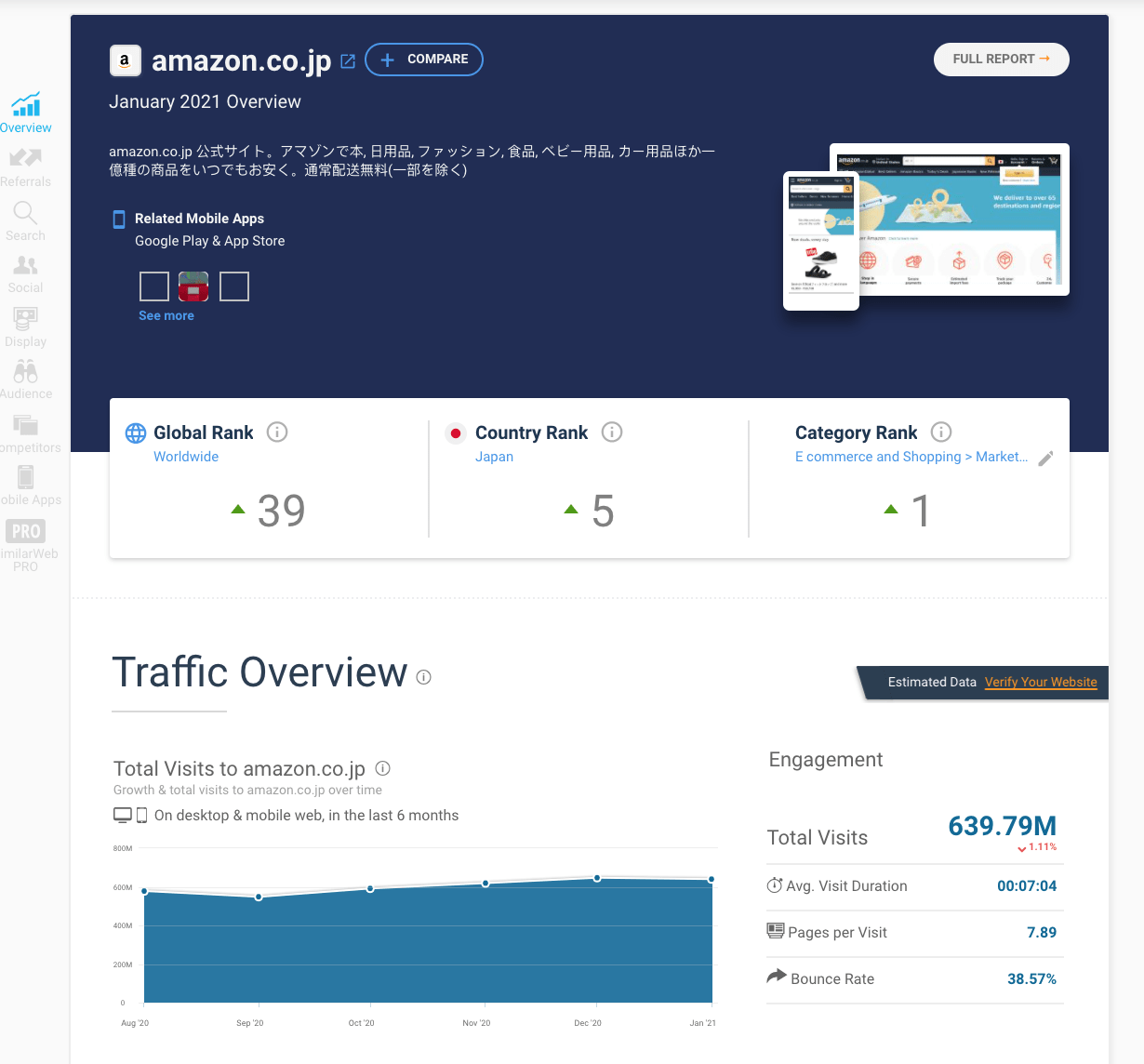 Also based on the Nielsen digital content research 2020 and the latest local research company, obviously, Amazon Japan account users have exceeded Rakuten Japan、which the account users had over 52 million when Rakuten had only 51 million. As we know, people need to have an account to check out in either of the online shopping marketplaces. So this number means Amazon's customer base has exceeded Rakuten Japan, which makes sense if comparing with the traffic number monthly.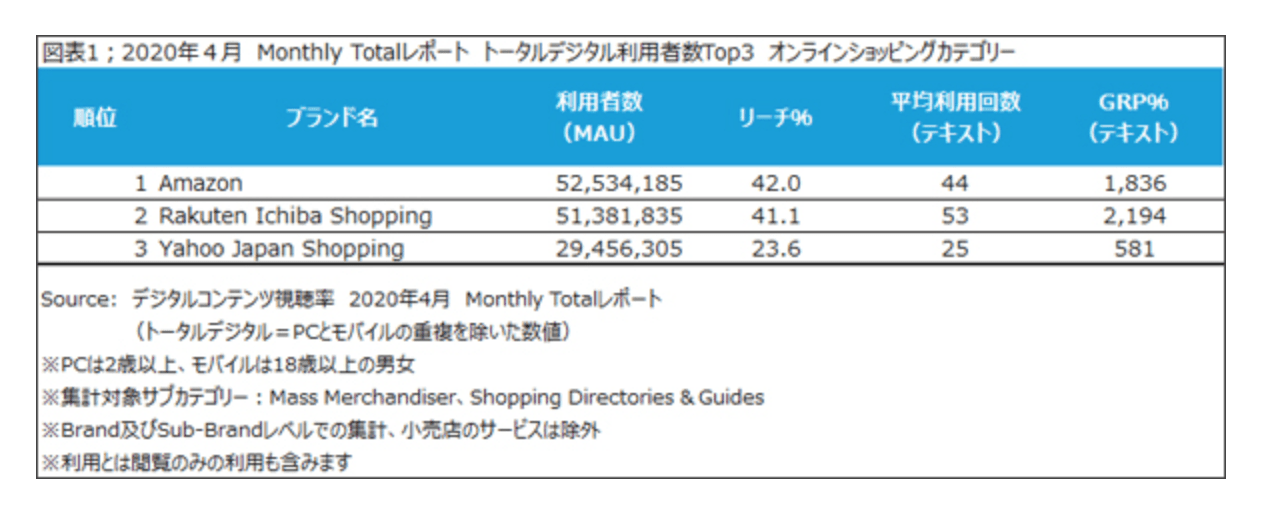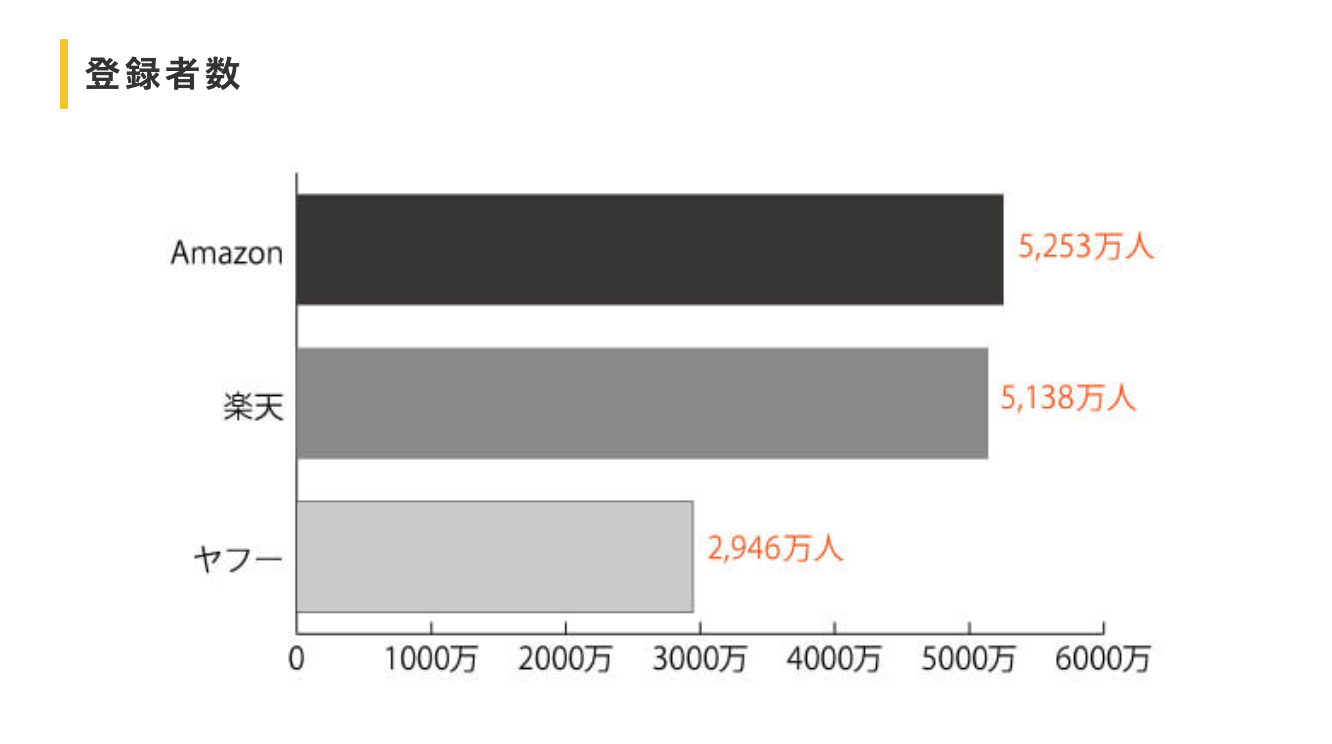 Having said that, they're still quite close to each other, and even Yahoo Shopping Japan might be lagging behind in terms of annual transaction revenue and site traffic, but it still has value for sellers to see if any strategy can be adapted to grow business. 
From a consumer profile perspective, we find that Amazon is more popular with male customers, and on the other hand, Rakuten Japan is more attracting female customers. I think the product category and the shopping experience might matter here, because Rakuten Japan is doing better in the shopping experience, for example, product page layout and loyalty programs where customers can earn points, incentives, and bonuses quite well. That definitely can impress female customers more.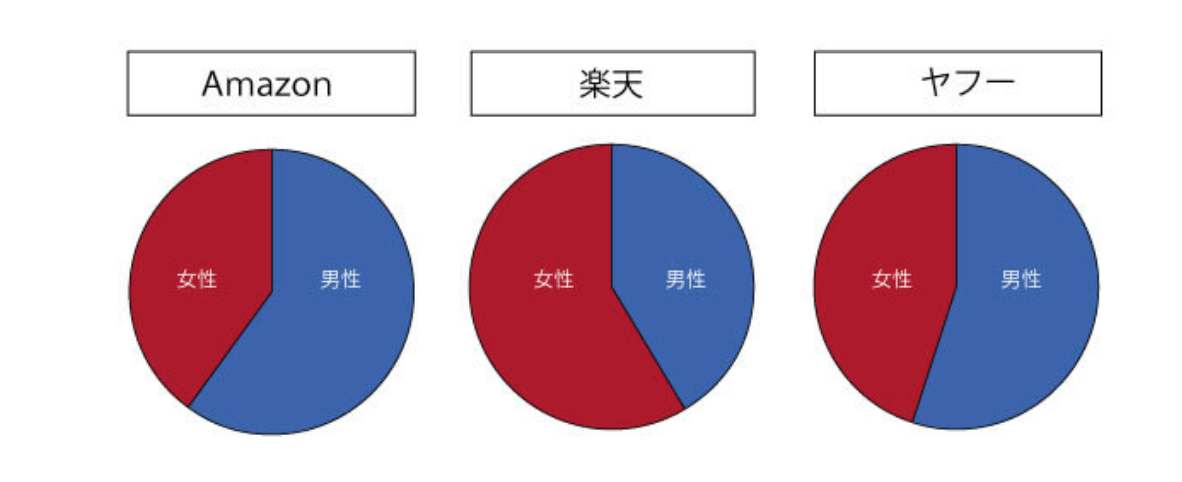 Gender is a thing, age is the other. Luckily Amazon and Rakuten Ichiba Japan evenly are attracting the younger generation, meanwhile probably because Yahoo Japan is one of the earliest players in the market, more senior people prefer to shop there.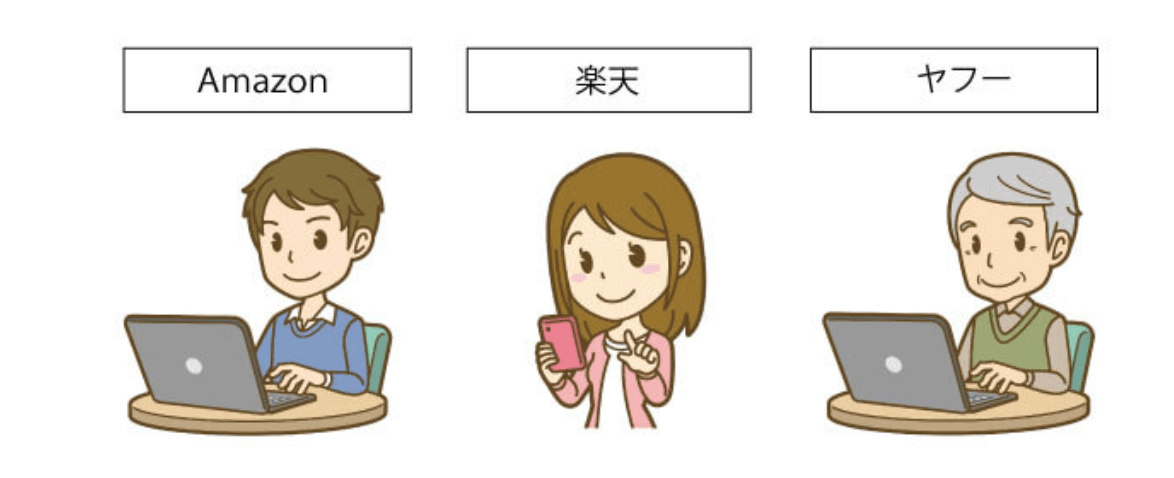 So if you are a newbie in Japan eCommerce as a foreign brand, and haven't sufficient insight to understand your product performance in Japan, I would say Amazon should be a better option, because of larger traffic volume, easier account creation, and more convenient FBA.
Winner: Amazon Japan
Marketplace Business Model
Amazon Japan & Rakuten Japan business model is different. I would say Amazon is a product-driven model, which is running more like a supermarket. Amazon lists its owned brand products, meanwhile allowing other sellers' list products onto the platform to sell to customers. 
Also, Amazon prioritizes those merchants and sellers' products, who leverage fulfillment by Amazon or Amazon FBA, ranking products to a better search result position, and gives more helpful call-to-action features, such as buy box. And what's more, Amazon would sell the same products with other sellers when they find it's profitable, and even block the other seller's list and sell the same product.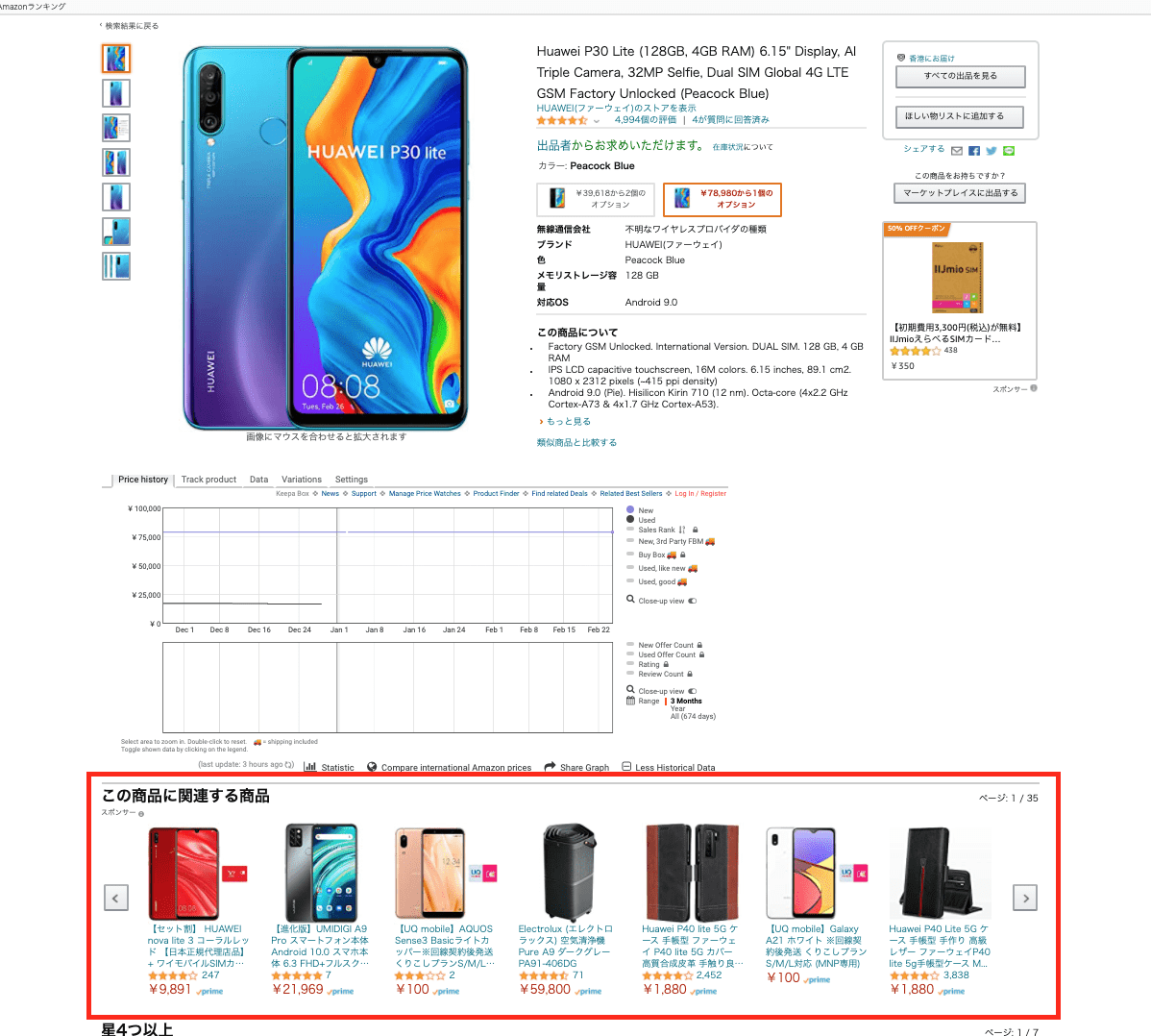 So in a way, Amazon is building up its owned eCommerce Kingdom and earning profit by leveraging sellers, instead of helping sellers to build their brands really. One of the typical examples to showcase this strategy behind is there are many other seller product recommendations in a seller product page, which is creating a friendly price comparison interface to please visitors and engage with them on the platform, however it causes pricing competition easily and obviously among Amazon sellers.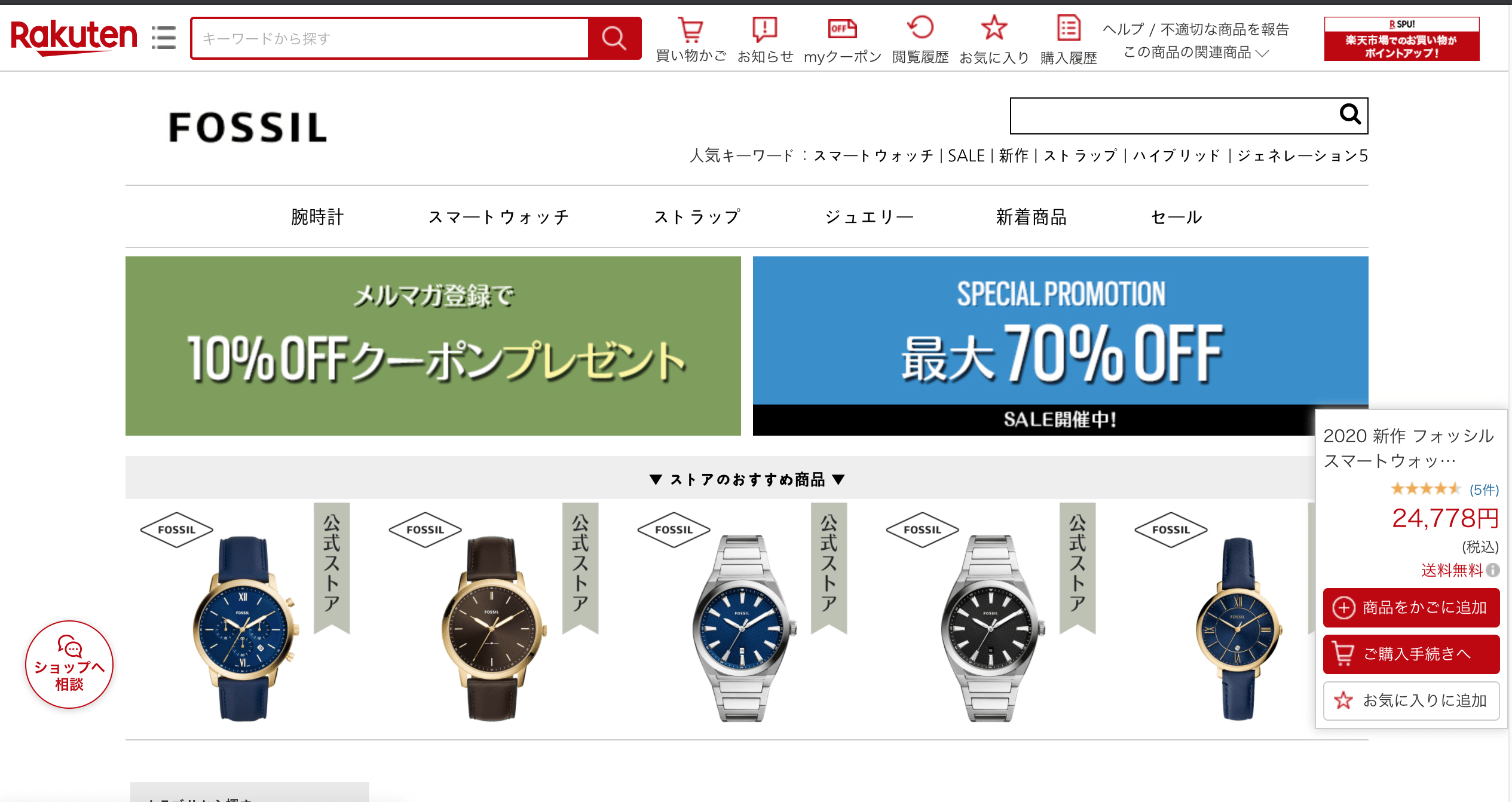 On the other hand, Rakuten Ichiba Japan is a rental model, which is running more like a department store, which allows merchants to enter the store and build up their own shop, and sellers can have more control over the store decoration, product listing, and content release. And most important, there isn't any other seller product recommendation popping up on the seller product page. The reason is Rakuten is running a retail shopping mall model and earns a profit from seller entry fees and additional service fees, such as fulfillment, transaction, maintenance. Thus, from this point of view, I would say Rakuten Ichiba Japan wins.
Winner: Rakuten Ichiba Japan
Store Account Creation
If you are a non-Japan resident, Amazon Japan seller account creation is easier than Rakuten Japan. For example, if you are a US resident and have a pro-Amazon USA seller account already, below are the documents you would be required to create an Amazon Japan pro seller account.
Two Types of Identify Documents Required:  
Photo Identification ( passport, driver's license, residence card)  

Bill or statement issues within 180 days (credit card statement, internet banking statement of account, savings account passbook, balance certificate)  
*Note: Copies should be legible. The name on the photo identification should exactly match the name on your registered Amazon account. The photo identification should not be expired.  
Bank or Credit Card Statement that meets the following requirements:  
Scan or take a picture of the original document in color using your mobile device. If you are downloading a statement online, it must be in PDF format. Do not submit in Excel format or a screenshot.  

The name of the point of contact or company mentioned on the statement should either exactly match the point of a contact name or business name provided during registration.  The address on the bank account statement should match the address on your registered Amazon account.  

The document should be legible and must have been issued within the past 180 days. Documents must not be password protected. Please do not provide a photo of your 

credit card or debit card
After creating the Japan account, you can link Amazon Japan Selling Account with the US Selling Account, which can let you access the tool of build-international-product-listing.
On the other hand, to apply for a shop on Rakuten Ichiba, you must have an incorporated company registered in Japan. Companies elsewhere in the world that are interested in applying will need a service partner to act as the MOR (Merchant of Record) and apply on their behalf, retaining ownership of the shop.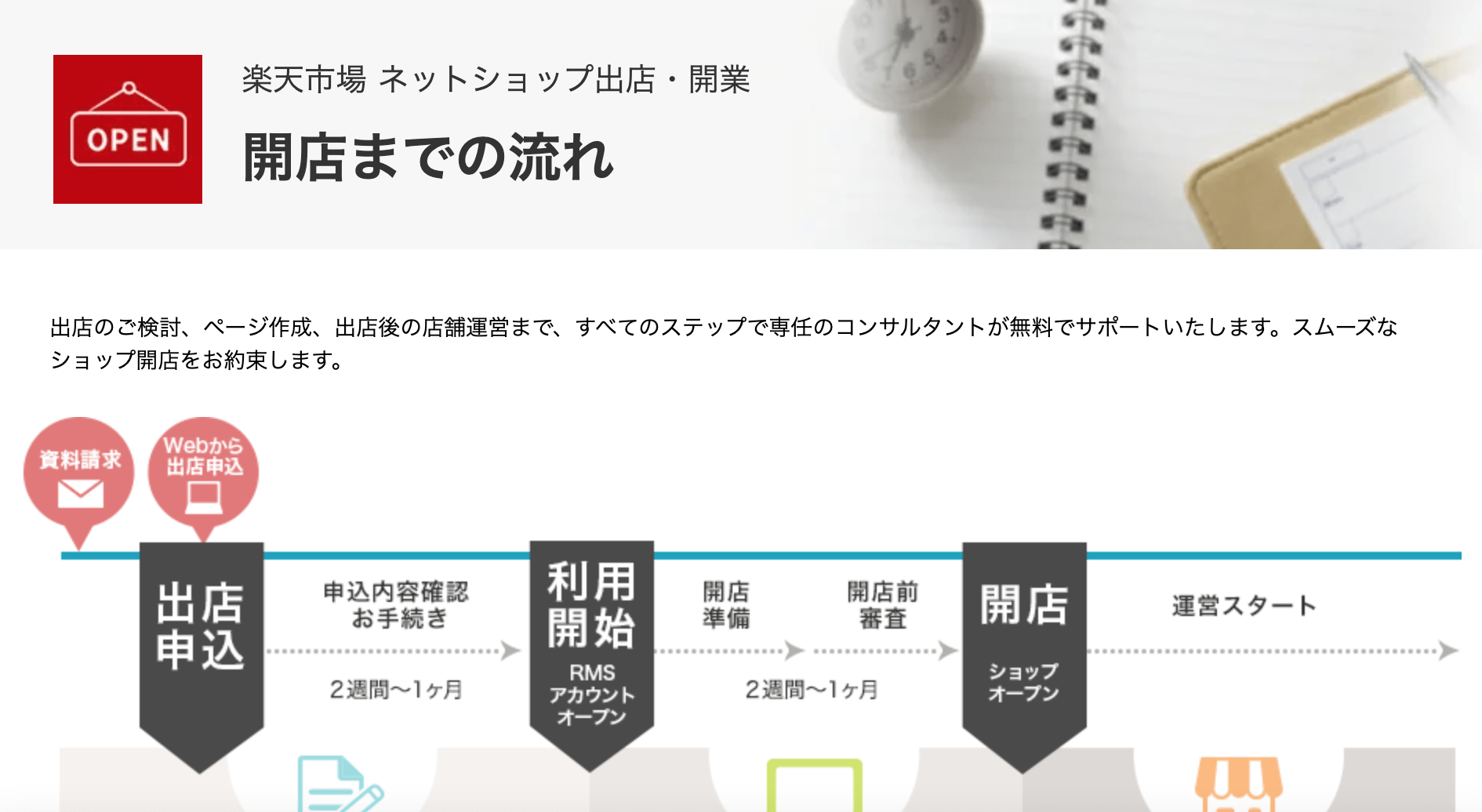 Rakuten Ichiba has a network of partners that can set up and manage a shop on behalf of brands. They work behind the scenes as an intermediary, contracted with both the brand and Rakuten. Examples of partners include i-Order and Commerce Robotics.
If you register a company in Japan, you are required these documents as list below
Business registration certification, shop name or business owner name, business office address, representative phone number (Desk line), corporation representative fax number, corporation representative's name, Rakuten store management manager and resident card, mailing address, contact phone number (desk line), contact fax number, contact email address, product genre, bank, and payment information
*Note: For more details, please visit here
If we just take the assessment in terms of A/C, it's no doubt that Amazon Japan apparently much facilitate non-Japan resident to start selling online in Japan
Winner: Amazon Japan
Fee Structure
Rakuten Ichiba Japan breaks down into more items to pay when setting up a store and operating it. For example, Rakuten Ichiba charges sellers a store creation fee of approx.US$570 (60,000yen), which is a one-off creation fee.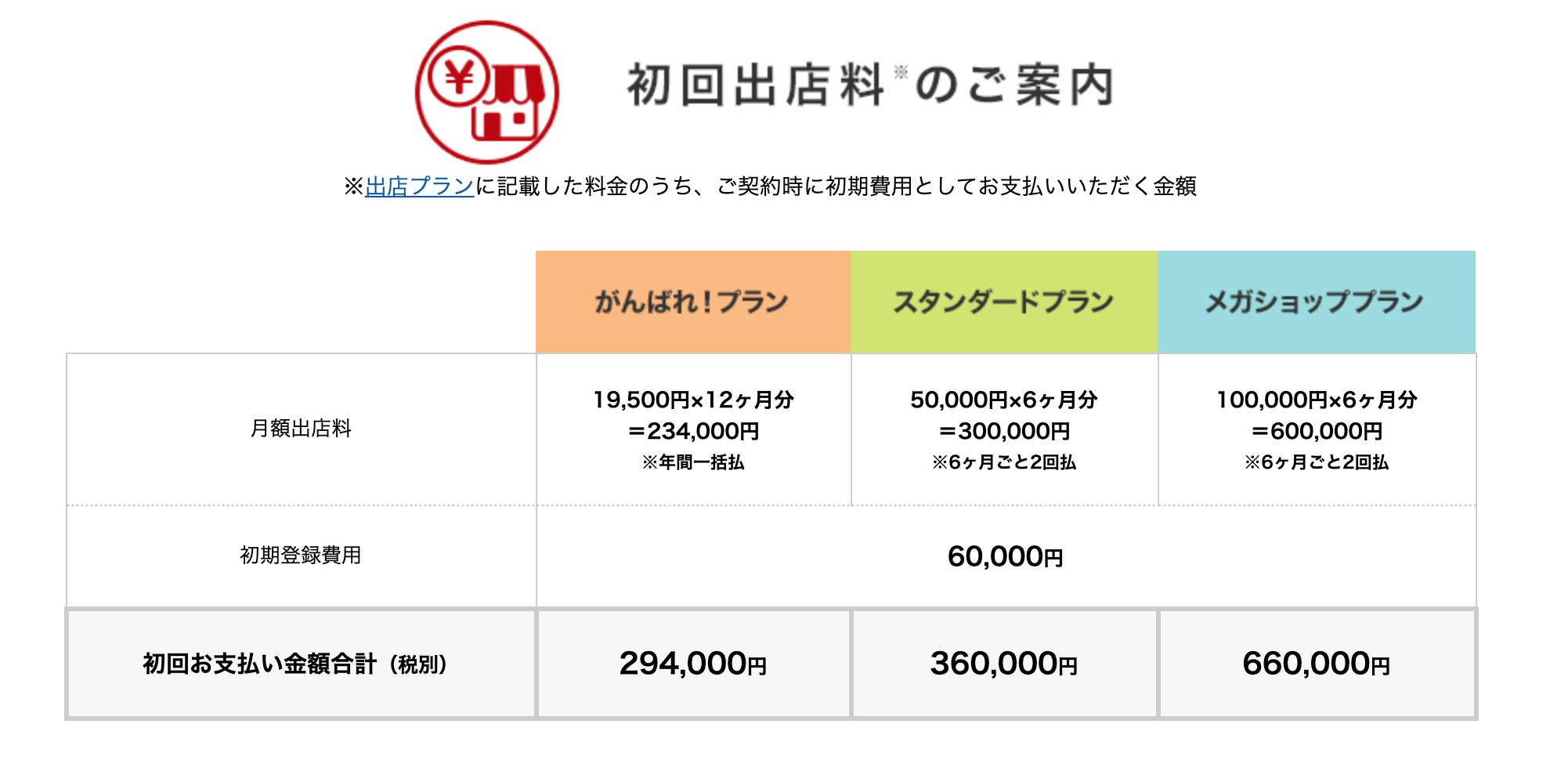 | | | |
| --- | --- | --- |
| Item ($US) | Amazon Pro seller Japan | Rakuten Ichiba Seller |
| Referral Fees | 8% – 15% | 2% – 7% |
| Fulfillment Fees | Weight and Size (FBA) | Weight and Size (Rakuten Super Logistic) 180yen to 850 yen/order |
| Tax | 10% | 10% |
| Storage Fees | Weight and Size (FBA) | Weight and Size (Rakuten Super Logistic) 7.5 yen/month/pics + 20yen to 200yen/month/pics |
| Account Fees/month  | $39.99 | $205 – $980 |
| Transaction Fee | 0.00% | 2.50% – 3.50% |
| Maintenance fee/month | 0.00% | 1.10% |
| Registration Fees – One-off | $0.00 | $570 |
| Currency Converter Fees | 0.75% – 1.5% | 0.00% |
| Service Provider Network (Tax, import of record, ACP, etc) | Depends | N/A |
And it has 3 available plans for sellers to select, the plan is different with product listing amount, commission scheme, material storage volume, etc. The fee is between US$205 – US$980/month (195,000yen ~ 100,000yen).
On the other hand, Amazon Japan's fee structure is more simple, which is almost the same as the USA account, but it might vary on commission per transaction and FBA fees because it follows the Amazon Japan scheme.
Also, if you are a non-Japan resident, basically you need to find a 3rd party service provider to help you handle tax, product import of record, and Attorney for Customs Procedure, in order to import the products to Japan and sell on Amazon Japan.
As you might be aware, all product prices listed on Amazon.co.jp must include consumption tax, and must not indicate any tax excluded product price or tax excluded price combined with the tax amount. Any goods imported into Japan are subject to the Import Consumption Tax. Some goods are subject to customs duties. Sellers are not authorized to import goods in the name of Amazon or to show Amazon as the declarant, importer of record, or consignee on any customs documentation.
In terms of flat cost and variable cost, obviously, Amazon Japan is a better option to reduce the operation cost and increase the product pricing competition and contribution profit.
Winner: Amazon Japan
Marketing & Customer Data
Basically, most Amazon marketing products are available in Amazon Japan. I believe those are popular with pro sellers that are already available in Japan as well, such as sponsored product ads, brand ads, display ads, DSP, Amazon associate, etc. I'm not going to deep dive into explaining the advertising features. If you are interested, please explore this article
Amazon Is Eating Google's lunch? 6 Amazon Marketing Ads Opportunities
Rakuten Ichiba has a separate platform called Rakuten Marketing platform, or RMP. There are many advertising and marketing solutions that are offered to Rakuten Ichiba sellers. 
I would release the other article regarding RMP deep-dive strategies, but there I like to walk through basically 4 types of marketing solution:
Direct performance marketing
RMP sales expansion, RMP brand gateway, RMP showroom are very similar to Amazon Japan sponsored products and brand ads. It's a product-driven type of keyword search advertising, which analyzes the product information and pops up the ads in the search result based on the consumer search terms. 3 types of ads have difference among each other, for example, sales expansion aims to help boost a specific SKU and drive revenue, meanwhile, brand gateway aims to drive the store awareness and drive traffic to the store page
One-to-one marketing
Different from Amazon, Rakuten Ichiba allows advertisers to leverage 1st party data and Rakuten customer database, which mainly is talking about the customer ID, for the purpose to accurately target customers, increase the communication efficiency and decrease cost per sale. As we know, consumers need to have an account to purchase on Rakuten and accumulate the Rakuten points reflected on the account, so Rakuten customer ID is valuable for advertising to all sellers.
RMP direct message, RMP ID consortium, RMP for Apps, R Point allows advertisers to leverage purchase customer ID and Rakuten ID database to launch email campaigns, retargeting for display ads, mobile ads, and customer segmentation based on Rakuten loyalty program and R point user insight.
O2O marketing
Japan consumers are one of the markets where they are well educated to leverage offline stores and online stores, to enjoy the best shopping experience. It reflects on customer face recognition, point collection offline, and product delivery, which is more mature than the US and many European markets.
Rakuten Ichiba actually facilitates sellers who want to integrate offline and online stores and streamline the shopping journey, which I would say Amazon Japan is not able to compete with.
RMP – Omni Commerce, and RMP – Go Spot provide the data which are collected from customer purchase by using Rakuten card, digital payment, QR payment, gift card, etc and the customer using Rakuten Ichiba App, to advertisers using on marketing communication, which aims to increase accuracy and cost-efficiency.
Content-Driven Marketing
RMP display ads are very similar to Amazon Display ads, which heavily rely on the banner message and targeting approaches to increase CTR and conversion rate at the end.
RMP influencer marketing and RMP scene sampling are respective ways to engage with target customers through influencer review, endorsement, and let customers try the product and feel the texture and touching of the product. These strategies need sellers not only on the cost calculation but also how to tell the product story to customers.
As you can see, Rakuten Ichiba is providing a more deep-dive local market penetration solution to sellers, compared with Amazon Japan. Obviously, you may want Rakuten if you have been running the business in Japan for a while and settled down, which is performing in a way.
Winner: Rakuten Ichiba Japan
Verdict
In a way, if you are a newbie non-Japan resident seller in Japan, Amazon Japan must be a better choice. The reason is you can test the market and products by investing a minimum of dollars, meanwhile, the marketplace revenue has exceeded Rakuten Ichiba already.
Having said that, Rakuten Ichiba is the largest marketplace originated from Japan. I believe Japanese people love shopping there throughout all age ranges, because of this channel representing Japan. So if you find your products are being sold well already in Japan, Rakuten Ichiba must be a platform that helps you further deep dive into the local market and increase brand penetration and customer loyalty. What's more, Rakuten Ichiba's marketing solution is far better than Amazon's.
Support my channel through PayPal (paypal.me/Easy2digital)
Subscribe to my channel and turn on the notification bell Easy2Digital Youtube channel.
Follow and like my page Easy2Digital Facebook page

Share the article to your social network with the hashtag #easy2digital

Buy products with Easy2Digital 10% OFF Discount code (Easy2DigitalNewBuyers2021)
You sign up for our weekly newsletter to receive Easy2Digital latest articles, videos, and discount code on Buyfromlo products and digital software
Subscribe to our monthly membership through Patreon to enjoy exclusive benefits (www.patreon.com/louisludigital)
If you are interested in how to sell as a non-us citizen seller, please check out this article