Furbo Dog Camera 2022 vs PetCube Bites 2 – Which Is Better to Please your Pets?
Smart home security cameras are not only for monitoring your place situations, or for seeing what your baby is doing. But also, it can be a funny device to engage with your puppy by tossing treats remotely. That's the pet camera! Although the pet camera is indeed pricey, especially compared with traditional security cameras. It's as useful as it is fun, and gives you peace of mind that your dog and home are safe.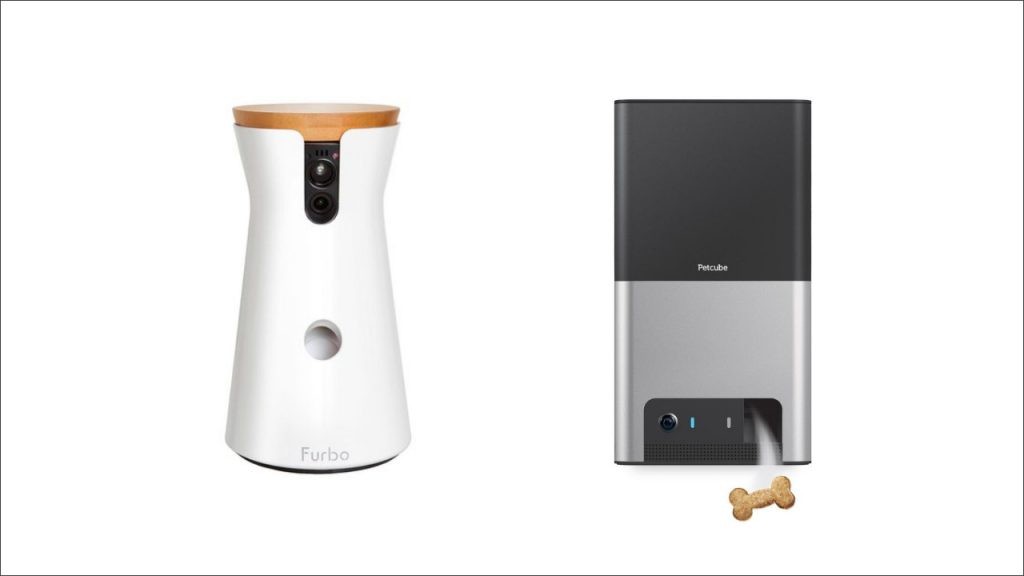 Don't get me wrong, you can of course engage with your friends by using Furbo or PetCube 2 Bites. But please remember to offer food just in case your friend might not feel good after eating dog food.
So in this article, I would walk you through and compare both cameras. It includes their installation, design, tossing treats, video and audio quality, and so on. By the end of this article, you can learn which is better to please your puppy and your friend, with less effort.
Installation and Design
Furbo dog camera is made of plastic and has a white finish with a bamboo top that serves as its cover. It weighs 2.1 pounds, and the size dimension is 8.86 x 4.72 inches. Its shape and design look like a flower container. The look and feel are quite like the Japanese interior design style, which is calm and peaceful. It would create a more harmonious feeling for your puppy at home.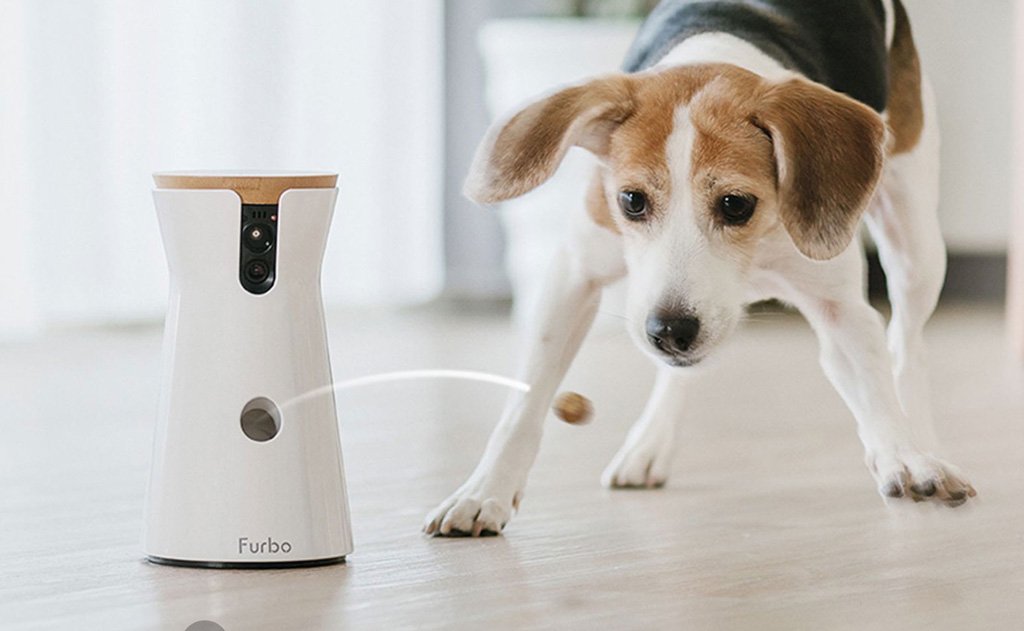 On the other hand, PetCube Bites 2 looks more modern, and the look and feel is more like a coffee or water machine for your dog if he loves drinking. It has a futuristic sleek and elegant design and is a bit taller than Furbo. It is made of hard plastic which is combined with aluminum that proves the durability of this device. This device has metal aluminum inside of it that helps in making it withstand more interactions with your dogs.
Setting up both cameras is super easy. To set up your, you just need a smartphone, your new Camera, a WiFi connection, and a place that your puggy loves to go.
Winner: Tie
Video Quality
The Furbo dog camera offers a wide field of view and sharp picture quality. It features 1080p cameras with a 160-degree field of view. I would say the Furbo dog camera offers superior picture quality. Furbo records 15-second video clips. These video clips are saved in the app for 24 hours.
In good light, Furbo's video looks crisp and colorful. The night vision is clear to about eight feet, although it can only zoom up to 3x digital.
PetCube Bites 2 also features 1080 resolution with a full room view. However, the camera will choose which resolution to send the video at. Sometimes, despite having a fast internet connection available, it might send out 720 resolution.
Video quality is alright and can zoom up to 4x digital, but a bit soft around the edges during the day and even more basic at night. In other words, you can see what your pet is up to.
Winner: Furbo Dog Camera
Audio Quality and Sound Alert
Furbo Dog Camera audio quality from my point of view needs improvement, although it has been better than other pet cameras. However, it does suffer from a bit of lag especially when your home Wi-Fi connection is not that strong.
In addition, Furbo's barking, dog activity, and person alerts are always spot on, it never comes up with wrong messages from my experiences. To me, I would say the barking alerts are very helpful. When the device app can notify me that my puppy is barking, even if I am not at home, I can open the video stream to make sure everything is OK. Then, talking to my puppy calms him down.
PetCube Bites 2 Bites 2 comes with a speaker bar and a four-microphone array. Audio quality sounds a little better than the Furbo, but not that far. Also, it also features app alerts. If your dog is barking, or any human motion is detected by the camera, your app would alert you.
Winner: Tie
Tossing Feature and Treats
Furbo Dog Camera is capable of shooting out multiple treats at a time at a distance of about a foot from the device. I would advise you to fill in the right treat status and size in Furbo. Treats you put in the Furbo can be dry, firm, round, and around 0.4 to 0.5 inches in diameter. That would be better.
Please remember to educate your puggy that the spot you place Furbo stores tasty treats. That can be very fun because making this association can create more engagement with your dog and please your dog with treats.
Furbo Dog Camera and PetCube Bite 2 are both equipped with Alexa built-in. So you can say "Alexa toss the treat!". Also, you can also use Alexa voice commands to watch the live stream or your Doggy Diary on an Echo Show as well. Then, you can create automatic treat-tossing schedules, and come up with routines to have the Furbo work together with other smart home devices. So your puppy gets used to being alone with this device, when he misses you or is hungry, or not in the mood.
Winner: Furbo Dog Camera
Maintenance and Clean
PetCube Bites 2 is very easy to maintain as it has a detachable container top. You can just simply pop it up, and you can either wash it by hand or simply place it on a dishwasher. What's more, it has a capacity of up to 1.5 pounds of treats.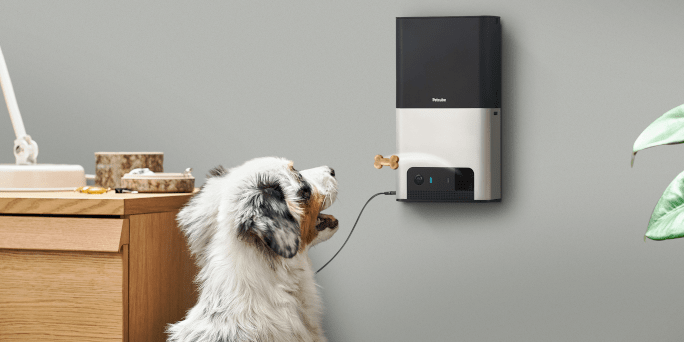 On the other hand, Furbo Dog Camera does not provide you with the ability to detach the container and wash it separately. So it can be a bit of a hassle when you clean the insides of the device, although Furbo treat size capacity is smaller and can hold up to 0.5 pounds.
Winner: PetCube Bites 2
Subscription Plan
Furbo Dog Camera looks better value for money. It's because Saved video clips can be stored in the app for 24 hours. Within that window, you can save them to your smartphone's internal storage if you want access to them for longer. It also has a $6.99 monthly plan to access Cloud recording, smart alerts, and Doggie Diary.
On the other hand, PetCube Bites 2 allows you to store 10-second video clips in the cloud, but you can't download them and they're gone four hours after they're captured. If you want to download the videos stored locally, you need to subscribe to a monthly plan priced at $5.99 per month. It's up to 10 pieces of video.
Winner: Furbo Dog Camera
Price
Furbo Dog Camera on Amazon is priced at $249, and it often has discounts and is priced at $162.5. In terms of an indoor security camera, it's not cheap. Many options can win Furbo. However, making fun and engaging with your puppy is invaluable. On the other hand, PetCube Bites 2 costs $249, and it has less promotion frequency from my experience.
Winner: Furbo Dog Camera
Verdict
Both cameras feature common performance and unique selling points. From my point of view, Furbo offers a better value for money. It's because it is equipped with full gear features and performance wel. But also, it costs less. But its look and feel are less modern indeed. If you are looking for a cool, and stylish device, PetCube Bites 2 might fit your needs.
I hope you enjoy reading Furbo Dog Camera vs PetCube Bites 2 – Which Is Better to Please your Puppy and friend. If you did, please support us by doing one of the things listed below, because it always helps out our channel.
Support my channel through PayPal (paypal.me/Easy2digital)
Subscribe to my channel and turn on the notification bell Easy2Digital Youtube channel.
Follow and like my page Easy2Digital Facebook page
Share the article to your social network with the hashtag #easy2digital
Buy products with Easy2Digital 10% OFF Discount code (Easy2DigitalNewBuyers2021)
You sign up for our weekly newsletter to receive Easy2Digital latest articles, videos, and discount code on Buyfromlo products and digital software
Subscribe to our monthly membership through Patreon to enjoy exclusive benefits (www.patreon.com/louisludigital)