7 Secrets to Amazon Marketing Plus Niche Product-driven Strategy
Only relying on product-driven with good quality products listing your on the site is enough? As it's not an easy job to find the right niche products, so with more competition, and being proactive and up-to-date with Amazon's ever-evolving trends and requirements, you must also take steps to ensure your products and brand stay one step ahead of the competition.
As an online retailer, you might have already been familiar with the selling power of Amazon. It has more than 3 million active sellers. Its influential position continues to expand, particularly as we can see in this Covid-19 period.
From my observation, more new sellers join this big e-commerce industry family. And the existing whatever size of sellers continue investing and scaling up their online stores. They are such as product collection, variations, enter more markets. 
Most of the sellers that want to succeed on Amazon, put 80% effort into finding the right product. So they investigate the new decent demand and check how's the keyword search volume, how the sales per day from the existing sellers or the substitute product selling, what is the pricing, and whether it's higher than US$10, otherwise it might not have profit opportunity due to FBA fees, and what's the sourcing cost, etc.
Product is the King or Not?
I am on the side that product-driven is still the king in eCommerce, and it's the key part to change the game, however as the environment is changing due to more sellers joining and selling the same products with you, or saying they can copy your collection very fast, etc, competition is more challenging than ever, on the other hand. So the question is whether only relying on product-driven with good quality products listing your on the site is enough?
As it's not an easy job to find the right niche products, so with more competition, and being proactive and up-to-date with Amazon's ever-evolving trends and requirements, you must also take steps to ensure your products and brand stay one step ahead of the competition.
In this article, I'm going to go through the most important Amazon marketing strategies that online retailers and manufacturing brands should employ to succeed on Amazon.
1. Optimize Product Listings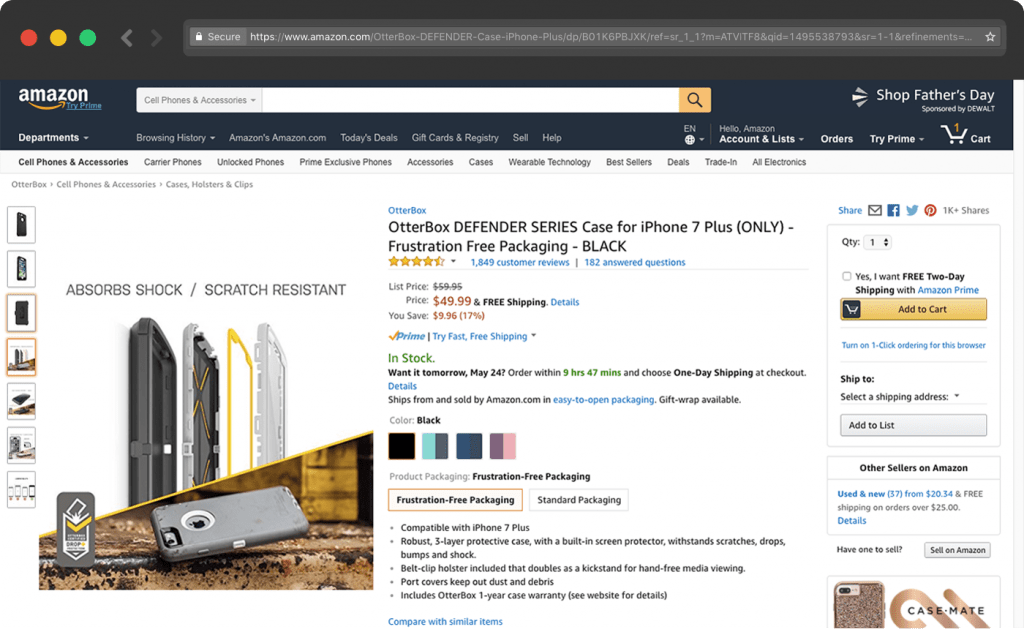 Before consumers can buy your products, they have to find them in the Amazon search results. Deliberate, detailed, and accurate product data can help ensure that happens.
When writing your product listings, put yourself in the minds of consumers. What are they looking for, and how are they going to search for it? Eight best practices can help in identifying the ideal mix.
Start by doing a search for a similar product to see what listings come up high in the rankings, and to find words you may not be using already.
Stick to Amazon Character LImit for Product Title.
Most of the categories are not suggested more than 200 characters, and better control around 80 – 110 characters, and ideally, strictly stick to 60 characters. Use only highly relevant, accurate keywords that help describe your brand, product name, key features, colors, sizes, and quantity.
Don't focus on repeating title keywords in your description.
Amazon already factors those into search results, and Amazon gives you 1,000 characters to describe your key product features.
Only use terms that describe your specific product
Amazon doesn't permit third-party brands or trademarks as search terms.
Use hidden keywords, where appropriate.
Amazon also gives you the opportunity to provide backend keywords to enhance product discoverability. This requires you to think outside the box. But Don't use the same backend keywords that you use in your title etc. as it is a waste of precious space.
The optional hidden key field is an opportunity to use synonyms, acronyms, abbreviations, and other alternatives that consumers may be using to find your products.
Use clean, simple, and appealing product photos
A picture speaks a thousand words. the product's photo quality reflects the brand image, building the first impression. So this is a great opportunity for sellers, and the right photography of a product can call for greater conversions
Leverage Content A+ Content
A+ content is a premium content feature, which allows sellers to change the product description of their branded ASINs by using rich texts, videos, and images. You can use enriched multimedia content to tell more about the brand story, product user manual, comparison of competitors, and enhance the user experience which drives high conversions and huge traffic to the listings
If a picture is worth a thousand words, a product video could very well be worth a thousand sales. There are three different methods for adding videos to your product listing pages. A+ content, enhanced Brand Content, ask customers to leave video reviews.
2. Participate in Prime & FBA Fulfilment
There's no doubt about it: Amazon Prime members are big spenders and prime members spend nearly 2x what non-prime members do on Amazon. More than 100 million consumers worldwide purchase nearly double what non-members do as they navigate Prime privileges like free two-day shipping, photo storage, and streaming video and music.

Through Prime, Amazon has created a consumer relationship where it pays to buy more: In an effort to get greater value from the $59 annual fee, members find themselves browsing and buying more often. A recent report on Amazon user behavior found that 85% of Prime members visit the marketplace at least once a week, compared with just 56% of non-Prime members. Nearly a third go to the site daily.
They buy more often, too: While 13% of non-Prime members make Amazon purchases on a weekly basis, that number more than triples with Prime members. People who opt in to the program are also much more likely to browse deals and daily discounts. And then there's the annual Prime Day, which continues to shatter sales records every July by offering deals exclusively to members.
When you find yourself among an abundance of competitors on Amazon, offering the opportunity to order your item via Prime could be the deciding factor in winning the sale.
So, how do you get in on the Prime action? Select the FBA fulfillment option.
Fulfillment by Amazon, or FBA, means your orders are completely fulfilled by Amazon. You send a portion of your inventory to Amazon's fulfillment center, where it's stored until a customer decides to buy it. Amazon then picks, packs and ships the items directly to consumers for you. FBA also manages customer support and returns, and keeps your inventory secure and insured against possible losses or damages.
We know that fast and efficient delivery is key when it comes to Buy Box placement which is why FBA is more than just about fulfillment.
3.Strive for the Buy Box
You probably know how important the Buy Box is on Amazon Marketing. And with only one Buy Box available per item, you'll find yourself competing with a number of other retailers all trying to win it. The Buy Box is located on a product's page — where a consumer starts the purchase process — and is highly visible.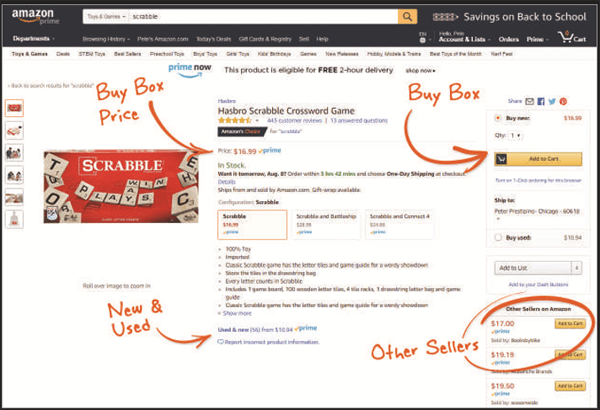 To win the Buy Box, you must meet Amazon's criteria in a number of areas. Although Amazon closely protects the exact formula for calculating the Buy Box, it takes into consideration:
A competitive price

A positive customer feedback metric Fast and efficient delivery, low refund and return rates

The volume of inventory and keep in stock

Offer multiple shipping options
Though it generally takes some time for a new seller to build up a sales history that will win them the Buy Box, focusing on these aspects is good for business regardless of the marketplace. They'll not only help to increase your sales but will also contribute to overall customer satisfaction.
4. Maximize Advertising Opportunities in Amazon Marketing Plan
If you really want to boost your visibility and increase sales, Amazon advertising is a must in your Amazon marketing plan. But this is one marketplace where a simple manual campaign isn't likely to cut it. Successful sellers know to look beyond the basics of keyword selection to create a truly strong strategy — one that's virtually guaranteed to get your products in front of the right people at the right times. Successful sellers tend to take advantage of multiple ad types, including: 
Sponsored Products
It can be used to promote individual listings. Keyword-driven Sponsored Products appear alongside organic search results and are ideal when the goal is to get high-quality clicks from consumers who are actively seeking out the products you sell.
Sponsored Brand Ads

(formerly headline search ads)
It can be a great way to reach consumers who are browsing but don't yet know what they want to buy. These banner ads appear on top of search results pages to make people more aware of different choices as they peruse categories and listings.
Product Video Ads
It allows advertisers to reach Amazon customers with targeted videos on Amazon's websites, mobile apps, and Fire tablet wake screen. Convey your brand message with an out-stream autoplay video for an engaging ad experience.
(Note: Please click here if you're looking for all detailed Amazon marketing ads opportunities)
Having a mix of Amazon ads will help ensure your products are seen by different consumers at various stages — whether they're simply browsing or are ready to "buy now." 
5. Keep Your Prices Competitive
When listing a product on Amazon, you'll often be competing against hundreds of other sellers offering the same item. One of the best ways to stand out from the crowd and stay ahead of the competition is to continually offer competitive prices.
However, you still need to retain a sufficient rate of return — and use safeguards to ensure you don't inadvertently breach policies elsewhere by failing to lower your product prices across sales channels.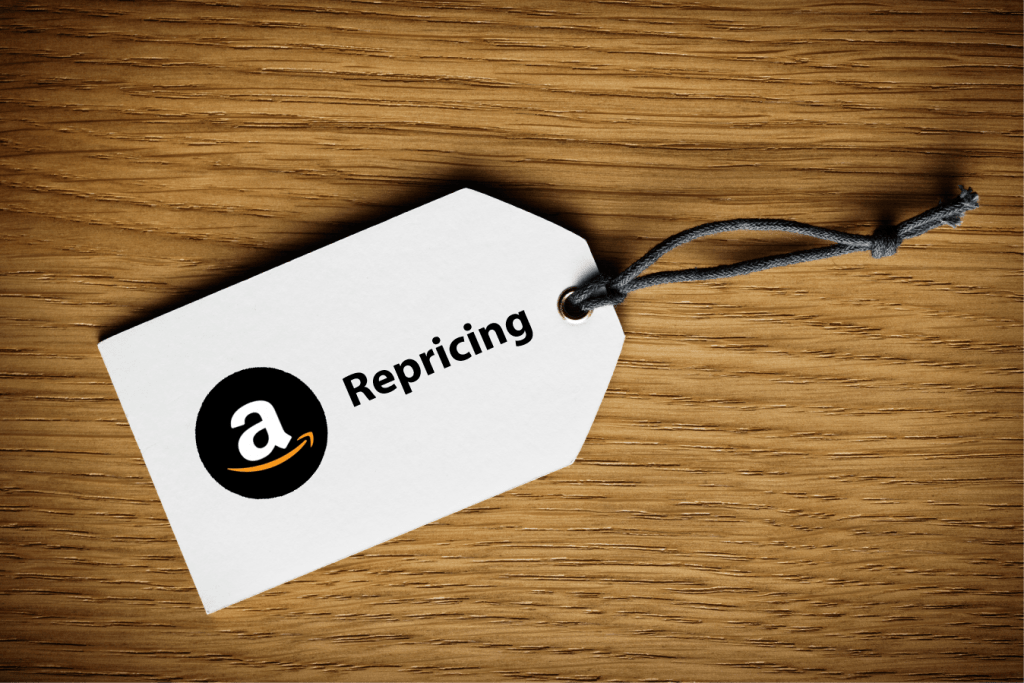 One way to manage the effectiveness of your product dynamic pricing and repricing is to leverage a third-party product and inventory management platform, for example through ChannelAdvisor Algorithmic Repricing with Price Manager. This tool is designed to help sellers win the Amazon Buy Box at the highest possible prices. It works by monitoring your Buy Box status and evaluating the quality of your competition to arrive at your optimal price, and automatically makes adjustments to keep pricing competitive while maximizing revenue. Best of all, built-in price management technology aligns pricing across other marketplaces and websites.
6. Improve Your Customer Metrics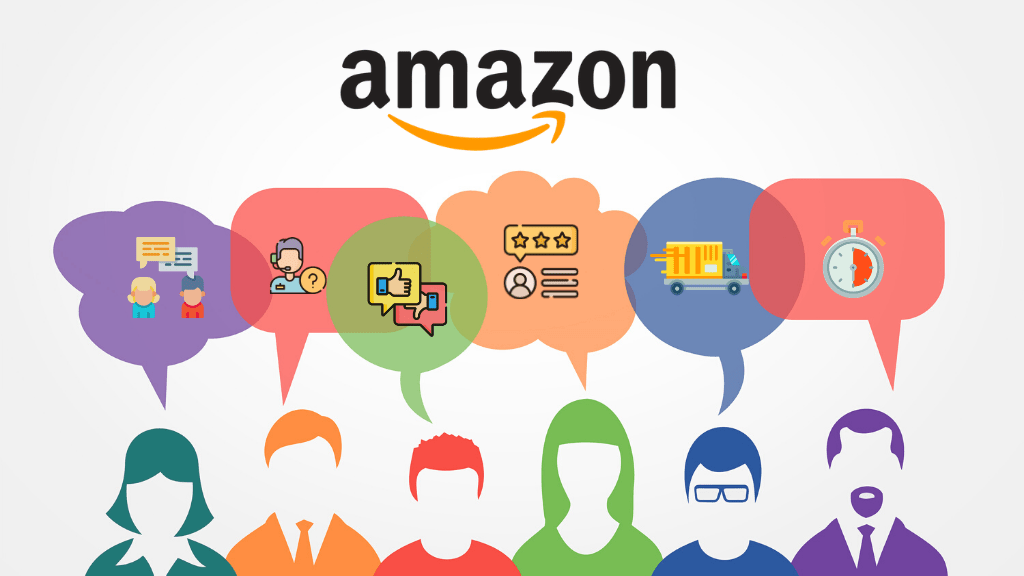 A positive customer satisfaction rating is essential for not only retaining existing customers but also securing new ones. Why? Because most consumers look at reviews before making a purchase, and 88% of them trust those online reviews as much as personal recommendations.
For this reason, it's not only what your customers are saying, but how you respond to their reviews that matters. This is because sometimes if a customer had a bad experience with, say, shipping, their review may be more about that specific experience than about the product itself. Working to resolve those issues can go a long way in gaining loyalty and trust.
Amazon provides a wealth of information on how your brand is doing with respect to customer satisfaction. It's important to watch a number of performance metrics, including:
Order Defect Rate (ODR), which measures the percentage of orders that receive negative feedback.

Return Dissatisfaction Rate (RDR), which measures customer satisfaction with how returns are processed.

Late Shipment Rate, which measures the percentage of seller-fulfilled orders confirmed after the expected ship date.
7. Go Global In Amazon Marketing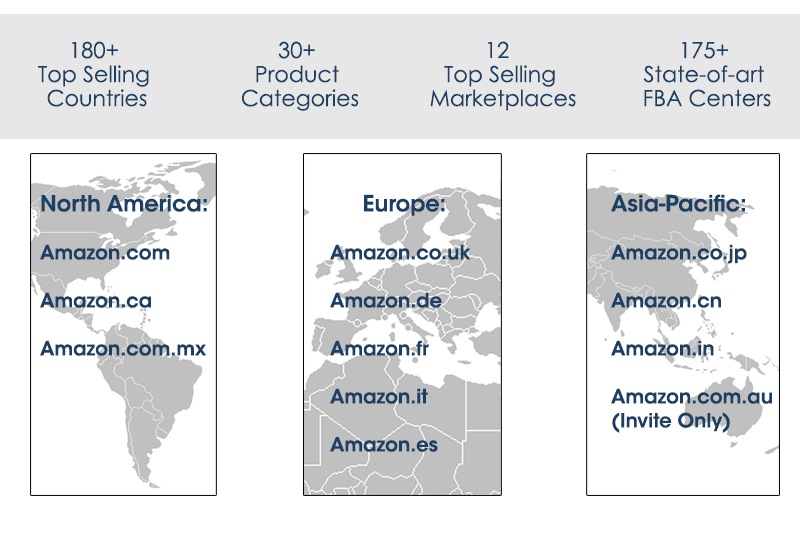 Around the world, people are turning to Amazon to meet all kinds of shopping needs. With marketplaces in the UK, France, Germany, Italy, Spain, Canada, Japan, China, and more — and with worldwide retail e-commerce sales projected to top $4.5 trillion by 2021 — selling internationally could significantly increase your consumer base and sales.
To start, there's Amazon Global Selling. The program opens up your Amazon product listings to international consumers who are already shopping on Amazon and is a great way to "test the waters" of cross-border trade. You'll get a great insight into which regions provide the most demand and can see which countries are predominantly buying your products — then use that knowledge to determine if expanding to a marketplace there will be cost-effective. And since you're selling through Amazon, you won't need to translate or localize your listings for other regions.
Signing up for the Amazon FBA Export program is also a great idea if you're considering selling internationally. This program allows your products to be purchased from Amazon by international consumers for fulfillment through Amazon's many centers around the world.
It works just like FBA does for domestic orders and can save you valuable time as well as the hassle of shipping abroad
Conclusion:
As a driving force behind the global e-commerce landscape at large, Amazon sets the stage for successful online selling. But the days of simply finding a cutting edge product and listing on this marketplace giant are not enough to sustain your business. Staying up-to-date on the latest trends, requirements, and best practices for Amazon marketing will remain crucial as you continue to learn which marketing, selling, and fulfillment techniques work best for your customers on Amazon.
I hope you enjoy reading 7 secrets to Amazon Marketing Success and find it helpful. if you did, please support us by doing one of the things as listed below, because it always helps out to our channel.
FAQ:
Q1: What is Amazon Marketing Ads?
A: Amazon Marketing Ads is a brand advertising platform offered by Amazon that allows businesses to promote their products and increase visibility on the Amazon marketplace.
Q2: How does Amazon Marketing Ads work?
A: Amazon Marketing Ads works by allowing brands to create targeted ad campaigns that appear within search results, on product detail pages, and other relevant locations on Amazon. These ads are designed to reach customers who are actively searching for similar products.
Q3: What are the benefits of using Amazon Marketing Ads?
A: Using Amazon Marketing Ads can provide several benefits for brands, including increased product visibility, improved sales performance, enhanced brand recognition, and access to valuable customer data and insights.
Q4: How can I get started with Amazon Marketing Ads?
A: To get started with Amazon Marketing Ads, you will need to create an Amazon Advertising account and set up your campaign. You can choose from various ad formats, targeting options, and budget settings to tailor your campaign to your specific goals and audience.
Q5: Can I track the performance of my Amazon Marketing Ads?
A: Yes, Amazon Marketing Ads provides robust reporting and analytics tools that allow you to track the performance of your ads. You can monitor metrics such as impressions, clicks, conversions, and return on ad spend (ROAS) to evaluate the effectiveness of your campaigns.
Q6: What is the cost of advertising on Amazon Marketing Ads?
A: The cost of advertising on Amazon Marketing Ads varies depending on factors such as your bidding strategy, ad format, targeting options, and competition. You can set your own budget and bid amounts to control your advertising costs.
Q7: Can I target specific audiences with Amazon Marketing Ads?
A: Yes, Amazon Marketing Ads offers a range of targeting options to help you reach specific audiences. You can target customers based on their search queries, interests, demographics, and past purchase behavior.
Q8: Are there any restrictions on the types of products I can advertise on Amazon Marketing Ads?
A: While most product categories are eligible for advertising on Amazon Marketing Ads, there are some restrictions and guidelines in place. Certain restricted products, such as adult items or illegal substances, are not permitted for advertising.
Q9: Can I run Amazon Marketing Ads if I am a small business?
A: Yes, Amazon Marketing Ads is suitable for businesses of all sizes. Whether you are a small business or a large enterprise, you can leverage the platform to promote your products and reach a wider customer base.
Q10: Is Amazon Marketing Ads available in all countries?
A: No, Amazon Marketing Ads is currently available in select countries. However, Amazon continues to expand its advertising services globally, so it's worth checking if it is available in your target market.