US Dow Jones stock market capitalization ability is super strong, which is a kind of a no-brainer if you show off this finding and tell this fact to investors. No matter if you are a big investor, or a small player to resist money devaluation. The US stock market must be one of your options in the investment portfolios.
Having said that, except for the stock investment strategy, as creating a stock account through a smart finance app is not that easy for non-us citizen, so the first question or discussion focus as a non-US citizen is supposed to be how to invest in the US stock market and which smart finance format can offer you the best efficient frontier in terms of cost and returns, rather than only choosing the traditional brokerage agents.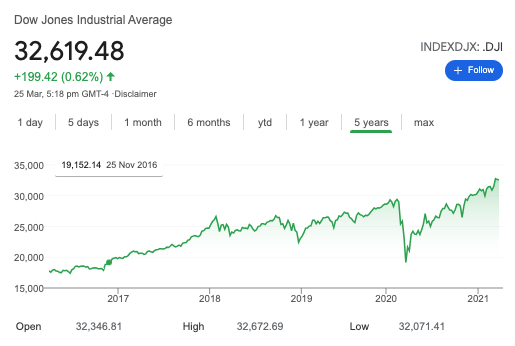 This article is not sponsored by SoFi or its related parties, and I just like to share my view on how to create a SoFi Invest account for any non-us citizen investors, along with why SoFi and the core feature review. By the end of this piece, you can learn the tips to create the account, deposit the money, and start investing the portfolios in the US stock market investment.
What's SoFi Invest
SoFi, which is short for social finance, is a smart finance app and a type of fintech company. The company starts focusing on student loan refinancing and personal loans in the US. Since then, it has branched out into several other areas of personal finance, including checking and savings accounts and investment options, etc.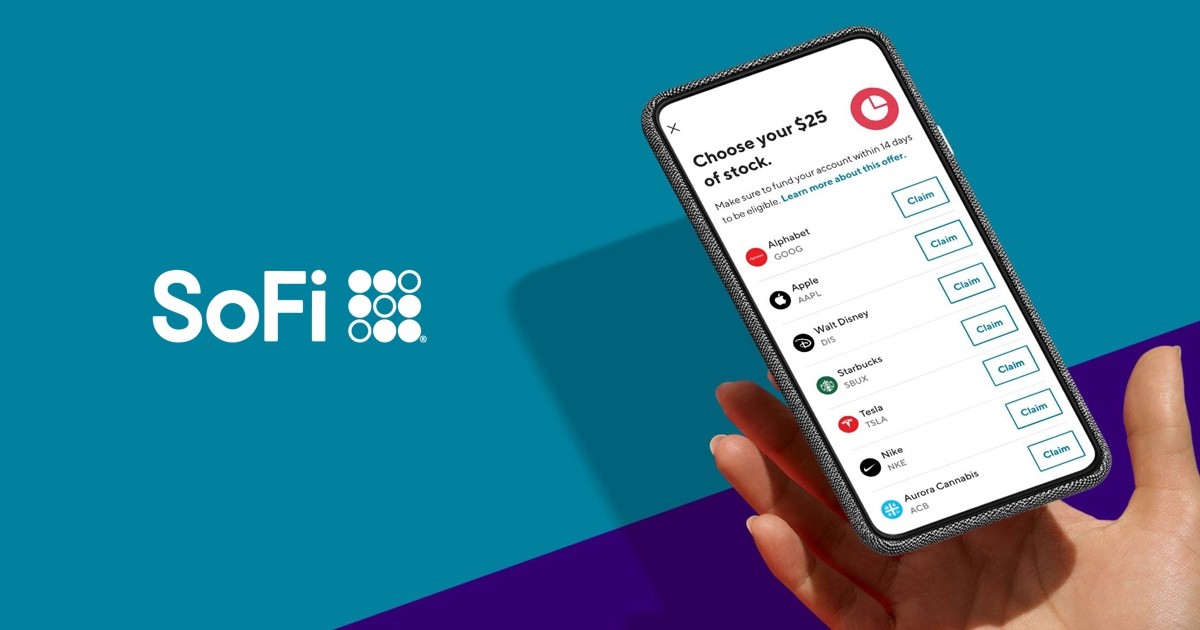 SoFi Invest is an investment product mobile app, and it can offer two different types of accounts. One is an active investing account, where you have complete control of buying and selling whichever stocks and funds you prefer, and the other is a Robo-adviser — or passive investment account — which offers users pre-built portfolios based on risk level and financial situation.
SoFi Invest is rated as A by BBB. BBB is short for the Better Business Bureau. The BBB uses a grade range of A+ to F when evaluating company trustworthiness and considers a number of factors, for example, if customers complain a lot in history, the company has licensing and government actions or it had advertising issues in the past, etc. Then based on these considerations, the smart finance company can have a rate at the end.
SoFi Invest's A rating indicates that it interacts exceptionally well with clients, although BBB says its ratings don't guarantee a company's reliability or performance.
Why SoFi Invest Hong Kong Brokerage Account
SoFi Invest is currently only available to residents or citizens of the United States, so residents of other countries will have to choose a different brokerage before April.2020.

The good news is that SoFi announced in April 2020 their first expansion into the international market, with the upcoming availability of SoFi Invest in Hong Kong. SoFi Invest HK can be one of the most comprehensive investing platforms that offer access to brokerage, automated investing, and ETFs, all within the SoFi app ecosystem, complete with commission-free trading. The SoFi Invest HK platform will offer a first-of-its-kind simple mobile experience accompanied by financial advice and education.
Basically, this smart finance investment app facilitates three segmentation of non-us citizens. 
Hong Kong citizens, Experts who work in HK, Foreigners who are qualified to create a bank account in HK. 
SoFi accepts any deposit from HSBC or Bank of China to the SoFi Invest HK Brokerage account. For more details on how to create a bank account in Hong Kong, you can visit this article.
For creating a SoFi account, you just need to download the app from Google play store or Apple store, then submit the applications with 3 simple documents (passport, HK address, and bank account) and e-signature. The approval process just takes 10 minutes and you will need to deposit HK$10,000 (around US$1,270) in the App, and you can start investing the stock you like in the US Dow Jones stock market.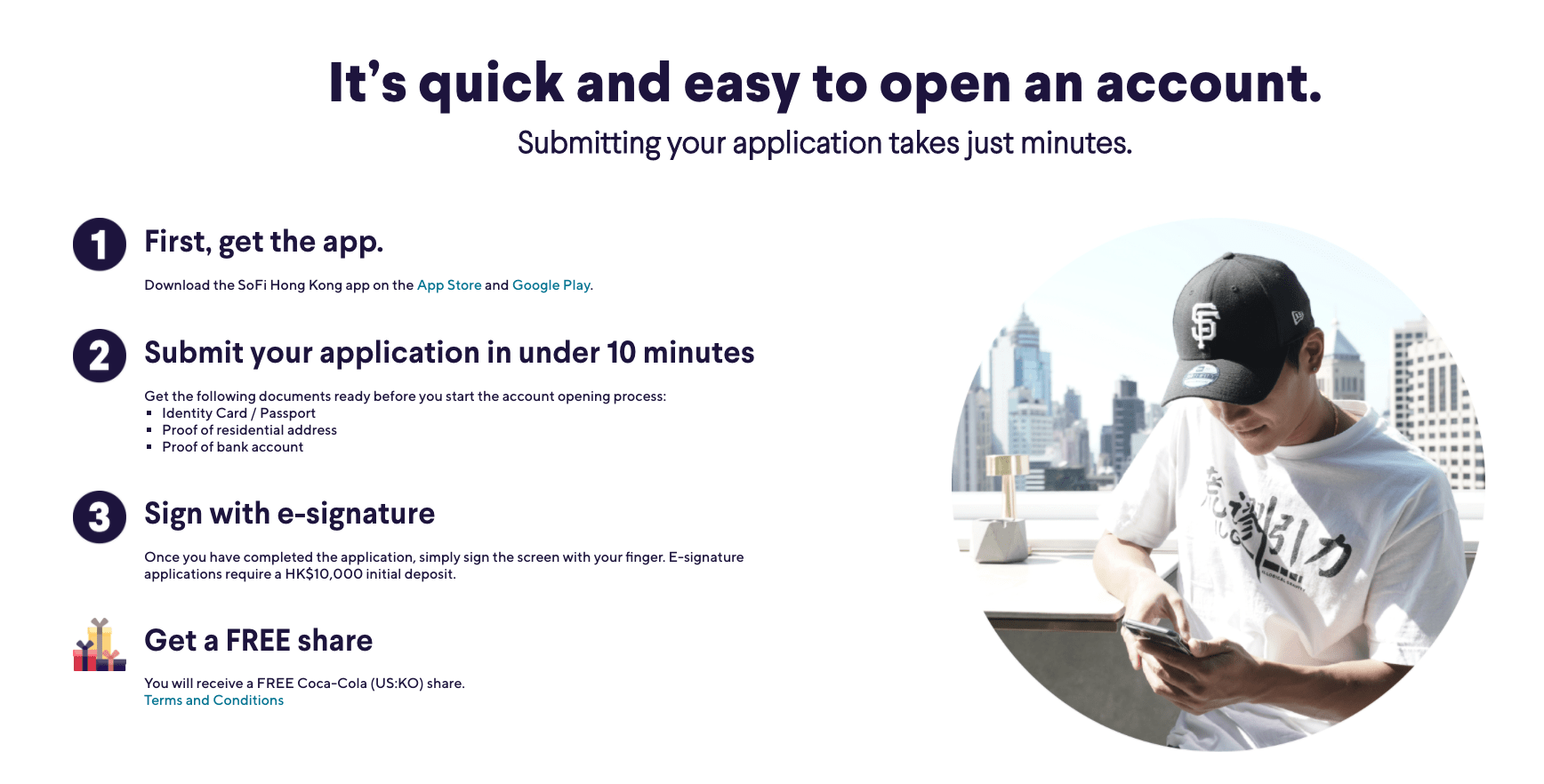 For safety concerns, as I know your deposit is kept in the segregated custodial corporate accounts with two major banks in Hong Kong, which are HSBC and Bank of China. Moreover, the US and Hong Kong securities invested are held in custody with the Depository Trust & Clearing Company (DTCC) and the Hong Kong Securities Clearing Company Limited ("HKSCC"). Also, your funds are protected under the Investor Compensation Fund (ICF) for a maximum of HK$500,000.
SoFi Invest Hong Kong Fee Structure
SoFi Invest Hong Kong app has five 0 fees which significantly capture your attention and perhaps make you shift your investment dollars from the traditional brokerage agent to SoFi. 
0 account set up fee

0 commission fee, 

0 Custodian Fees for Hong Kong and US equity trades

0 DTC(FOP) Withdrawal Fee

0 DTC(FOP) Deposit Fee
No commission fee in the trading process must be a key selling point from this smart finance app. I believe many other platforms are still charging different percentages of fees from the trading transaction. Also, SoFi HK platform or custodian fees for the US, HK stock, and ETF trading are also free as well, which is a good option for day trading.
SoFi Invest HK Pros & Cons
Every coin has two sides, and SoFi Invest does have as well. Apart from the fee structure, whenever we select a smart finance management app, we also need to look into a bigger picture and dive into more details, for the purpose to understand how to use, and what to be careful of.
Apart from the five 0 fees above mentioned, below are the other pros and cons for reference.
Pros:
SoFi Investors can trade over 15,000 Hong Kong stocks, US stocks, China stocks, and ETFs and make deposits and withdrawals from your linked bank account with just a few clicks.

SoFi investors can enjoy a loyalty program for users simply by just completing tasks in the app and redeem points for free stocks from MNCs.

SoFi breaks stocks into small and affordable shares called fractional shares to fit your financial situation.

Investors can boost their buying power by taking out a loan from SoFi to amplify their gains.
Cons:
No tax-loss harvesting, or an advanced investing technique where you call sell a stock or mutual fund at a loss for any tax benefit

No option for stop-loss orders when actively investing. SoFi's active investing account only uses market orders
I hope you enjoy reading Non-US Citizen Invest in US Stock Market? SoFi Invest Brokerage, A Smart Finance App. If you did, please support us by doing one of the things listed below, because it always helps out our channel.
Support my channel through PayPal (

paypal.me/Easy2digital

)

Subscribe to my channel and turn on the notification bell

Easy2Digital Youtube channel

.

Follow and like my page

Easy2Digital Facebook page

Share the article to your social network with the hashtag #easy2digital

Buy products with Easy2Digital 10% OFF Discount code (

Easy2DigitalNewBuyers2021)

You sign up for our weekly newsletter to receive Easy2Digital latest articles, videos, and discount code on

Buyfromlo

products and digital software

Subscribe to our monthly membership through Patreon to enjoy exclusive benefits (

www.patreon.com/louisludigital

)