You can't control what bad guys do for your place and your families when you are not at home. But you can be more precautious and earlier equipped with some devices to decrease the damage, or even avoid the unfortunate accidents. 
Having said that, anyone of course wants to save money but still get the high quality of the security camera, which tries to increase the value for the money. No matter either you have been looking for a security camera, or just starting the research, Google Nest Cam Outdoor and Ring spotlight camera must be two brands and models you need to look into, which both have 1080p HD video, integrations with Alexa and Google Assistant plus optional person detection.
Thus in this article, we find two models with similar pricing and features, which we would review Google Nest Cam Outdoor and Ring Spotlight camera from several perspectives, such as installation, specification, video quality, special features, price respectively. By the end, you can learn the pros and cons of both devices, and find out which one is a better one to handle the bad guys, and also it's more worthy.
Installation
The very first thing you need to do is to set up your Nest Cam Outdoor, which only has the wired version. You will need to scan the QR code in the Nest app and connect the camera with the Wi-Fi. There are two ways you might have to install the camera. Either Nest Cam Outdoor has a magnetic mount, it allows you to easily place it onto any magnetic surface. Or you'll have to screw it into a wall. The camera has a 10-foot long cord and an extra 15-foot long extension cord, so please make sure you place it within 25 feet of an outlet. If you place the camera onto a magnetic mount, it might be better to place it at a higher spot which is not easy for the bad guys to steal the device.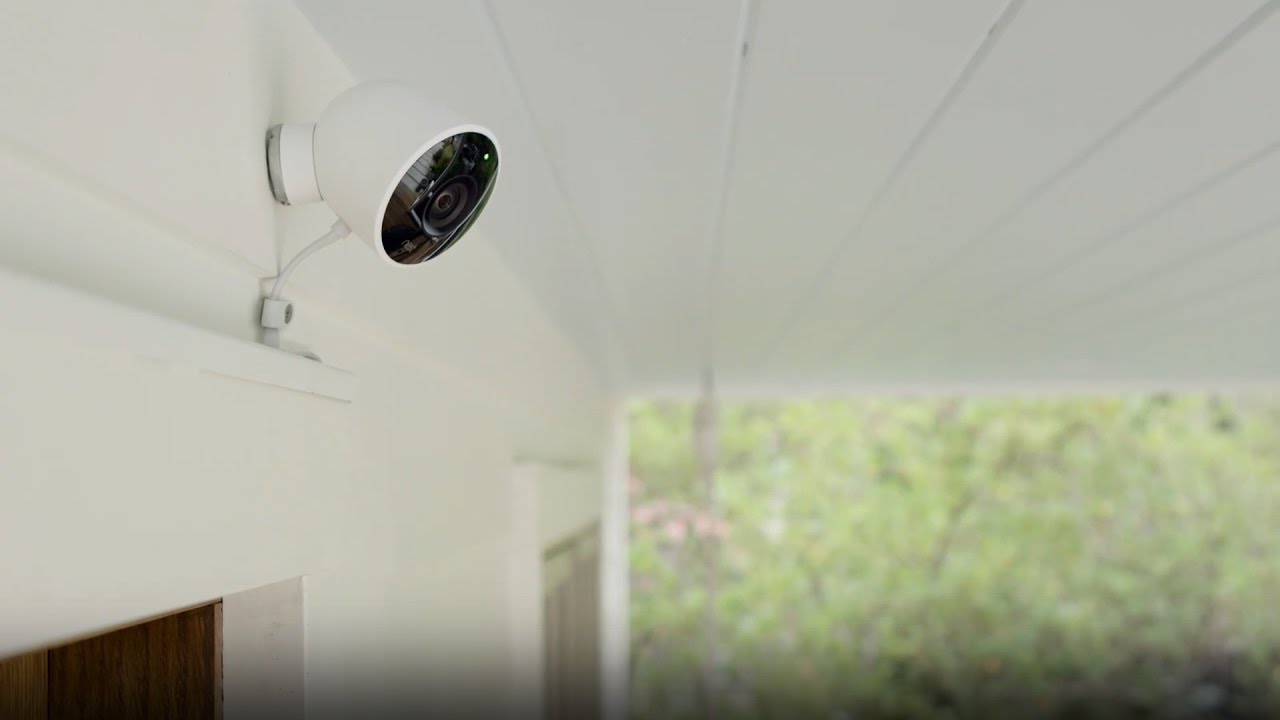 On the other hand, the Ring spotlight camera is pretty easy. It has a wired, mounting version available for your option. So you only have to mount it with the included hardware and slide the camera over the base plate to attach it or screw it into the wall. Also, it has a battery and solar version which you don't need to especially find a place much easier to connect it with your home power network. What you need to do is just to charge the battery, or rely on the solar panel after the first time installation. Once if your Ring camera or doorbell product is stolen at any time after your purchase, Ring will replace the stolen device at no charge to you
Winner: Ring Spotlight Camera
Specification Comparison
| | | |
| --- | --- | --- |
| Items | Ring Spotlight Camera | Nest Cam Outdoor |
| Resolution | 1080p |  1080p |
| FPS | 15 fps | 30 fps |
| Night Vision | ☑️ | ☑️ |
| Field of View | 140 Degree | 130 Degree |
| Zoom | ☑️ | ☑️ |
| Two-way Talk | ☑️ | ☑️ |
| Livestream | ☑️ | ☑️ |
| Power | Battery, Wired, Solar | Wired |
| Notification | App Push Notification, Optional Ring Chime, IFTTT | Email, App Push Notification, IFTTT |
| Device Theft | Screwed in using proprietary screws and Ring will replace stolen devices | Easy to steal |
| Free Storage | X | 3 hours of snapshots |
| Cloud Storage | US$3/month, or US$100/year | US$5/month, or US$50/year |
| Multi Cameras | US$10/month, or US$100/year for unlimited Ring Cameras | Each camera costs additional US$2.5/month, or US$25/year |
| Motion Detection Features | Zones | People, zone detection |
| Monitor for | Motion  | People, sound and motion |
Obviously, both devices have many features in common, such as two-way talk, resolution, Livestream, etc. So in terms of security power, they are almost on the same line.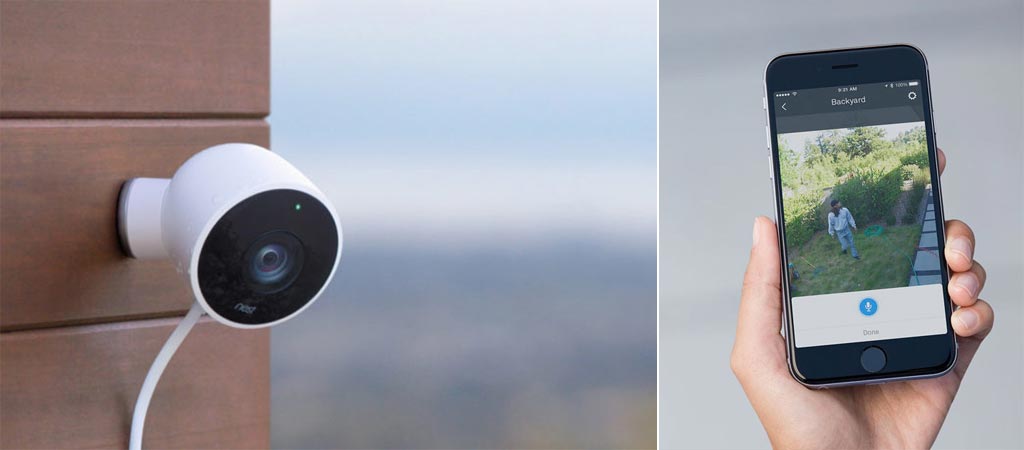 But although Ring spotlight camera provides more device model and version options for customers, from quality and value for money, it looks Nest cam outdoor goes beyond more than Ring, because it is equipped with AI tech and higher fps, which implies a much better video quality in motion and owning the capability to recognize people. Also, it provides 3 days of free snapshot storage and with more cameras installed in your place, which Ring requires you to sign up for a paid plan.
Winner: Nest Cam Outdoor
Video Quality
The video quality of these two cameras is the same on paper, which HD quality is 1080p. It is detailed enough to see large or small figures and make out distinguishing factors from the videos.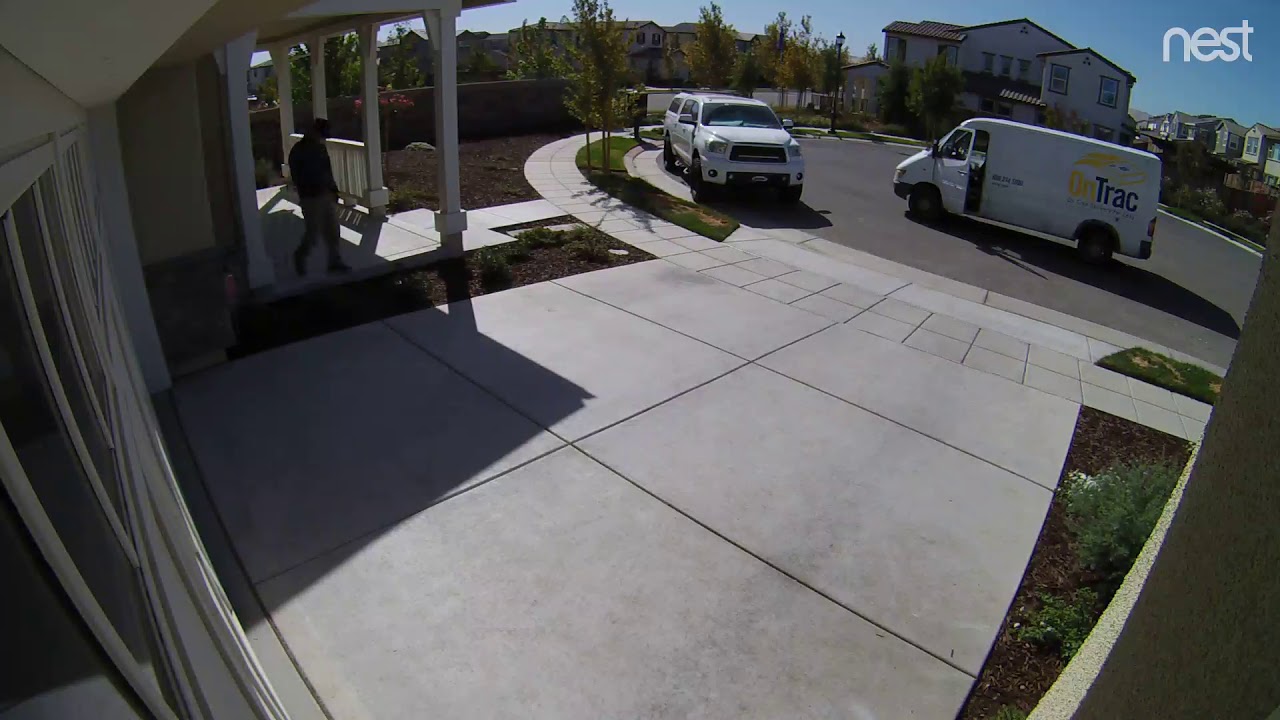 But Nest Cam Outdoor has a higher 30 fps, which Ring Spotlight cam only has 15 fps. So in terms of recording videos in motion, Nest Cam outdoor indeed performs better at capturing the objects in motion, such as cars, people's faces, etc. Even Ring spotlight cam field of view is wider, which is 140 degree, but Nest Cam outdoor also is equipped with 130 degree, which is not bad no matter if it's on day time or at night vision.
At night vision, Nest Cam Outdoor has infrared night vision through eight LED sensors. Compared to color night vision from bright white light, infrared night vision is better because it's more stealthy. While a bright white light in the middle of the night is something that you just can't miss, infrared sensors are way more subtle. And if you are using a security camera, you don't want bad guys to know, right?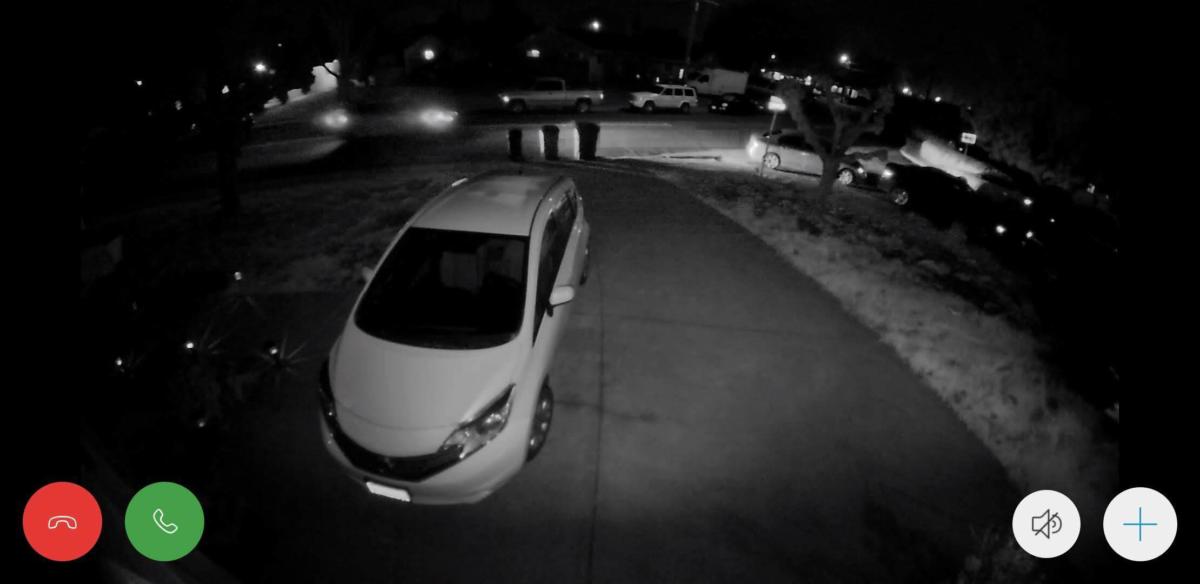 The Ring Spotlight Cam is equipped with LED lighting, which can scare any bad guys coming near your place. I think it is better than Nest Cam outdoor. Having said that, as Ring spotlight camera fps is very low, so frankly it is not able to record the strangers' faces clearly within the camera field of view, even if it has lighting equipment.
Winner: Nest Cam Outdoor
Special Features for Security and Safety
Ring Spotlight Camera Neighbour Watch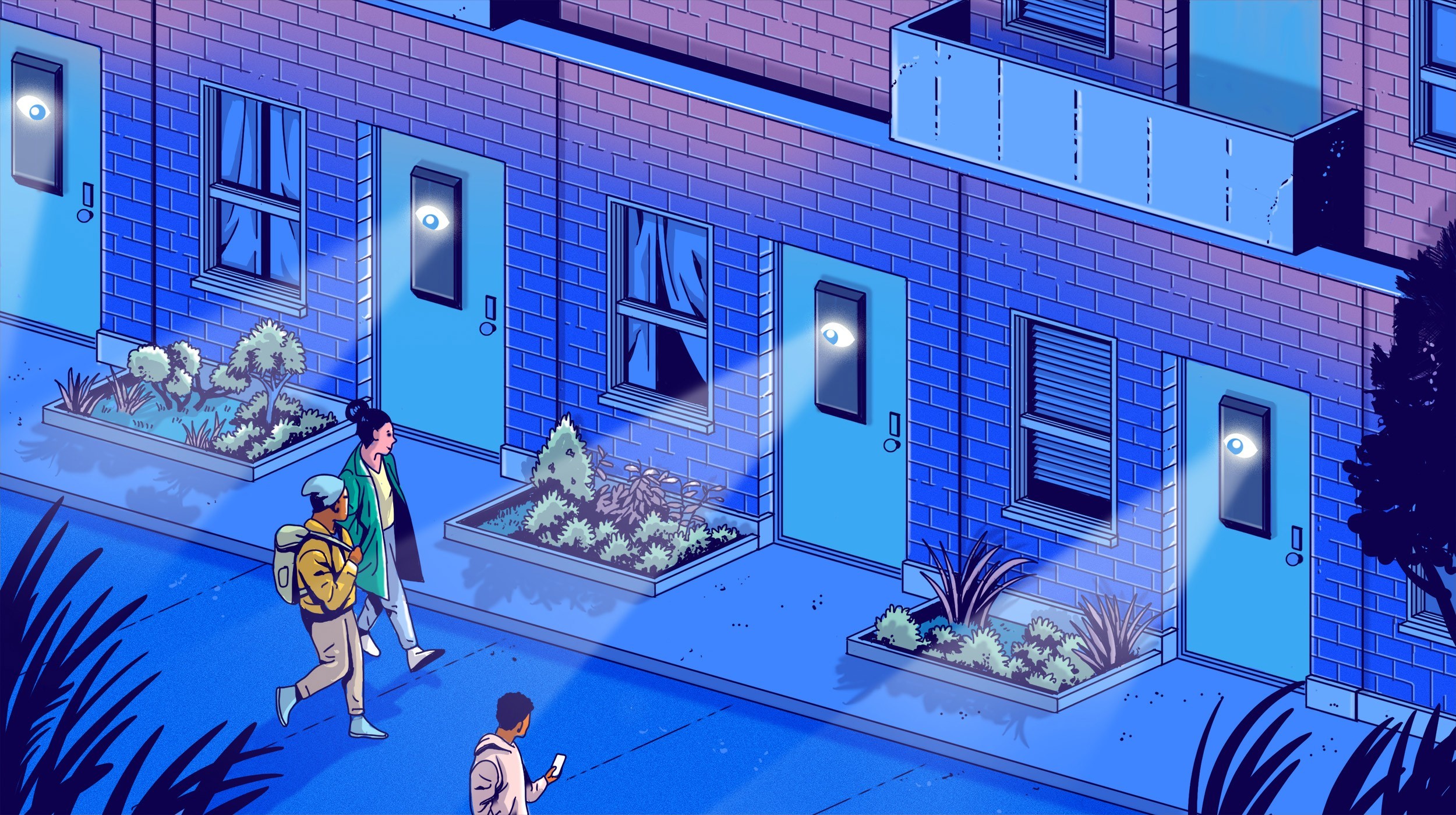 Neighbors are Ring's free, app-based neighborhood watch feature that alerts you to crime and safety events in a radius of up to 5 miles around your home. Neighbors are built into the Ring app, which you use with the Ring Spotlight camera. Neighbors can be a great service for anyone who has concerns about crime in their area, be it petty or grand. Its social-app-like feed provides real-time crime and safety alerts from both your neighbors and local police and fire departments in a convenient, helpful way.
Nest Cam Outdoor AI Face Recognition
Nest Cam Outdoor doesn't come with person detection or facial recognition, but you can buy it through Nest Aware. Not only will you get person detection and facial recognition, but you'll also get dog barking alerts and person speaking alerts. That's going to create way more meaningful and specific notifications, not just that your Nest Cam Outdoor detected motion but that your mail is here, or that there are unfamiliar bad guys' faces on your doorstep.
Winner: Tie
Price
Nest cam outdoor wired version is priced at US$199, and Ring spotlight camera wired version is priced at US$199,99, which both pricing are really close. Having said that, when you check out a package which can really function the camera, obviously Ring would come along with more fees. For example, Ring doesn't provide any free snapshots, and you must sign up for a paid plan, meanwhile Nest Cam Outdoor at least provides 3 days for free. 
Also, Ring multi-cameras require a US$10/month or US$100/year, when Nest Aware charges by devices. So you only install 2 cameras for your horse, apparently, Nest only charges you US$7.5/month, or US$75/year, which is cheaper than the Ring package.
Winner: Nest Cam Outdoor
Verdict
Overall I prefer Nest Cam outdoor more than Ring Spotlight Camera because it is equipped with more features to handle those bad guys and secure your place. Having said that, if you are looking for a device that can let your hands off more from installation to daily usage. Ring Spotlight camera with solar panel must be a better option.
I hope you enjoy reading Which Is Tougher on Bad Guys? Nest Cam Outdoor vs Ring Spotlight Camera. If you did, please support us by doing one of the things listed below, because it always helps out our channel.
Support my channel through PayPal (

paypal.me/Easy2digital

)

Subscribe to my channel and turn on the notification bell

Easy2Digital Youtube channel

.

Follow and like my page

Easy2Digital Facebook page

Share the article to your social network with the hashtag #easy2digital

Buy products with Easy2Digital 10% OFF Discount code (

Easy2DigitalNewBuyers2021)

You sign up for our weekly newsletter to receive Easy2Digital latest articles, videos, and discount code on

Buyfromlo

products and digital software

Subscribe to our monthly membership through Patreon to enjoy exclusive benefits (www.patreon.com/louisludigital

)
If you are interested in learning more about Ring camera collections, or Nest camera vs Nest IQ camera, please check out these articles:
Google Nest Camera vs Nest Camera IQ Review
Ring Camera Pros And Cons: Stick up Cam, Spotlight Cam, Floodlight Cam