Ring Camera Pros And Cons: Stick up Cam, Spotlight Cam, Floodlight Cam
Whether you're concerned about theft or you simply want to check in on a mischievous pet, home security cameras can provide alerts and peace of mind. Now if you're looking to add video security to your home, the Ring collection is a smart choice. In this article, I'm going to go through Ring outdoor and indoor security camera options, and their pros and cons can help you figure out which one is better and the right one for your use. coming up!
Whether you're concerned about theft or you simply want to check in on a mischievous pet. Home security cameras can provide alerts and peace of mind. Now if you're looking to add video security to your home, the Ring collection is a smart choice. In this article, I'm going to go through Ring outdoor and indoor security camera options. Also, I will review their pros and cons. This information can help you figure out which one is better and the right one for your use. coming up
About Ring Camera
Amazon owns the ring camera, which is now a billion-dollar company. It has operated largely independently since Amazon bought it in 2018.
Ring offers a wide range of home security cameras. It is including multiple video doorbells and an affordable, highly rated home security system. However, its motion-activated night vision cameras are the foundation of its system. Ring uses an outside-in approach to home security. It's with its smart, wireless cameras being your first line of defense against intruders. 
Ring also has a unique neighborhood watch feature built into its smartphone app. it has drawn the company some criticism for its partnerships with police departments. The feature, called Neighbors, is free and works whether you have a Ring camera or not. With it, people can post videos and alerts about what's happening in their immediate area.
Why Ring Camera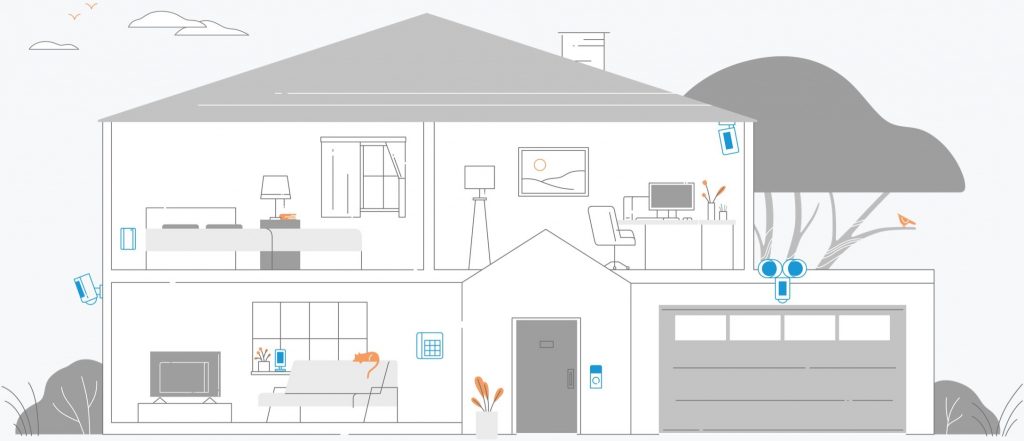 Ring security cameras are good and perform well. People recommend Ring cameras because the value for money is one of the primary reasons. They lack some of the more advanced features that Nest and Arlo cameras offer (such as facial recognition, geofencing, and track and zoom). But they all come equipped with features:
Motion-activated video recording and alerts

Live view capabilities

A built-in siren

Night vision (with the option of color mode)

1080p full HD video

Two-way talk

Seamlessly Integrate with Smart Home Hub for Smart Home Automation (Amazon Echo Show vs Google Nest Hub Max), or watch the video review here Echo Show vs Nest Hub Max.
What's more, they're more than half the price of some other companies' cameras. Its pricing is from US$99 and US$249. And During the holiday season, though, there are more discounts given to the Ring smart home camera — with several available bundles sweetening the deal even more.
Ring Home Outdoor Camera Collection
Ring Stick up Camera
The very first camera must be the Ring Stick Up Cam. It's an entry-level outdoor security camera. So it's pretty pricey and equipped with the basic popular features that all security cameras should have.
Since it's made to be versatile, we can use our Stick Up Cam indoors or out in fact. And we can install it basically anywhere. You can actually choose three power sources for this camera when you buy: battery, plug-in, or solar. 
It costs $99 to $149, that depends on which version you buy. It can be battery-powered or wired (with the option of adding a solar panel to keep the battery charged). And it uses a primary and backup power source. It has the same flexible mounting system as its smaller indoor sibling and the same smart features. They are such as color night vision and People Only mode. It also has a built-in siren you can activate through the app. It is a good option for someone on a budget looking for an inexpensive way to keep an eye on their front or backyard.
However, it's only weather-resistant, not weatherproof, so it's best to mount it in a covered area. Ring doesn't design it for someone who wants advanced security features. They are such as zooming and tracking or package and facial recognition. The Ring Stick Up Cam also has the smallest field of view of all the cameras in our ratings. So it won't capture as much action and battery power is limited to 30 seconds of recorded footage.
If you are interested in the other brand collection that is similar to the Ring stick up camera, please check out this article:
Blink Outdoor Camera vs Ring Stick up Camera 2023, Why does Amazon own two Smart Home Security Camera brands?
Ring Spotlight Camera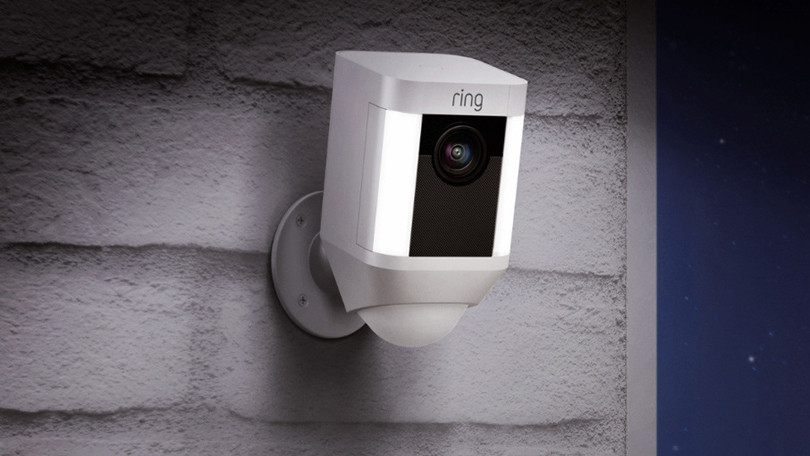 The Ring Spotlight Cam costs US$199 to US$249, that depends on which version you select. You can choose between the Ring Spotlight Cam Battery, a wireless outdoor camera; the Ring Spotlight Cam Wired, which plugs into an outlet outside of your home; or the Ring Spotlight Cam Mount, which is hardwired into a weatherproof electrical box (the kind that your current outdoor lights live in).
The Ring Spotlight Cam Battery is an easily installed, hardworking outdoor camera that does a little bit of everything. It has a wide-angle camera lens for a better view, infrared night vision, a motion-activated spotlight, and a remote-activated siren that's about as loud as a horror movie villain's chainsaw. It also has two-way audio, so when your kids are playing in the backyard, you can call them in for dinner without going outside.
While you won't be able to completely customize its motion zones like you can with the wired version, you can still adjust them. And you'll get instant push notifications on your mobile device when the Ring Spotlight Cam Battery detects movement. The motion sensors are pretty sensitive, but you can adjust the camera's motion frequency so that it doesn't notify you repeatedly when a herd of deer ambles past your back fence.
However, the camera's main drawback is its lack of prebuffering. Like most other battery-powered cameras, there's a slight delay between what the camera records and what you can see from live view. And in order to preserve its battery, the Ring Spotlight Cam Battery records in only 30-second increments.
Ring spotlight camera's competitor – Google Nest cam outdoor
Which Is Tougher on Bad Guys? Nest Cam Outdoor vs Ring Spotlight Camera
Ring Floodlight Camera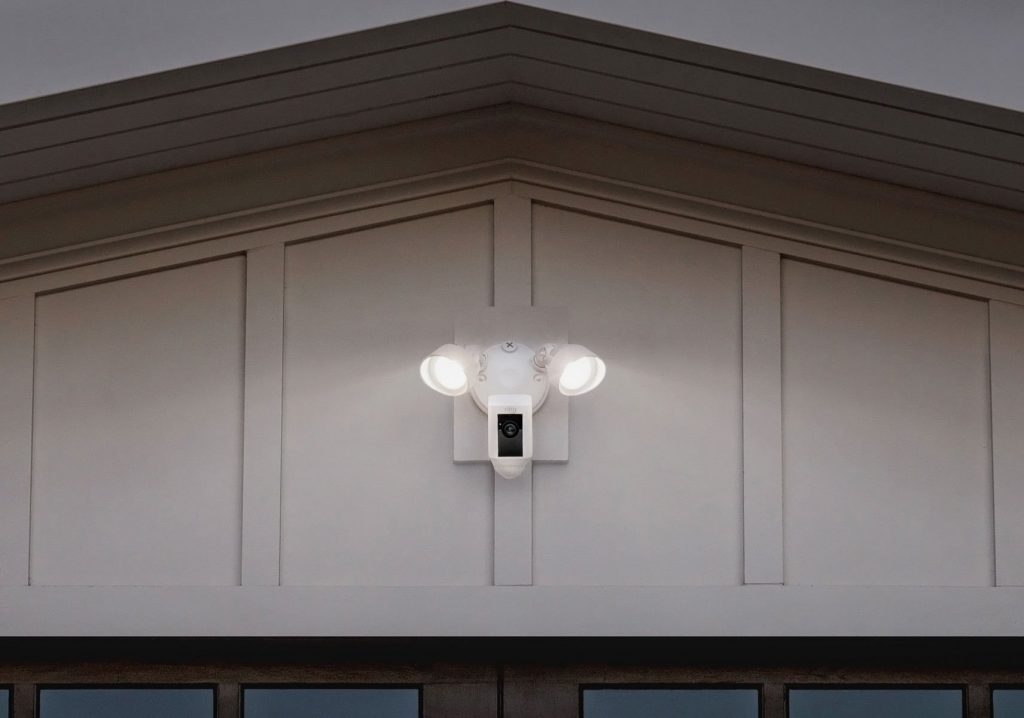 Ring Floodlight Cam, which must be hardwired to your electrical wiring and is outfitted with two LED lights. Most people will install the Floodlight Cam as a replacement for the existing outdoor light. Both LED floodlights mounted on articulated arms that can be moved independently of each other. These lights are rated to produce a combined 3,000 lumens of brightness. The camera, which has a 140-degree field of view—slightly narrower than the 155-degree field of view on the Maximus—captures video in 1080p resolution. There are a microphone and a speaker on board, so you can have two-way conversations with people on the other side of the connection
The Floodlight Cam's motion sensor detects movement over a 270-degree radius and can be fine-tuned to reduce or increase its sensitivity (you can, for example, set it to respond only to humans and ignore cars or four-legged visitors). You can also schedule the motion sensor so that it's active only on certain days and/or within defined time windows
However, the company says the average install time is 5-10 minutes, it does require replacing existing wired floodlights. Some users without these have a more complex installation process and, in those cases, it's more involved to get the Ring floodlight up and running.
Ring Home In-door Camera
Ring in-door stick up cam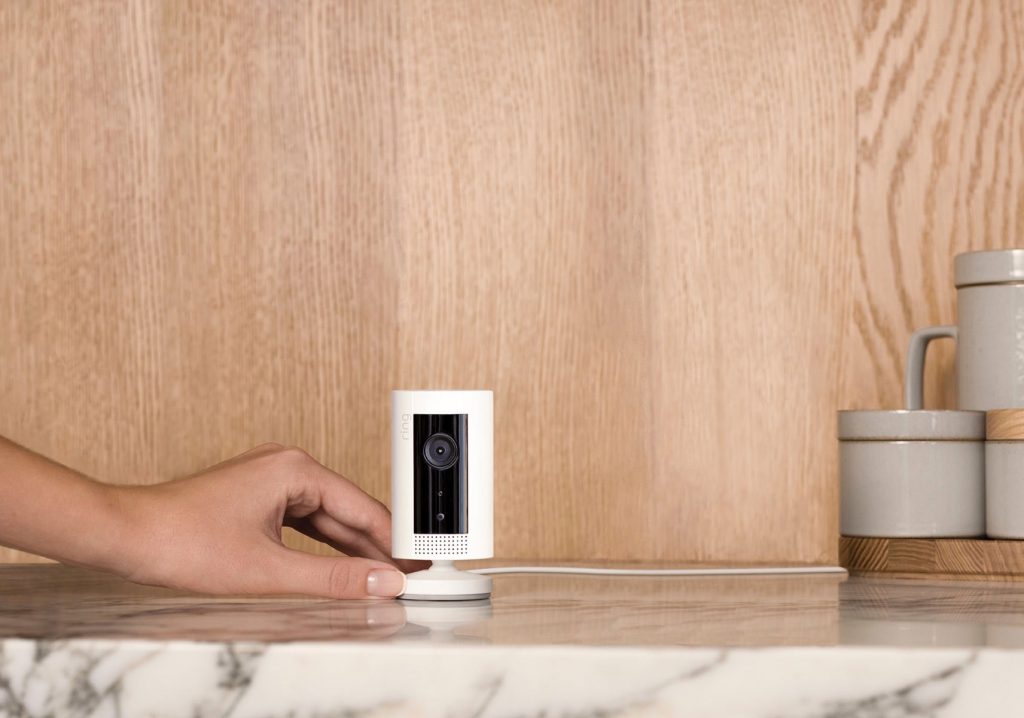 The Ring Indoor Camera is an excellent option for someone who's on a budget, At $59.99, the Indoor Camera is the cheapest camera in Ring's lineup. But considering we're still getting that impressive 1080p video quality in every recording, even at night – among all the other features of this cam, powered by Ring's powerful cloud-based network – we're quite fond of the price of this camera.
It's compact– just 1.81 inches by 1.81 inches by 2.95 inches (without the stand). This means you can stick it anywhere you need security without it being obtrusive, as long as it's near an outlet. An innovative mounting system lets you mount the camera from its base or its back, and the rotating stand allows you to adjust the camera once it's installed to get the best view. A very wide field of view makes it a great option for keeping an eye on pets or children, or for easily monitoring a large room and a built-in siren that can be activated through the app can scare off intruders.
However, here's a low-tech observation about our Ring Indoor Camera you'll either appreciate or laugh at. We really don't like the power cord that's attached to it. It's bulky and unforgiving, and it doesn't bend to our will. (We don't like things that don't bend to our will.)
So when we're doing something as simple as placing the camera on a flat surface, we have to contend with this unsightly wire hanging off of it. And, even more, frustrating is that it's only 6.5 feet long. It's a minor gripe, we know, but we would love to see either a longer cord attachment or an optional battery on this camera at some point.
About the Ring Camera App
The Ring app, as you're surely aware, is the best way to keep tabs on your home from anywhere. But it's not just limited to smartphones and tablets; if you have a Mac or PC, you can download the Ring app there, too. We really liked this. While testing the camera, we appreciated having a larger screen to navigate the app and all its functions. This is especially helpful for monitoring the nighttime scenes, managing alerts, testing two-way talk; we had a much easier time deciphering details of a specific "bump in the night" when we viewed it on our desktop app than on our smartphones.
If you're like us, you knew about Neighbors2 already. The Ring mobile app is tied into Neighbors, a helpful neighborhood watch community where you can stay in the loop on suspicious activity or crime near your home. Heard about a break-in a couple of blocks away? You might get some really crucial details about it by checking Neighbors.
Subscription Plan
You have three different options when it comes to security (or lack thereof) with Ring security cameras:
Use it for free: Without monitoring or video recording, you can just monitor the system yourself using the app to get notifications and checking in now and then to look at live footage.
Ring Protect Plan:

For $3 per month

, you can record and share video from your Ring security camera.
The Ring Protect Plus Plan:

This plan costs $10 per month

and includes professional monitoring, which means a monitoring team is available 24/7 to respond to alerts, call you to see if everything is okay and call emergency services if necessary. You'll probably want the entire Ring Alarm system if you go this route, which means more equipment to purchase but also more security features, including door and window sensors, smoke and CO detectors, and flood and freeze sensors) and costs $10 a month. One cool perk Protect Plus customers have is a 10% discount on Ring.com purchases. You can also cancel at any time.
Is It Worthy to Buy the Ring Camera?
It's a good choice for someone who doesn't yet have an alarm system and wants simplicity and/or flexibility since the camera can be used on its own or in conjunction with a variety of smart home and security products by Ring, Amazon, and compatible brands.
The Ring security cameras don't offer anything special or unique that other security companies' cameras don't—their picture and functionality are quite on par with the competition. You likely won't be disappointed by the picture or the ability to use a two-way talk from your phone. The app is also very easy to use. Plus, security monitoring for just $10 per month is a pretty great price.
I hope you enjoy reading Ring Camera Pros And Cons: Stick up Cam, Spotlight Cam, Floodlight Cam. if you did, please support us by doing one of the things listed below, because it always helps out our channel.
Support my channel through PayPal (paypal.me/Easy2digital)
Subscribe to my channel and turn on the notification bell Easy2Digital Youtube channel.
Follow and like my page Easy2Digital Facebook page

Share the article to your social network with the hashtag #easy2digital

Buy products with Easy2Digital 10% OFF Discount code (Easy2DigitalNewBuyers2021)
You sign up for our weekly newsletter to receive Easy2Digital latest articles, videos, and discount code on Buyfromlo products and digital software
Subscribe to our monthly membership through Patreon to enjoy exclusive benefits (www.patreon.com/louisludigital)
FAQ:
Q1: What is the Ring Camera?
A: The Ring Camera is a smart home security camera that allows you to monitor your property remotely.
Q2: How does the Ring Camera work?
A: The Ring Camera connects to your home Wi-Fi network and streams live video footage to your smartphone or computer. It also sends you instant notifications when motion is detected.
Q3: Can I use the Ring Camera indoors and outdoors?
A: Yes, the Ring Camera is designed for both indoor and outdoor use. It is weather-resistant and can withstand various environmental conditions.
Q4: Does the Ring Camera have night vision?
A: Yes, the Ring Camera is equipped with infrared night vision, allowing you to see clearly even in low light conditions.
Q5: Can I store the recorded footage from the Ring Camera?
A: Yes, the Ring Camera offers optional cloud storage plans for storing recorded footage. You can choose between a monthly or annual subscription plan.
Q6: Is the Ring Camera compatible with other smart home devices?
A: Yes, the Ring Camera integrates with various smart home platforms, such as Amazon Alexa, Google Assistant, and Apple HomeKit.
Q7: Can I access the Ring Camera remotely when I'm away from home?
A: Yes, you can access the Ring Camera's live video feed and receive notifications from anywhere using the Ring app on your smartphone or tablet.
Q8: Does the Ring Camera have two-way audio?
A: Yes, the Ring Camera has a built-in speaker and microphone, allowing you to communicate with visitors or potential intruders through the app.
Q9: Can I customize the motion detection settings of the Ring Camera?
A: Yes, you can adjust the motion detection sensitivity and create custom motion zones to receive alerts for specific areas of your property.
Q10: What are the power options for the Ring Camera?
A: The Ring Camera can be powered either through a wired connection or with a rechargeable battery, depending on the model you choose.