Canon EOS M50 Mark has proven to be one of the company's best-selling mirrorless cameras, and it's easy to see why, because it's the most affordable EOS M model with a built-in viewfinder, snaps crisp 24-megapixel photos, and offers speedy autofocus.
Today it's being refreshed and replaced by a new model, the Canon EOS M50 Mark II. The hardware updates are minimal, however there are some updates that indeed further improve video capability of this device, in particular if you are a content creator.
So in this piece, we'll review Canon EOS mark 2 from several perspectives, and you would learn whether it's worth investing in or not, and why it's worthy.
Canon EOS M50 Mark vs Canon EOS M50 Mark 2
From the specification table below, you might be feeling it seems like the exact same camera. I would say you might be right, because Canon EOS M50 Mark II is almost a carbon copy of the original Canon EOS M50 Mark hardware, with the same 24.1MP APS-C sensor, same Digic 8 image processor, same cropped 4K video that's limited to 24p.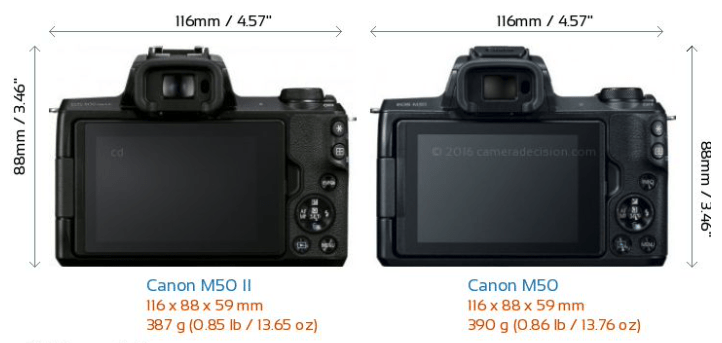 | | | |
| --- | --- | --- |
| | Canon EOS M50 | Canon EOS M50 Mark II |
| Sensor | 24.1MP (APS-C) CMOS sensor | 24.1MP (APS-C) CMOS sensor |
| Image Processor | DIGIC 8 Image processor with auto lighting optimiser | DIGIC 8 Image processor with auto lighting optimiser |
| ISO | 100-25600 (H:51200) | 100-25600 (H:51200) |
| vIDEO | 4K UHD 24p video and HD 120p Slow Motion | 4K UHD 24p video and HD 120p Slow Motion |
| High Speed Continuous Shooting | Up to 10 fps | Up to 10 fps |
| Dual Pixel CMOS AF and Eye Detection AF | Yes | Yes |
| Movie Servo AF | No | Yes |
| Vertical Video Shooting | No | Yes |
| Clean HDMI Output | No | Yes |
| Wireless YouTube Live Streaming | No | Yes |
| Movie Record Button (LCD screen) | No | Yes |
| OLED Electronic Viewfinder with touch-and-drag AF | Yes | Yes |
| Vari-Angle Touchscreen LCD | Yes | Yes |
| Battery Life (CIPA Compliant, On-Screen Shooting) | 235 Shots | 305 Shots |
| Approx. Dimensions (W X H X D) | 4.6 x 3.5 x 2.3 in. (116.3 x 88.1 x 58.7mm) | 4.58 x 3.47 x 2.31 in. (116.3 x 88.1 x 58.7mm) |
| Approx. Weight (With Battery & Memory Card) | 13.76 oz. / 390g | 13.65 oz. / 387g |
Winner: Canon EOS M50 Mark 2
New Feature – Capture Vertical Video and Wireless Livestream
No matter if you're an amateur videographer or a full time Vlogger, efficient post video production must be a way out you're looking for. I would say Canon EOS M50 Mark 2 does have this feature. It gains the ability to capture vertical video, which is ideal for shooting Stories or videos on Facebook, Instagram and TikTok. Vertical or square video format is much easier to produce, and which tags the metadata for proper vertical playback on smartphones.
It also provides another useful social media creator feature, which allows creators to wirelessly live stream to YouTube – it's no doubt that it makes it more appealing to the content creation crowd. Canon EOS M50 Mark 2 is also able to be used as a webcam, via Canon's EOS Webcam Utility(which can be downloaded free) and other supported video apps. So if you're the IGTV content creator, that will be perfectly matched.
Last but not least, a couple of useful touchscreen inputs are also added to the mix, in the form of touch recording and self-timer activation in movie mode as well as a Touch and Drag-style rear screen focusing mechanism when shooting through the EVF.
Video Quality
Canon EOS M50 Mark 2 offers the same capabilities as its predecessor with Mark 1. So in this case, it shoots 4K UHD video at 24 FPS, 1080p Full HD video up to 60 FPS, and 720 HD up to 120 FPS.
Despite promising 4K support, vloggers should still think of the Mark II as a 1080p camera, where it offers an uncropped view and speedy Dual Pixel autofocus. This is despite the camera offering a forward-facing LCD and support for external mics, features that would typically excite vloggers.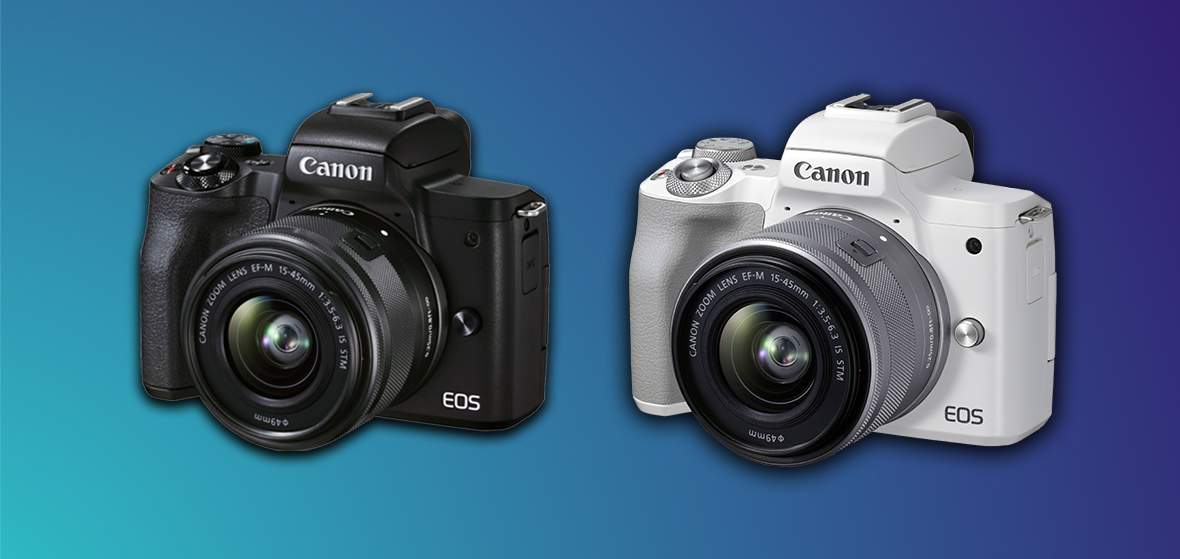 The camera maintains the industry-standard 29 minute and 59-second recording limit. It obtains the 4K Frame Grab feature, which allows you to pull still images for a 4K movie.
It now offers a clean HDMI output for use with external recorders or monitors. And this now makes the camera a reliable option for live-streaming.
Auto-Focus Performance
One of the biggest updates Canon has implemented for the EOS M50 Mark II is improving the autofocus. The eye and facial detection autofocus has been strengthened so that it can detect subjects that are further away from the camera, and now works even when AI Servo AF is enabled.
If you're not familiar with it, AI Servo AF mode should be used when you're photographing a moving subject. It uses artificial intelligence to lock the focus to the subject even as they move. Another update for the Mark II is that AI Servo AF is now available when recording video as well, called Movie Servo AF mode.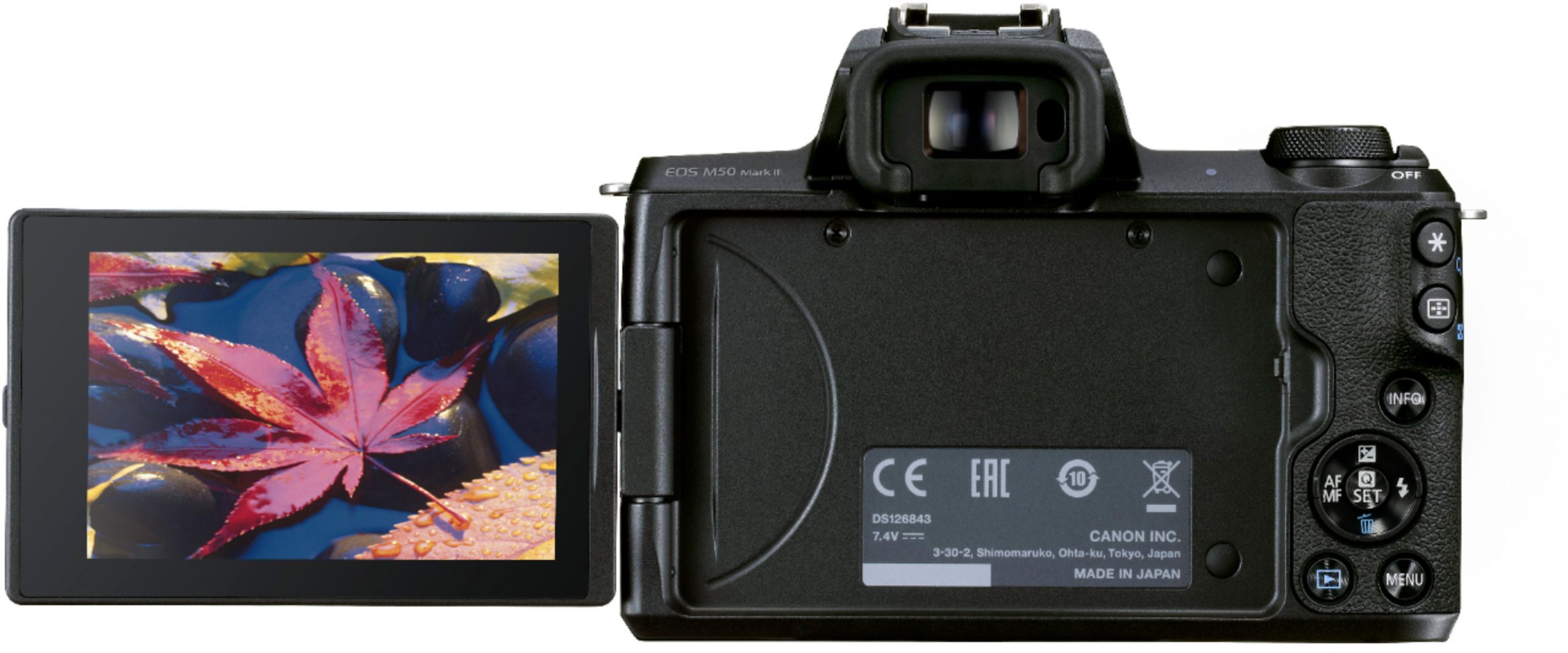 It obtains the same 143-point phase-detect AF system with Dual Pixel CMOS AF as its predecessor. And this system offers both Face and Eye-detection along with AF support down to -4 EV. However, Canon's made refinements to the algorithms, increasing its overall speed and responsiveness.
Additionally, you can now customize the AF settings via the menus. And this allows you to customize the AF transition speed to tailor the system for a faster response or a more cinematic effect. And this combines well to create smooth and natural focus transitions when using the touchscreen. It also offers focus magnification and speaking, if you prefer manually focusing.
Price
In the US, the body-only price is $599.99. If you'd rather pick it up with a len, you can get the EOS M50 Mark II with an EF-M 15-45mm for $699.99 or the in a double zoom lens kit with the EF-M 15-45mm and EF-M55-200mm for $929.99. Compared with Canon EOS M50 1st generation (US$579,99), it charges 20 dollars more.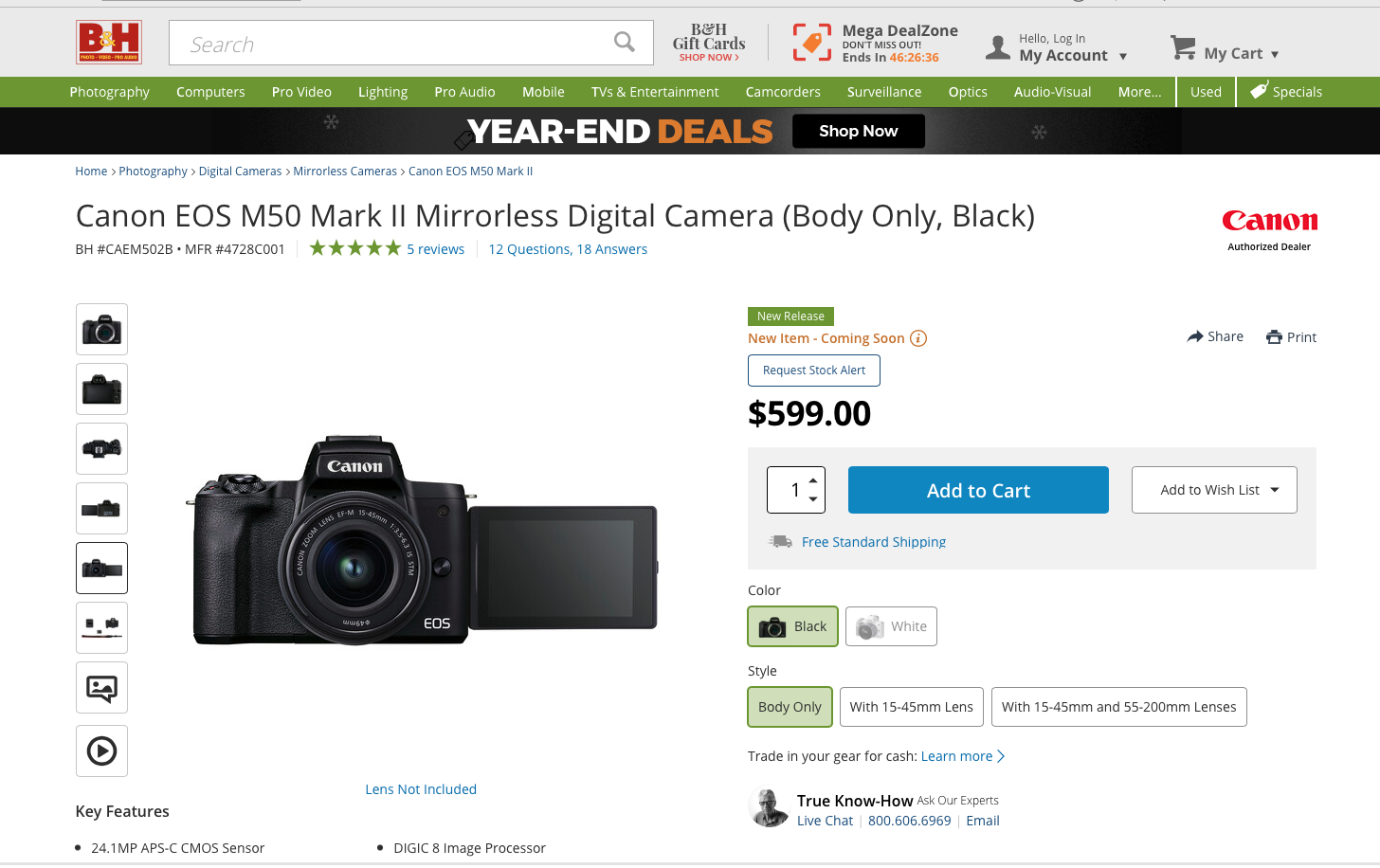 Winner: Canon EOS M50 Mark
Canon EOS M50 Mark 2 Verdict
Current EOS M50 owners shouldn't upgrade. The only real changes here are the improvements in eye AF, webcam support, live streaming, and the movie self-timer. These features alone don't provide enough value to justify an update.
While there may not be enough updates to entice some M50 shooters to upgrade, the Mark II is definitively the better camera. It has improved autofocus capabilities, plus new features like the vertical video shooting, wireless live streaming, and the record button on the LCD screen should appeal to Vloggers and content creators.
So easy, right? I hope you enjoy reading Python Tutorial for Digital Marketers 3: How to Write, Parse, Read CSV Files with Scraped Data. If you did, please support us by doing one of the things listed below, because it always helps out our channel.
Support my channel through PayPal (paypal.me/Easy2digital)
Subscribe to my channel and turn on the notification bell Easy2Digital Youtube channel.
Follow and like my page Easy2Digital Facebook page

Share the article to your social network with the hashtag #easy2digital

Buy products with Easy2Digital 10% OFF Discount code (Easy2DigitalNewBuyers2020)
You sign up for our weekly newsletter to receive Easy2Digital latest articles, videos, and discount code on Buyfromlo products and digital software
Subscribe to our monthly membership through Patreon to enjoy exclusive benefits (www.patreon.com/louisludigital)