Covid-19 post-pandemic significantly accelerated the growth of eCommerce in the US this year, with online sales reaching a level not previously expected until 2022. In our Q3 US, US eCommerce sales jump 37% YoY in Q3 2020.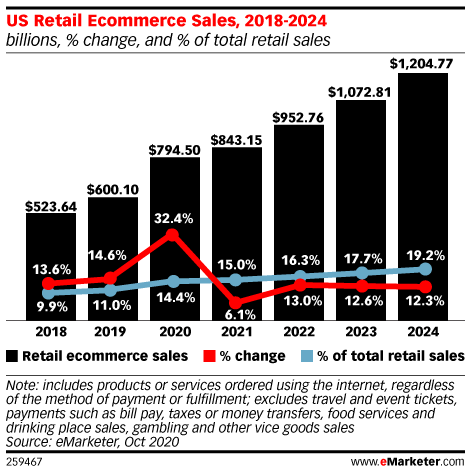 I believe as long as you're one of the eCommerce players, you must be aware of the business opportunity, so it's a kind of no brainer that now it's a moment both brands and SMEs are going to create stores on primary giant marketplaces, like Amazon, and further invest more on existing stores to capture more market share out of this bigger pool. Thus, below are two facts we need to learn and start to deploy to the next step.
This game is getting crowded and crowded, and more players are joining to share your pies because eCommerce opportunities are not the secret anymore.

Marketplaces like Amazon

continue to squeeze brands and sellers for more fees and lower the sellers' profit margin moving forward

, or primary traffic and sales driven digital channels like Google and Facebook, are adding more strict policies to get product listing published and run than ever.
I'm not saying we should re-allocate the budget to other channels, or even give up these key marketplaces. I would say it's totally wrong to give up your effort over years. However, two facts imply our next step is how to acquire your customers, retain your revenue growth, maintain profit margin in a more diversified and cost-efficient strategy which manages to also calibrate target customers out of this red ocean, and reduce vertically over replying on known wall-gardened channels? The answer is a retail media strategy, and it will be your next key row for eCommerce marketing.
In this article, I'll talk about why retail media is becoming so important. By the end of the article, you can learn how to restrategize your e-commerce marketing, and deploy the next point of growth.
What is Retail Media?
Generally speaking, retail media is advertising within retailer sites and apps – usually by brands that directly sell products with retailers, though this is not always the case. Retail media advertising can also come from non-endemic brands in verticals such as financial services or travel—ones that are interested in retailer audiences but don't necessarily sell products on those retailers' sites and apps.
With retail media, brands can boost their visibility on the "digital self" through native and display ads, akin to an endcap or special in-aisle feature in a physical store. Ads can be shown on the home page, category page, search page, or product detail page to reach consumers at various stages of their journey.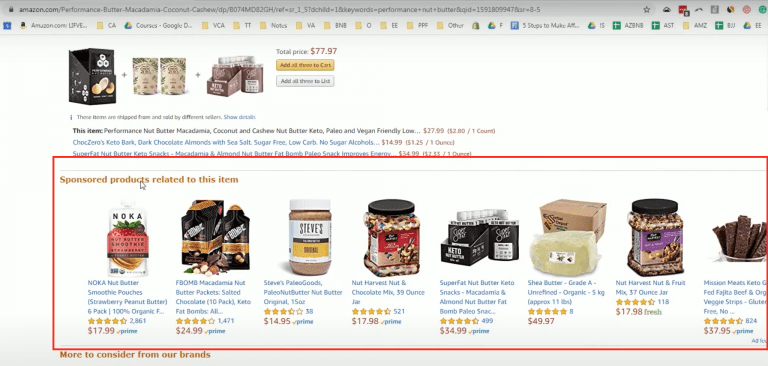 For example, as I write an article about 6 Amazon marketing ads opportunities, Amazon sponsored products ads, that is charged by CPC and show in product page related item placement, is a pretty good fit to acquire competitor customers or reach customers who are looking for the same product, or similar products in the same or substitute product category. However, Amazon sponsored ad placement is only open to Amazon sellers and direct customers to Amazon seller stores. So it's not the type of retail media I mean in this article
Retail media inventory is like the Best buy product-related ads placement listed below. We could buy the ads inventory and reach the target ready-to-buy customers through a DSP platform, such as Criteo. So, you can drive the close-to-checkout customers to either your eCommerce website or your marketplace store.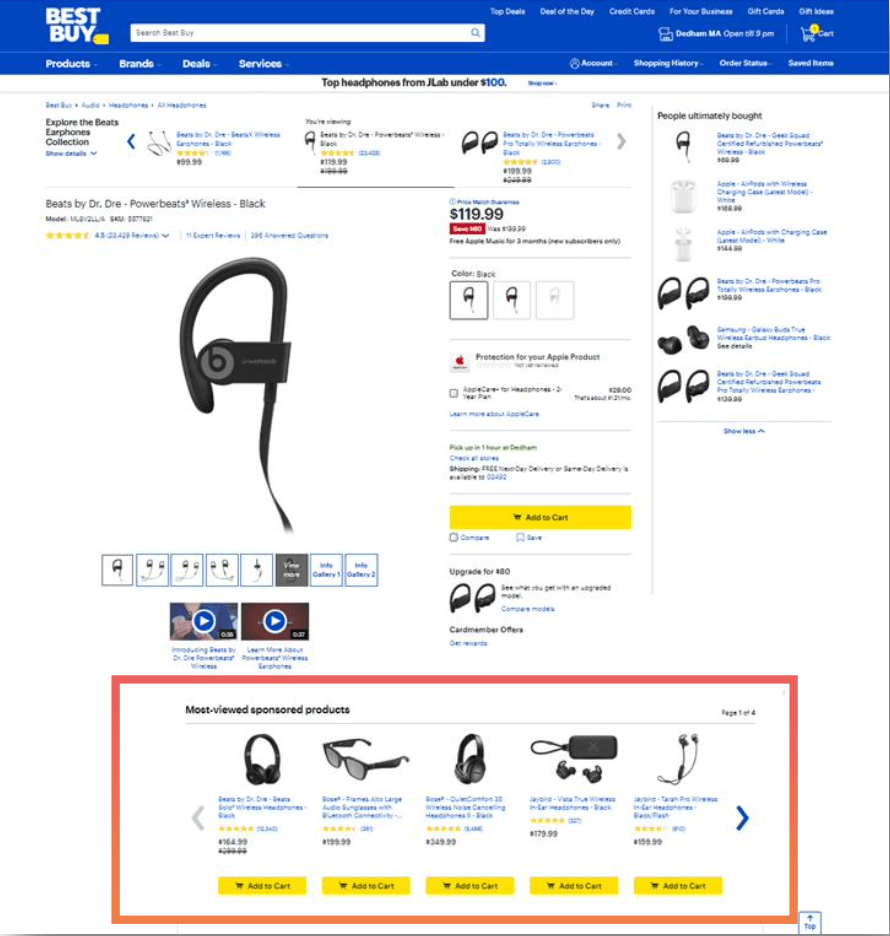 Why Retail Media Become So Important Now?
Retail media has been already trending for four reasons:
1. e-Commerce is a retail media driver.
Consumers are shifting their purchases from physical stores to eCommerce in increasing numbers, and due to the COVID-19 pandemic, consumers are also shifting their personal disposable income from travel and other sectors that are being impacted by COVID-19. Brands want to make sure they're where the action is, and reach high-intent shoppers at the point of sale on the sites and apps of their retail partners.
2. Post-cookies, the need for personalized advertising continues.
In the not-too-distant future, third-party cookies will be extinct. This has everyone planning now for how to advertise in a post-cookie world, however, personalized advertising isn't going away; it will just rely more on data being executed in a first-party environment. Retailers are well-positioned to target consumers using first-party data and create an environment with actual sales-based measurement because the sales are happening on the marketplaces, or retailers' sites as well."
3. Retail media ties media spend on sales.
The attribution capabilities of retail media are extremely attractive to brands who are increasingly looking to connect their ad spend directly to sales. Retailers have an abundance of sales data and can provide sales-based insights, enabling brands to link their spending to eCommerce sales down to the individual SKU level. Some retailers are even providing offline sales data, for a more complete view of the customer journey
4. Alternative Ways to Diversify Customer Acquisitions Rather than Replying on one or two e-Commerce Giants
Amazon indeed gathers a huge amount of ready-to-buy audiences, and previously it did help sellers lower the acquisition cost as much as possible. But the fact now is it is squeezing sellers with more fees, and the marketplace is becoming more crowded from sellers. It's time to jump out of the box, and directly drive sales from an owned eCommerce website, when resting of marketplace players are opening more marketplace ads inventory to eCommerce sellers
How To Start
In fact, there are quite a lot of DSPs platforms that are optional on the market. Here I would take Criteo for an example.
Create a Criteo Ads Account
Criteo either provides a self-service account or managed service with a dedicated account manager. If your ads budget is less than US$20k/month, you can create an account without a dedicated manager. On the other hand, you can have a dedicated manager if your budget is greater than US$20k/month
Select Target Market and Identify retail media ads placement
Take the USA market as an example. Criteo is partnered with many key marketplace players, such as BestBuy, Costco, Walmart, Sam's Club, etc.

Based on the SKUs you're focusing on to sell in the target market, you could select which retail media and what ad placement to show your product.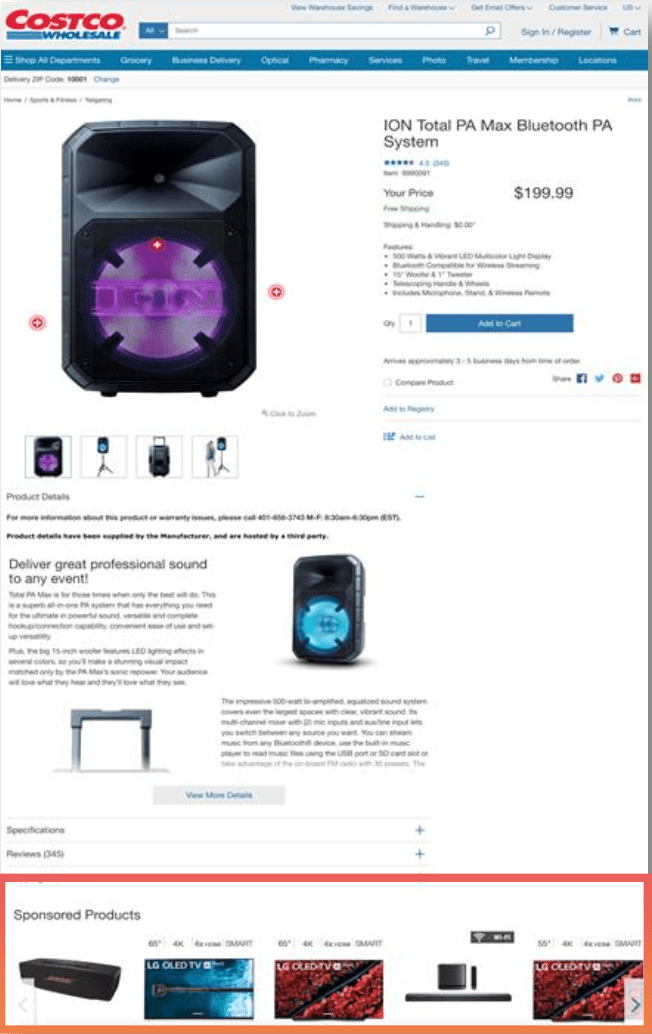 Criteo has quite lots of exclusive customer data that are related to high intention to buy, ready-to-buy, and high repurchase rate of customers. You can select the dimensions that include product categories, keywords, brand interest, and demographics, etc.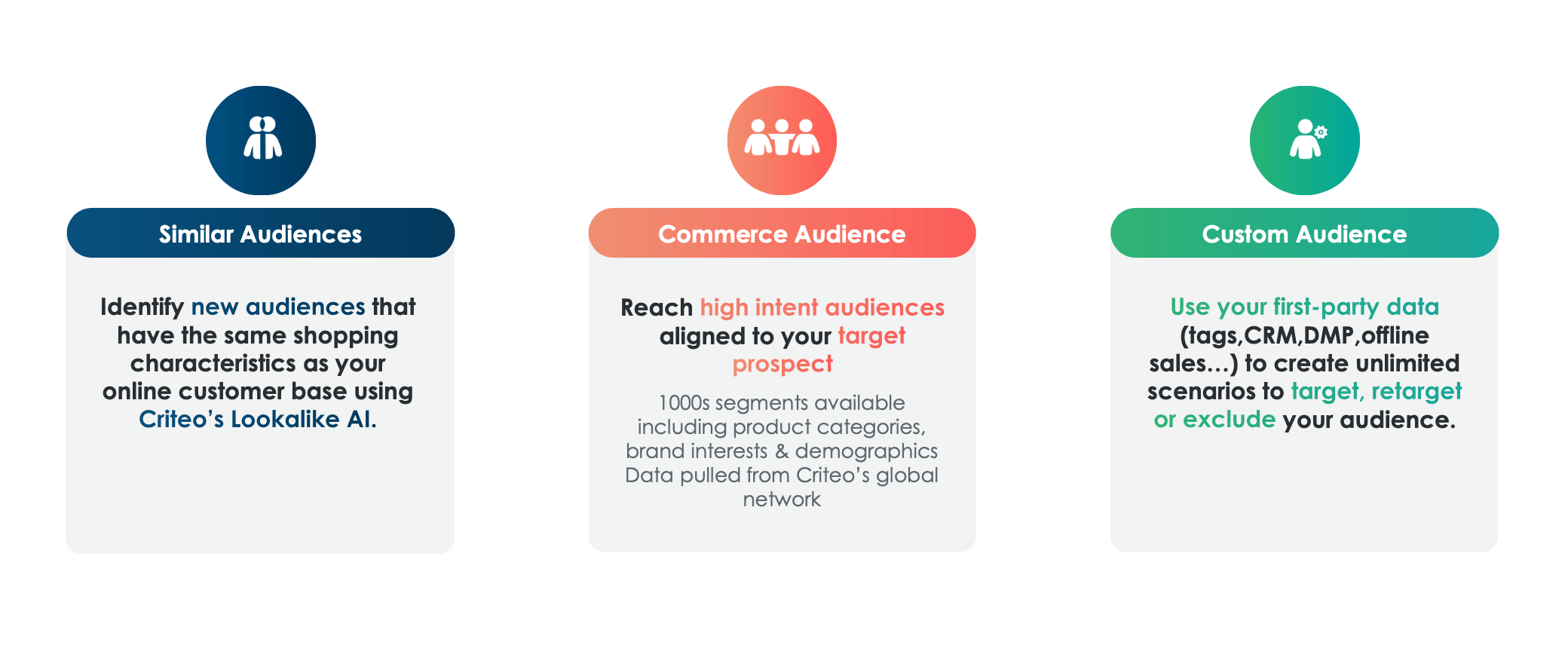 In advance data strategy, you can integrate brand first-party data with Criteo, for the purpose to map more accurate target customers and increase ROI of ads spent.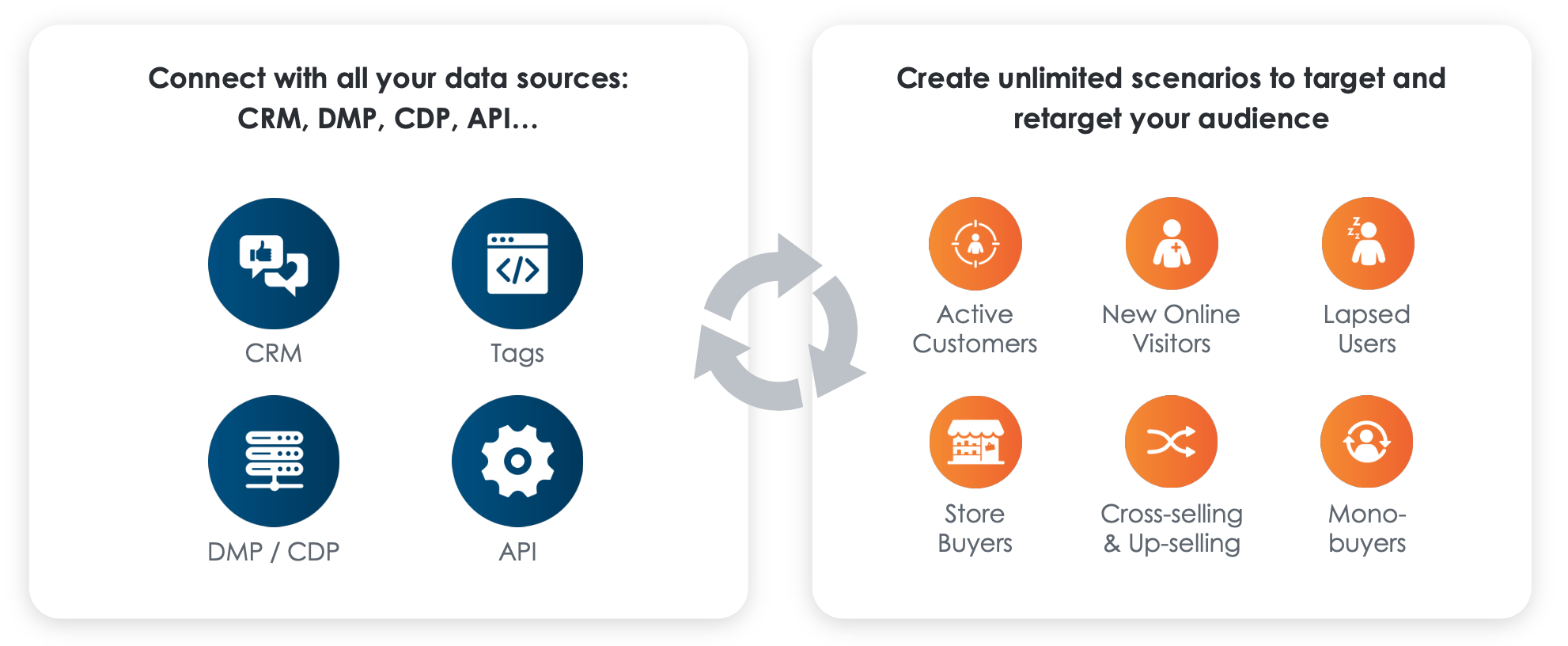 You can create first-party data by installing Criteo tags or connect your CRM, DMP, and CDP to Criteo, map your data with the Criteo database and create an audience group (Note: You can learn more about CDP, CRM, DMP in another article: What's the difference among CDP, CRM & DMP Data Platform?)
Dynamic Creative Optimization (DCO)
Dynamic creative is not a strange term, because no matter Google, Facebook, etc provides these for advertisers to optimize CTR and conversion rate, based on target audience behavior. Criteo facilitates you on DCO as well, and you can set up the dynamic product ads set based on specific retail media, user behavior, and GEO.

I hope you enjoy reading Why Retail Media Becomes So Important and How to Start? and find it helpful. If you did, please support us by doing one of the things listed below, because it always helps out to our channel.