Data Platform – What's the difference among CDP, CRM & DMP
In this article, I am going to share with you data platform comparison – What's the difference among CDP, DMP and CRM. You'll learn the difference and why your business needs a data platform, and how to select.
In this article, I am going to share with you a data platform comparison – What's the difference between CDP, DMP, and CRM. You'll learn the difference and why your business needs a data platform, and how to select it.
What's CDP
CDP stands for the customer data platform. It's developed to collect and unify the data for the purpose to build a simple view of a customer profile. So, basically, CDP is able to connect to and integrate with CRM, chatbot, advertising, POS/Online shopping cart, email, App, social media and web analytics, etc digital platforms. Because of that, CDP enables you to eliminate the data silos.
Secondly, CDP improves customer analytics and segmentation. For example, you could identify Louis who clicks through your ads banner in CNN, when engages with your post on Facebook, which email he opens you blasted through Salesforce email studio. The omnichannel view of a customer is not a roadblock anymore.
Finally based on this insight into customer behavior, CDP support 1:1 personalized communication. Thus, you can activate customer data by using CDP, to feed the tailor-made discount offer or product information to a customer through an omnichannel approach.
Nowadays, well-known CDPs are available many on the market, such as Salesforce Datorama, and Lytics.
What's CRM
CRM is short for customer relationship management. It enables us to store customer personally identifiable information (PII) or what we call deterministic data. Such as phone number, name, and email address. Basically, the sales team uses CRM to record the interaction and purchase history with a customer manually. Also, the marketing team leverages it to implement 1:1 communication on email, mobile, web, App, and chatbot channels.
CDP and CRM both can store PII data, but the cons of a CRM are its capacity is not able to fully integrate data and provide a limited view of a customer.
For example, sales can see a customer interaction time and purchase record in CRM, but sales can't see customer engagement on your company's social media post, advertising banner, and which page a customer has viewed on the web.
What's DMP
DMP is an abbreviation of the data management platform. It can only store probabilistic data, such as cookies, mobile ID, social ID, etc, instead of PII. DMP is primarily used by advertisers. Advertisers leverage DMP to set up advanced targeting, increase reach accuracy, and optimize advertising spending efficiency.
Basically, every advertising platform has its own DMP given to advertisers to leverage for free, such as Alimama, Tencent, Google marketing platform, etc. Or advertisers can invest in one such as Salesforce audience studio (Former Krux). to eliminate the data silos issue.
However, the cons of DMP is it can't identify a customer due to only storing anonymous data. So, it disables 1:1 personalized communication. Also, duplicate and overlap customers waste advertising dollars, and reduce communication efficiency.
Most importantly, data will be more often short-lived because cookies will be clear very fast. It's difficult to implement continuous communication with your target customers.
Why it matters
The beauty of digital enables us to track, store customer data, and build up an accurate communication cycle for business purposes. Once you recognize data is an asset, you don't wanna lose them. Then, with more fragmented data coming in, shaping a simple view of customers can relieve your depression and enhance the communication quality. So, you need a data platform to store and unify your business data asset for the purpose to personalise communication and enhancing cost-efficiency.
When you are selecting a data platform, your business requirement and budget are factors to consider. So the difference between CDP, CRM, and DMP can help you make the right decision after you understand their pros and cons.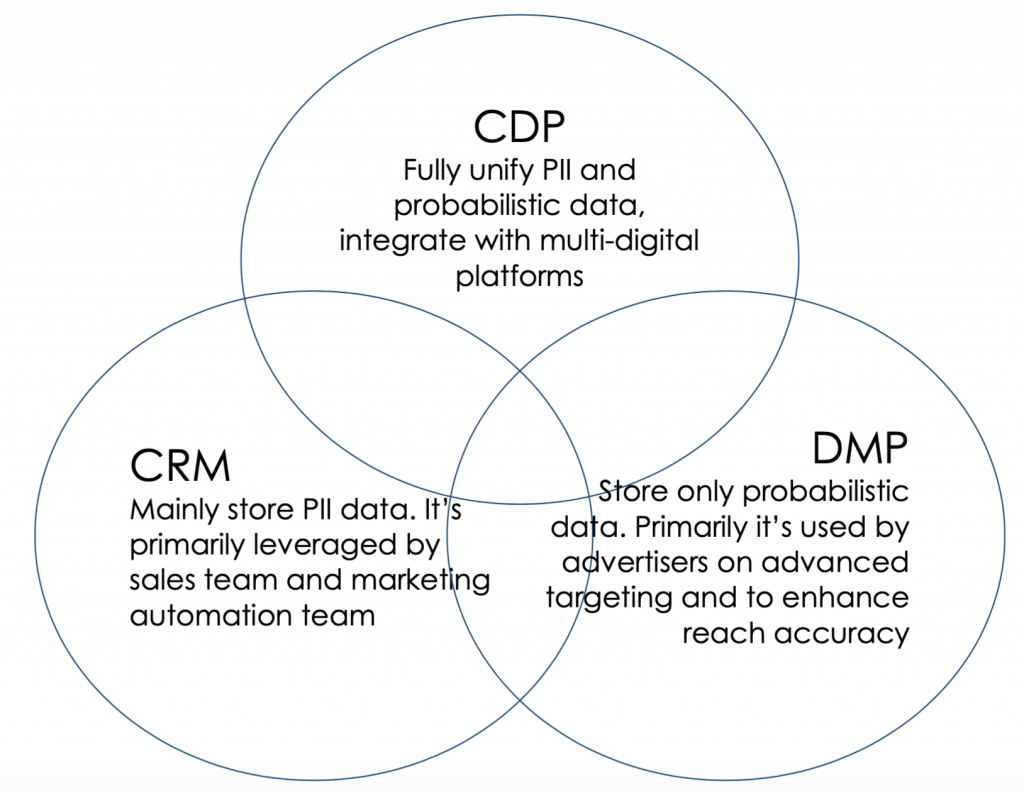 Data Platform – How to select
Basically, each platform has its unique beauty and value. When considering a platform, cost includes tech staff and platform features, but also analyze what's your team structure and business model. If your business is customer-centric, such as a subscription model, and very online-focused, I'll suggest below an order from bottom to top, to consider the investment.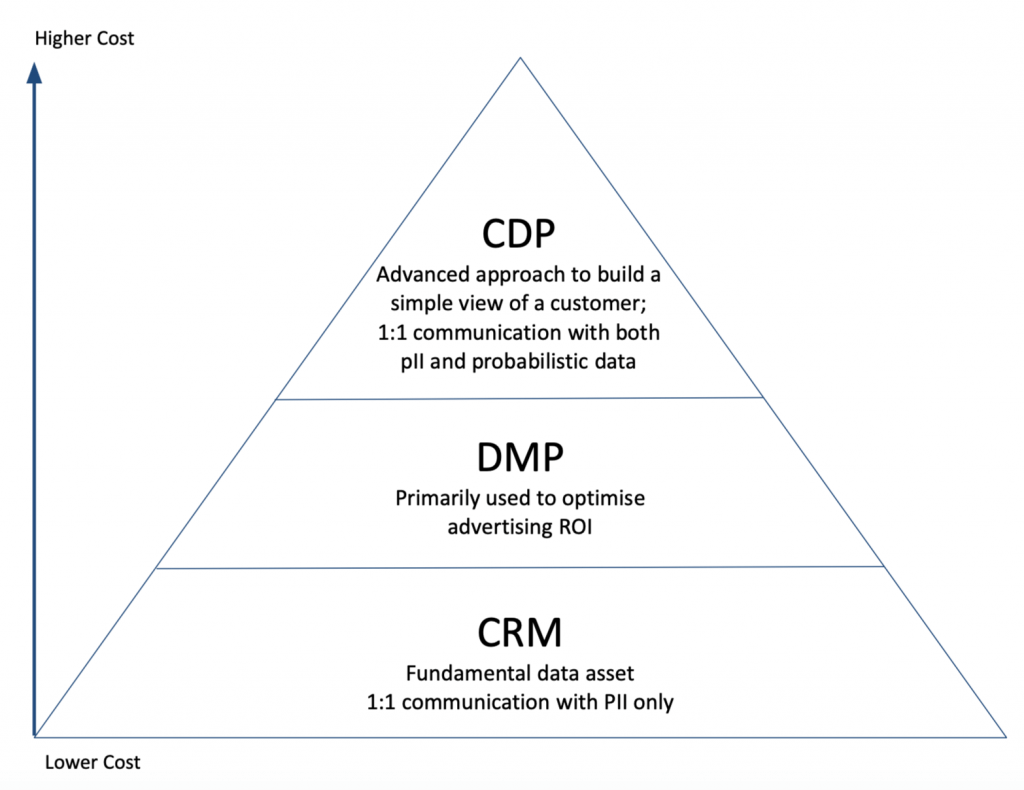 Start with CRM
Acquiring a new customer is difficult and expensive, prospect collection is also not easy. On the other hand, customer retention costs are much lower. So valuing each prospect and new customers coming in are critical for your business success.
CRM is a fundamental platform to help you with this because it's a cheaper and more efficient approach to storing PII data. Different from the advertising platform, once you drive in PII data stored in CRM, you can further communicate with these prospects in an automated way through email, App, Web chatbot, social media, rather than keep spending on advertising through the DMP approach. Obviously, CRM is a place to store your data asset and retain customers, while saving dollars.
Furthermore, nowadays many CRM enables matching PII with probabilistic data in a single channel view. Take Hubspot for example, the platform enables us to connect with the Facebook ads manager. Once a customer submits an inquiry on your web or App, Hubspot can help you try matching this customer profile on Facebook. Thus, you can activate this data and feed a 1:1 advertising message to this customer on Facebook.
If it's not urgent to implement an omnichannel strategy on a large scale, basically CRM can fulfill CDP, CRM, and DMP in a single channel way.
DMP is a further step
DMP is primarily used by advertisers. It represents you are ready to invest many dollars in omnichannel, to drive exposure on a wider scale and more new customers. So you need a DMP to store probabilistic data such as cookies and optimize the reach accuracy.
Salesforce marketing cloud is a full gear marketing paradise. Apart from CRM, salesforce audience studio is a flexible and friendly-integrability option. It charges by volume, so you can well foresee monthly spending by controlling the advertising traffic. Also, it has a friendly integration feature. Google, Facebook, Yahoo, etc top-tier channels are just one click to connect, but also tech staff can customize API to connect to other niche digital channels on the platform.
Most importantly, when you are using Salesforce CRM, it's easy to build a connection between CRM and the audience studio. That's the beauty.
CDP is an advanced approach
When you recognize, omnichannel is a must-have strategy. And 1:1 communication is becoming a key factor to protect business market share, and increasing sales. It's time to consider a customer data platform. CDP is expensive, so I'll suggest aligning with different division heads to summarise the top reasons why. (Sales, marketing, customer service. Then, based on the needs, you need to consider what features to have and whether need more tech staff.
Wrap Up
Data platform investment is one key part of your business data marketing strategy. It can be a tactical approach or a long-term strategy to retain customer relationships and build brand advocacy. Clear understanding can help you save dollars.
I hope you enjoy reading What's the difference between CDP, CRM & DMP Data Platform, and find it helpful. if you did, please support us by doing one of the things listed below, because it always helps out our channel.
Support my channel through PayPal (paypal.me/Easy2digital)
Subscribe to my channel and turn on the notification bell Easy2Digital Youtube channel.
Follow and like my page Easy2Digital Facebook page
Share the article to your social network with the hashtag #easy2digital
Buy products with Easy2Digital 10% OFF Discount code (Easy2DigitalNewBuyers2022)
You sign up for our weekly newsletter to receive Easy2Digital latest articles, videos, and discount code on Buyfromlo products and digital software
Subscribe to our monthly membership through Patreon to enjoy exclusive benefits (www.patreon.com/louisludigital)