Lazada vs Shopee: Which One You Should Start First in Southeast Asia
A Single eCommerce channel strategy would not be your final strategy in your online selling journey, wherever you are focusing to sell. But the fact of the matter is that determining the better option involves more factors, such as budget, products, target users, etc, When talking about Southeast Asian opportunities (Singapore, Philippines, Malaysia, Vietnam, Indonesia, etc), and choosing between the two Southeast Asian e-commerce giants, it is important to understand that there is a range of different factors to consider when determining which platform is more proper to start
A Single eCommerce channel strategy would not be your final strategy in your online selling journey, wherever you are focusing to sell. But the fact of the matter is that determining the better option involves more factors, such as budget, products, target users, etc. We like to talk about Southeast Asian opportunities (Singapore, Philippines, Malaysia, Vietnam, Indonesia, etc), and choose between the two Southeast Asian e-commerce giants. It is important to understand that there is a range of different factors to consider. It's for determining which platform is more proper to start, such as:
By the end of this piece, you can learn the primary differences between Lazada vs Shopee. It can help you decide which one to start with better cost efficiency and more active potential buyers.
Lazada vs Shopee – The Type of Store You Can Create
Lazada
On the platform, there are 3 different types of sellers being: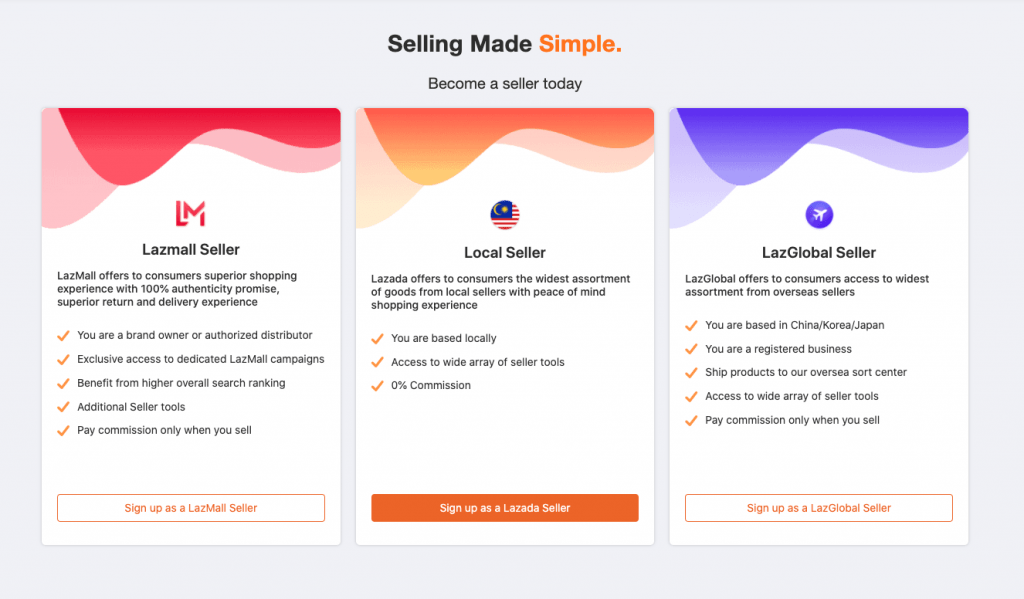 a. Local seller
Based locally (within the country)

A wider array of seller tools

0% Commission
b. LazMall seller
Brand owner/Authorized distributor

Exclusive access to special LazMall campaigns

A higher position in search rankings

Extra seller tools

Payment of commission on sales only
c. LazGlobal seller
Based in China/Korea/Japan

A registered business

Ship products to Lazada's overseas sorting centers

A wider array of seller tools

Payment of commission on sales only
Shopee
1. Shopee Mall sellers
They are official shops that sell their own brand and/or an official distributor of a certain brand. Shopee might invite a seller as a Shopee Mall seller depending on the shop's performance. Application to join as a Shopee Mall seller is openly provided that requirements are met:
Valid BIR 2303 certification

Certificate of Registration (Own brand)

Official distribution license (Official distributor)

Registered official shop logo
2. Preferred Sellers
The program provides benefits to sellers exclusively selected by Shopee in recognition of their excellent sales and operational performance. A seller will get a Preferred badge shown on your shop and listings if you become a Preferred Seller. To become a Preferred Seller, you'll have to fit the criteria of:
Building up a strong sales record

Offering excellent customer service

Fulfilling all orders quickly and reliably

Complying with Shopee's seller policies and maintaining a clean penalty record

Achieving high shop and product ratings
Shopee measures the seller's performance in a fair and transparent manner. You'll have to meet these performance targets to qualify for the Preferred Seller Program: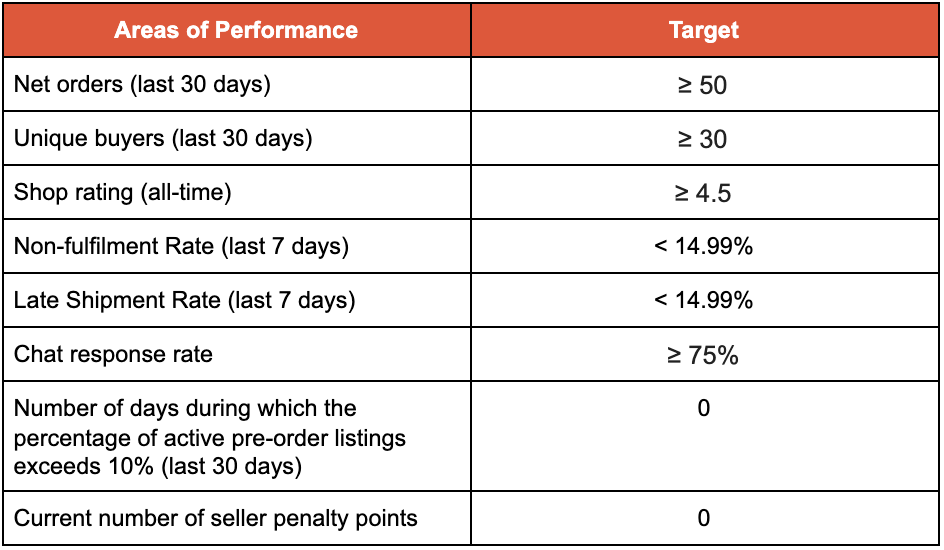 3. Overseas Sellers
They are sellers that sell from China and South Korea
4. No label Sellers
They are the customer-to-customer sellers. They can buy or sell in Shopee.
Conclusion of Lazada vs Shopee:
Both platforms provide C2C, local seller, brand seller, and global seller account options. But Shopee seller requirements look much lighter and easier. It's because it starts the selling and testing the market water temperature without too many fees occurred. Although Shopee has a smaller market as opposed to that of Lazada's, this is a weakness. So if you're just starting a new eCommerce business in Southeast Asia, Shopee wins
Winner: Shopee
Store Fee Consists of the Following Payments:

Lazada
Order commission varies from 1 to 4 percent based on the product category.

Value added tax (GST) depends on the country you sell products in. When you are operating in Malaysia, Lazada charges you 6 percent of your products' prices. In Singapore and Thailand, this fee is 7 percent, Vietnam and Indonesia are 10 percent. The highest fee is for the Philippines and accounts for 12 percent.

Account processing fee 2% of the total sales price.

The shipping and storage fee depends on the type of products and country where these items need to be delivered. More details in point 3
Shopee:
A transaction fee is a handling fee on all successful transactions via all payment channels. (including credit card, debit card, bank transfers, online banking, and ShopeePay). The transaction fee applies to all sellers, while the commission fee is only applied to Shopee Mall sellers. There is a 2% transaction fee that Shopee charges sellers on all successful and completed orders made.
(*Note: Transaction fee is subjected to certain VAT (GST) charges.)
The commission fee is 3 – 5% of the product listing price based on the product category

Value added tax (GST) depends on the country you sell products in. When operating in Malaysia, you will be charged 6 percent of your products' prices. In Singapore and Thailand, this fee is 7 percent, Vietnam and Indonesia are 10 percent. The highest fee is for the Philippines and accounts for 12 percent.

The shipping fee depends on the type of products and the country where these items need to be delivered. More details in point 3
These are all the fees the marketplace will charge you. It is necessary to include these costs into product prices to avoid unnecessary spending on your part.
Conclusion of Lazada vs Shopee:
In terms of the order commission as a Brand seller, Lazada min., and max. (1% -4%) charge range looks more attractive than Shopee (3% – 5%).
Winner: Lazada
Lazada vs Shopee – Store Order Fulfillment
Fulfilled By Shopee (FBS)
Shopee has started to offer its in-house fulfillment services called Fulfillment By Shopee (FBS). Some of the benefits of using FBS are:
Shortened fulfillment times

Solves the issue of limited storage space

Helps sellers with no fulfillment capabilities

No fees for the first 3 months

Waives past fulfillment penalty points

Minimizes chances of getting new fulfillment penalty points
Take Malaysia for an example, and let's look at the criteria to use FBS and how much it costs.
a. FBS requirements
Fulfilled By Shopee (FBS) is only available for certain overseas sellers. Due to Shopee's lack of fulfillment capabilities, companies are only accepted through invitation.
And as far as I know, Shopee doesn't have a centralized warehouse for cross-border sellers, as Lazada has in Hong Kong.
As mentioned on Shopee's website, FBS is currently only available to top brand principals and distributors, as well as key sellers on Shopee with high sales volume and those who lack fulfillment capabilities.
Hopefully, this will change in the future as FBS has competitive rates and let Shopee take care of order inbound, quality inspection, storage, pick & pack, shipping, returns, and refunds.
b. FBS costs
Looking at FBS Malaysia, Shopee starts to charge RM1.85 (USD 0.44) per item excluding GST as a fulfillment fee, after the first three months. The withdrawal fee will remain free of charge.
If you keep stock for more than 30 days, they might charge you additional costs later. Yet, they will inform this 30 days in advance.
Another benefit of using FBS is that Shopee can give you discounts of up to 40% for the fulfillment cost, depending on how much you sell. To get the discount, you should discuss it with your account manager.
c. Delivery time
Shopee has appointed various local shipping companies in local markets. One of the biggest is NinjaVan, which Lazada also uses. The general shipping time is 2-8 days, while express delivery will reduce the shipping time to 1-3 days.
d. Packaging
Packaging materials and techniques differ depending on what products you sell.
e. Storage
Shopee will store your products at a local warehouse. When you receive an order, the warehouse will process the order, manage to pick & pack and ship the product earliest possible. If you use FBS, Shopee will use its own appointed logistics companies, such as NinjaVan.
As mentioned above, the rates are competitive when using FBS and you pay RM 1.85 (USD 0.44) per item in Malaysia, at least. You can also enjoy discounts of up to 40% if you sell in high volumes.
Fulfilled by Lazada
Fulfillment by Lazada is Lazada's supply chain management offering to online sellers. It basically means letting Lazada be the manager of your online fulfillment. By doing so, you will be able to focus more on marketing and sales
Now let's look into what FBL can offer you overall. In terms of warehouse operations, Lazada logistics provide you with the following services:
Inbound handling

Storage

Packing

Outbound handling

Ambient controlled facilities

Special processing or exception handling

Returns processing

Scrap management

Claims on damages and losses
Storage Capabilities
FBL offers three kinds of storage rooms namely: fenced zone, cold room, and bulky warehouse.
The fenced zone is where all high-value items are. It is a secured area that only authorized staff have access to. Meanwhile, items that need to stay below 25 degrees Celsius will be stored in the cold room. Large items have different requirement needs and will be kept at the bulky warehouse.
Transportation
Moving forward to the transportation process, you can expect Lazada logistics to take care of the following tasks:
Picking up and dropping off the product

Tracking and tracing the item

Standard delivery

Failed delivery

Confirmation of delivery

Claims on losses and damages

Next-day delivery

Same-day delivery
On top of that, Lazada also takes care of inventory management as well as COD payment if there is any. Availing of the FBL services also comes with insurance or a financial guarantee at the end of it all.
There will also be a re-labeling of your products under FBL which provides additional branding benefits.
FBL gives you two leverage points: the logistics and the commercial edge.
Your products will have an FBL tag. FBL products have much faster delivery. Hence, it gives you a marketing advantage in attracting and converting viewers into customers.
In availing of FBL, FBL charges you with four kinds of fees: fulfillment, kitting, pick-up, and storage fees.
The storage fee includes all warehouse operations such as picking, packing, and inbounding orders. Kitting pertains to any preparation work your products need such as re-packing or adding an extra line of protection for your products by wrapping them with plastic films or bags. The FBL rate does not include GST. You need to consider this when re-calculating your billing.
1. Lazada Philippines
Standard: 30 PHP per item

Large: 90 PHP per item

Bulky: 260 PHP per item
Here are the criteria for determining the size of your product package:
Standard – the longest side should be below 50 cm and should weigh less than 15 kg

Large – the longest side should be between 50 cm and 105 cm. The weight should be lesser than 15 kg

Bulky – packages are considered to be bulky if its longest side is over 150 cm or if it weighs more than 15 kg.
As for the kitting fee, it will only cost you 5 PHP per item. For the storage fee, if your products stay in the storage facility for less than 60 days, the storage fee will be waived. If it is longer than 60 days, the standard rate is 790 PHP per/month. Per cubic centimeter.
There is no standardized rate for the pick-up fee. It can vary per person and will be communicated separately.
2. Lazada Singapore
Lazada SG recently lifted the long-term storage for the meantime due to COVID-19. This will change upon the end of the pandemic. The rates to be discussed here are shipping rates depending on the shipping option of the customer (namely FBL Standard and FBL Priority).
FBL Standard Shipping Fees (For Checkout Orders Amounting To $40 And Below)
< = 5 kg $0.99 5.01 kg – 10 kg $3.45 10.01 kg – 20 kg $5.59 20.01 kg to 30 kg $13.08
The customer will shoulder a shipping fee of $2.99 regardless of how much the package weighs.
FBL Standard Shipping Fees (For Checkout Orders Amounting To $40.01 And Above)
< = 5 kg $2.49 5.01 kg – 10 kg $4.95 10.01 kg – 20 kg $7.09 20.01 kg to 30 kg $14.58
The shipment fee for the customer is only $1.49 for this one.
FBL Priority Shipping Fees (For Checkout Orders Amounting To $40 And Below)
< = 5 kg $0.51 5.01 kg – 10 kg $0.66 10.01 kg – 20 kg $2.80 20.01 kg to 30 kg $10.29
The fee to be paid by the customer amounts to $5.99.
FBL Priority Shipping Fees (For Checkout Orders Amounting To $40.01 And Above)
< = 5 kg $2.49 5.01 kg – 10 kg $3.66 10.01 kg – 20 kg $5.80 20.01 kg to 30 kg $13.29
The customer will pay $2.99 for the shipping fee for whatever weight of the item.
3. Lazada Malaysia
Similar to Lazada SG, the long-term storage fee has also been temporarily lifted due to COVID-19. Some factors that can affect the shipping fee would be the weight of the product, the shipping provider, and the location.
Klang Valley Johor and Penar West Malaysia East Malaysia In-Between Regions of East and West Malaysia
3.50 to 34.30 3.50 to 38 4.50 to 39 7 up to 312 9.50 to 340
The numerical values are written above are all under the MYR currency.
The maximum weight for the products is 30 kg. Packages that weigh more than 30 kg will incur an additional kg charge ranging from MYR 0.70 to MYR 10 per kilogram.
4. Lazada Indonesia
Lazada Indonesia does not charge for the pickup and return service as well as the storage and re-working fees. You are only charged for the shipment fee of the ordered items of the customer.
Refer to the table below for the FBL rate for non LazMall items:
≥ 4,000 Items Shipped 2,250 to 3,999 Items Shipped 500 to 2,249 Items Shipped <500 Items Shipped 3000 3,500 4,000 7,000
The IDR currency applies to all the monetary values indicated in the table.
Meanwhile, LazMall items are charged with IDR 3,000 per item that is sold. The team will send you the billing report at the end of the month. The charges will be deducted from your total revenue.
Conclusion of Lazada vs Shopee:
In terms of the platform itself logistic service, both platforms are able to provide fulfillment, shipping, packing, and return handling services by charging a certain fee per order. The fee varies by product category, size, and weight. However, Lazada has its own warehouse in Hong Kong, which facilitates cross-border and global sellers to arrange good storage and delivery to every corner of the world.
Winner: Lazada
Lazada vs Shopee – Marketplace Buyers
Lazada
Given the sheer fact that Lazada has one of the largest user bases in the world to date. It's no secret that it also holds a wide range of potential opportunities to acquire more sales and establish brand rapport. When you are doing this correctly, you can use any selling strategies to harness the potential that comes with the sheer number of customers. These customers who visit Lazada every day can see significant results in a relatively short time.
That said, should you decide to go stick with using Lazada for your e-commerce business strategy. I would recommend optimizing your product listings and clearly identifying your audience with Split Dragon's tools without having to lose sales to your competition.
Lazada Marketing & Lazada Seller Promotion 101: 10 Things To Do & 1 Thing Not To Do
Shopee
Shopee does not give you as much exposure as Lazada. It offers sellers a lot of perks. However, the company is still figuring out how to weed bad sellers at the same time. This explains why Shopee has a smaller market compared to its Lazada counterpart. As you can see, Lazada is cheaper with the bigger electrical stuff, but when it comes to the smaller or more obscure stuff, Shopee wins. Perhaps this is because Shopee has wholesalers and not just resellers.
Conclusion of Lazada vs Shopee:
If you're selling mainly the tiny and smaller items, with lower pricing, Shopee is your cup of tea. On the other hand, Lazada is for bigger electronics and stuff, and a place to build your brand, customer loyalty rather than just pricing, pricing, and pricing.
Winner: Tie
(Note: Regarding Lazada vs Shopee, I'm not going to deep dive into product listing, optimization, and marketing, because it's quite similar to Amazon SEO and advertising strategy. Here are two articles regarding these aspects)
I hope you enjoy reading Lazada vs Shopee: Which One You Should Start First in Southeast Asia. if you did, please support us by doing one of the things listed below, because it always helps out to our channel.
Support my channel through PayPal (paypal.me/Easy2digital)
Subscribe to my channel and turn on the notification bell Easy2Digital Youtube channel.
Follow and like my page Easy2Digital Facebook page

Share the article to your social network with the hashtag #easy2digital

Buy products with Easy2Digital 10% OFF Discount code (Easy2DigitalNewBuyers2020)
You sign up for our weekly newsletter to receive Easy2Digital latest articles, videos, and discount code on Buyfromlo products and digital software
Subscribe to our monthly membership through Patreon to enjoy exclusive benefits (www.patreon.com/louisludigital)