8 Things to Look Into a Payment Processor for your eCommerce Website
If you don't create a relevant, secure, familiar payment experience, your eCommerce website can be in trouble, as if it's being cut off from the market. Payment processing is one of the most overlooked parts of setting up your e-commerce website, but it should be a focus due to its implications for conversions, cash in, and ultimately, your bottom line.
While frictionless checkout experiences are vital for any business model, their importance is magnified for e-commerce and marketplaces. Customers expect streamlined payment experiences. They give them what they want when they want it. The right set of payment methods not only offers payment flexibility and convenience to maximize conversion. But also they reduce fraud and increase transactional speed.  If you don't create a relevant, secure, familiar payment experience, your eCommerce website can be in trouble, as if it's being cut off from the market.
Payment processing is one of the most overlooked parts of setting up your e-commerce website. But it should be a focus because it means not only the store's low conversion rate. But also it's money-in, and ultimately, your bottom line.
To find e-commerce success, whichever payment processor, and how many payment processors you're using. you have to make payment processing as cost-efficient, inclusive, seamless, and as secure as possible. So in this blog piece, I'm going to take Stripe & PayPal as examples and go through 8 things, that you must know about payment processors for your eCommerce website. 
Payment Processor Seamless Integration Capability
It's critical that having a unified and elegant integration with different platforms that involve minimal development time and remains easy to maintain, regardless of which payment methods you choose to implement, and which eCommerce product you're selling, or services you're selling.

Take Stripe as an example. Stripe is partnered with lots of web CMS and eCommerce platforms, such as WordPress WooCommerce, BigCommerce, Squarespace, Shopify. It can support multiply payment methods just through a single plugin and one-click integration. Also, if you need more flexibility to adopt the payment method based on your marketing strategies, Stripe check-out allows you to add payment methods by changing a single line of code and rely on Stripe to dynamically display the right payment methods and language based on IP, browser locale, cookies, and other signals. 
What's more, if your web store offers a monthly subscription plan like Amazon Prime member, Stripe billing can manage subscription logic and invoices, and give customers the ability to pay their invoices with bank debits or other preferred payment methods, which ensure your recurring revenue in has no problem.
Payment Methods
As you expand into new regions, accepting local payment methods may be necessary to capture the target audience sale opportunity. For example, 54% of online transactions in China involve digital wallets such as Alipay or WeChat Pay, and 20% with the local card network China Union Pay. The strip can provide Wechat Pay and Alipay payment methods, although it's not available for merchants in mainland China. So it's one of the best options if you're selling products to Chinese audiences.

Then take PayPal as an example, PayPal allows your customer to make payments using a variety of methods including PayPal Cash or PayPal Cash Plus account balance, a bank account, PayPal Credit, debit or credit cards (Visa, MasterCard, AmericanExpress, etc), and rewards balance.
According to GoPay, the company is licensed by the People's Bank of China to operate online payment and mobile payment services. GoPay also has the fund payment business license in China as well as the cross-border RMB payment business license. Through the acquisition, PayPal China is now able to overcome the legal restrictions in mainland China. However, the question is how many local consumers prefer to use PayPal. So please keep in mind that in a way local payment methods have regional discrimination.
Payment Processing Fees
Processing fees as a variable cost occurs with any transaction that happens on your website, and it varies based on which country account you're holding, and which country credit card your customers check out. Also, recurring billing fees are different from a new transaction normally. You need to learn and mark up the fees on your profit calculator, based on your business model and transaction nature.
Here are the primary payment method fees of Stripe vs PayPal 2020:
PayPal
Online Payment Processing Fee per Transaction (USD): 2.9% + $0.30 in Canada, 3.7% + $0.30 in the U.S., 3.9% + $0.30 outside Canada and the U.S (Note: It depends on which country account you create. Take HK for an example, selling to oversea markets: 4.4% + US$0.30)

POS/mPOS Transactions: 2.7% for U.S. cards. Non-U.S. cards charge 3.2%

Recurring payment processing fee: 2.9% plus 30 cents per transaction, $10 plus $30 for the needed virtual terminal feature

Withdrawal:

3 ~ 6 business days; withdrawal fees for a local bank is free (For example, more than HK$1,000 for free, and it charges HK$3.5 if the withdrawal is less than HK$1,000). It depends on
(Source: PayPal)
Stripe:
Online Credit Card, Digital Wallet Payment Processing Fee per transaction:

3.4% + $0.30

ACH Transactions:

Direct debit: 0.8% (capped at $5), ACH credits $1 per payment

Stripe POS Transactions:

2.7% + $0.5

1% fee for processing international cards and an additional 1% fee if currency conversion is necessary (International definition is which country Stripe account you create, that is associated with the business bank account, 1% for US accounts, and 2% for non-US accounts)

Recurring Billing: Stripe has broken its billing tools down into two tiers: Starter and Scale. The Starter plan for Billing is

free for the first $1 million in recurring transactions

. After that threshold, Stripe charges

0.5% per transaction, on top of processing costs

. The Scale plan, which is a more advanced tier of their billing platform, charges 0.8% per transaction, which, in addition to extra features

Payout: Time needs 7 ~ 14 days, it's free for a local bank, but international account withdrawal fee varies based on the country (For example, HK charges $0.25 per payout)
(Source: Stripe)
Security
Security is one of the biggest concerns for anyone looking to start a business online. Customers will be entering their personal and financial data on your checkout pages and not only do they need to feel that their information is safe but it needs to be. Security is extremely important and it could be one of the factors that permanently break a business.
Both PayPal and Stripe are PCI compliant. PCI is the governing body that makes the policies regarding how credit cards should be processed online to ensure safe and responsible transactions, mostly to prevent fraud and protect user data.
Stripe and PayPal both employ the use of 24/7 fraud monitoring and detection tools, with blacklist features and automatic ways to block fraudulent transactions. So in a way, it reduces the chargeback rate due to high-risk transactions from those buys using stolen credit cards to check out.
Country & Currency
PayPal is currently available in over 200 countries/regions, and supports 25 currencies – though some countries may have had access to all PayPal tools and features. PayPal makes it really easy no matter where your business is registered to open an account and start accepting payments right away.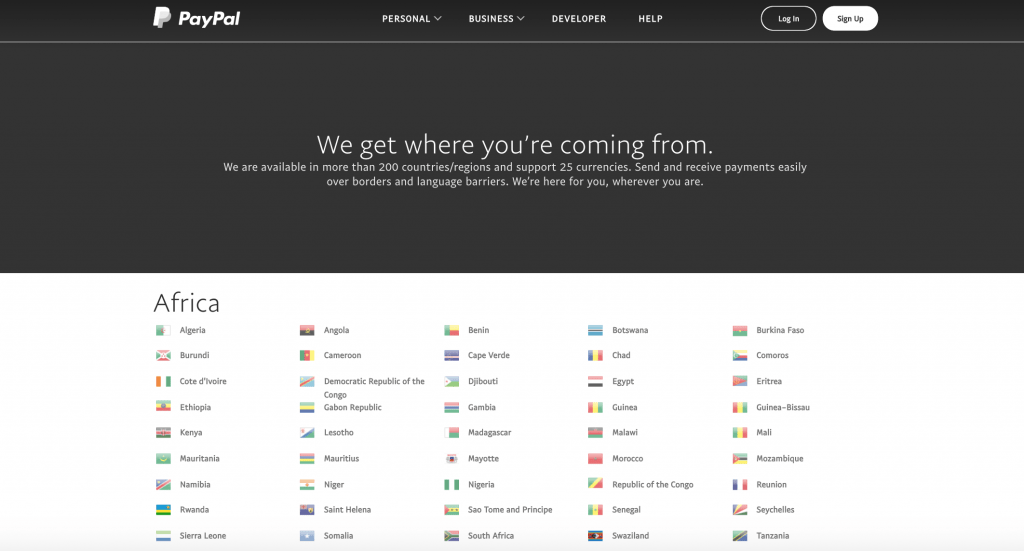 On the other hand, Stripe is only available in 42 countries. This alone could be a deal-breaker for some businesses. However, Stripe does provide a workaround. No matter what country you're based in, you can use Altas to easily incorporate a U.S. company, set up a U.S. bank account, and start accepting payments with Stripe. Although Stripe beats PayPal in currency support and payment method options. Stripe supports over 135 different currencies and supports WeChat Pay, Alipay, etc, however, .an additional 1% fee will be charged if currency conversion is necessary. Except for the currency exchange rate risk, you need to mark up the additional 1% currency conversion fee.
(Payment Processor Winer: Tie)
Checkout Experience
Web store checkout journey directly impacts your user experience and website conversion rate, and abandoned cart rate. In a way, much simpler much better.
Stripe's checkout process is simple. Your customer enters a credit card number, hits submit, and then they're taken to your thank you or follow up page. The design and flow are in your hands.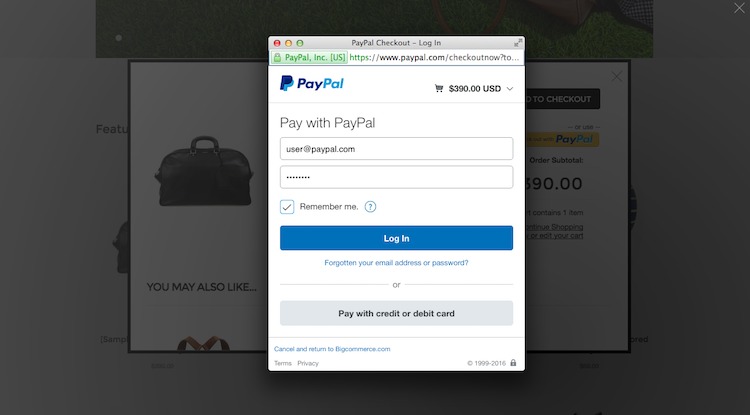 However, PayPal takes a customer to a PayPal payment page to handle the complete transaction (i.e. processing and paying) it becomes a "Redirect." PayPal added more steps to the whole checkout journey while taking us away from the checkout page. However, this can vary based on how you have PayPal configured and what payments you're accepting. PayPal does offer additional solutions and integrations to accept credit cards right from your own site, but the argument is that it would increase the cost in the end.

(Payment Processor Winer: Stripe)
Payment Processor – Refund and Chargeback Fees
Regarding Stripe and PayPal refund fees, If you refund (partially or fully) a transaction to a buyer or a donation to a donor, there are no fees to make the refund, but the fees you originally paid as the seller will not be returned to you, which means both won't return payment processing fees.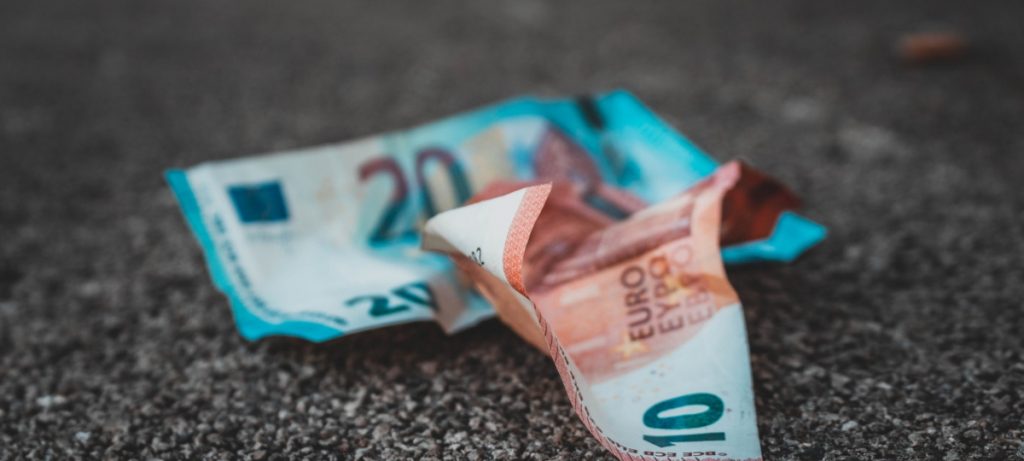 Chargebacks are painful for everyone involved. When a customer initiates a chargeback, you can anticipate more than payment in limbo — you're also going to encounter additional fees.
PayPal's chargebacks and associated fees include unauthorized transactions, item not received complaints, and complaints about items significantly deviating from the description. When they initiate a chargeback, the amount gets refunded to the customer, and the credit card network tacks the merchant with up to a $20.00 fee. (Fortunately, this fee is refunded if they later rule the case in your favor.)
Stripe, on the other hand, takes a far more straight-cut approach and categorizes disputes simply as chargebacks in their documentation. Disputes through Stripe also have a smaller, refundable $15.00 fee attached to their issuance. And, as a bonus, Stripe gives merchants the ability to prevent credit card fraud with their new and amazing Stripe Radar features. At Kinsta, we were able to prevent credit card fraud by 98%!
(Payment Processor Winer: Stripe)
Payment Processor – Customer Support
Things are updating and changing, which include new issues that come up you might never meet related to web payment. It would be a nightmare if you can't reach customer supports, particularly any technical issues appear.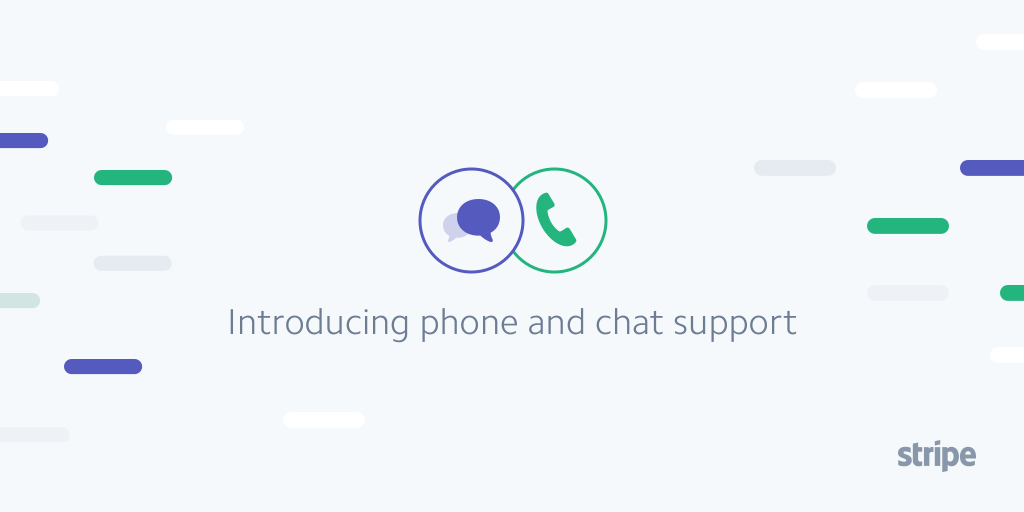 PayPal offers several ways to get answers to your questions. These include Help Center, Email Support, Live Chat Support, Phone Support, Social Media, etc. Meanwhile, Stripe has changed its customer support options to include free 24/7 live support for all its merchants. This is a big deal because one of the most contentious issues with Stripe has been the inability to reach someone to talk to in real-time. You can still fall back on Stripe's other help resources, which include knowledgebase, Email Support, Live Chat Support, Phone Support, Social Media, etc.
All in all, PayPal and Stripe are pretty evenly matched in the quality of customer support and the variety of customer support options they make available
(Payment Processor Winer: Tie)
I hope you enjoy reading 8 Things to Look Into a Payment Processor for your eCommerce Website and find it helpful. If you did, please support us by doing one of the things listed below, because it always helps out to our channel.
Support my channel through PayPal (paypal.me/Easy2digital)
Subscribe to my channel and turn on the notification bell Easy2Digital Youtube channel.
Follow and like my page Easy2Digital Facebook page

Share the article to your social network with the hashtag #easy2digital

Buy products with Easy2Digital 10% OFF Discount code (Easy2DigitalNewBuyers2021)
You sign up for our weekly newsletter to receive Easy2Digital latest articles, videos, and discount code on Buyfromlo products and digital software
Subscribe to our monthly membership through Patreon to enjoy exclusive benefits (www.patreon.com/louisludigital)