Xiaohongshu or Redbook eCommerce Seller and Marketing 101 Guideline in 2023
Xiaohongshu, or also known as Little RedBook, is the Chinese equivalent of Search plus Instagram. Recently Xiaohongshu decided to sunset the Taobao and Youzan outbound link setting. This was the feature for sellers to direct traffic to their Taobao and eCommerce website. With over 300 million users on Xiaohongshu, it is one of the fastest-growing advanced social commerce apps on the market. It is a must-have platform if you are running an eCommerce business for selling products to domestic and cross-border Chinese consumers.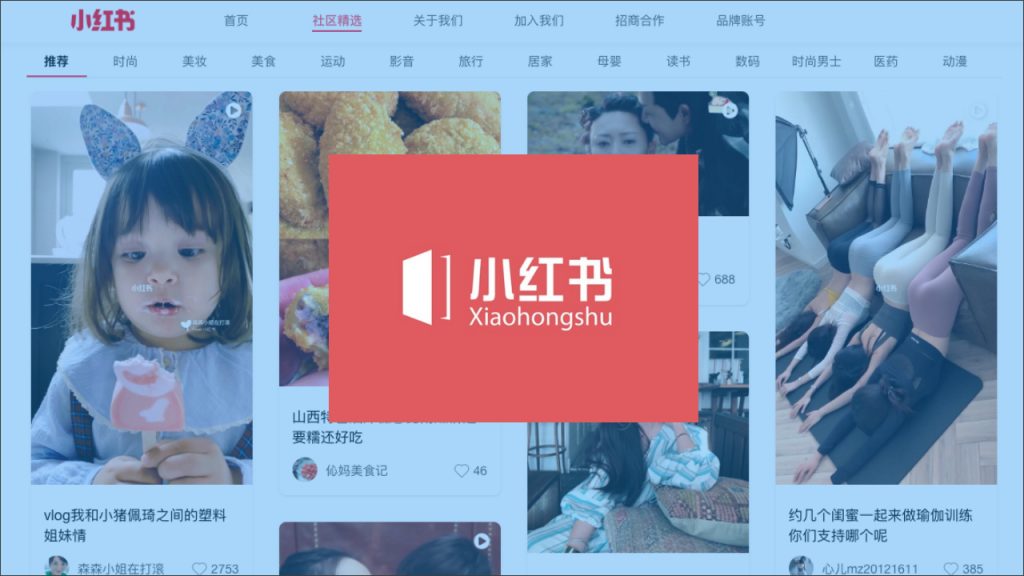 Xiaohongshu has become one of the largest and fastest-growing social e-commerce platforms in China
It's the best platform to search lifestyle tips and tricks. Also, it is the best place to read about product reviews, share outfits of the day, learn about fashion tips, and discover high-quality brands. Since Xiaohongshu reviews could directly impact sales, it's one of the most important social media channels for brand and eCommerce marketing.
In this article, I would share the core aspects of Xiaohongshu. If you are running an eCommerce business and targeting Chinese, don't miss this piece. By the end, you can learn how to create the business and individual account, fee structure, resources you can leverage in Xiaohongshu
Xiaohongshu or Little Redbook eCommerce Seller Account – Brand and Individual
There are basically 2 types of Xiaohongshu sellers. One is the onsite brand seller, which is the corporation signing up the business account on Xiaohongshu. The other type is the onsite individual seller. They leverage the post, video, and live streaming content-generating traffic. Then they can monetize by affiliating with brands or selling their products on their Xiaohongshu store.
For the individual seller store creation, it requires the page has at least 1000 followers and the owner identity ID verification. Then, individual sellers can promote products in fashion, Jewelry, FMCG, and beauty categories. Some categories might require special certifications, such as medical treatment.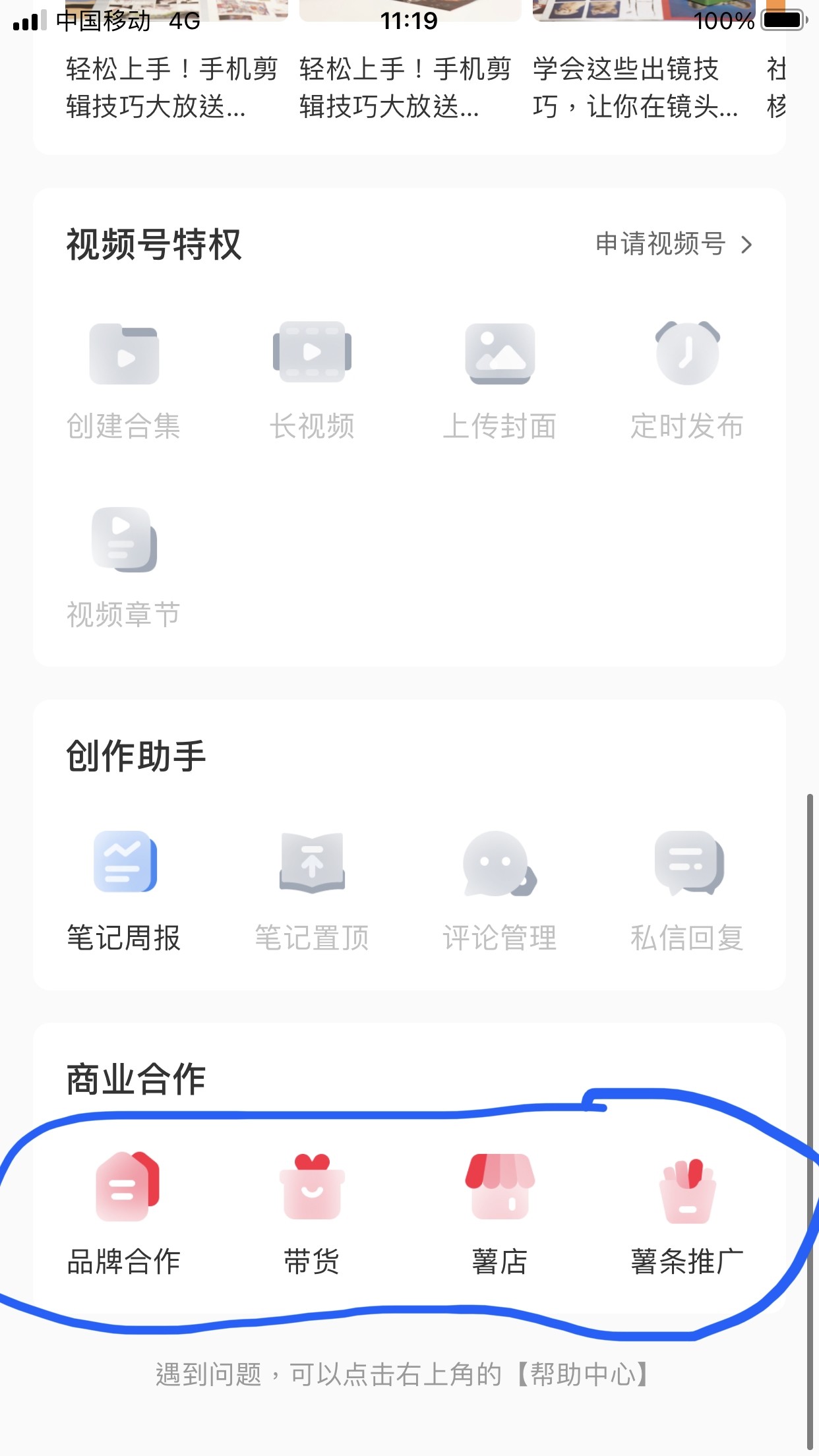 The 1st type of onsite brand seller has two categories – domestic seller and cross-border seller. In terms of account creation, Xiaohongshu would require different corporation entities and operation documents for these two types of sellers. For easily explaining the process and docs you need, I would take the brand direct application for example.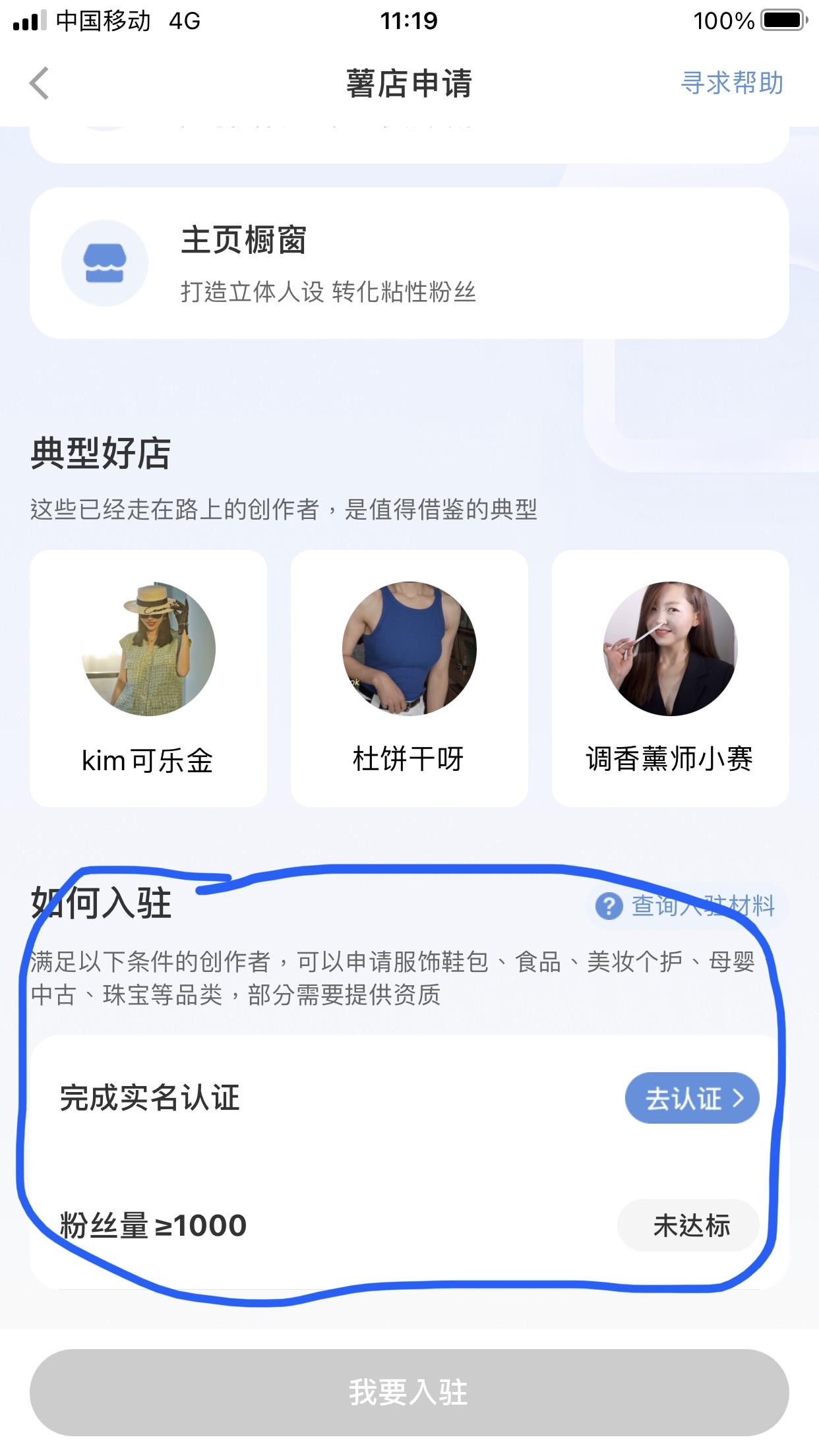 The difference between agency application and brand is the representative entity docs, but the type of required docs are similar.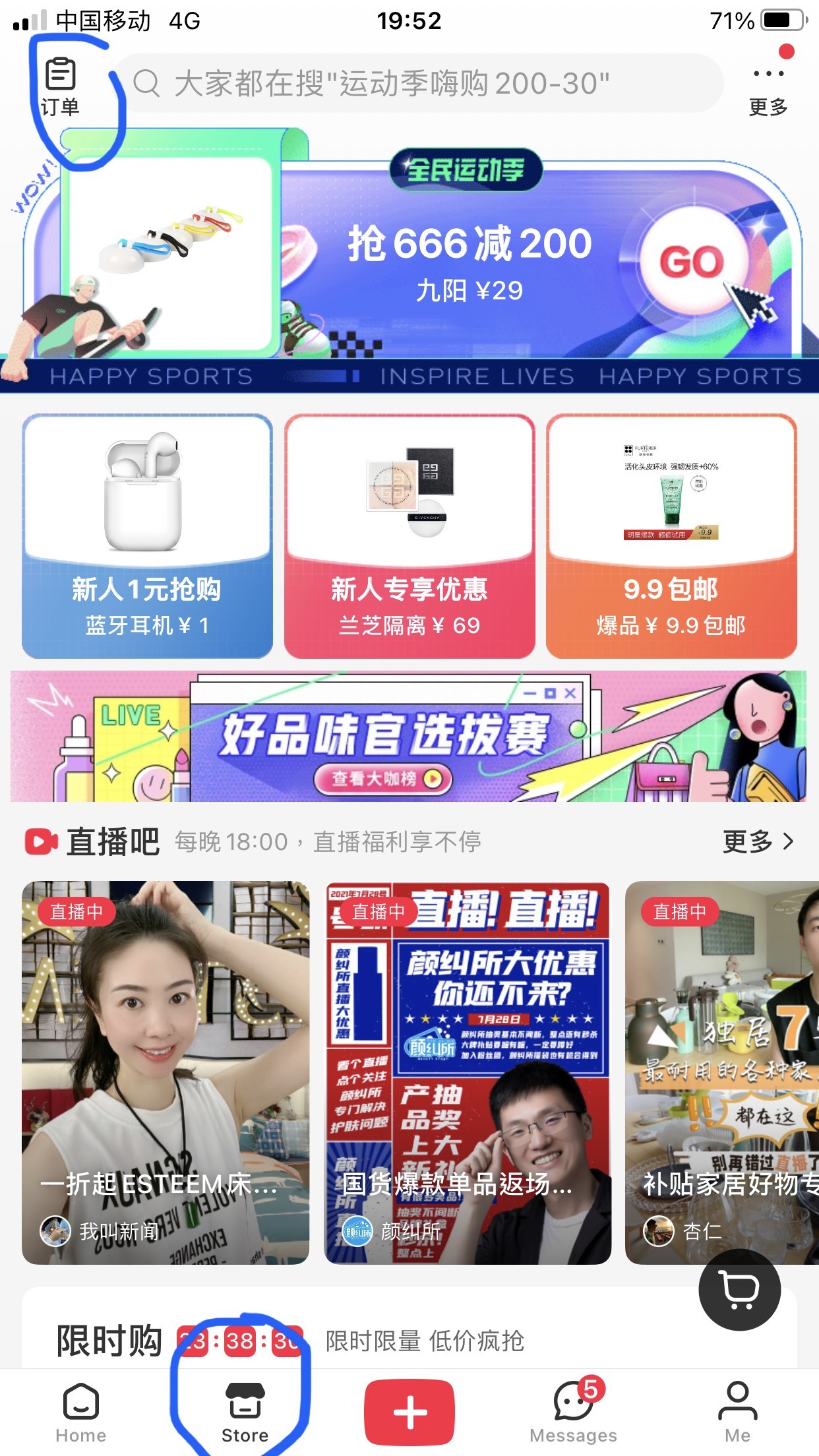 1) Create an account in gaia.xiaohongshu.com
Creating a Xiaohongshu business manager is easy. You just need to use an email address and the system would send you a first-time password to log in. Meanwhile please keep in mind some countries, such as the USA, might not have access to the website. So you might need to browse via a VPN which sets the location in Asia or China.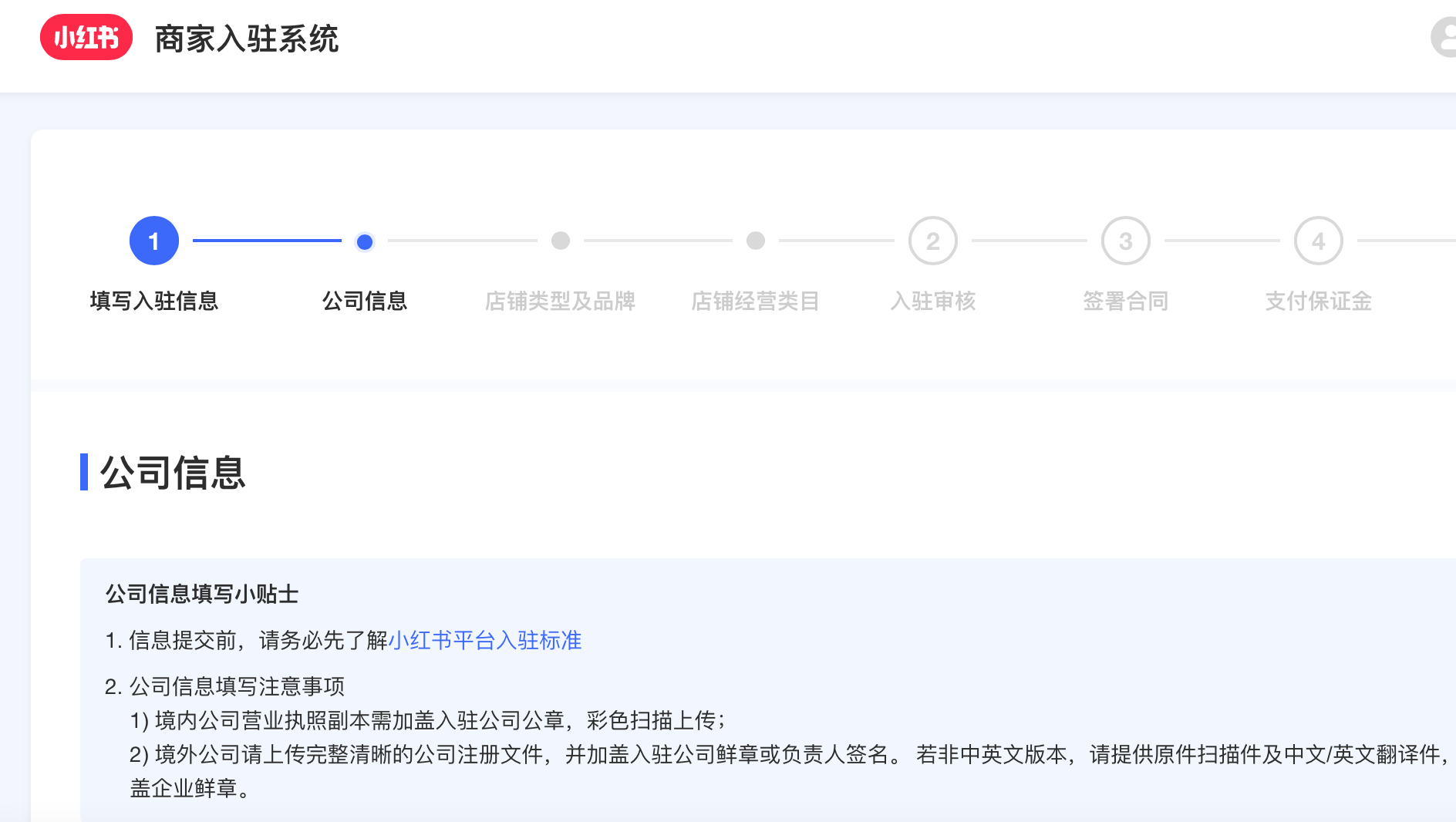 2)Fill in the business information, upload documents and pay a deposit
Basically, it requires the same set of documents from domestic and cross-border sellers. It just has a slight difference. For example, cross-border business registration documents might vary by country. Then the cross-border deposit is US$3,500, which is more expensive than the domestic one.
Last but not least, trademark certification is different. If you are a Singaporean company and sign up for the trademark in SG to sell products to China, you need to upload the SG cert issued by the SG government.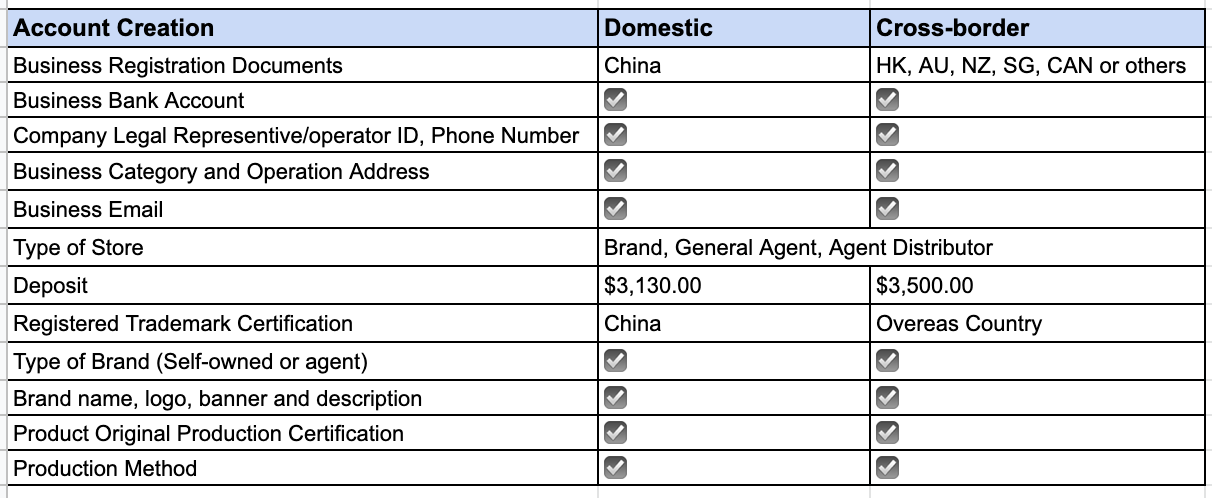 Fulfillment and Logistic by Xiaohongshu
Fulfillment and logistics by Xiaohongshu is an option for onsite sellers at the moment. You can still select self-fulfillment in the operating account. It has two advantages if you leverage the fulfillment by Xiaohongshu.
First thing first, it's increasing your store and product page weight. It can improve your organic exposure and traffic. This approach is quite similar to Amazon FBA sellers.
The other thing is your store would show a Red Delivery icon on the product page. It enhances customer confidence to buy your products as being endorsed by the channel. It's, particularly for the newbies.
There are mainly 4 types of logistic and fulfillment options for sellers to select and adapt. They are Red Express, Red domestic, Redbox, and Red Post. These 4 options provide Xiaohongshu 3PL service to sellers. So sellers don't need to worry about warehousing, customs clearance, and delivery. The platform would handle sellers. It looks quite similar to Amazon FBA.
For more details as listed below, you can see basically the service and fees vary by the option you select. Red domestic and Redexpress are respectively for mainland China and cross-border bulky inventory management and fulfillment. On the other hand, Red Box and Red Post are only for cross-border commerce and more for DTC orders. Meanwhile, sellers need to handle the product packaging as well.

Xiaohongshu Seller Fee Structure
The platform fee structure is critical because it is straightforwardly affecting the business pricing and marketing strategy. After all, profitable sales are the objective at the end.
Compared with other platforms, Xiaohongshu's transactional commission and referral fees are a little bit expensive. For domestic sellers, it's around 5% – 20%. And to cross-border sellers, it's charging 18% – 20%. These fees exclude fulfillment fees, influencer commissions, marketing dollars. What's more, the platform has banned all outbound links to other marketplace stores and brand websites. Thus, it is very challenging for the sellers on the product selection, pricing, and marketing strategy.

Marketing and Advertising Opportunities
Similar to other social and marketplace platforms, Xiaohongshu search ads and newsfeed ads are two core marketing and advertising options. The bidding model is the CPC model. So it's easier for you to plug the avg.CPC into your P&L and estimate the profit margin.
Search ads and news feeds ads have some overlap placements but they are sitting in different positions. For example, when a visitor searches a query in the Xiaohongshu, placements ending at number 3 are the search ads result. It would be the 3rd placement, 13th placement, etc.
And the placements ending at number 6 are the newsfeed ads. I believe this mechanism might change time by time, but one thing ensures that newsfeed ads in Xiaohongshu are also keyword-driven. Also, newsfeed ads have the mobile pop-up ads approach. If you are running a brand awareness or promotion campaign before visitors search, this approach can fit your demand.
Xiaohongshu ads are also equipped with AI learning and assistant, as well as Facebook campaign objectives. It provides three campaign types and objectives, which are engagement, sales and lead generation.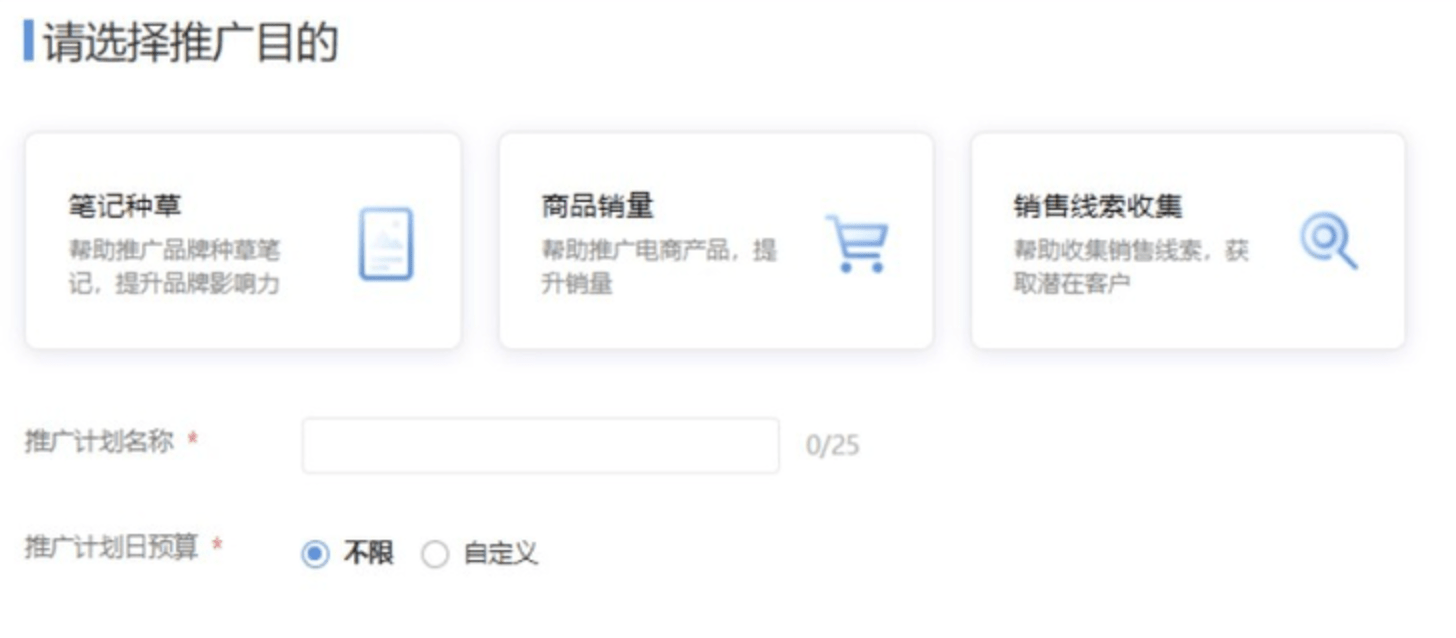 1) Xiaohongshu Engagement Ads or 种草 called in Chinese
This type of ad basically aims to leverage photos and video to tell your brand and product story. On the ads, you can leverage top-funnel audience data to reach out to potential buyers. You can add the product page or your store link. It's convenient for customers to save your post and come back to purchase later on.
2) Xiaohongshu Sales ads
Sales ads obviously are to call customers to buy immediately by running promotion campaigns. It's very suitable for brands and sellers to launch discount promotions in seasonal events and festivals. If your inventory is expiring or sucks in the warehouse too long, you can prioritize to consider this campaign objective.
3) Lead generation
Some of the products and businesses might have a longer purchase decision journey, such as beauty treatment, fitness membership, etc. You can manage or customize your lead form to collect the customer information for your sales and customer teammates. The customer data would be saved in the Xiaohongshu ads account, or you can integrate it with a CRM platform, for better management.
Content Marketing and Organic Traffic
For many brands and sellers, no matter you are a newbie or seasoned seller, quality content is critical for your organic growth. Meanwhile, Xiaohongshu gives high credit and weight for good quality content, as well as Google SEO. You can definitely rely on SEO to generate followers, engagement, and sales.
Compared with Douyin or Wechat, Xiaohongshu content is not just for simultaneous entertainment and social communication, it's for a specific purpose. This is very similar to the characteristic of Google search result content. User perception and expectation get used to this help from Xiaohongshu, so the content can last for a longer lifespan
Because of this characteristic of the channel, there are five content strategies you can prioritize to work on regardless of the format.
1) Thumbnail Photo, Video, and Keyword Deployment
Thumbnail photos for posts and videos strongly impact the click rate of your Xiaohongshu content. A clear product picture usually works better compared to a blurry product picture. A picture that looks like it was taken by a real customer can also attract more clicks.
Localized and genuine content perform better on Xiaohongshu. It's because users are looking for real solutions to their life and work. It's a kind of search plus social community. Professional commercial content, such as a professional-looking caucasian model shoot, is not that popular in Xiaohongshu.
Also, users are able to find you before they like and engage with your content. Xiaohongshu content feed is driven by keywords and behavior, the performance is strongly connected to search volume and post engagement. Thus optimizing the keywords in your post title is a shortcut to success.
5118 and Baidu Index are great platforms for you to collect high search volume keywords. Also, you can check out my Python tutorial articles and create a product and content monitoring bot
2) Functional Playbook
Xiaohongshu is a keyword-driven social community, where users search for content. The purpose of search content is to find the solution and refer to the tips and tricks from others. So you might be aware, content about how to do it is very engaging with users in Xiaohongshu.
3) Product Review
As well as Amazon and Instagram eCommerce strategy, product review is a critical battleground to educate potential buyers. Chinese consumers get used to researching in Tmall customer reviews, Xiaohongshu and Baidu for making the right decision. Particularly the product pricing is expensive. Either product pros or cons review is popular with Xiaohongshu users.
4) Life and Work Diary and Story
Users like watching the video regarding a daily life routine in Xiaohongshu. A lady works in an investment bank, her lifestyle includes clothing, dining, and entertainment is very popular with Xiaohongshu users.
The content should be not directly selling products. Instead, it delivers a lifestyle with products that seed in the audience's mind.
5) Live Streaming Product Recommendation
In direct-to-consumer product content, live streaming must be the top priority to deploy. Xiaohongshu users stay in the middle-funnel. Basically, they are looking for some interesting things and interested in purchasing to try.
Xiaohongshu KOLs and KOCs Marketing Strategy
In Xiaohongshu, naturally, everyone can be an influencer. It's because the platform mechanism is motivating more users to be a KOC or KOL. Basically, there are 3 main strategies of collaboration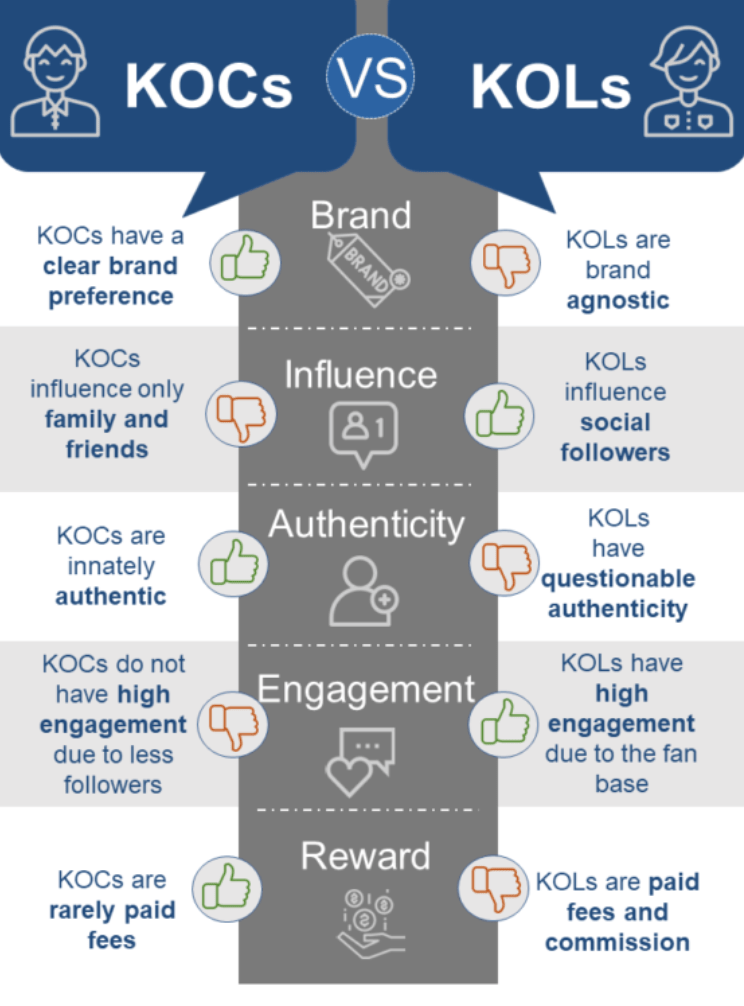 1) Product Complimentary Sample for Social Seeding
Compared with Tmall or Amazon, product samples to Xiaohongshu KOCs and KOLs perform much better. It's because the users are seeking product reviews and aim to make the right purchase decision.
What's more, it spent less but has a high-efficiency approach in Xiaohongshu, compared with hard-selling by running advertising. After all, Xiaohongshu is a keyword and social-driven platform. Advertorial content is the king.
2) Commission-based or called 带货 in Chinese
For verified individual sellers, no matter if they are the KOLs or KOCs, as long as they have more than 1000 followers. They can create the content and present their lifestyle by selling the brand products. This model basically is affiliate marketing. KOLs and KOCs can earn commission by selling out the products.
In a way, KOCs might be keener to join this program. Some KOLs prefer the reserved buy plus commission-based program. That means brands need to pay a reserve advertising fee. On the other hand, KOCs can be more humble in the collaboration relationship, because they like to have more samples, and reply on content to earn a commission.
Being said that, KOLs and KOCs are two approaches, and both are critical. It's because KOLs aim for dots, meanwhile KOCs are for increasing the coverage.
3) Branded Content
Xiaohongshu facilitates brands collaborating with KOLs and KOCs. Basically, this is the content buy. Brands can invite and brief the potential KOLs and KOCs on the platform. Meanwhile, KOLs and KOCs can quote the pricing and produce a timeline for the brand. If both parties agree, the payout would transfer to the KOLs and KOCs after 15 days of the content being released.
The platform handling fees are 10% out of the collaboration fees. It would charge the brands instead of the KOLs and KOCs. Please keep in mind, once the collaboration is confirmed, any cancelation in the process can only refund 50% to the brands. Then, if the content has been released, there is no refund.
If you are interested in learning more about measuring ROI on KOLs and KOCs marketing, please check out this article
Recommendation
I hope you enjoy reading Python Tutorial 15 – Instagram Photo Scraper Using Selenium and OS. If you did, please support us by doing one of the things listed below, because it always helps out our channel.
Support my channel through PayPal (paypal.me/Easy2digital)
Subscribe to my channel and turn on the notification bell Easy2Digital Youtube channel.
Follow and like my page Easy2Digital Facebook page

Share the article to your social network with the hashtag #easy2digital

Buy products with Easy2Digital 10% OFF Discount code (Easy2DigitalNewBuyers2021)
You sign up for our weekly newsletter to receive Easy2Digital latest articles, videos, and discount code on Buyfromlo products and digital software
Subscribe to our monthly membership through Patreon to enjoy exclusive benefits (www.patreon.com/louisludigital)