Pokemon Goal
Recently, I keep being asked when Pokemon Go will come to China, that I am also wondering, because Chinese people, particularly the 80's generation like me, who are influenced deeply by Pokemon manga, movie & game etc and also are the mature digitalized generation, do can't help screaming "I want to play!!"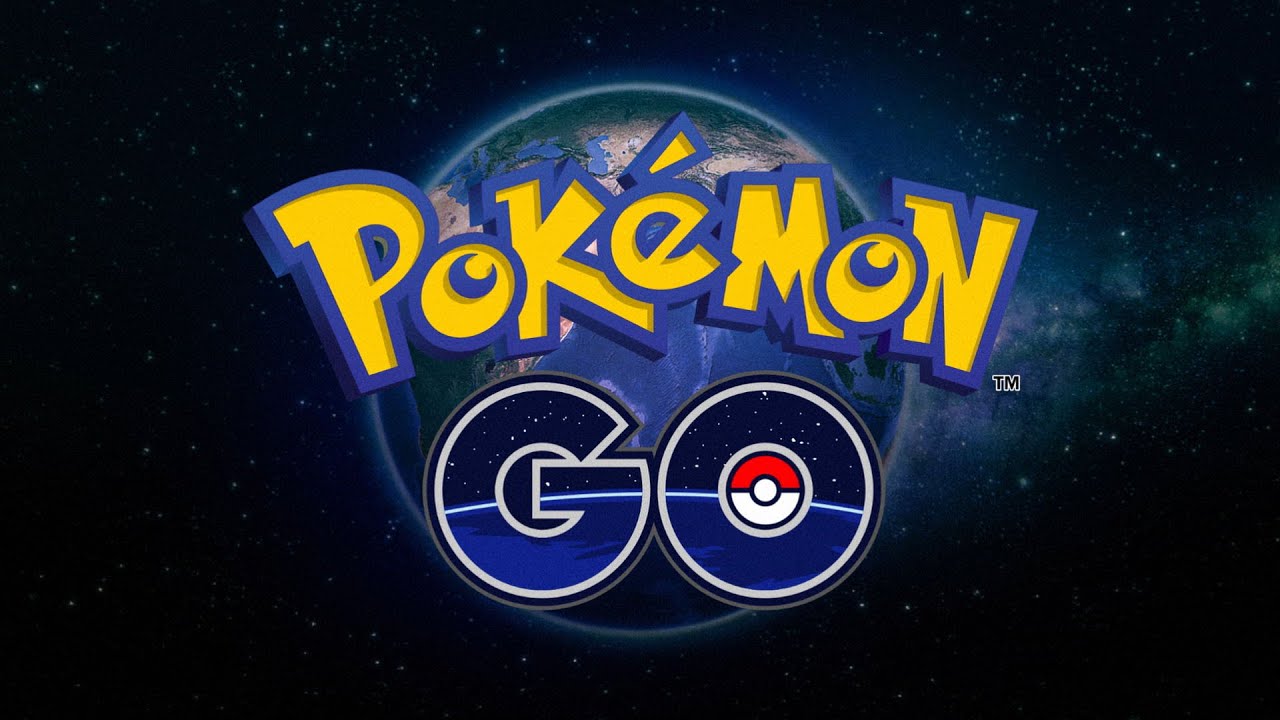 Recently, I keep being asked when Pokemon Go will come to China. And I am also wondering because Chinese people, particularly the 80's generation like me. We are influenced deeply by Pokemon manga, movies & games, etc, And also we are the mature digitalized generation. So we can't help screaming "I want to play!!"
However, as a native Mandarin and Cantonese Speaker, who are working on digital marketing in China & Asia regions for over 8 years. Especially I understand and recognize the true aspect in China. I do say to you "No" unless it will be a 100% China version like saying "Baidu map + Tencent Game + China Government Monitoring".
Why No?
Firstly, Google Maps has been kicked out of China, so it must replace with Baidu maps here.
Secondly, it might be Tencent or 163 mobile game developers instead of Niantic. It's because I'm sure you're able to understand, China government never allows the USA & Japanese companies to grab the location big data insight. They don't allow them for understanding where the players are not allowed to go into for Pokemon capture. It means probably those places are the China secret military base, etc.
Thus, Pokemon Go is a global scale and base "animal capture interaction game". Based on the rational reason, it's absolutely difficult to execute with good user experience by 2 sets of core GPS + Game Data Base. And most important, based on political reason, NO WAY! Unless China government is still sleeping and unaware of it.
So according to the above China scenario, what will happen if the countries allow it to get on the shelf in the Apple store and Google play? I think below are 4 real Pokemon Goal:
1, Global Location-Based Big Data

It's straightforward that Pokemon Go is able to generate and collect a series of data. For example, a XXX cute fish which is a water nature Pokemon has the highest capturing and rate% in a place filtered by global or a country. At the same time, Pokemon Go releases some rare water nature Pokemon in the other lower or even 0% captures places. So it might also be able to influent people traveling destination, weekend hacking plan to there, etc. And of coz, Pokemon go can grab a list of secret location data which might be harmful to national security. It's like a military base or nuclear experimental institution.
Last but not least, even though it's not dealing with the location of people's private information. But it must be utilized in mobile advertising like mobile DSP. It's because Pokemon already has been able to lock and identify who is the user, what she/he likes, where she/he often stays and often travels to etc.
2, Monetize the Mobile AR Application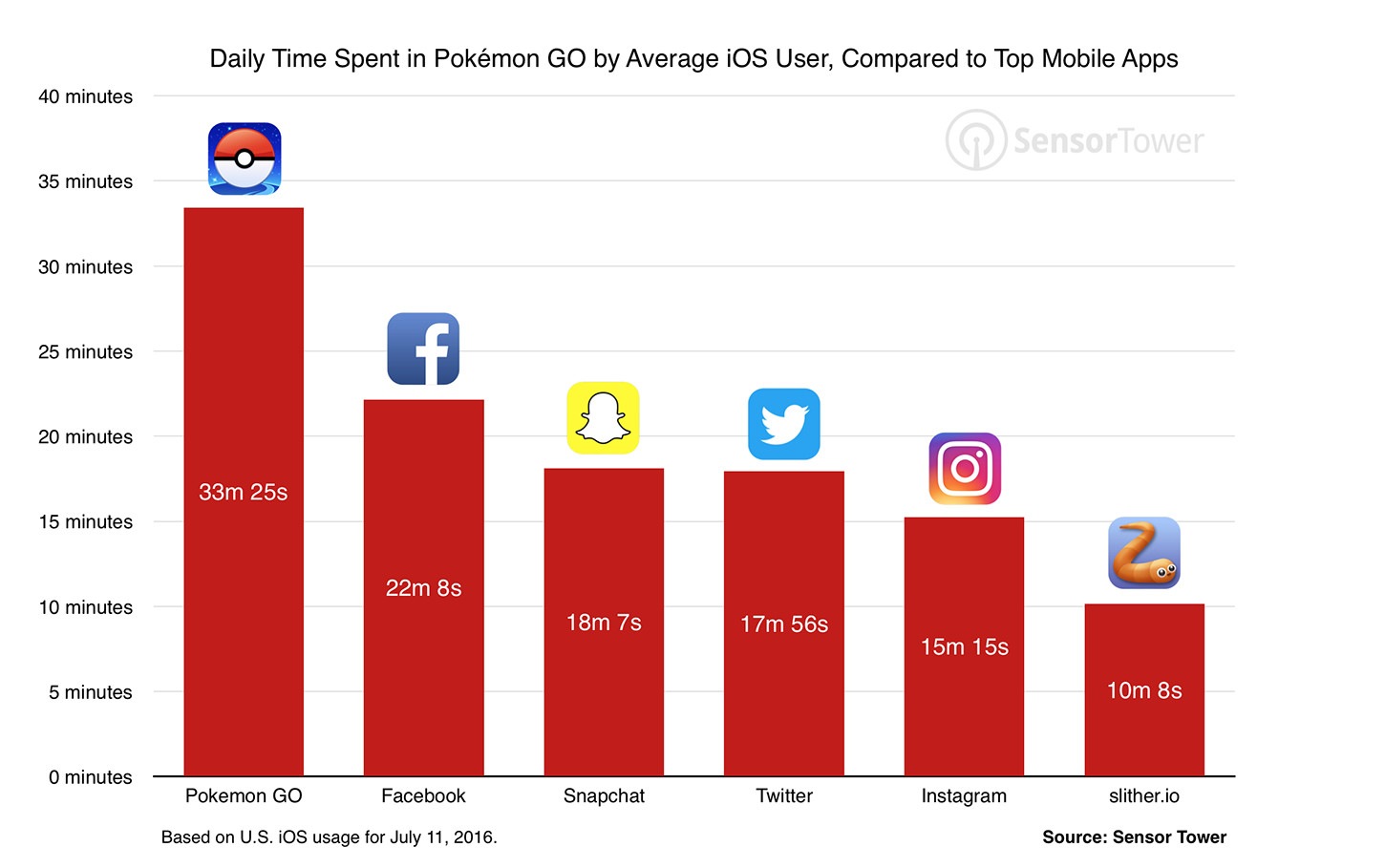 As we can see, just in a short time, Pokemon Go ranks No.1 in the Apple store & Google play. It's no doubt at this moment that users absolutely are willing to pay for something to feed their Pokemon. And users let them evolute to a higher level. After all, they are so cute かわいいね、players are not willing to see their animals will fail in fighting due to an argument from a queue jumping. Thus, we are able to foresee in-app purchases will be a quick revenue increasing point and for the long term. I'm sure it will have much revenue from advertising, offline affinity partnerships to enrich the player experience, functionality. Like you might be able to capture a ghost Pokemon in a Disney ghost house, who knows!!.
Pokemon Go is a good case sample for the mobile AR application. It's because AR technology is booming now and will be a key trend in the future. But for its monetizing, it still has less successful cases in a global consumer market scale.
3, Mobile AR Usage Education
Didi Dache (嘀嘀打车) App, which is called China Uber, started the user base increasing with buying user base. That means paying the taxi most or even all fees to taxi drivers. It's in order to educate users on a way to call a taxi by App and enhance the user trusty with Didi Dache App.
In the similar scenario with Pokemon Go, although it is not the buying user model as a start, it also educates players that mobile AR can be interesting, reliable, and convenient for her/his action, that mindset can shorten users to accept any new coming AR application in the future, so that I can foresee it will be a skyrocket increasing of AR application in coming 2 years.
4, Best Global Brand Awareness Campaign – Niantic & Nintendo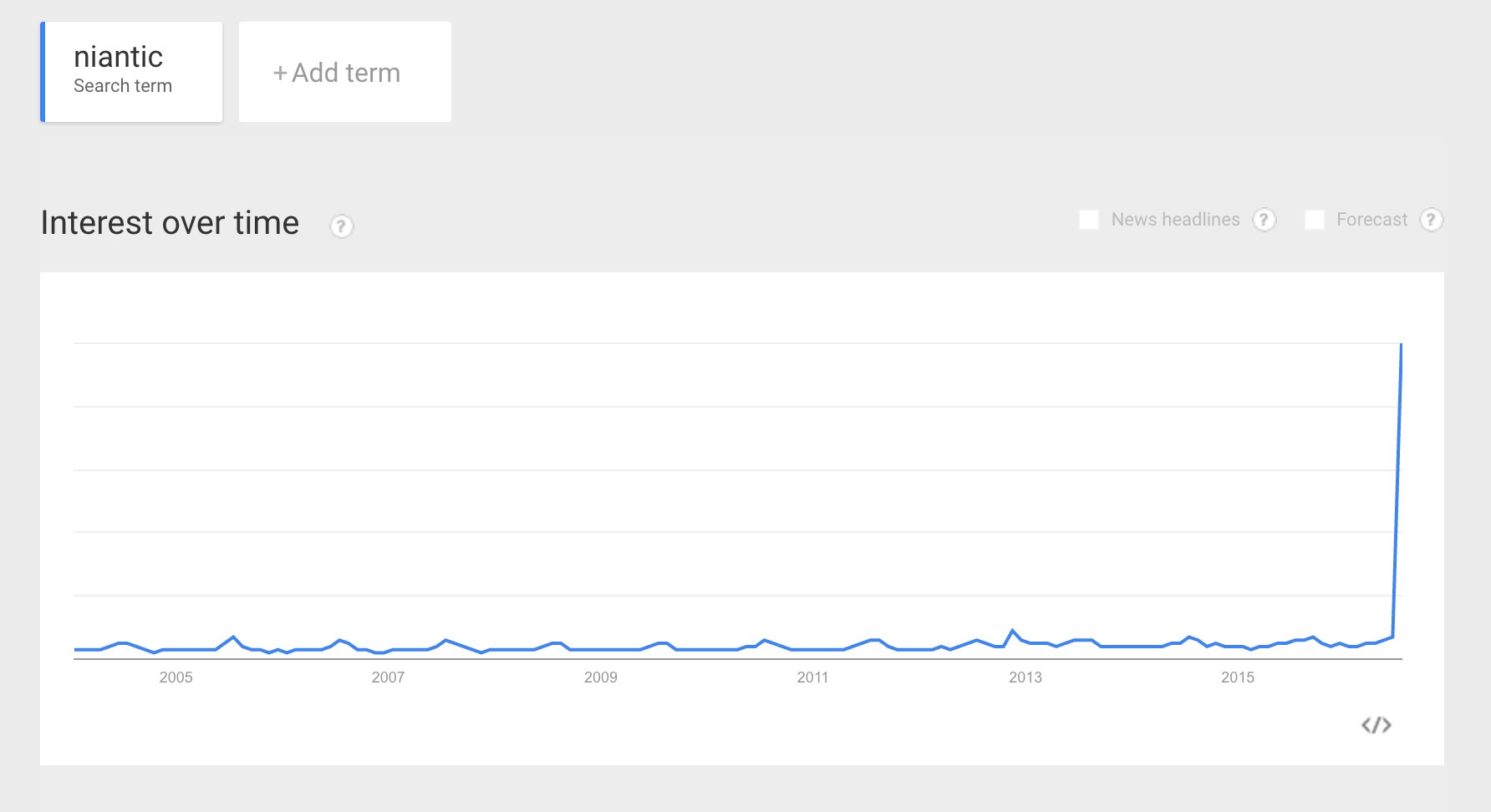 As a marketer, instinctively I do say it's a good brand awareness campaign case, particularly for Niantic and Nintendo. I am not saying it doesn't drive awareness for Pokemon itself, to some extent, Pokemon is the key element why people are willing to download apps and try playing via Mobile AR. If you say this game was the Disney Go or Zoopie Go, I might recognize that it will be a game providing ticket offers or toy discounts. Thus, Pokemon itself is a very good hook and game theme. Pokemon is the best partner in this project.
For me, I know Niantic from Ingress, which is an LBS mobile game. As we know Niantic is strong in mobile GSP game and AR technology, but honestly, not many people know the brand, unless they are our industrial friends. Thus, as you can see from the Google trend, Niantic's search volume sharply increases to the highest historical level within a week, which really helps and build its brand awareness globally in AR and mobile game industry.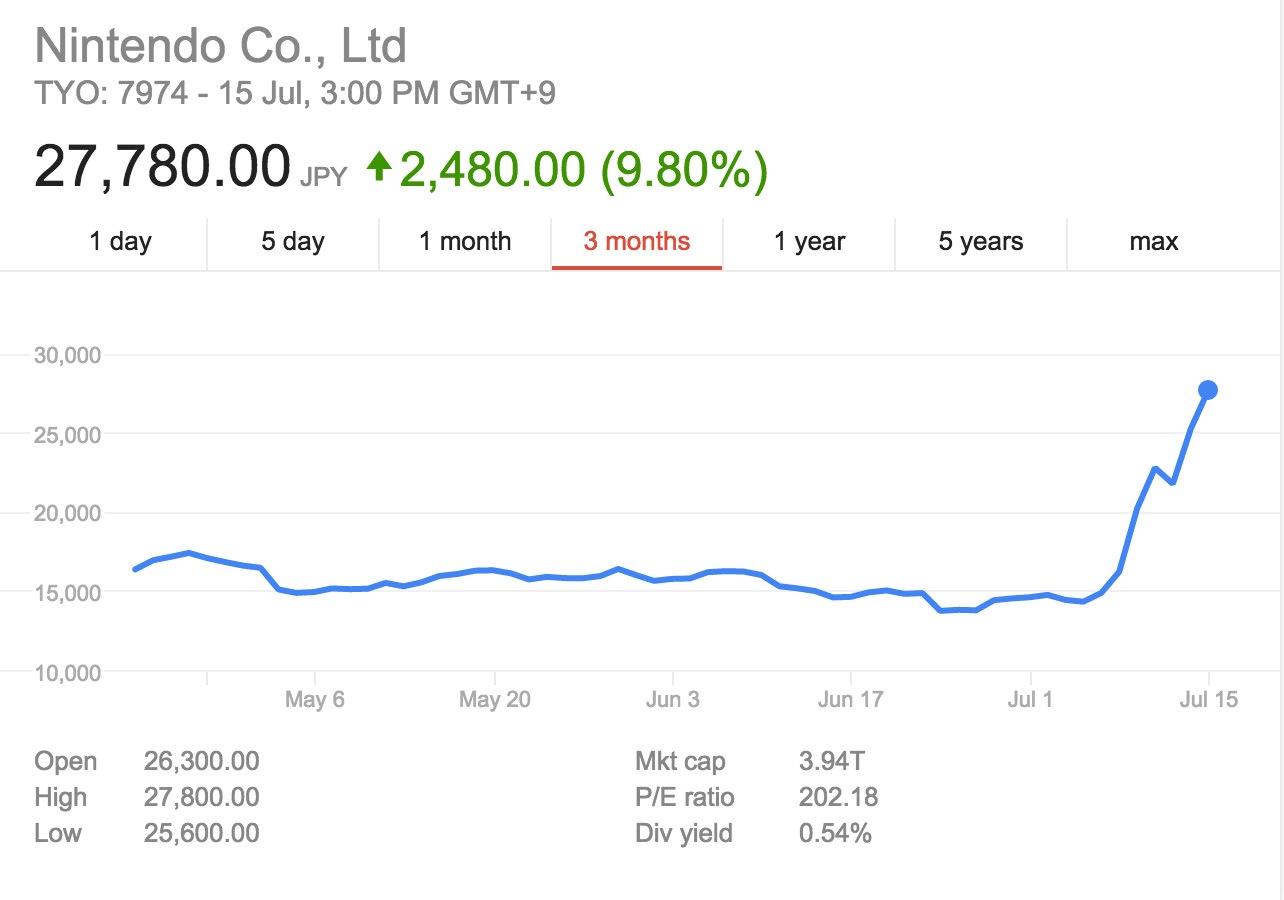 My 1st game device was a Game boy and now I am playing NDS as well, so Nintendo has been with me for over 20 years. I have ever worried about Nintendo's future because as I study Japanese culture, the Japanese often react too slowly to survive in the global market unless they are aware (Sony walkman and Playstation is the case). But now Nintendo again increases its brand awareness by Pokemon Go again, but also awareness in a booming area – AR,I do feel happy for it after all Nintendo is my friend already, I believe it's also your friend, looking forward much interesting and funny from Nintendo.
Verdict
I hope you enjoy reading Pokemon Goal. If you did, please support us by doing one of the things listed below, because it always helps out our channel.
Support my channel through PayPal (paypal.me/Easy2digital)
Subscribe to my channel and turn on the notification bell Easy2Digital Youtube channel.
Follow and like my page Easy2Digital Facebook page

Share the article to your social network with the hashtag #easy2digital

Buy products with Easy2Digital 10% OFF Discount code (Easy2DigitalNewBuyers2021)
You sign up for our weekly newsletter to receive Easy2Digital latest articles, videos, and discount code on Buyfromlo products and digital software
Subscribe to our monthly membership through Patreon to enjoy exclusive benefits (www.patreon.com/louisludigital)