Shopify vs Salesforce Commece Cloud – Which One Is Better for Global eCommerce Business
Nearly half a million shipping containers are stuck off the coast of Southern California, Brands and sellers who target USA markets recently might be suffering from inventory replenishment. However, eCommerce is still hot and the momentum seems continuing up and skyrocketing with more countries' current devaluation like Yen etc. So the question is which eCommerce platform solution you should select. The debate between Salesforce Commerce Cloud and Shopify Plus usually gets a lot of attention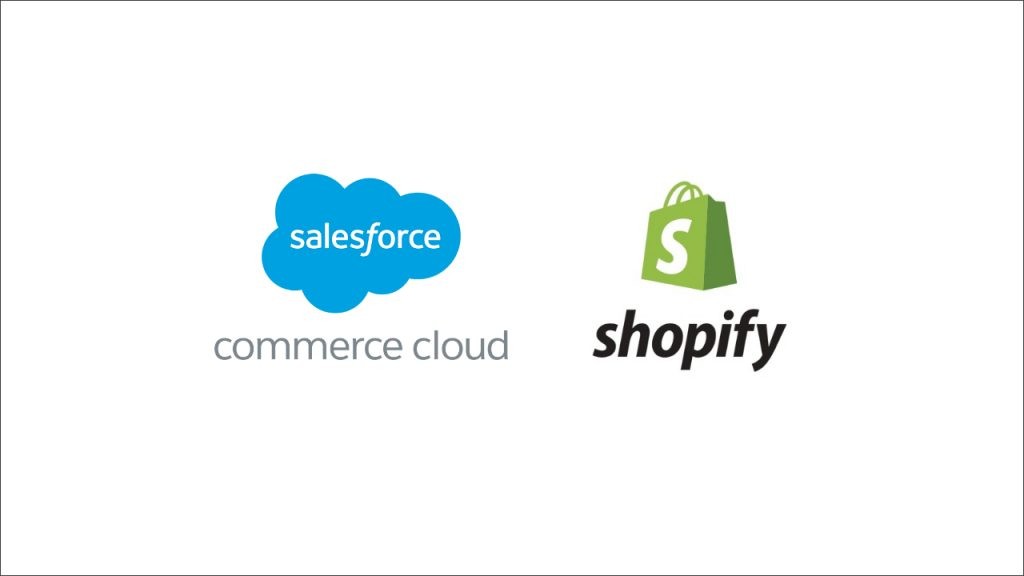 Shopify is in the spotlight because it's pretty agile and not pricey to start. Even after being scalable, the cost is still manageable. But every coin has two sides, many voices out there are regarding Shopify's flexibility and global cross-border eCommerce capability concerns. Recently, discussions between Shopify and other similar platform competitors have been increasing. In this part, Salesforce Commerce Cloud must be one of them, particularly in those sectors with juicy profit margins.
In this article, I would walk you through the difference between Shopify vs Salesforce Commerce Cloud. You can learn from several dimensions, such as cost, technical requirements, personalization, etc.
Shopify vs Salesforce Commerce Cloud – Who they are?
Salesforce commerce cloud is a highly scalable, cloud-based software-as-a-service eCommerce solution. Before being acquired by Salesforce in 2017, Its name is Demandware. The platform provides best-in-class developed features and functionality, and a great eCommerce business operation experience.
The key value proposition of the commerce cloud is by offering e-commerce as a SaaS solution. It can help you free your business from the demands of managing an eCommerce technical aspect. The platform is always figuring out how to stay ahead of the curve when it comes to best practice eCommerce features. I would say it's a real eCommerce store using the Salesforce commerce cloud.
On the other hand, Shopify is an eCommerce platform that you can use to build your eCommerce store. All your store's original coding, data, and materials are hosted by Shopify. In a way, Shopify grants you access to necessary features and functions to operate eCommerce. It's just like bloggers use Wix, and store owners use Shopify. It means it's very easy and fast to start.
There are 4 options you can select, Shopify lite, basic plan, advanced Shopify, and Shopify Plus. It varies based on the features, capacity, and external integration capability. And Shopify plus is the most advanced plan, it mainly serves larger businesses or businesses looking to scale. It offers advanced reporting features, higher priority customer support, the capacity to handle higher order volumes, and more.
Shopify vs Salesforce Commerce Cloud – Basic Fee Structure
Shopify is basically a typical SaaS model platform. As mentioned, it offers 4 plans to brands and sellers, which are the Shopify lite, basic, standardized, and advanced plans. The plan is a monthly subscription base fee. The cheapest is the lite plan, which is US$9 a month and you can add the listed products to any websites, or blogs. Customers can check out by using credit card payments.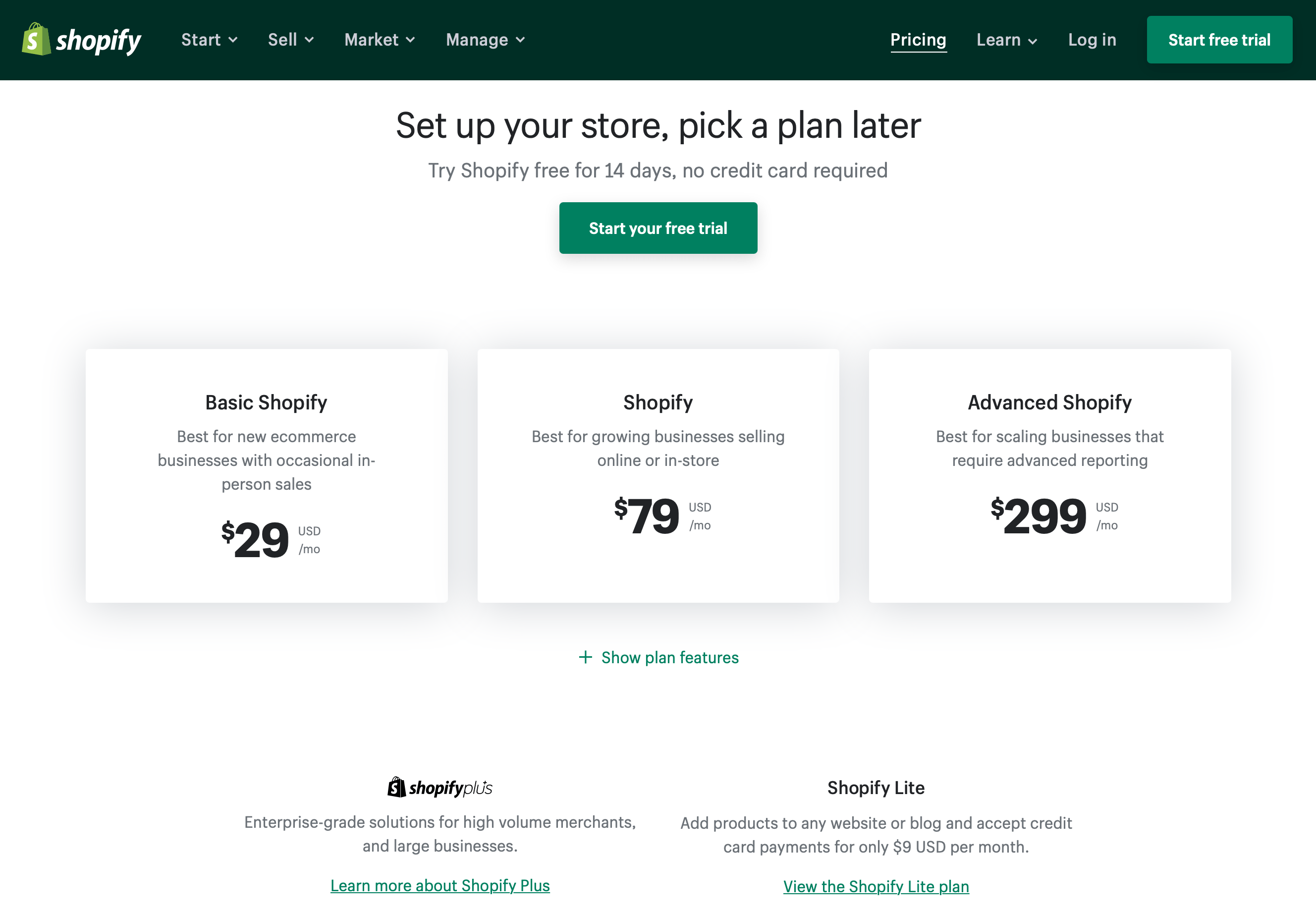 Shopify also has enterprise-grade solutions for high-volume merchants and larger businesses. Regarding fees, the quotation varies based on the needs. Being said that, brands and sellers can try Shopify free for 14 days if you like to play around and experience the platform.
Salesforce commerce cloud quotation varies sector by sector, product by product. Basically, it has two options – B2C commerce and B2B commerce. You can select based on your eCommerce model and needs, and then contact the vendor for the pricing information.
In terms of the Salesforce commerce cloud cost, it is running a revenue share mode. From a financial perspective, it means that the client effectively funds the platform from OPEX, rather than CAPEX, budgets. So there are no significant upfront license costs.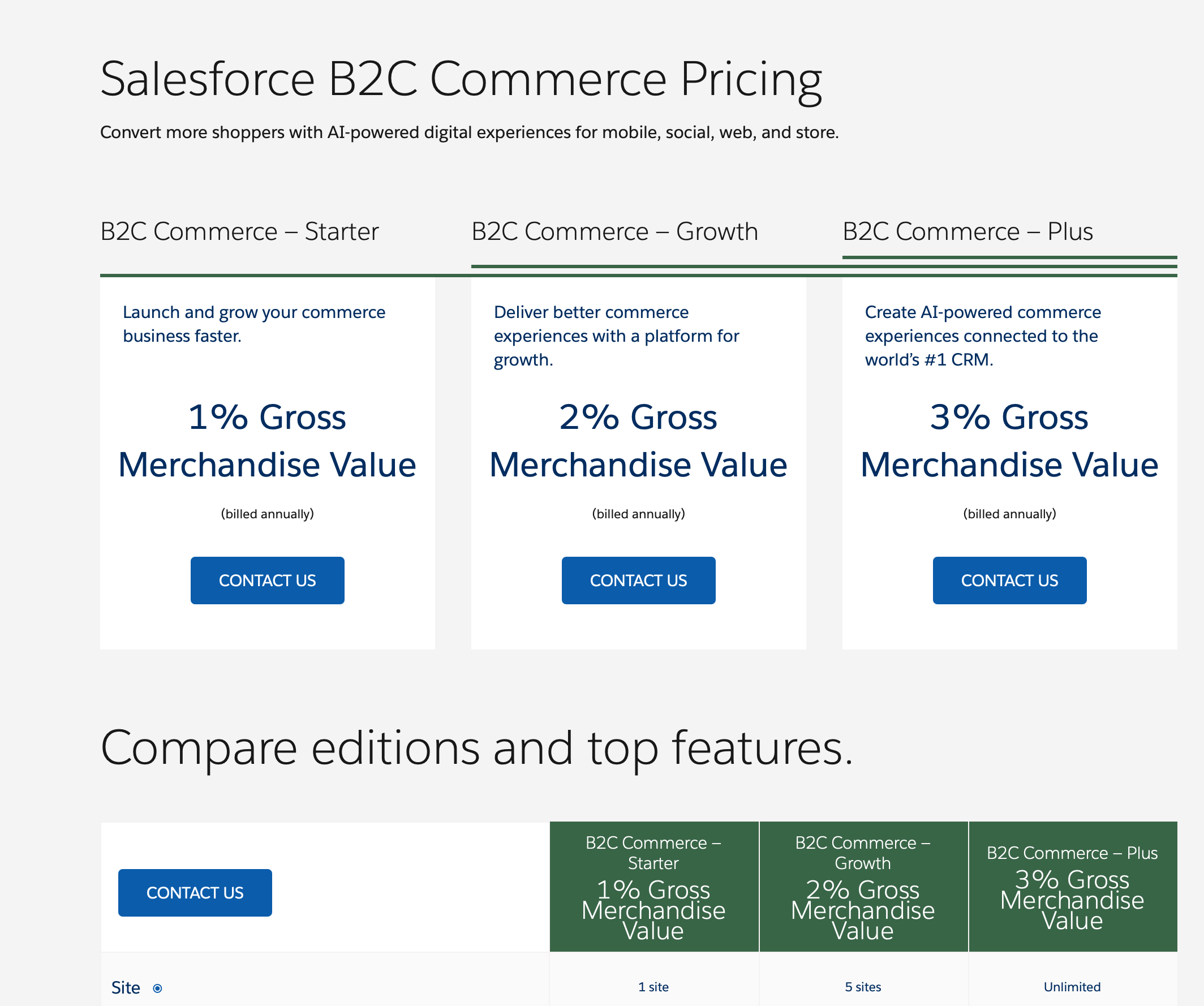 Based on the Salesforce vendor's evaluation, basically, there are three options which are 1%, 2%, and 3% of GMV. Each option tier has the related scope of features and services given to the brands and sellers.
Brand eCommerce Webstore Features – Shopify vs Salesforce Commerce Cloud
If you start with an aggressive goal to aim for all markets globally, it must be the pro of the Salesforce commerce cloud, thanks to the nature of URL structure, and multi-product catalog. If you care more about the profit margin, Shopify might be more proper for you. For the pricing strategy, you can refer to the core 7 variable costs that are impacting your profit. Please check out here – 7 Core eCommerce Variable Costs.
Selling Well But Be Losing Money? 7 Variable Costs Are Impacting Your Online Store Profit Margin
Technical Team Investment Required
If you have little to no technical knowledge and don't want to expand your technical teams, I think Shopify is your cup of tea. One of Shopify's greatest selling points is the platform's ease of use. The more complicated parts of your site, such as the back-end, are closed off to you and instead handled by Shopify.
Salesforce commerce cloud does give you full control over the back-end of your website. It means it's your company's work to make it done. This work requires talents with technical knowledge. So in terms of technical assets and manpower investment, Shopify looks much lighter.
Winner: Shopify
Cost Efficiency and Paid Apps/Add-ons
For the salesforce commerce cloud, the revenue share model might be attractive to those organizations with strong product profit margins. Conversely, this commercial model is not as appealing to brands and sellers with a thin margin and high order volume. The brand might give up this model after it successfully opens a new market and grows scalably there. At the beginning of a go-to-new market or launching new products, this model is attractive in a way though.
Also, additional add-ons require fees as well. It's not for free, which is similar to Shopify paid apps. So to mature markets of a business, the commerce cloud might not be the best option that can reflect better financial performance.
On the other hand, Shopify is running a monthly subscription model. It's a kind of fixed cost. No matter whether your business performs or not, Shopify has a fixed cash outflow happening every month. However, the number is not that big and would not go up with the sales increase. I would say it's totally acceptable. What's more, the Shopify App market is an open marketplace for developers to sell apps facilitating Brands and sellers to do eCommerce business. In terms of open resources, it absolutely wins the commerce cloud, because SFCC App exchange is more like a private paid community.
Winner: Shopify
Real Global and Cross-border eCommerce Webstore
Like Woocommerce, Salesforce Commerce Cloud implements a multi-product catalog and allows subdirectory URL structure for multi markets. Basically, you can set up a multi-set of product information, that includes pricing, shipping, taxes, and currency for products in different markets. Then, it can integrate with different channels such as Google Shopping, Facebook, Instagram shop, etc by-product sets by markets.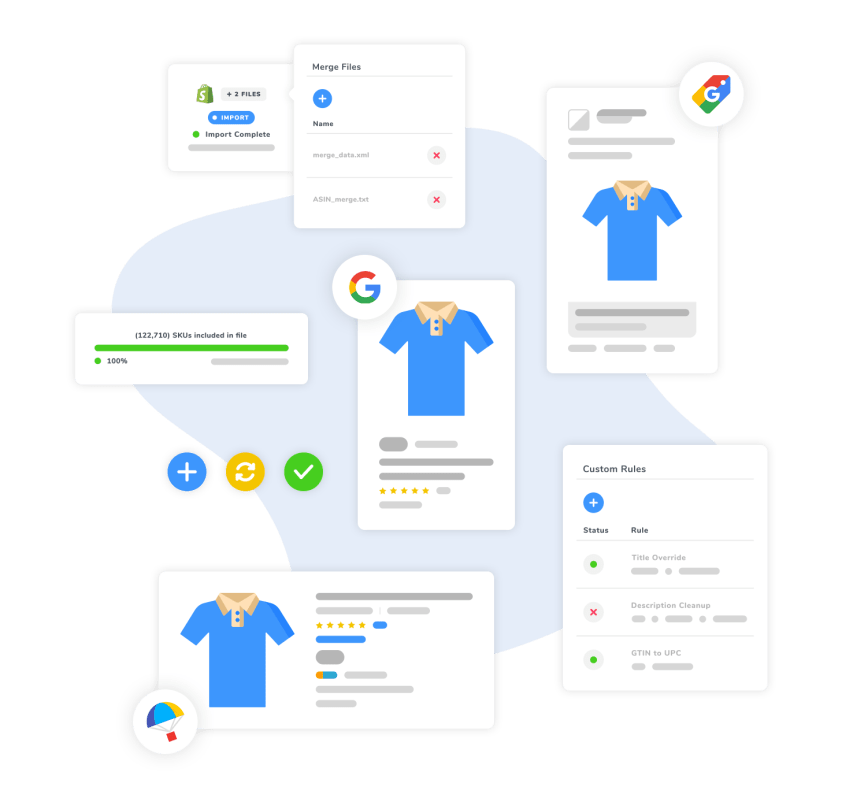 Conversely, Shopify can't facilitate this integration and hugely decrease the efficiency of SEO effort. Basically, each Shopify plan and account can only access one market. Based on that market regulations, the brand and sellers need to set up the bank, business entity, and product information. It's not a real global and cross-border eCommerce, because you need to create another Shopify account if you roll out to a new market.
Winner: Salesforce Commerce Cloud
Website and Brand Element Personalisation
Salesforce commerce cloud suite of tools empowers you to create an incredibly personalized web store design and focused selling experience. This can greatly increase the brand credibility, conversion, and loyalty. For it to work, you need to understand your customers, and it does take time to configure and manage.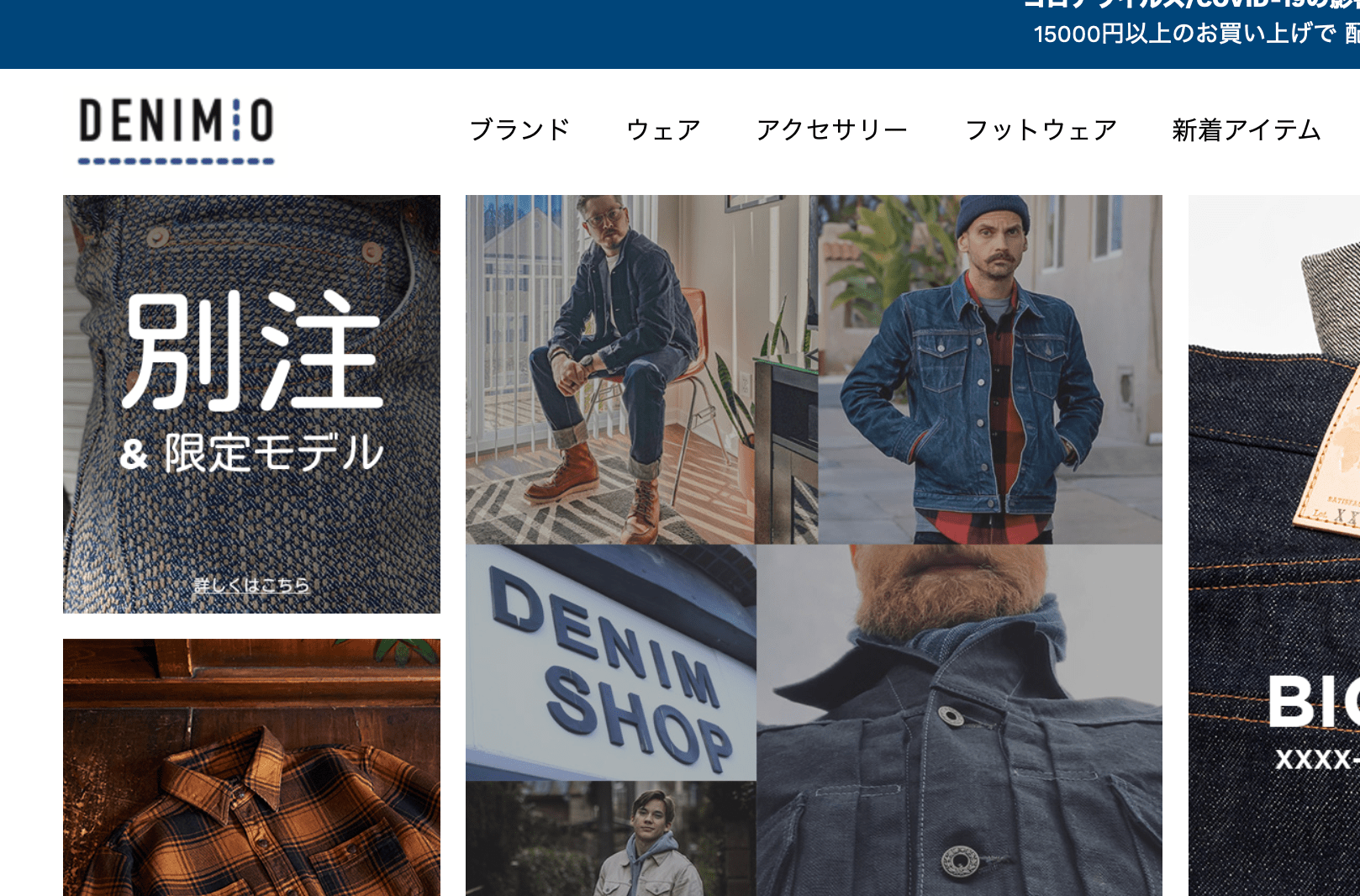 Regarding Shopify, you aren't able to plan on making any core changes. Core hacks and back-end changes are not an option. This makes operating your website significantly simpler, but it removes a sizable amount of freedom when it comes to customization of website functionality.
Although Shopify also has a wide array of affordable templates that make creating a website easy and fast. Many businesses are using these ready-made themes straight out of the box. You have the ability to customize your theme to create a unique look, but you are starting to feel the limitation is still quite large.
Winner: Salesforce Commerce Cloud
AI and CDP Capability
SFCC has the very full gear of inhouse customer relationship-drive and AI ecosystem. Salesforce Einstein AI is industry-leading because it requires no data preparation to use, no technical team to analyze the results, and it's integrated into every app in the Salesforce platform. Einstein custom tailors advertising, marketing, and the brand experience to each individual customer.
And Salesforce Datorama is also a powerful CDP that can further help create a single audience profile supporting data for Einstein to have an optimized and better communication efficiency. In the end, it facilitates increasing your business customer repurchases and engaging them with loyalty elements in a more personalized format.
On the other hand, Shopify is implementing a 3rd party collaboration model, where they open the API to connect with external apps and software. In a way, it creates some difficulties, particularly for more advanced strategies.
Winner: Salesforce Commerce Cloud
Which One to Select for your eCommerce business
Again, it's a difficult question which one is better. Standing on a profit margin and financial cutting-edge perspective, Shopify is of course the winner. It's because equally, SFCC is eating the business's profit. More sales, more profit lost. What's more, Shopify is more like a flexible and powerful air jet, you can change the direction and react to the market demand in an agile format. It's cheap, fast, and convenient, where you can consider too many technical elements. You can focus on more products, eCommerce, marketing, and Branding.
Conversely, Salesforce Commerce Cloud does fit more to brands and sellers who are chasing advanced personalization for Branding and shopping experience purposes. Particularly those brands that have a juicy profit margin, and don't care about being eaten by SFCC, are perfectly fit. I would say luxury, fashion, and niche product categories are having more demand.
I hope you enjoy reading Shopify vs Salesforce Commerce Cloud – Which One Is Better for Global eCommerce Business. If you did, please support us by doing one of the things listed below, because it always helps out our channel.
Support my channel through PayPal (paypal.me/Easy2digital)
Subscribe to my channel and turn on the notification bell Easy2Digital Youtube channel.
Follow and like my page Easy2Digital Facebook page
Share the article to your social network with the hashtag #easy2digital
Buy products with Easy2Digital 10% OFF Discount code (Easy2DigitalNewBuyers2021)
You sign up for our weekly newsletter to receive Easy2Digital latest articles, videos, and discount code on Buyfromlo products and digital software
Subscribe to our monthly membership through Patreon to enjoy exclusive benefits (www.patreon.com/louisludigital)