Baidu Duxiaodian or Baidu Shopping vs Google Shopping | eCommerce Marketing – China vs USA
eCommerce is continuing booming as the Covid-19 pandemic continues. Search engine facilitates customers access to more product information. When we talk about search engines, Google must be the No.1, with a staggering avg. 90% of the global market share. On the other hand, Baidu holds just 1.45% of the global market share. But it might be a real story depending on which market you are focusing on.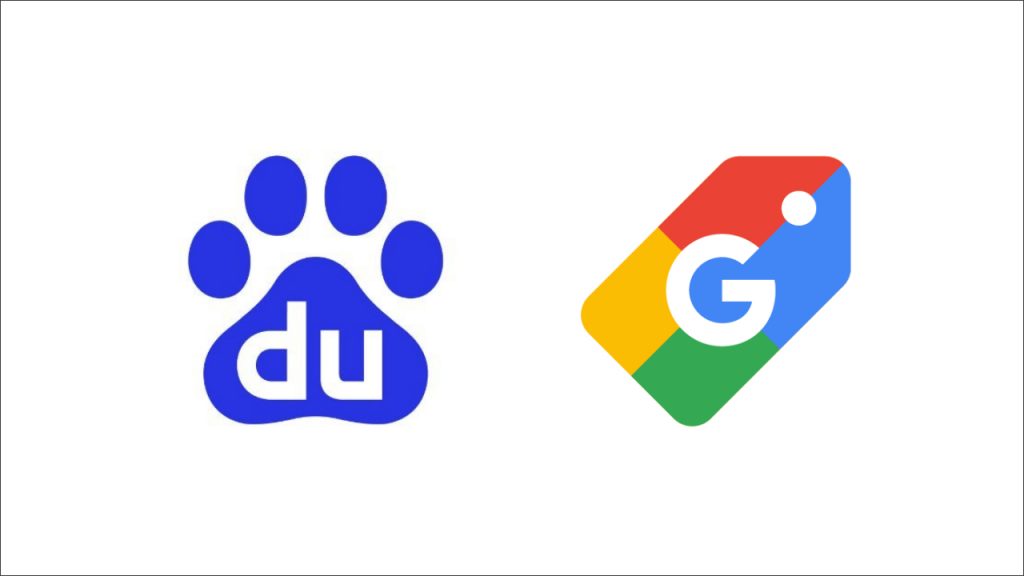 There are a lot of differences from internet users in China. And also the digital landscape is pretty unique. Baidu currently holds 72.37% of the market share, with Google having only less than 2%. The 2% in the domestic market might be mainly from the non-search division.
With China's domestic eCommerce growth continuously, Baidu reshaped the Baidu Shopping platform last year. We also call it Baidu Duxiaodian. It indeed has many features that are similar to Google Shopping. And it also provides some innovative functions that you might not be able to learn from Google Shopping.
In this article, I would share the comparison between Baidu Duxiaodian and Google Shopping. By the end of this article, you can learn their differences. The things are between fees structure, advertising approaches, and channels. It can inspire you no matter you are a product marketer or a seller that is ready to enter China market.

What Is Baidu Duxiaodian or Baidu Shopping
Baidu Duxiaodian is an eCommerce channel within the Baidu ecosystem. Similar to Google Shopping, visitors search information by using keywords on Baidu desktop or Baidu App. They can find the products listed by merchants in the SERP from Duxiaodian.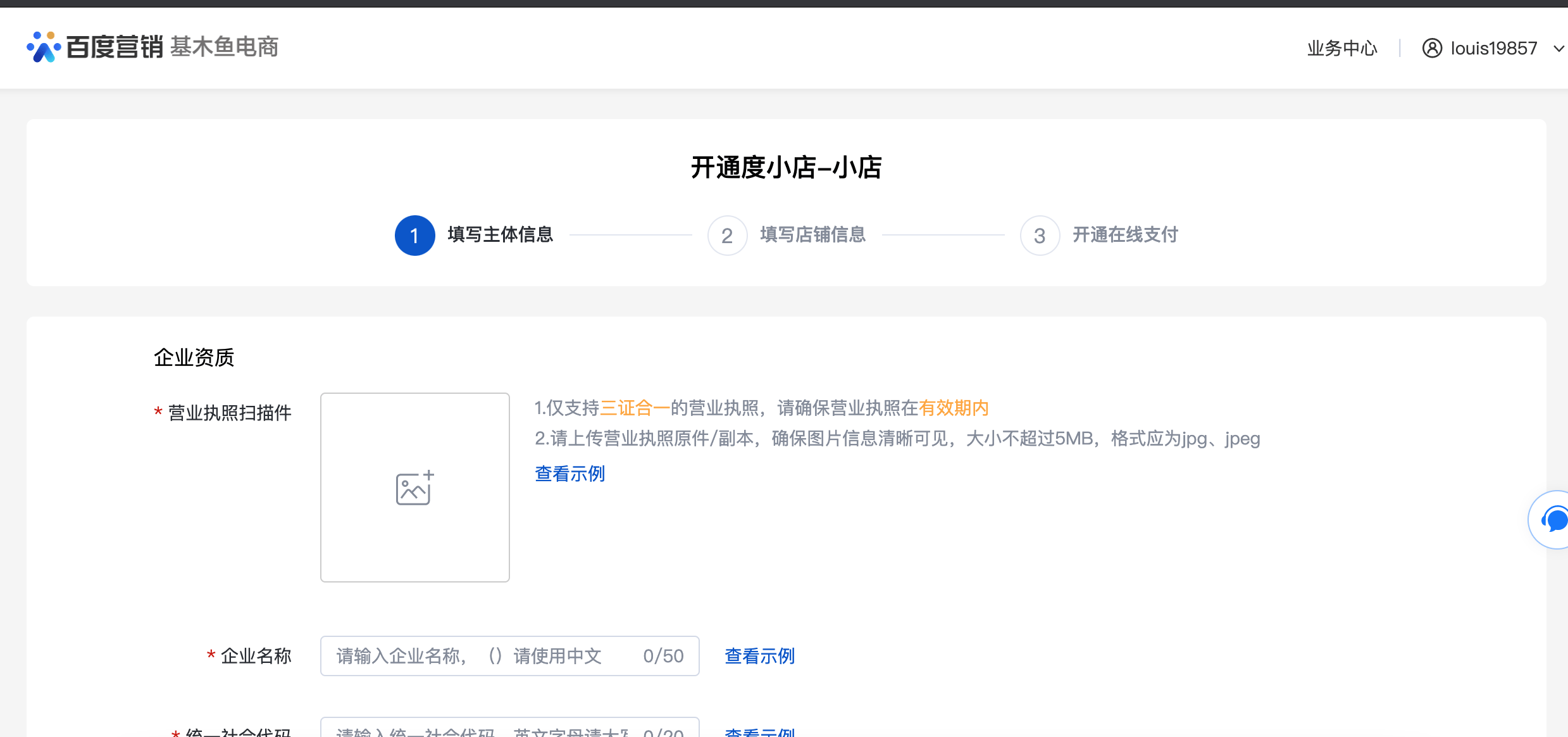 Duxiaodian is equipped with some programs like Google shopping ads and Google Shopping action, or Buy on Google. Customers can directly checkout through the Baidu Duxiaodian channel, rather than being directed to the seller's website. The seller's bank account receives the payouts every 7 days from Duxiaodian. Or sellers can run Baidu ads driving traffic to Duxiaodian product pages and direct customer's checkout on the website. It's because Baidu Duxiaodian allows to set up the final checkout happening on the owned website.
The difference is Duxiaodian product feeds can also be from the giant eCommerce marketplaces in China, such as Taobao, JD, etc. Your customer can checkout from these marketplaces. And as you might get a feeling, Duxiaodian is more reliant on advertising monetization. So Duxiaodian doesn't have free traffic resources like surface across Google.
Fee Structure
Baidu Duxiaodian is similar to Google Shopping Actions. It doesn't charge any transactional commissions, or additional technology maintenance fees. Then, it's different from Tmall or Rakuten Japan having technology fees. The only fees incurred are the payment processing fees. The fee charge percentage depends on the payment methods chosen by the customers. Checkout on Duxiaodia provides Wechat pay, Alipay, Duxiaodian Pay, credit cards. The lowest per transactional payment processing fee can be 0.6%.
Being said that, if you direct customers to check out on your owned store and website, Duxiaodian won't charge you payment fees as well. You just need to pay for Baidu advertising.
Baidu Duxiaodian Account Creation
Compared with Google merchant center account creation, Duxiaodian account creation requires more admin documents. I believe this is not only a feature in Baidu, but also Rakuten Japan also requires lots of admin docs to create a Rakuten store. Many platforms in Asian countries are similar. For this, I create a table and show the details as listed below.

Baidu Duxiaodian Marketing Opportunities
Google Shopping mainly provides SEO, SEM, Youtube Shopping, retargeting, local manufacturer resources. They can work with Google ads audience data library for reaching out more relevant customers. It's for sellers and brands to promote the brand, and drive traffic, sales in a more accurate way by CPC and CPM bidding model.
On the other hand, Baidu Duxiaodian looks more diverse in terms of marketing opportunities. Apart from the advertising capability, it is also equipped with selling tools and influencer marketing elements.
Baidu Duxiaodian offers plenty of videos and Livestream influencers for brands and sellers to collaborate. Within the Baidu ecosystem, it has Haokan video portal, Tieba, and so on. In these portals, many influencers and key opinion customers are creating content which generate many followers. You can select and collaborate with the Baidu influencers through Duxiaodian. Then in the collaboration program, you can set up the commission scheme for selling out your products.
Duxiaodian doesn't charge any fees in this program. However, now the influencer collaboration program is only available on Duxiaodian direct checkout. The payouts from Baidu to your bank account have already deducted the commission amount.
Having said that, you can tailor the video, or live stream content script by reaching out to the influencers directly. Many sellers would pay for the influencers to sell on live streams or produce review videos. These video materials can be used on the other channels you own.
2. CPM and CPC Bidding Model Advertising Opportunities

Baidu is one of the most popular advertising platforms in China. It's because naturally, it has accumulated a huge amount of keyword-driven search volume and intentional customer behavior data. Basically, it has 3 types of advertising options
1) SEM – Aladdin Card Ads and Brandzone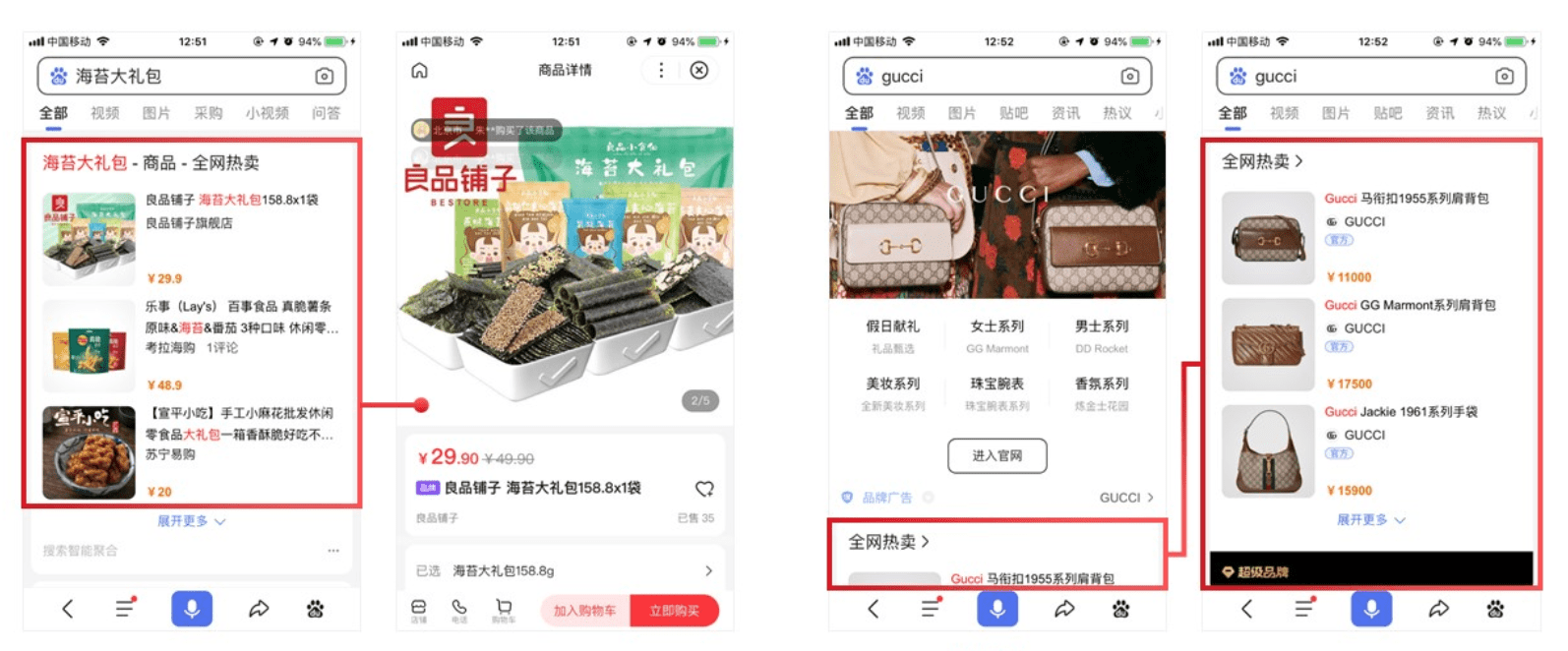 It's like Google Shopping ads and Amazon sponsored brand ads. Prospects search for a product keyword and your products can show in the position of the ads. It's a CPC bidding mode. Then sellers can set up in the Duxiaodian and run the campaigns in a Baidu SEM account.
BrandZone is a reserve buy model and quoted by CPM. It's only for brand keywords, and it has minimum pricing. Thus, it's better for brands that have a certain amount of brand keyword search volume.
2) Push-orientation Ads – Newsfeed ads, Mobile Interstitial ads, and App Push Notification Ads
Baidu ecosystem has portals of news, video, live stream, forum, Q&A, map and so on. Also, Baidu is born with keyword-search data. So you can set up more accurate targeting campaigns based on your campaign objective.

3) Shopping Channels
FaXianHaoHuo and MeiRiYouHui are two daily discount and group buy shopping channels owned by Baidu. It's similar to the Pinduoduo group purchase model and Groupon discount deal daily. Sellers can set up advertising campaigns specifically targeting placements in these two channels. It's particularly fitting products with a high-profit margin, or FMCG requiring high order volumes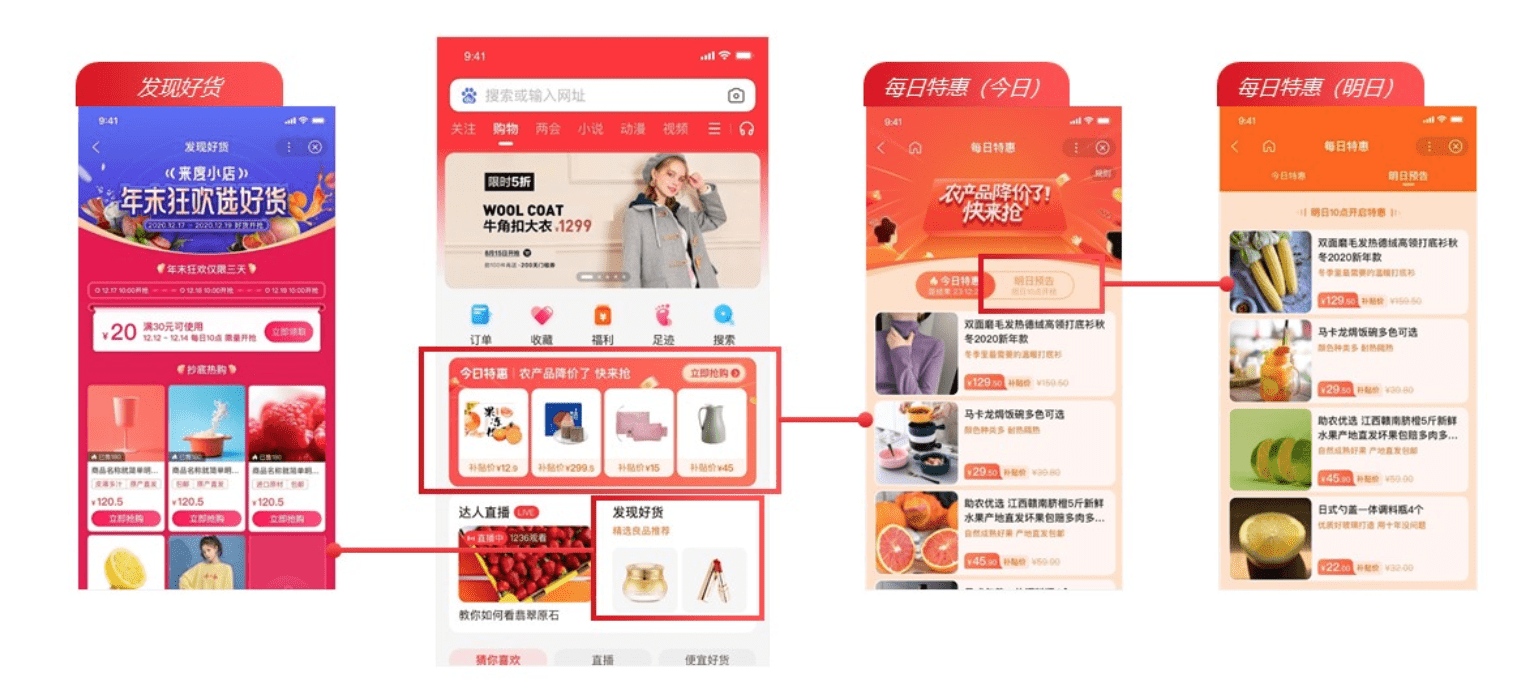 4. Tools for Selling Strategies
Baidu Duxiaodian offers many selling tools for sellers to increase conversion rates and average order value. There are countdown deals, group purchase deals, bundle deals, vouchers, coupons, and so on. Also, Baidu has some events such as 618 promotion that is a good timing for sellers to increase sales.
5. Content Marketing Format
If you are a professional seller who will use content marketing, Duxiaodian would be your dish. The platform provides you to set up live streams, upload videos, and photos and set up podcasts to engage with audiences. But also, it has some features like Youtube, you can get tips from the audiences in the live stream. What's more, it offers a good customer comment and review system. It can be used to enhance brand credentials and increase conversion rate.
Inventory and Logistic Management
Baidu Duxiaodian doesn't have its own logistic and inventory management platform. This is similar to Google Shopping. After all, this is part of the search engine functions. They are not the marketplace model.
Being said that, Baidu Duxiaodian direct checkout has a great integration capability. You can adopt to connect your existing inventory and logistic management. On the other hand, if customers checkout on your marketplace store, or own website, you can continue using the existing fulfillment methods
Baidu Duxiaodian vs Google Shopping
From my point of view, both platforms are getting quite close in terms of the settings, functions, and advertising approaches. Here consolidate and show the similarity and differences from the table.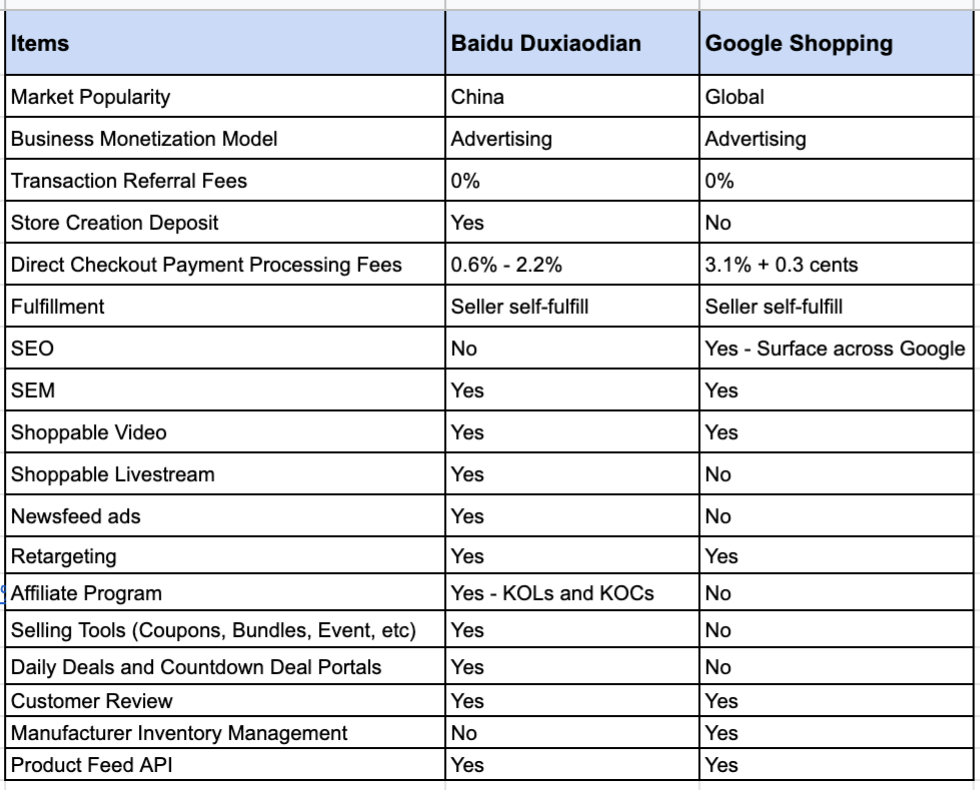 I hope you enjoy reading Baidu Duxiaodian or Baidu Shopping vs Google Shopping – eCommerce Marketing of China vs USA. If you did, please support us by doing one of the things listed below, because it always helps out our channel.
FAQ:
Q1: What is Baidu Shopping?
A: Baidu Shopping is an online shopping platform in China, operated by Baidu, which allows users to search for and purchase products from various retailers.
Q2: What is Google Shopping?
A: Google Shopping is a service provided by Google, which allows users to search for and compare products from different online retailers.
Q3: How does Baidu Shopping work?
A: Baidu Shopping works by indexing products from various retailers and displaying them in search results when users search for specific products. Users can then click on the product listings to view more details and make a purchase.
Q4: How does Google Shopping work?
A: Google Shopping works by displaying product listings in search results when users search for specific products. Retailers can submit their product data to Google, which then displays the products along with their prices and availability. Users can click on the listings to view more details and make a purchase.
Q5: What are the benefits of using Baidu Shopping?
A: Using Baidu Shopping allows users to easily search for and purchase products from various retailers in China. It offers a convenient and efficient way to find the best deals and compare prices.
Q6: What are the benefits of using Google Shopping?
A: Using Google Shopping allows users to compare prices and find the best deals from different online retailers. It provides a seamless shopping experience by displaying product listings directly in search results.
Q7: Can I sell my products on Baidu Shopping?
A: Yes, you can sell your products on Baidu Shopping by partnering with Baidu or one of their authorized partners. You will need to provide your product data and comply with their guidelines and policies.
Q8: Can I sell my products on Google Shopping?
A: Yes, you can sell your products on Google Shopping by creating a Merchant Center account and submitting your product data. You will also need to comply with their policies and guidelines.
Q9: Is Baidu Shopping only available in China?
A: Yes, Baidu Shopping is primarily targeted towards users in China and focuses on retailers operating in the Chinese market.
Q10: Is Google Shopping available worldwide?
A: Yes, Google Shopping is available in many countries worldwide, allowing users to search for and purchase products from various online retailers.