In this article, I'm going to share with you 5 tips to measure influencer marketing results.
Have you ever come across this scenario? When you finish a social campaign project with some influencers, they released Facebook posts, Instagram Stories, and Youtube videos. As a result, they reported you the campaign drives 500K view, 50K like, and 500 comments. For them, it seems like very exciting news and a successful result. If you had worked with an agency, they might even say it was pretty good, but the brand needs to keep investing to drive awareness. However, such an abstract result is not enough for you to report the success of a business or even a digital marketing perspective. 
Why it matters
Digital marketing emphasises return on investment (ROI) = Profit/Cost, or Revenue/Cost. No matter the influencer marketing campaign's purpose is to increase brand awareness, or educate target customers, drive sales directly, or maintain the customer relationship,  we need ways to measure and digitalize the performance. Thus, below are 3 key aspects to calculate ROI:
Digital asset production efficiency

Sales

Brand advocacy 
What we could do
To measure an overall ROI from above mentioned 3 aspects, I would suggest we need to start deployment from the strategy plan stage. Below are 5 tips:
1 – Create a Hashtag Viral Effect
The social post is just a trigger point to reach the influencer audience and convey a message in a way like an advertorial or brand promotion content. A single post engagement performance number doesn't represent a result in influencer marketing. The strategy we could consider is each influencer adds a hashtag in the post and in the post, they also encourage their fans, to share content with a hashtag and the story with the brand.
Thus, that means we might only invest a few influencers, but the result can be hundreds of posts or videos were released on social media networks. If we deploy all posts including exclusive promotion offers, it definitely helps drive sales.
As we know the cost per post, or massive blasting cost through a platform (ACTIVATE), we can see cost efficiency from a few influencer investments and calculate how much cost we reduced and enhanced ROI. Here is an example of hashtag #ThankyouPriorityPass
(329 posts in total within 2 weeks)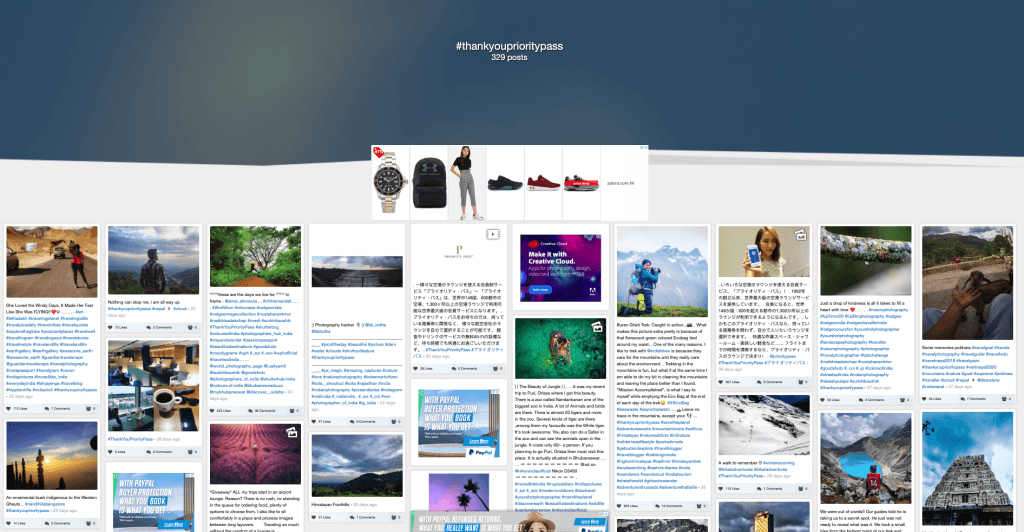 (Source from Deskgram)
If the campaign noise reaches a certain level, I believe during or post-campaign, brand keywords and the hashtag keyword search volume from search engines can increase. Thus, we could calculate the incremental performance (Sales, leads, etc).

(Sourced from Google Trend)
2 – Make Well Use of Content and Data Asset
Influencer content is not just a piece of discount pricing banner, so the engaged data is more valuable. We could align with influencers what content (copies, images, videos, etc) to produce is allowed to use on brand channel advertising, social collaborated ads, or something else. 
Content is one of the key digital marketing assets. When we launch a web and advertising campaign, we need to invest in materials production, etc, to support advertising creative, or update web blogs for SEO purposes. Thus, if influencer content cost has already covered the material production, and also a creative agency service, you don't need to pay additionally.
Here is a sample to collaborate with a blogger to write articles and shoot photos. These materials were adapted and used on Facebook newsfeed ads.
(Source from Easy2Digital Youtube)
Data is also another key digital marketing asset. When we are running a campaign, 1st/2nd/3rd party data needs skillfully using to set up ad targeting. Data needs cost as well, so below are some approaches you refer to save cost to increase customer data assets and drive more sales.
Connect influencer social fan page with brand data platform
Take Facebook ads for instance. When connecting with the influencer fan page, the brand business manager can categorize fan's data, engaged data, prospect data, and converted data. Thus, it is good for you to centralize and set up lookalike and retargeting campaigns.
For personalization and omnichannel strategy, we could leverage salesforce marketing cloud to centralize all data and create a 360 audience profile. For instance, after influencers produced appealing and wonderful content, more dimensional engagement data can be split like what is positive and what is negative; Who are the loyalty customer, who is the new customer having engaged influencer content pieces. I am sure this categorization can help you deploy a new digital integrated ads campaign and content strategy on the web and App.
Install Google 360 campaign manager floodlight on the influencer web page
Except for social and video channels, influencers can write articles regarding brand experience and review. We could install a floodlight pixel on a specific content page and collect view and click data from there. As we can imagine, when we have hundreds of collaborated influencers, it can come to us big data scale to save on our owned platform. It is not only saving cost to purchase 2nd party/3rd party data but also we are certain where the behavior data comes from, instead of the unknown from an agency or a platform.
In China, influencer live is so popular and brands often provide exclusive offers within a live time frame. It has been proved a workable sales-driven approach, it's lovely! Also, I have seen Facebook live, Youtube live and Amazon live are so hot to leverage from brands nowadays.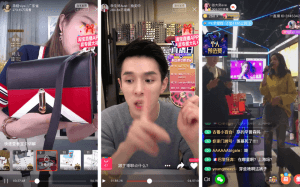 (Source from Taobao Live)
No matter what content format and approaches, exclusive offer at the campaign period only is very helpful to boost sales or drive leads. It's a very direct measurement from the post-investment. Also, limited offer doesn't have a bad impact on brand devalue if particularly your produce or service are serving the high-end market. It's a good approach to appeal to new customers to try.
4 – Build Up Affiliated Partnership
Many people often ignore one critical marketing effect moment. That's the post-campaign period. I would say it's not correct to calculate ROI in influencer marketing within only a campaign period. After they get familiar with a brand product, they are keen to post more afterward, in order to get more free samples or earn a commission from brands. The best picture is they already love the brand and become advocacy, meanwhile educating fans to advocate. You might be familiar with this saying "If you like to support my channel, please click and buy from below a link". 
In Asia, there're so many affiliate platform options for you. Once you search, many articles are out there. I would say it's an indispensable part of your digital marketing strategy, to build a stable and long-term relationship. It's a wonderful picture when you can quickly gather hundreds of influencers to implement briefing, communication, and billing through an owned platform, instead of 3rd party platform. Below are some nice options from my view:
5 – Fully Leverage Proper Customer Data Tracking and Management Platforms
Different from traditional marketing, having a powerful and friendly data platform is a key and must-have section in digital marketing. I suggest selecting one core marketing cloud platform to connect with different marketing eco-system. Below are my options for your reference:
In Asia Pacific regional markets must have at least:
Salesforce Marketing Cloud – CRM, email studio, social studio, advertising studio, and Datorama (Optional)

Google 360 marketing platform – Campaign manager, DSP, Google analytic, Google Tag Manager.

Facebook business manager
Particular for China
Particular for Japan
In Conclusion
An influencer marketing strategy can apply to PR campaigns, direct sales-driven campaigns, lead generation campaigns, brand advocacy campaign,s or so on. It's not a piece of content blasted to build exposure, but performance is measurable from a business and sales perspective. That's digital beauty on ROI measurement.
So easy, right? I hope you enjoy reading 5 Tips to Measure Influencer Marketing Result. If you did, please support us by doing one of the things listed below, because it always helps out our channel.
Support my channel through PayPal (paypal.me/Easy2digital)
Subscribe to my channel and turn on the notification bell Easy2Digital Youtube channel.
Follow and like my page Easy2Digital Facebook page

Share the article to your social network with the hashtag #easy2digital

Buy products with Easy2Digital 10% OFF Discount code (Easy2DigitalNewBuyers2020)
You sign up for our weekly newsletter to receive Easy2Digital latest articles, videos, and discount code on Buyfromlo products and digital software
Subscribe to our monthly membership through Patreon to enjoy exclusive benefits (www.patreon.com/louisludigital)
Influencer Research and Recruitment Service
If you are looking for a freelancer to help you with the Facebook Dynamic Product ads campaign planning and optimization as well, I'm able to help you on this, and below has 3 service and quotation ($US) plans you can select. For details, please visit here and contact me.