Easyship vs Shippo – Which Is Better for Fulfilled by Merchant or FBM?
It's not surprising that more than 70% of sellers in Amazon are using Fulfilled by Amazon or FBA in the latest 2021 report. I believe other sales channels might be less than this percentage, but those sellers more or less use FBA to fulfill orders from other channels as well. Being said that, FBA is coming along with some cons on brandings, customer experience, and hidden costs. In a way, FBM by using 3L, such as Easyship, Shippo, is a must-equipped option.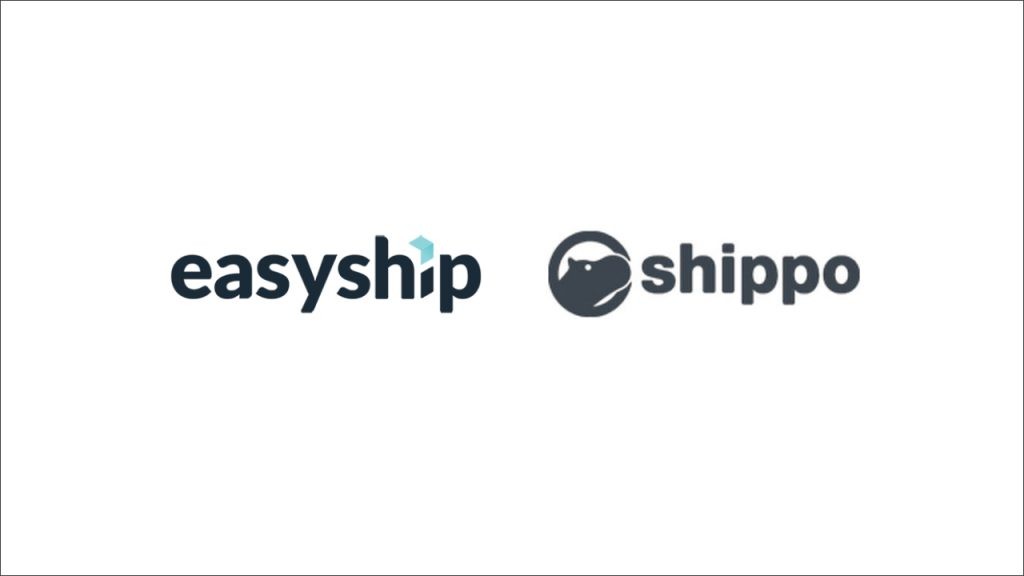 FBA indeed has quite a lot of advantages. However, it requires more complex packing standards and criteria. You don't want to be rejected to receive in the Amazon seller center due to not complying with the requirements. However, the requirements cause less brand visibility in front of customers. Customers might be able to remember Amazon in the long term, due to all standard packing with brand elements.
Companies for whom logistics is a core competency can increase their margins by using FBM if their fulfillment costs are lower than FBA's fees. There are also a few fees, such as returns processing fee, long-term storage fee for stock that remains unsold for longer than six months, stock removal fee for pulling inventory out of Amazon's warehouses.
For omnichannel purposes, FBM is indispensable.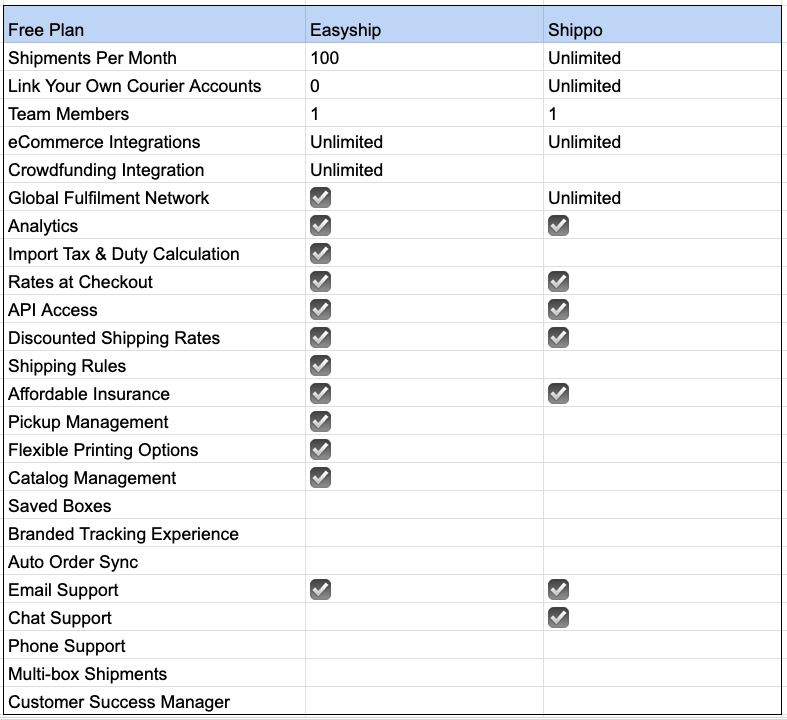 In this article, I would share with you my experience of using Easyship and Shippo in the FBM approach. By the end of this piece, you can understand their free plan, and paid solution pricing, features, and integration capability. So you can make a better decision to deploy.
What are Easyship and Shippo
Easyship
Easyship is a cloud-based eCommerce and shipping software, it facilitates eCommerce sellers to do business globally. The platform collaborates with more than 200 shipping service vendors and charges an exclusive competitive rate.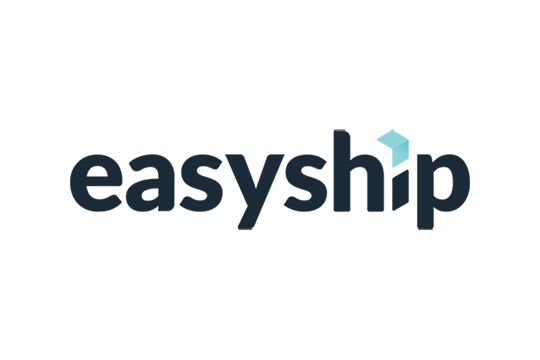 What's more, Easyship is capable of identifying the most suitable flat-rate services for your customer checkout. The solution helps companies handle shipping in an automation format, and also personalizes the store checkout experience. They can also prioritize couriers and provide free shipping facilities to individual clients.
Last but not least, Easyship also includes functions of branded packing, tracking slips, international warehousing network, tax, and custom pre-payment facilities, address validation, shipment split and merge, return labels, and shipment insurance. Basically, it's a specialist shipping solution for SME sellers and global MNC as well.
Shippo
Shippo is a shipping management software that attempts to simplify the interface and settings. It helps users customize the business shipping process, connect tools, monitor customer experience, and expand the eCommerce business worldwide. The platform offers sales channel integration such as Shopify, Square, Wix.com, WooCommerce, BigCommerce, Magento 2, Webflow, and more.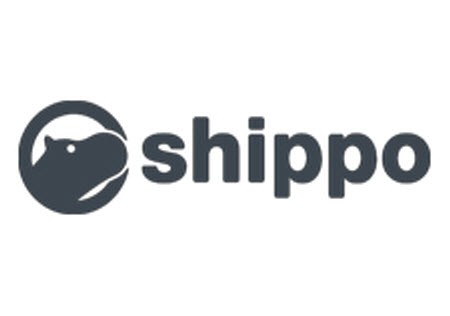 It can also make comparisons between carrier rates, for helping sellers to save on shipping charges. Then it can automate label creation and validate addresses in real-time. Moreover, Shippo allows businesses to customize the tracking pages to offer an authentic branded experience for customers. They can even collaborate with other team members through a shared Shippo account.
Shippo is also providing stunning reports and analysis, a batch label printing system, shipping notifications via email, a pickup schedule process, and pre-filled delivery documentation.
In terms of the Shipping SaaS solution features, Easyship is offering a more comprehensive platform for any level of sellers. On the other hand, Shippo is persisted in a simple, clear, and straightforward model.
Winner: Easyship
Pricing
Pricing must be one of the key elements in selecting your shipping solution. Shipping solutions will impact how effectively your business can scale up, and embrace the capability to handle orders from multi-channels, and multi-countries.
Easyship provides 4 solutions, which are free, US$29 per month, US$49 per month, and custom solutions. The primary difference is how many shipments per month have and how many in-house courier accounts are linkable. So it is related to your business order volume and custom courier account integration. Secondly, the free plan doesn't provide branded tracking, automated order synchronizing, and chat or phone support. From that point of view, a new seller can totally start with the free plan, without any impact.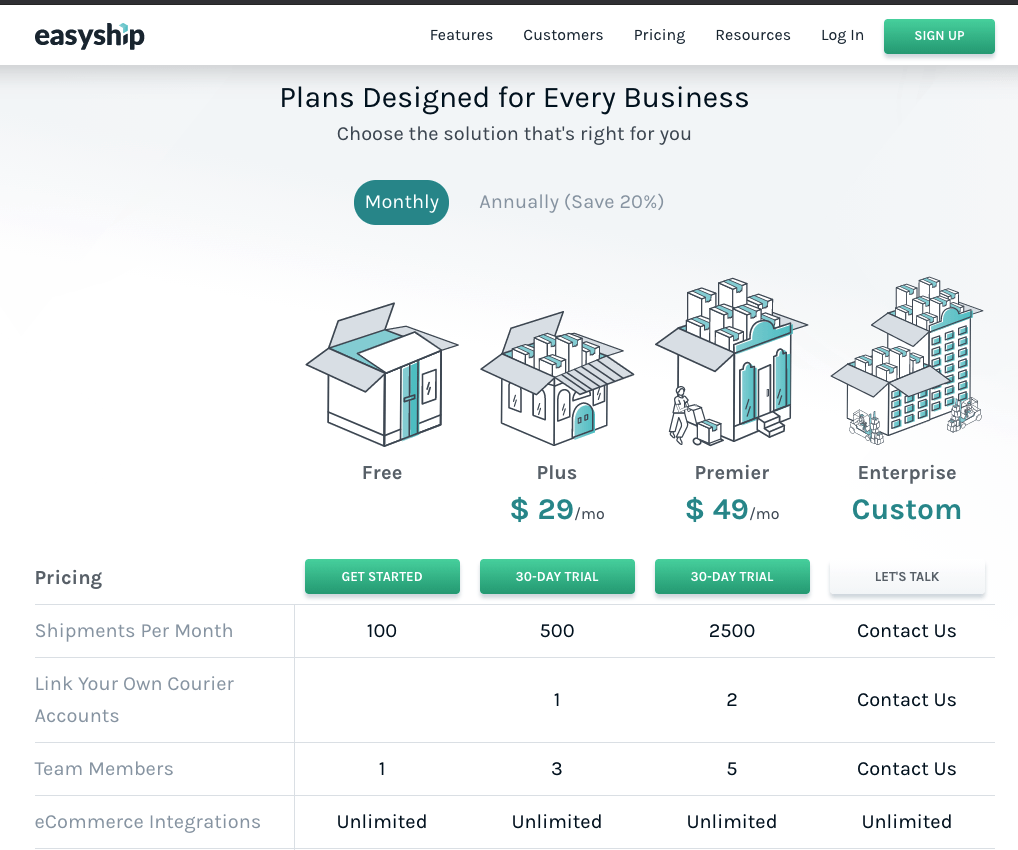 Easyship also offers shipping insurance through its partner InsureShip. You can insure shipments with a maximum value of US$5,000 on any shipment.
Shippo offers 3 solutions for sellers. They are free, professional, and contact us. In the free plan, Shippo claims they offer the best USPS, UPS, DHL express discounts. Compared with Easyship, Shippo's free plan can integrate with unlimited courier accounts, and also has live chat customer support. Both platforms would charge sellers per shipping depending on the shipping methods and destination. So obviously Shippo can help beginners enjoy more features.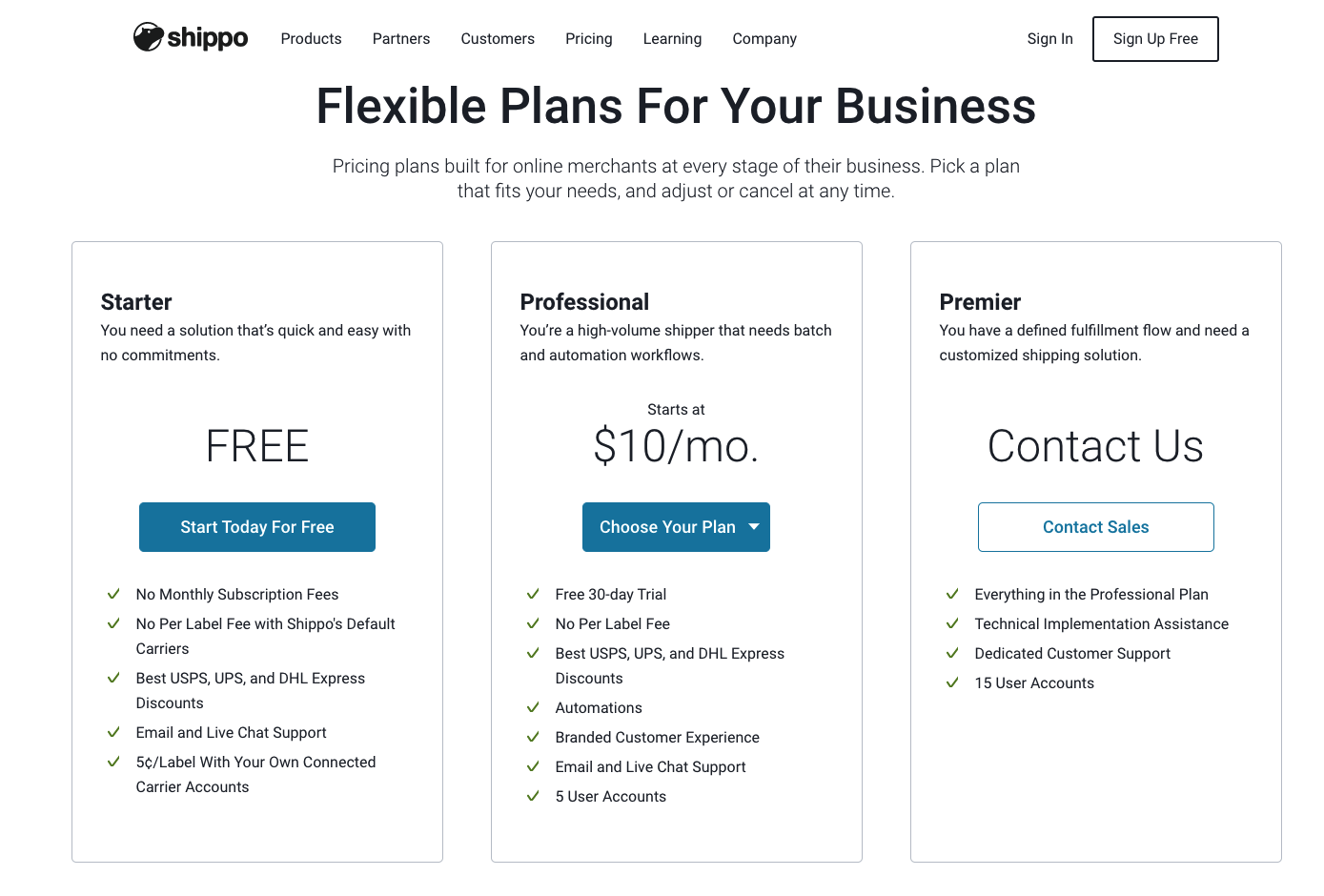 Compared with the free plan, Shippo professional plan provides the branded elements to sellers in the shipping, such as Custom Branding for Packing Slips, custom branding email notification, custom branding tracking page, etc
Shippo offers insurance that costs 1% of your insured shipment value. Insurance is purchasable using the Shippo web app or through its API.
Winner: Shippo
Shipping Rate and International Shipping
Shipping Fee Calculator
First of all, the Easyship shipping rate calculator lets you figure out how much the shipping cost of your package is. It's an extremely useful feature. It also shows you what carriers are able to fulfill the circumstances you are requiring. Then VAT is also visible from the calculator. Even though it doesn't work for certain nations, such as Ireland, I would say it's totally fine.
On the other hand, Shippo doesn't charge per label fee with default carriers. But it doesn't offer an international shipping calculator, and it only provides the USPS calculator. Although USPS offers lower shipping rates. And Shippo offers a discount to people who ship through USPS in the US. But for international sellers, it is totally not helpful.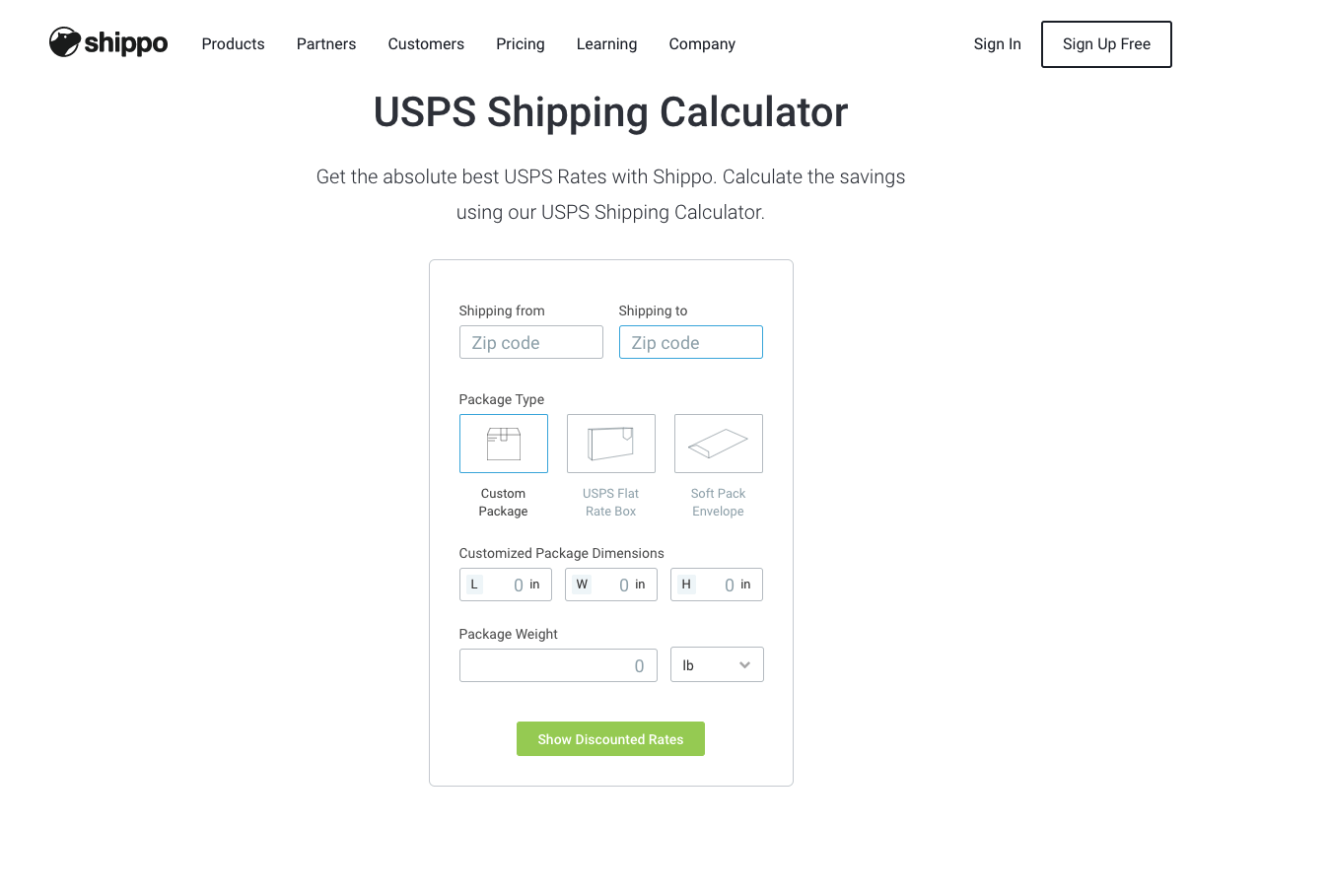 Winner: Easyship
International Features
Easyship and Shippo help you ship internationally by providing you with top international couriers. For example, Both platforms provide access to popular carriers such as UPS, DHL, etc, and they can be integrated with 50+ carriers.
Both shipping fulfillment solutions offer discounted carrier rates and automatically find the best price per shipment. Shippo provides discounted rate deals of up to 90%, while Easyship offers discounts as high as 70%. Discounts are subject to the carrier and the shipping circumstances.
Regarding the tax and duties, Easyship is better than Shippo. Easyship automatically adds the fees onto your shipment at checkout. In contrast, Shippo doesn't add it on. And the receiving and sending agencies would charge the fees after the delivery has been assigned and shipped
Finally, when you enter an invalid shipping address, Easyship and Shippo display an error message. When there's no error with an address, Shippo and Easyship will automatically complete the shipping address.
Tracking Page
Generally, a shipment tracking page is an essential feature if you like to relieve your customer service team workload and enhance the customer experience. As you might know, both platforms' free plans offer limited space for sellers to customize the branded element on the tracking page. In terms of capability, both platforms make tracking easy. All shipments are assigned tracking numbers and display a tracking status. The tracking information is from their third-party careers that the sellers integrate with the platforms.
Regarding the shipping communication, Easyship and Shippo also allow you to set and send automated messages to customers informing them of the location of their package. Some carriers even provide updates in real-time.
Winner: Tie
Order Creation and Synchronising with eCommerce Platforms
You can manually create the orders and shipping labels with both Shippo and Easyship. This process is very quick and easy. Even if there are mistakes in the process, you can fix the error yourself.
In terms of workflow automation. Easyship and Shippo are able to access many sales channels. So you can automatically synchronize your order data between Shippo or Easyship and your website or marketplace of the choice for eCommerce postage. For example, Shippo can connect seamlessly with eCommerce platforms, such as Shopify, Amazon, BigCommerce, and Magento. However, EasyShip's free plan doesn't have order synchronization, which means you need to upload manually.
Shipping rules automation is critical to optimize the shipping cost. Easyship shipping rules can allow you to set actions and conditions when shipping the customer order.
For example, the regular shipping method is DHL express globally, however, you want to ship to the US using USPS only. So you can set up the destination to the US by using USPS only. You don't need to manually set them up one by one. You can also set rules so that all shipments contain excellent tracking, insurance, etc.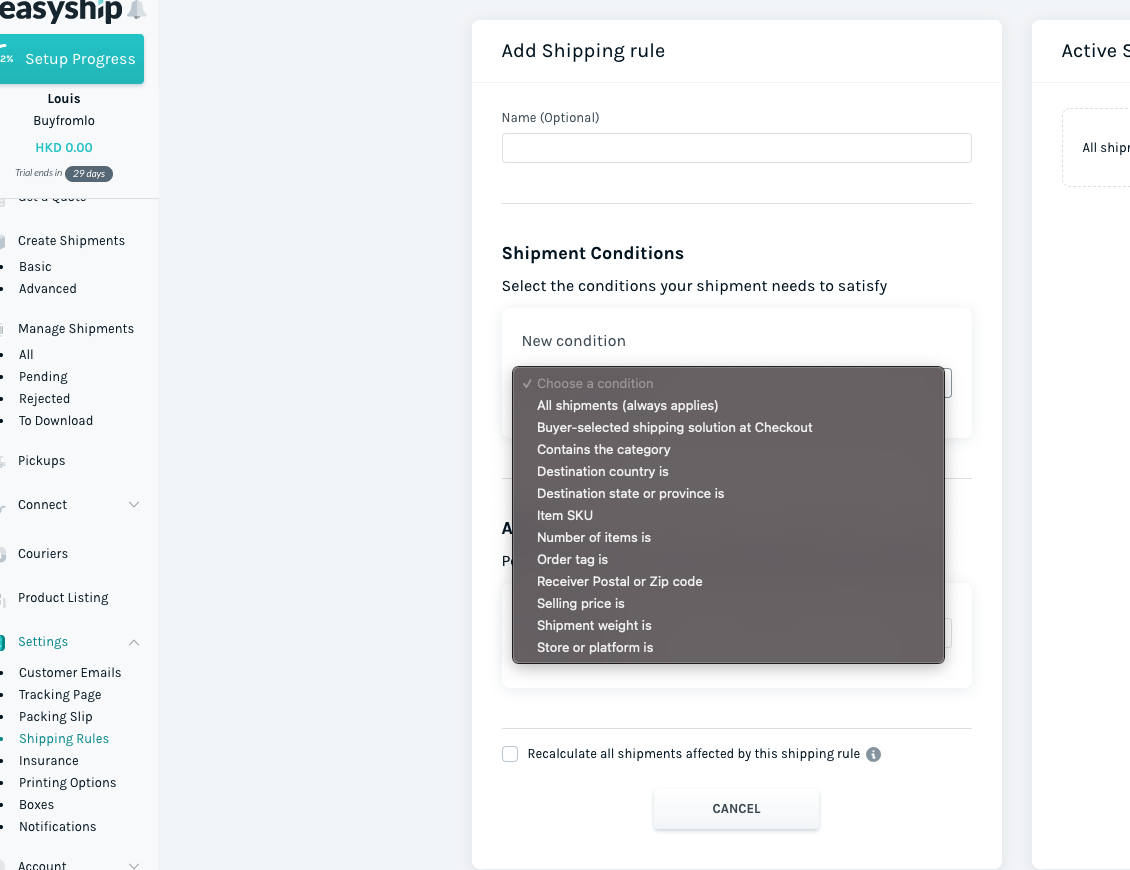 On the other hand, Shippo also allows you to create shipping rules and automate actions, such as applying a package template or generating a specific label, based on order weight, product name, and recipient location. But overall, the dimension to select in Shippo is less than Easyship.
Winner: Tie
Integration Capability
Sales Channels and Point of Sales
A multichannel eCommerce platform needs to be able to connect and integrate with apps through its various sales channels seamlessly. So it's not surprising that Shippo and Easyship come with native integrations to eCommerce shopping carts such as Amazon, eBay, Shopify, BigCommerce, and Magento.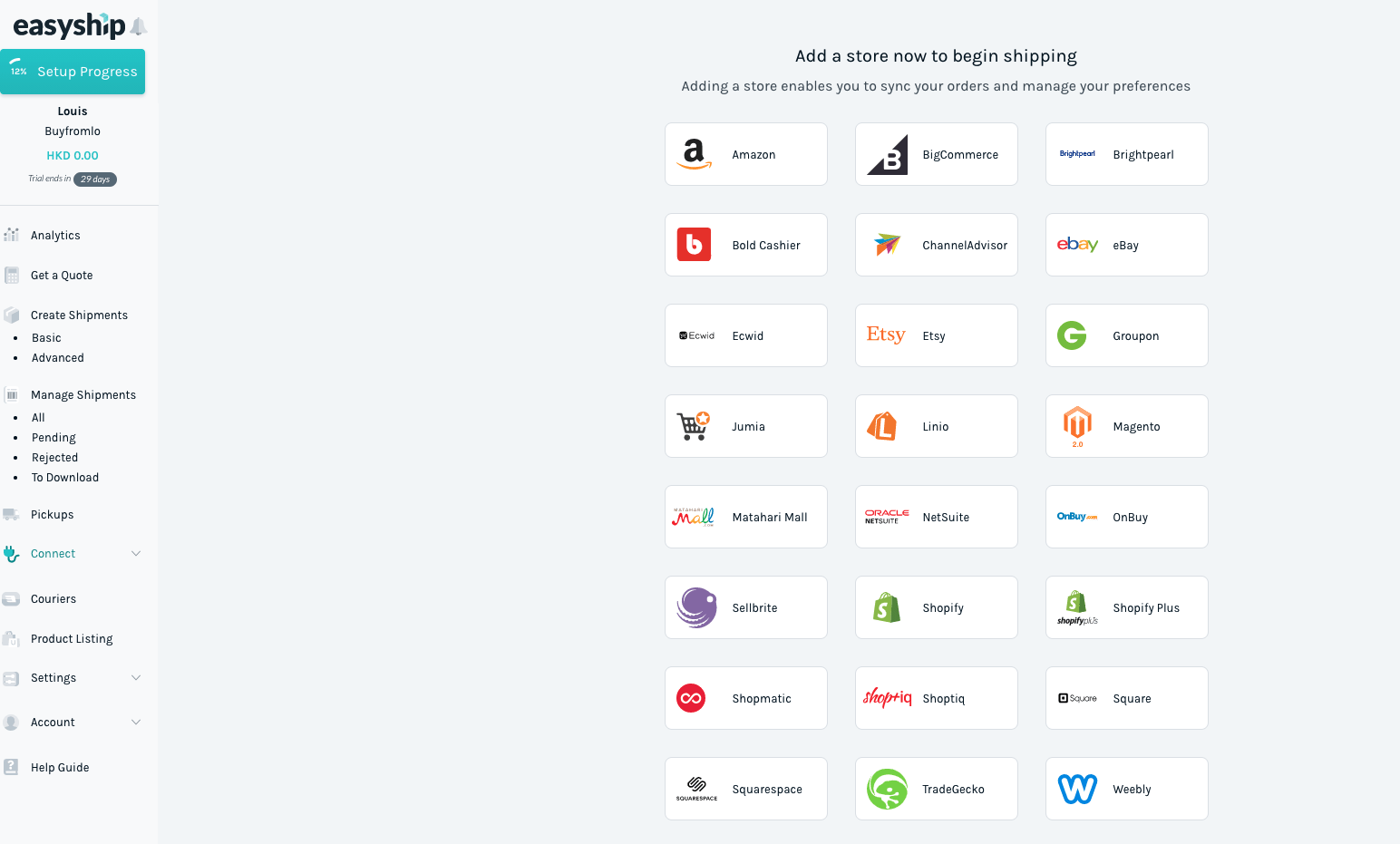 Order Management Systems
If you sell across multiple platforms, you might be using an Order Management System (OMS). Easyship is integratable with OMS apps such as ChannelAdvisor, TradeGecko. It's a great option for sellers with high order volumes across multiple sales channels. On the other hand, Shippo doesn't have a one-click button to integrate with an order management system. It means it needs to use the Shippo API to connect a 3PL OMS.
ChannelAdvisor – How to Centralise Managing Order Fulfillment, Inventory & Product Data for Multichannels
Accounting SaaS
Profit and loss calculation is the core section of eCommerce. It's because no sellers aim to lose money in the end after having invested and spent hours. Unfortunately, both platforms do not provide a native one-click button integration. However, neither Shippo nor Easyship provides a robust API. So, you shouldn't need a developer to integrate with your bookkeeping software of choice. Instead, the API key and token are sufficient for you to connect your shipping SaaS with your accounting platform.
Shipping Carrier
Shipping carrier quality includes warehousing, pickups, returns, added value service, and discounted shipping rates, These are all things that can make your life much easier, and also increase profit margin in the long term.
Both Shippo vs Easyship are multi-carrier shipping platforms. Shippo offers integrations with 50+ carriers while Easyship can also offer integrations to the same number.
However, it's vital to note that Shippo offers shipping discounts of up to 90%. It is considerably higher than the 70% offered by Easyship. Note also that these discounts are only available with certain carriers. Shipping rates are of course also subject to shipping volume.
Custom API
Easyship and Shippo's API guide make it easy to understand how its APIs work, such as its tracking and order APIs. The platform provides clear documentation in place and allows you to quickly get your API access keys and tokens. You can integrate with the third-party platform, or your Python script in your website server.
Winner: Tie
Verdict
Overall, both platforms share pretty common settings and features for eCommerce sellers. But Shippo looks more proper for new sellers or sellers who prefer a light business model. On the other hand, Easyship provides more advanced optimization and API features for sellers. So it is much more suitable for senior sellers and bigger corporations.
I hope you enjoy reading Easyship vs Shippo – Which Is Better for Fulfilled by Merchant or FBM? If you did, please support us by doing one of the things listed below, because it always helps out our channel.
Support my channel through PayPal (paypal.me/Easy2digital)
Subscribe to my channel and turn on the notification bell Easy2Digital Youtube channel.
Follow and like my page Easy2Digital Facebook page

Share the article to your social network with the hashtag #easy2digital

Buy products with Easy2Digital 10% OFF Discount code (Easy2DigitalNewBuyers2021)
You sign up for our weekly newsletter to receive Easy2Digital latest articles, videos, and discount code on Buyfromlo products and digital software
Subscribe to our monthly membership through Patreon to enjoy exclusive benefits (www.patreon.com/louisludigital)
.