Social Commerce Ads – Weixin, Wechat Ads vs Whatsapp, Facebook, Messenger Ads
President Joe Biden revoked Donald Trump administration executive orders that attempted to ban TikTok, WeChat and other Chinese-owned apps in the U.S.. He said to the media that Joe Biden replaced them with a new security review that could prompt fresh steps to restrict those or other apps.
To sellers who are good at leveraging social commerce ads, Wechat is a great platform to sell products and services to Chinese customers. Although contribution margin from oversea markets might only take up 1% out of the total ads revenue in Wechat. Now it might be a good signal moving forward. Wechat ads global might reactivate again.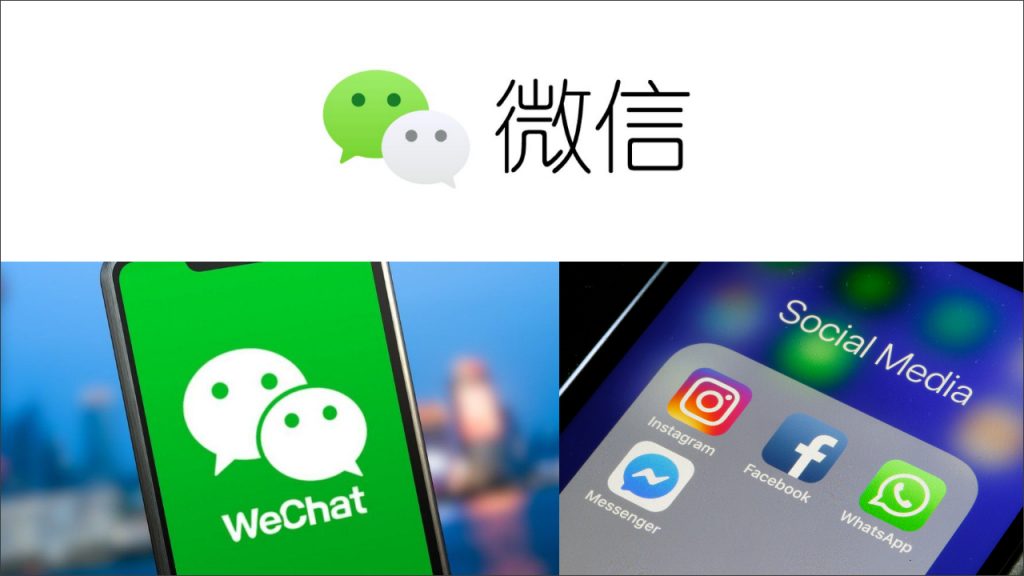 President Joe Biden revoked Donald Trump administration executive orders that attempted to ban TikTok, WeChat, and other Chinese-owned apps in the U.S. He said to the media that Joe Biden replaced them with a new security review that could prompt fresh steps to restrict those or other apps.
The update might not change the current status and advertising workaround deployment from Wechat. It's because we can see the advertising target still excludes the markets outside of China in the Wechat ads or Tencent marketing platform. However, social commerce ads are still a key part of eCommerce marketing. It's absolutely important to understand the difference between platforms. In particular, the Chinese are your primary target customers. Or you are the product talents out of China. So you can have some references for Weixin products.
In this piece, I would walk you through what latest Weixin ad opportunities that sellers are leveraging in China. Also, it comes along with Weixin versus Wechat. And then I compare Weixin with Facebook, Whatsapp, and Messenger.
Social Commerce – Difference Between Weixin and Wechat
There're huge differences between WeChat and Weixin, rather than the mere difference in translation. First thing first, They are not standalone apps. Weixin works on the domestic network in China. On the other hand, WeChat was launched out of China. It is detected by your sign-up mobile number and country code. So if you are a Chinese citizen and use a domestic mobile number, you can run Weixin App after downloading and installing it. If you are from out of China and use an overseas phone number, Wechat automatically detects and directs you to the overseas version.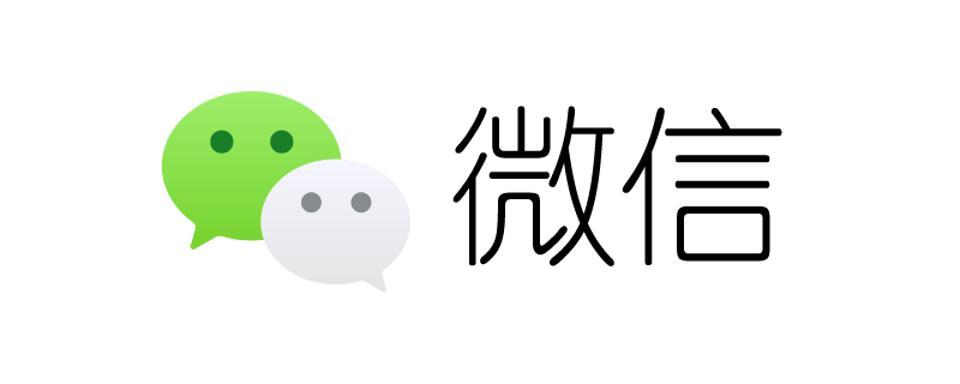 Secondly, for individual users and business users, the Weixin app's features and functions have more gear in place than Wechat, such as phone data fee top-up, insurance purchase, etc. Wechat is only having limited functions, such as WeChat pay, moment feeds, etc. You can refer to my other article about 6 misunderstandings about Wechat.
Last but not least, both Weixin and Wechat allow individual users and businesses to apply for the individual, business service, and subscription accounts. As Wechat activity is limited in some countries, Wechat business account creation might need contact with the account manager or through an agency. The actual cases depend.
Social Commerce – What Weixin Ads opportunities are for domestic and cross-border eCommerce sellers in China
Where to Buy the Weixin Ads Inventory
Weixin Ads inventory is from two platforms mainly in China. One is the Weixin account platform – mp.weixin.qq.com. The account owner or the brand can directly set up Weixin moment ads, Weixin ads network campaigns in the Weixin service account, or a subscription Account.

The other platform is the Tencent marketing platform, which is e.qq.com. The Tencent marketing platform is very similar to the Facebook ads manager and business manager. The brands and advertisers can connect with the Wechat account, create audience segmentation applied to ads campaigns, etc.
The main difference between the Weixin ads platform and the Tencent marketing platform is the diversity of inventory. Tencent's marketing platform allows advertisers to buy Weixin and other channel's ads inventory under the Tencent ecosystem. They are such as QQ, Tencent Video, Tencent news portal, etc. In terms of the customer journey, Tencent's marketing platform facilitates the brands to manage the data and creative assets in a hub. Its purpose is to optimize the outcome better.
On the other hand, the Weixin ads platform is not only selling advertising inventory. But also allows you to create an affiliate program with your partnership, such as KOLs, KOCs. It's in order to share revenue and give the payout to partners. Last but not least, if you are a retail media, you can activate the Weixin traffic monetization program as well.
Recommendation: eCommerce sellers might consider running Weixin campaigns through the Tencent marketing platform. It's because the platform provides the catalog management feature, as well as the Facebook commerce section.
Weixin Ads Bidding Strategy
The platform basically offers 4 options to buy the ads inventory. They are the reserve-buy model, CPM model, CPC model, and CParticle model. 4 models have their own selling points and can fit different marketing strategies.
Reserve-buy charges by CPM and it provides the most placement options for sellers. And also it's a guaranteed buying model. So you can formulate the buying strategy based on city tiers, dayparting, and placement. The cons of this model are the prepayment required. So it has less flexibility.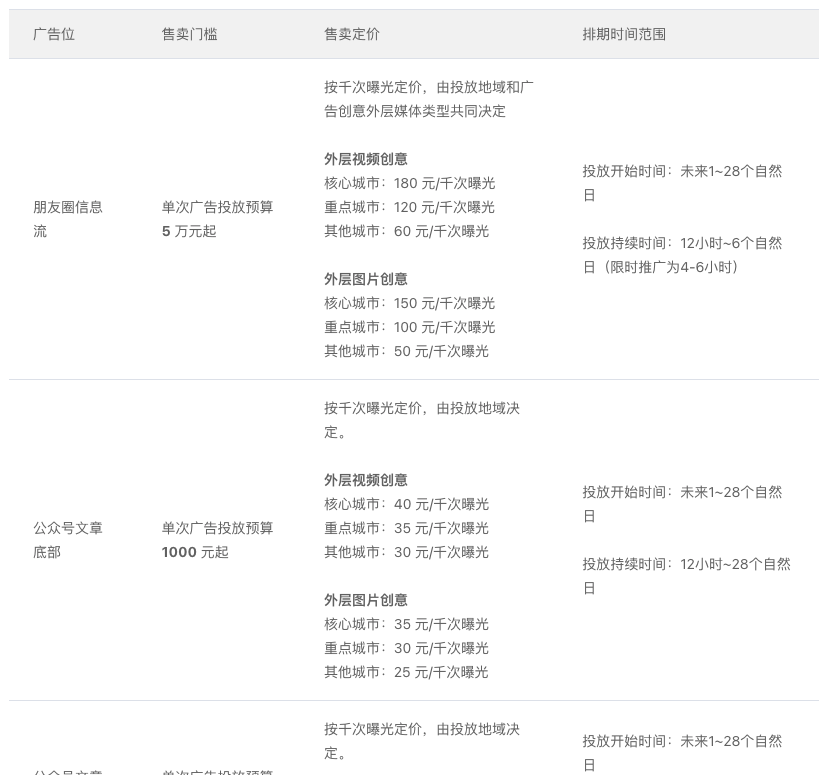 CPM model of course charges by per 1000 impressions, and it offers 5 placements to run this bidding strategy. It includes moment ads, network ads, and mini-program ads. The pros of the CPM model can reach out to more potential buyers than the CPC model. And also it doesn't require prepayment. However, if you aim to drive traffic and sales, convincing and engaging ad creative is pretty critical. Otherwise, it's difficult to measure the ROI and outcome.
CPC model charges per click and brands can't run moment ads in the CPC model. But the good news is if you have a mini-program to show products. It's because you can run mini-program display ads.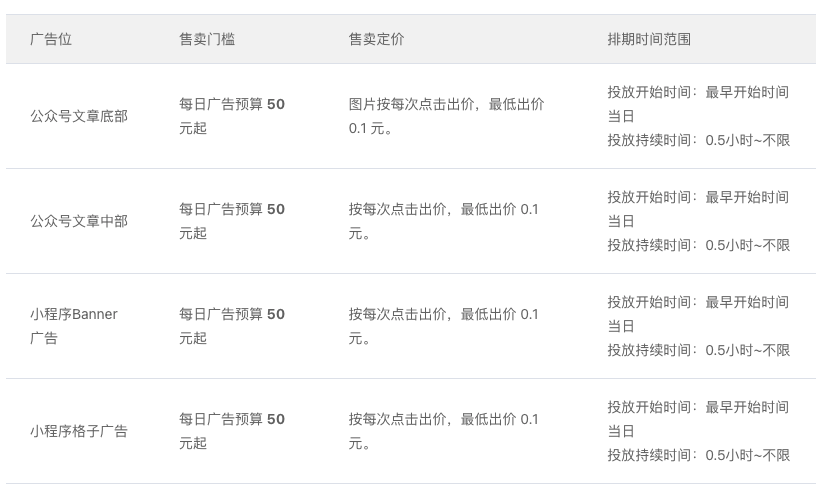 Last but not least, it's the cost per article. Basically, it's a sort of advertorial deal. You can approach the proper KOLs or KOCs. And They quote you a fee to share your article on their channel. It's more for educating customers and creating purchase demands.
Recommendation: For eCommerce sellers, the CPC model and cost per article can be the primary options to start. It's because it's the traffic-driven and also can-be-commission-based with the affiliated partners
Weixin Ads Campaign Objective
Weixin ads offer 8 options of campaign objectives. It's also covering all key business goals through a customer journey from the upper funnel to the low funnel.

It includes brand awareness, lead generation, product sales, app installs, discounting promotion, fans incremental, brick and mortar traffic, and entertaining engagement.
Basically, Weixin ads campaign objective options are similar to the Facebook ads. However, Facebook ads are split down into more specific objectives, such as video views, and messages.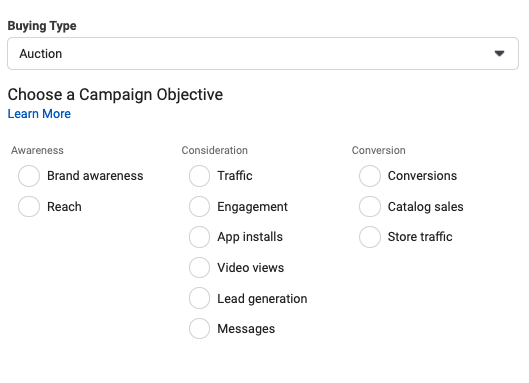 Recommendation: Weixin catalog sales and coupon distribution ads can be the primary objective options.
Weixin Ads Placement, Format, and Targeting
Basically, there are 4 types of ads. They are the Weixin moments ads, Weixin service, and subscription account display ads, mini-program ads, and checkout page ads. Each ad represents a placement and also has variant ad formats to adapt. Take moment ads for example to elaborate.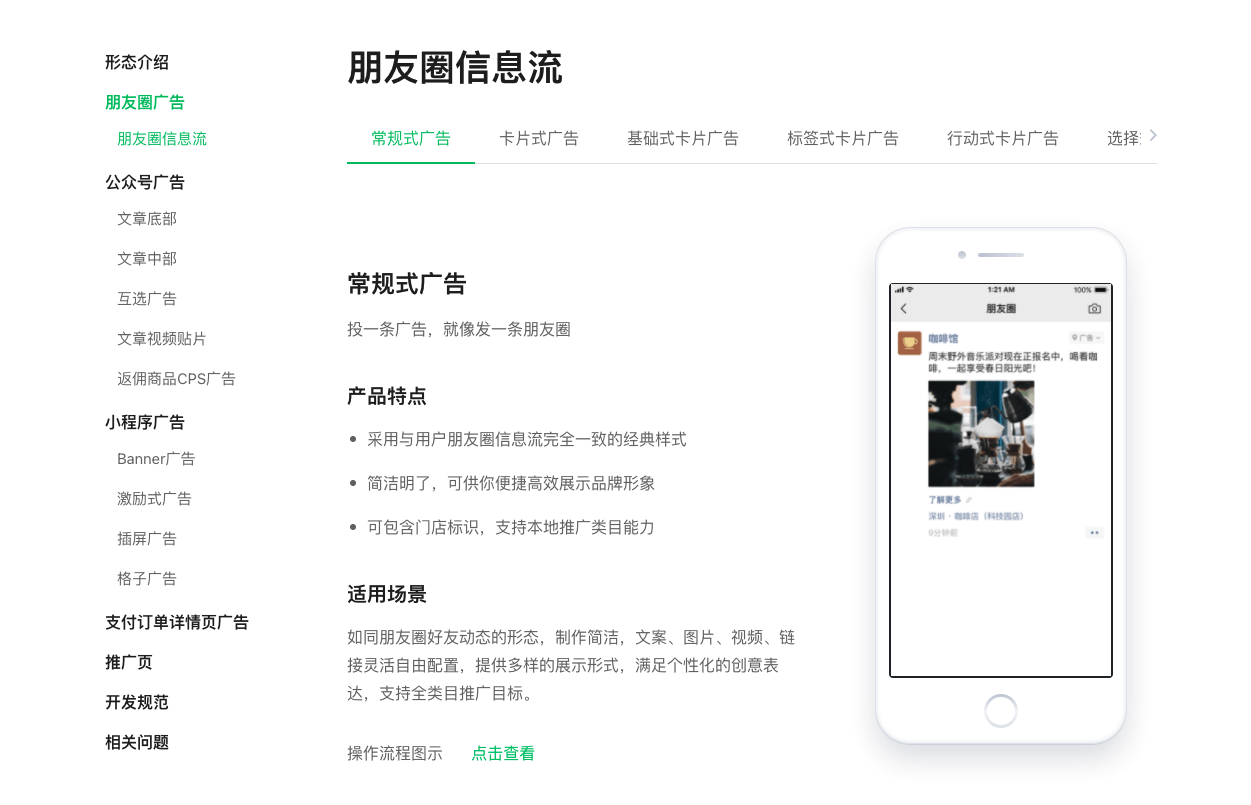 It's different from Facebook which includes Instagram, Whatsapp, messenger, and audience networks. Weixin ads platform doesn't include the other channel ads placements and understands the Tencent ads ecosystem. If you need to run an integrated strategy for your eCommerce store, please set up the campaign on the Tencent marketing platform.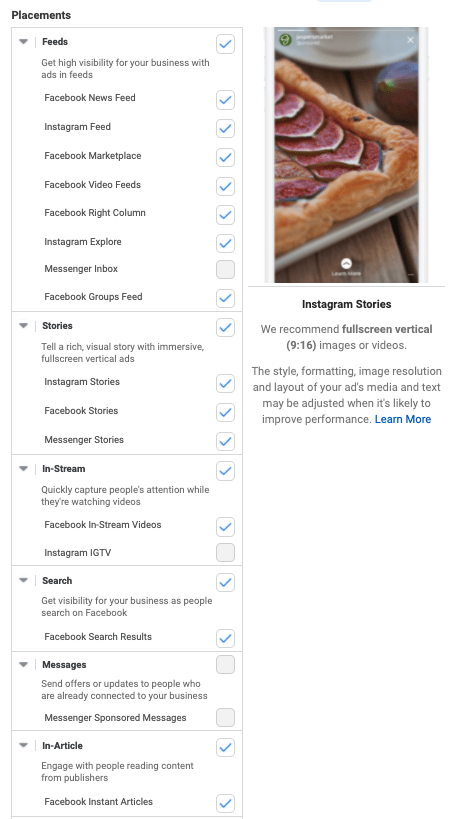 Weixin Moments Ads
Weixin moments ads appear natively in a user's Moments feed. They're displayed in a similar format to user-generated content. Weixin moments ads automatically disappear from a user's feed if they don't comment, like, or interact with the ad within six hours. For advertisers, this means that they're a great way to avoid paying for impressions that don't convert.
What's more, the Weixin ad algorithm operates on a network basis. So, if one user interacts with an ad, it's likely their friends and contacts will receive the same ad. Combined with laser-focused targeting options, this can help to increase the reach of your advert.
Another perk to investing in Weixin Moments is that ads are only served once to a user every 48 hours, which prevents ad fatigue and optimizes your ad's ROI.
Moments Ads Format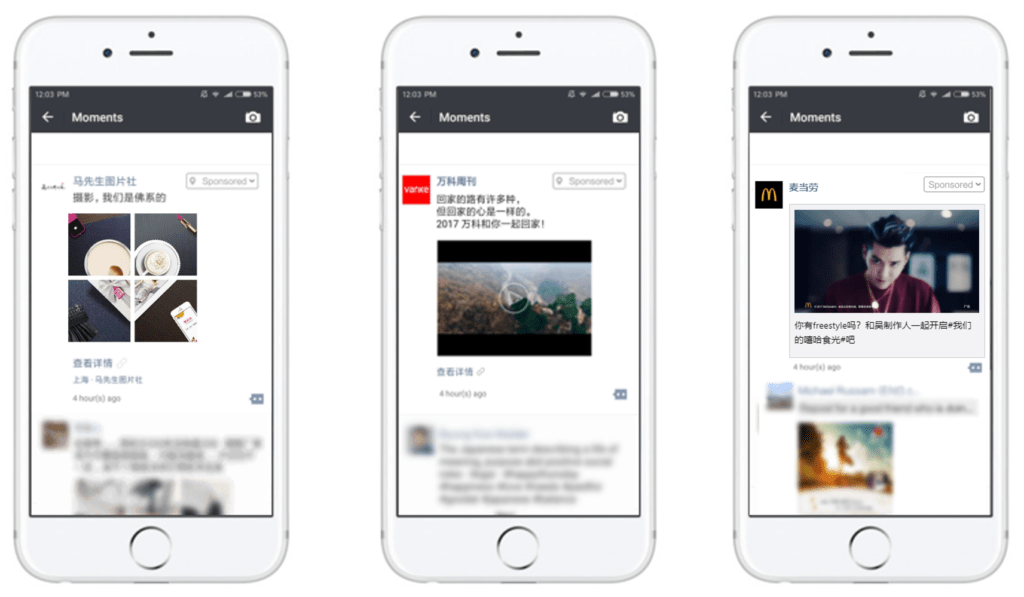 Except for those special format ads to big investors in moments ads, basically, there are 10 options of moments ads format. There, actually, it includes two types of formats.
Post format ads
Weixin designs post-formatted ads to seamlessly integrate into a user's feed. They're the same size as native, user-generated Moments. These can be either 6-15 second video clips, a single photo, or up to six smaller photos to showcase a particular product.
Card format ads
A card ad takes up the full width of the WeChat Moments feed, which separates them from other posts and competitor ads. They're more like banner ads than user-generated content, allowing advertisers to create their own 'brand zone' within a user's feed. The card-formatted ads can be one picture, multiple pictures, or a short video clip.
Weixin Ads Targeting
Although Joe Biden revoked the prohibition of WeChat. However, the location targeting overseas users is not available. So in terms of new customer acquisition who are not your followers, it might be only working in domestic China. Below are the key targeting options you can use
Interests and behavior, based on in-app activity
Location, hometown, and domestic travelers
Age, from 14-60 years-old
Gender
Level of education
Relationship status
Income
The property owner or car owner
Phone operating system
Internet provider
First-party data lookalike
How to apply for a Weixin and Mini program account to start generating leads, traffic, and sales.
Weixin and Mini program account creation is a little bit more difficult than creating a Facebook account. Here are the steps and documents required
1. Create a free Weixin and mini-program account
Basically, there are 2 ways to create an account. You can create yourself by going to weixin.qq.com and using your China phone number and ID card. Or you can create an agency authorized to represent overseas clients to create and operate a Weixin account in China. However, you need to select the type of Weixin account. They are either subscription or service accounts. Being said that, each company can sign up both by using the same set of admin documents.
2. Submit to Weixin or the agency the required documents
You don't need to submit documents to verify both Weixin and the mini program. You can verify the Weixin account and then integrate it with the mini-program account.
After you sign up for the Weixin account. You need to submit the company's Chinese business registration, trademark, operator ID, and phone number. If you submit through an agency, you need to submit the BR signed up in your country. Please remind me that if you sign up through an agency, you can't be the top-level operator.
3. Pay the Admin Censorship fees
Once you submit the documents, you'll need to pay RMB300 censorship fees for Weixin, and it would take 3 – 5 working days to complete the process. A staff member would call you to double-check the information on the admin documents. If you submit through an agency, I think you just need to pay more instead of talking with the staff directly.
4. Verify your Mini Program Account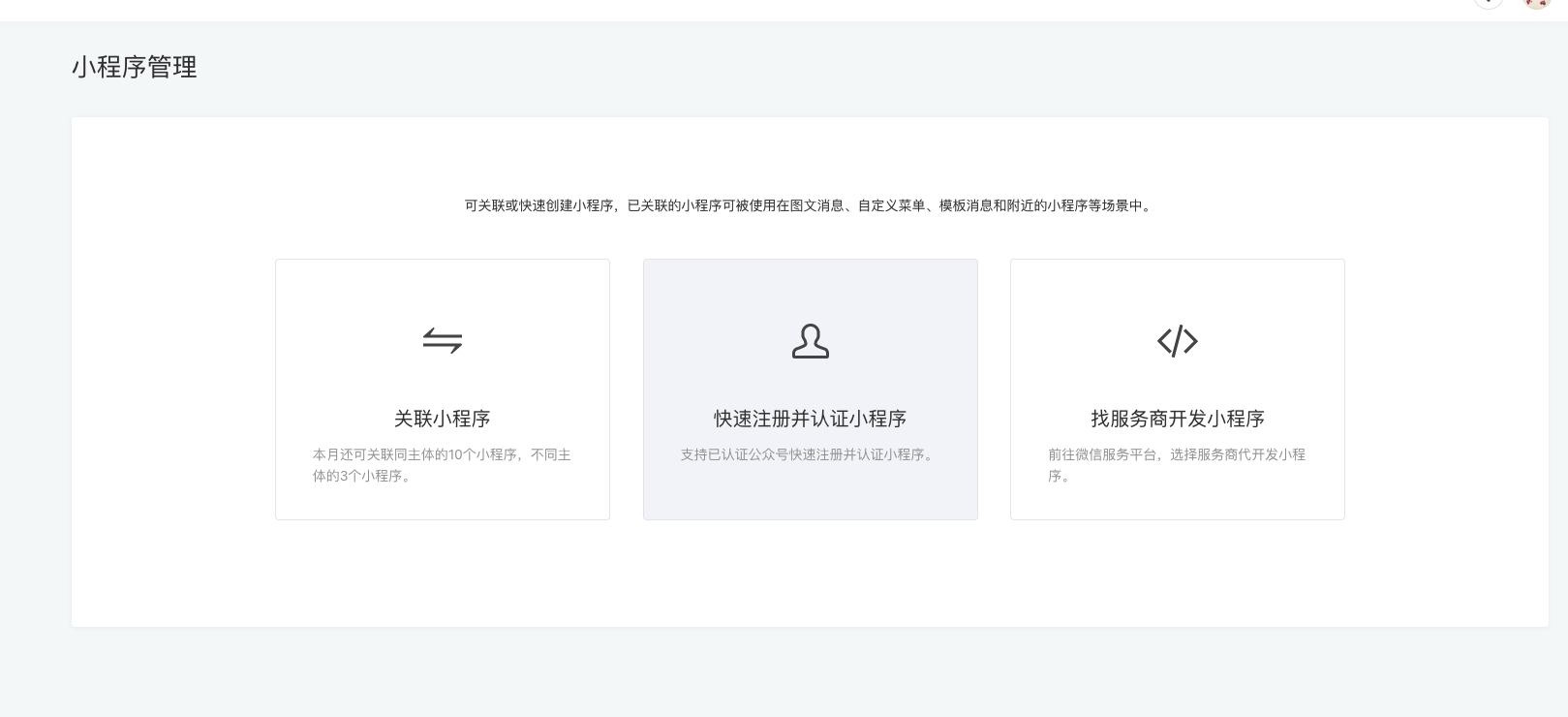 You can leverage the verified Weixin account to verify your mini program. You just need to connect your mini-program with your Weixin account by filling in some information.
5. Start running your Weixin ads
After things are done, you can start running Weixin mini-program ads, display ads, and checkout ads. For Weixin moments ads, it depends on your sectors. Some sectors might require 4 weeks to release posts before moments ads eligibility
Difference Between Weixin and Whatsapp, Facebook and Messenger
Basically, Weixin is a one-stop-gear, compared with the integration for Facebook, Messenger, WhatsApp, Instagram, and PayPal. It's a Chinese version of these 5 apps' alliance. Below is a table for your reference.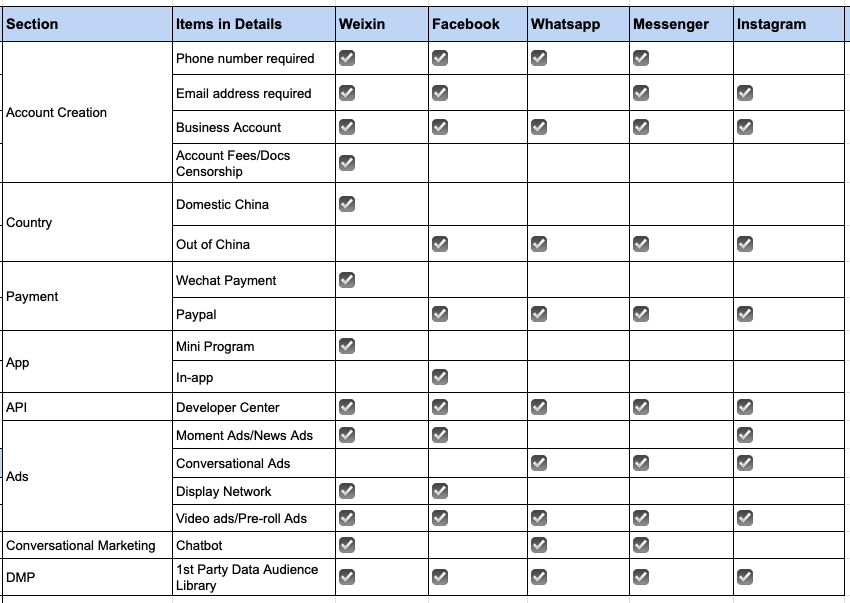 Wrap up
Weixin is the domestic version of Wechat and also the complex version of Wechat. If Wechat is not banned from time to time, it might have more chances to add on more features. End-users can try using and eCommerce sellers can acquire new followers without only relying on Facebook.
I hope you enjoy reading Social Commerce Ads of Weixin, Wechat Ads vs Whatsapp, Facebook, Messenger ads. If you did, please support us by doing one of the things listed below, because it always helps out our channel.